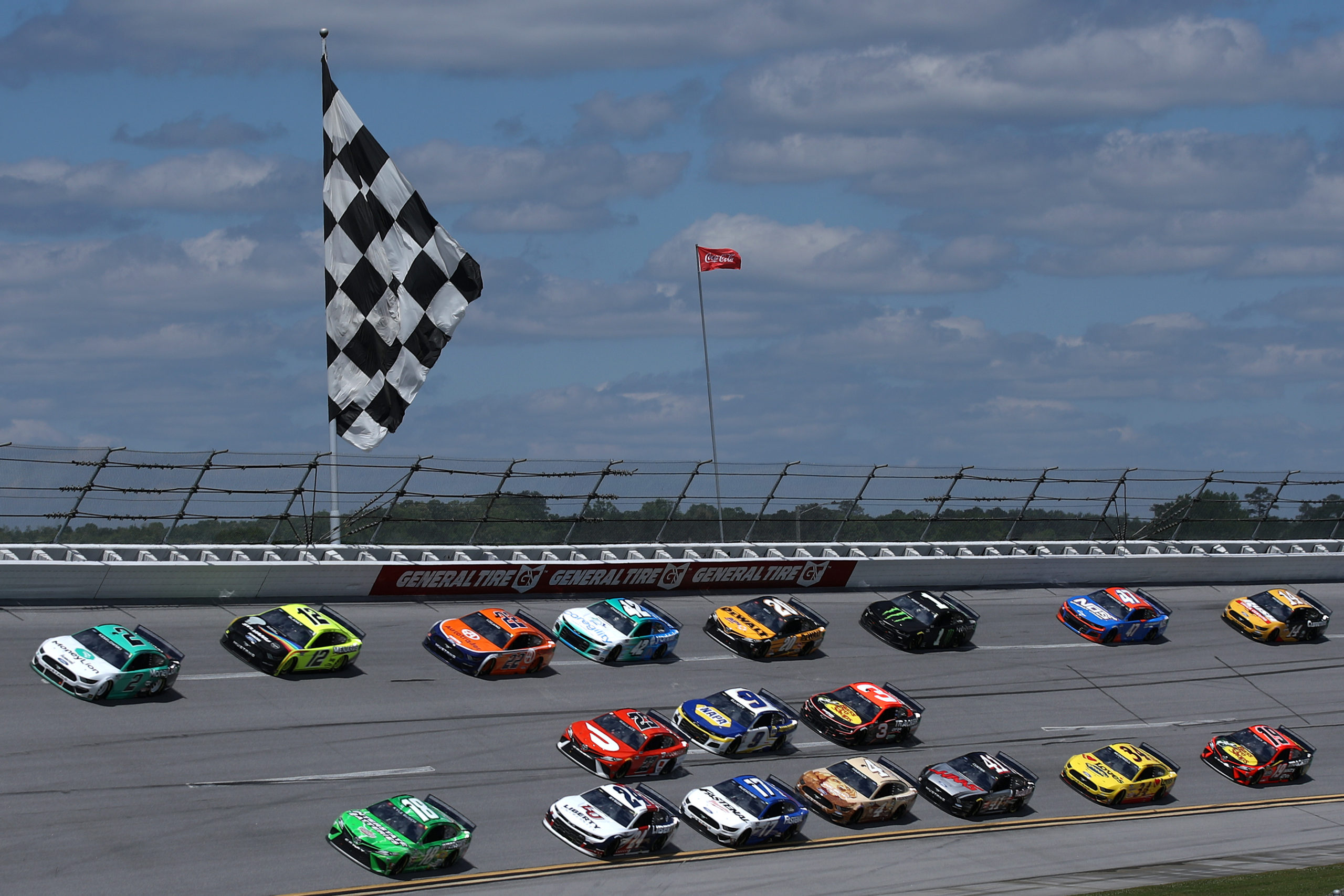 Who are some favorites heading into Talladega Playoff race?
TALLADEGA, Ala. – NASCAR's Playoffs now head to Talladega for race five of the 10-week race to the title. With drafting and the ever-present threat of The Big One being the ultimate equalizer, who can lock down a Round of 8 spot in Alabama? Fords have won 11 of the last 14 trips to the 2.66-mile superspeedway. Will that trend continue, or will Talladega decide a different victor in the YellaWood 500?
Denny Hamlin
Already locked into the Round of 8 with his Las Vegas win, can Denny Hamlin go back-to-back at Talladega? Arguably the best active superspeedway racer, Hamlin has two career Talladega victories, including this race a year ago. With no stress or pressure on this weekend, can the 11 team still be dangerous?
"Definitely," Hamlin exclaimed on the relief of winning his way through the Round of 12. "Especially with the rest of this crazy round coming up. Talladega and the Roval are places where you don't always have control over your own result. So it's good to know we don't have to worry about what might happen these next two weeks."
"We are our own competition. As long as we don't make mistakes, we're going to be okay. When we have clean races and don't make any mistakes, we're contending for race wins. We can't really focus on one guy. I have to focus on the process that gives me a chance to race for a win. I just want an opportunity to go to Phoenix and have a chance."
Hamlin will start from the pole Sunday, expect the 11 to certainly be a late contender for the Talladega victory as he's stronger now than ever before in 2021.
Ryan Blaney
Two of the 11 Ford wins at Talladega since 2014 have come at the hands of Ryan Blaney. At fifth in the standings and with three wins, Blaney may just be gearing up for his best championship run yet. Blaney's most recent win came at Daytona, so he heads to Talladega looking for two-straight superspeedway victories. The 12 has a knack for always being a strong contender at both drafting tracks, with top-10s in three of the last four Talladega races. This span also includes both of his victories in Alabama.
Blaney will start fourth in the Penske No. 12 Mustang. At a precarious spot in points, Blaney must balance aggression and finishing well on Sunday.
Chase Elliott
One of the few non-Ford Talladega winners in recent memory was Chase Elliott. Elliott won in Alabama in the spring of 2019, and may be eyeing another victory this time around. After a close runner-up result in Las Vegas, how does Elliott feel heading to Talladega's unknown?
"Talladega is such a toss up with how crazy that place can be," Elliott said. "I'm not sure you can ever really feel good about heading into Talladega. Maybe if we would've won at Las Vegas, I'd feel good about heading into the weekend. The next couple weeks are going to be wild. We are looking forward to it."
Flying the A SHOC colors this weekend, Chase Elliott will roll off third at Talladega. If Chevrolets can team up as aggressively as the Fords surely will, the day may just end with the 9 car parking it in victory lane.
Joey Logano
The 22 crew of Joey Logano has been surprisingly below-the-radar for these entire Playoffs. As a three-time Talladega winner, a strong showing Sunday may determine Logano's fate in this year's title fight. Logano enters Talladega at seventh in the standings, just six points ahead of the cut line. At Talladega in April, Logano looked to be fast early before going airborne on the last lap of Stage 1. Logano must keep all four wheels on the ground this time if the 22 wants any shot at survival. The Penske Mustang will start eighth on Sunday.
Brad Keselowski
Talladega in the spring was the lone victory so far in 2021 for Brad Keselowski. As a six-time master of the superspeedway, Keselowski cannot be counted out as a potential upset for Sunday. Much like Logano, Keselowski's Playoffs to date have not been up front. Rather, the 2 team has scratched and clawed their way to solid finishes. Three of Keselowski's four Playoff results have been in the top 10, so he could very easily sneak his way up front again. The 2 crew will start seventh, going for Keselowski's seventh Talladega victory.
Kevin Harvick
Across the three superspeedway races this season, Kevin Harvick has finished fourth, fourth, and 15th. In the most recent Daytona race however, Harvick was running second on the final lap, in position to challenge for the win. Is the superspeedway the 4 team's best shot left at breaking into victory lane for 2021? Harvick's approach this weekend will not change, so his chances for a win are high.
"For me, it's been a destruction derby over the last couple of years," Harvick said of Talladega. "We've run really well at Talladega, but that's just kind of the phases you go through when you go to Talladega. I'm doing worse than 50-50 on whether you crash or finish the last few years. But it's one of those places where you want to race up front and race hard all day because you have to try to win Stages. I believe you have better odds at the front of the pack when it comes to staying out of a wreck if you can keep that track position all day. You're going to race in a pack – three-wide at times – and you're going to get pushed and have to push at times."
Harvick on Surviving at Talladega
"You just never know what's going to happen because Talladega is its own animal. It's hard to finish a race there. As we've seen over the past however many years, you try to put yourself in the right position and hope you have a little bit of luck on your side that particular day. I know our Busch Light Ford Mustang will be fast enough to contend for the win, but you just have to get to the finish."
Harvick has been a sly contender at all superspeedways this year, and needs a strong run to break into the top eight. At 10th in the standings, seven points below the cut line, Harvick will start the YellaWood 500 in ninth.
Talladega is sure to have drama pegged and storylines aplenty on Sunday. Coverage begins at 2:00 p.m. ET on NBC, MRN, and SirusXM NASCAR Radio Channel 90. The YellaWood 500 presents the next great chance for a Playoff upset, as any of the top 12 drivers truly can win.
Written by Peter Stratta
Be sure to follow us on Twitter
Be sure to follow the writer on Twitter
Photo by Sean Gardner/Getty Images for NASCAR