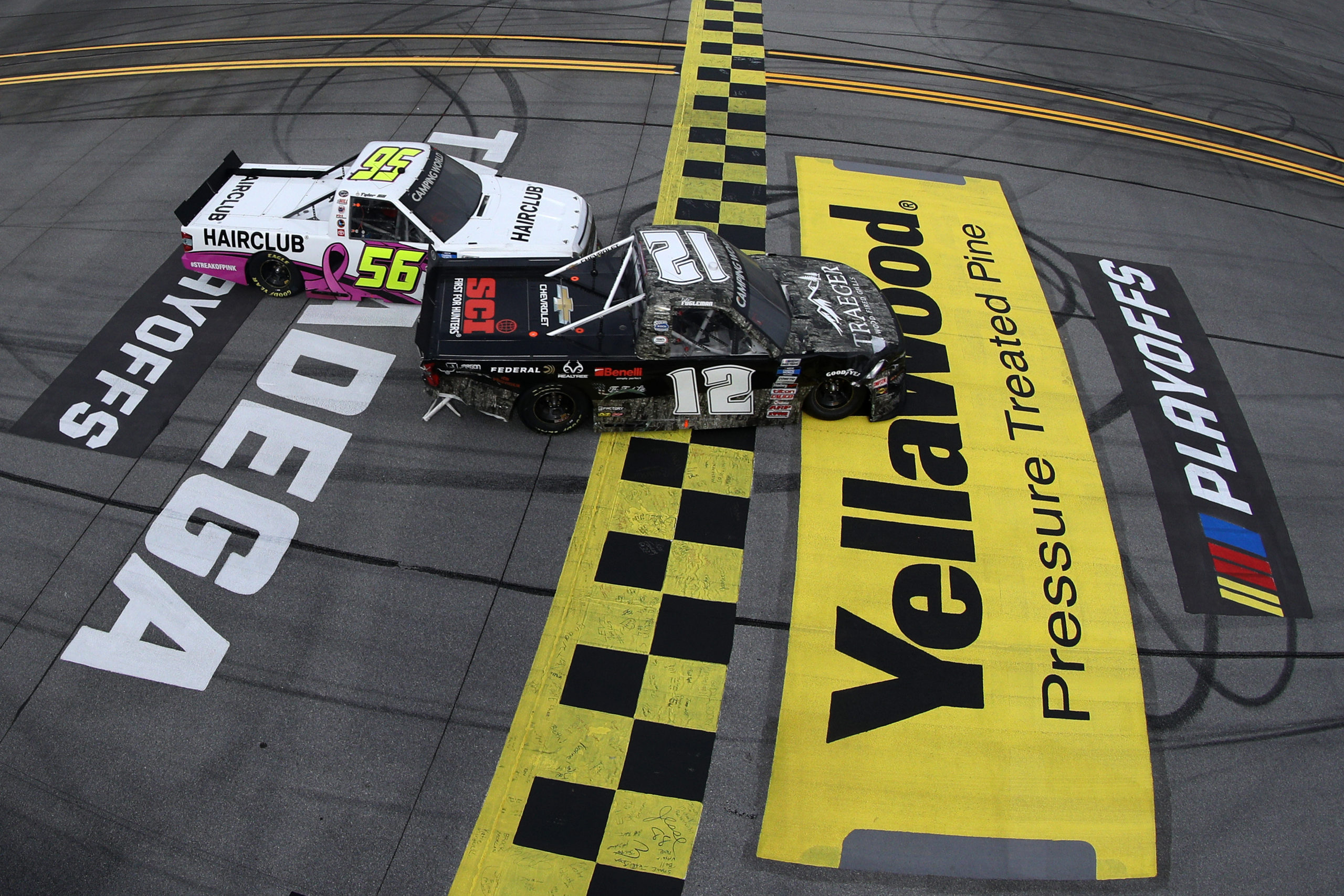 Talladega Dust-Up Leads To Tate Fogleman's First-Career Truck Win
TALLADEGA, Ala. – The Truck Series Playoffs were anything but short of excitement and unpredictability at Talladega. For the third-straight year, Talladega was the sight of a driver's maiden Truck victory, as the first to the checkers was Tate Fogleman. The 21-year-old from Durham, North Carolina earned Young's Motorsports their second-ever win.
Fogleman only led for the final 100 yards or so, as the 12 spun John Hunter Nemechek while coming to the line. In a true display of checkers-or-wreckers, most of the field did in fact end this day wrecked.
Calm Before the Storm in Both Stages
In complete contrast to this race's finish, the opening two stages only saw one caution. Ben Rhodes and Sheldon Creed each picked up another Playoff bonus point, thanks to a Stage win apiece. Once the final Stage went green however, the gloves came off and the intensity ratcheted up.
Half the Field Taken Out Just Past Halfway
The first big one of the day occurred with under 40 to go. Austin Hill got hooked into Zane Smith up front, and many others piled in behind them. In total, 21 of the 40 trucks had some form of damage from this carnage. This would end the days for both Zane and Chandler Smith, putting them in must-win scenarios for Martinsville.
More wrecking would happen with just 19 laps left, as Grant Enfinger threw a daring block on Sheldon Creed. Creed had a run on the 98's high side, and Enfinger took him all the way to the wall. As a result, the 2 hooked the 98 across traffic, collecting five other trucks. This would end the race for Playoff drivers Carson Hocevar and Stewart Friesen. As a result, only four contenders were left for the run to the checkers.
Non-Playoff driver Todd Gilliland was the class of the field all day, leading a race-high 39 laps. However, Chase Purdy would be ahead in the late laps, only for the 38 to get back by him. During this lead change, Purdy went spinning off of Gilliland's nose, resulting in another caution. This caution would lead to an overtime finish.
Gilliland would have the lead at the white flag, but would not lead the hungry pack back to the checkers. After a wreck behind them, John Hunter Nemechek got to Gilliland's inside in turn four. Nemechek had the finish line in sight, but Fogleman sent the 4 spinning in the trioval. After a drag race to the line, the 12 just edged out Tyler Hill for the victory.
Fogleman's Winning Reaction
"I know we missed that first big wreck, then the second one, and I started to feel like things were starting to go right finally at a superspeedway," Fogleman said. "I've never finished a superspeedway race before. I had a good feeling about it, we lined up third there on the inside and knew we just had to be aggressive. We were passively aggressive there throughout the race, just biding time missing wrecks. At the end, nobody was going to give any room to anyone. I just pushed the best I could, got pushed from behind, and we were able to do it."
"Can't thank everyone at Young's Motorsports enough. We got new partners on the truck this weekend, Traeger Grills. Safari Club International has also been a huge part of this. To get them a win, first time on the truck, is pretty amazing."
"This is crazy, I grew up racing short tracks, and always wanted to win a NASCAR National Series race. For it to finally come true really means a lot."
Talladega Top 10
A lot of underdog drivers rose to the occasion and earned a top 10 in Talladega. Behind Fogleman, Tyler Hill, Todd Gilliland, John Hunter Nemechek, and Ryan Truex were the top five. Cory Roper, Spencer Boyd, Danny Bohn, Chase Purdy, and Keith McGee rounded out the top 10. Nemechek was the lone Playoff driver to escape Talladega with a top 10.
Playoff Grid Heading into Elimination
With no Playoff winners so far in the Round of 8, all drivers are worried heading into the finale. Nemechek leads with a 36-point buffer above the cut line. Ben Rhodes is +35, Matt Crafton is +10, and Sheldon Creed is fourth at +5. Stewart Friesen is the first out by five points. Chandler Smith (-34), Carson Hocevar (-37), and Zane Smith (-40) all face win-or-die scenarios in the Round of 8 finale.
What's Next for Trucks
The Round of 8 finale will see the Truckers take on the half-mile at Martinsville. The paperclip will determine all four Championship contestants, as none have won their way through to Phoenix. Coverage of the United Rentals 200 will be Saturday, October 30 at 1:00 p.m. ET on FS1, MRN, and SiriusXM NASCAR Radio Channel 90. Martinsville is always madness in the trucks, do not expect this year to be anything short of absolute chaos.
Written by Peter Stratta
Be sure to follow us on Twitter
Be sure to follow the writer on Twitter
Photo by Sean Gardner/Getty Images for NASCAR