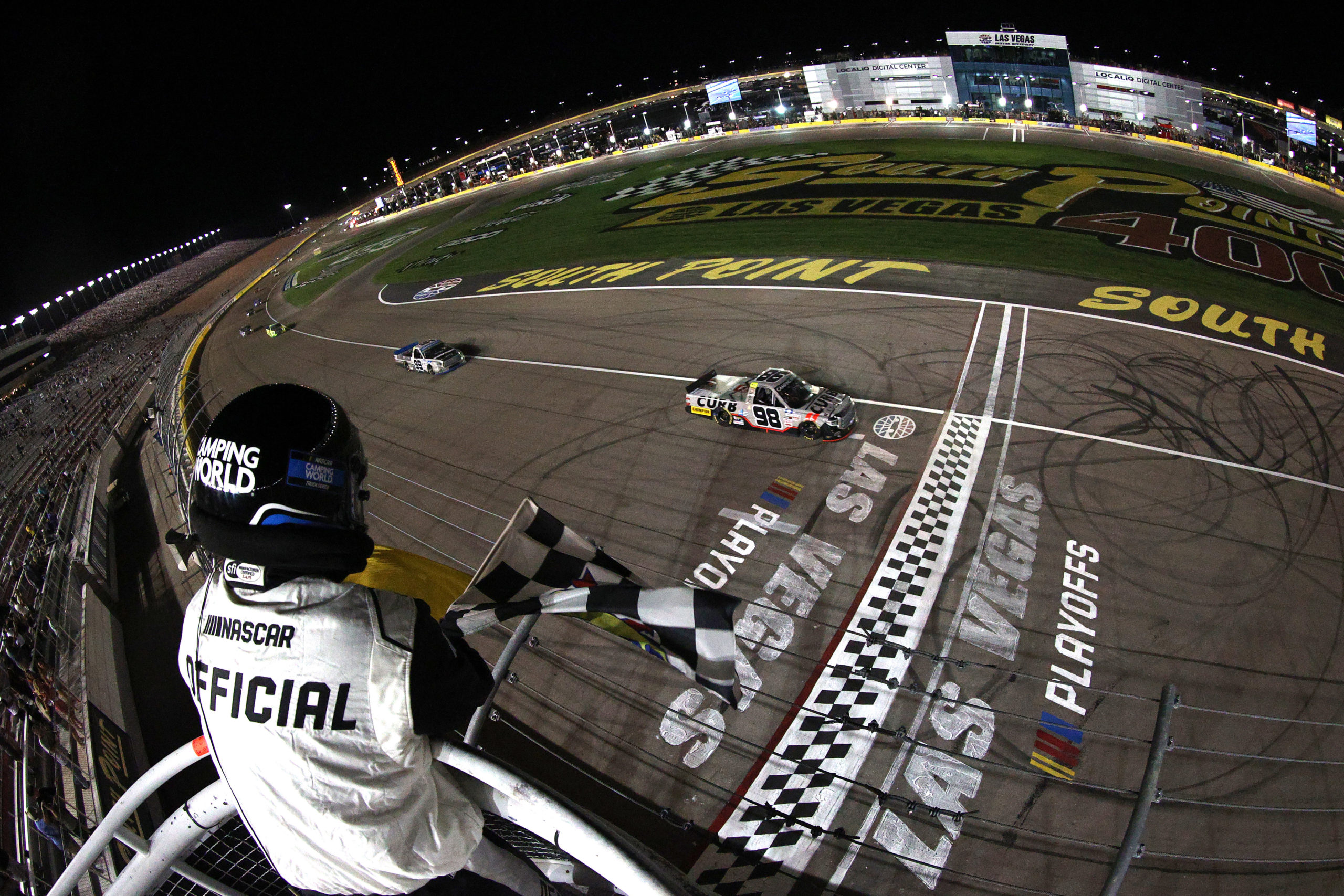 Christian Eckes Leads ThorSport Quartet in Vegas 1-2-3-4 Finish
LAS VEGAS, Nev. – For the second-straight week, a late restart in the Truck Series led to a first-time winner. In a night defined by Playoff teams facing adversity, another driver earned their moment in the spotlight. Christian Eckes drove around the outside of Todd Gilliland late and never looked back. When the checkers waved, it was ThorSport trucks making up the top four spots. This is a first in Truck Series history, where a team placed in a top-four sweep. A Playoff driver may not have locked up a spot in Phoenix, however Las Vegas was anything but short of excitement and unpredictability.
Title Favorite Out Early
To the surprise of few, John Hunter Nemechek was the class of the field at the start. The 4 would lead every lap of Stage 1, but his night turned south from there. After being shuffled back, an electrical issue took the five-time winner out of contention. Coming in as the most recent Las Vegas winner, JHN would leave Sin City in 33rd.
With Nemechek out of the running, the fastest truck on track quickly became Todd Gilliland. Only a week after being eliminated from the Playoffs, the 38 looked to be on a mission. Gilliland would take the Stage 2 win, and appeared unbeatable. On restart after restart, the 38 kept sailing off into the distance. However, numerous cautions did not allow Gilliland to simply run away.
Horrendous Crash Destroys More Contenders
Not long after the final Stage went green, carnage would ensue. Tyler Ankrum got wide in turn two, losing control in the marbles. The 26 would then get clobbered by the 18 of Chandler Smith. As Smith went down the track, he went right into the path of Hailie Deegan, and also Playoff driver Sheldon Creed. Creed's 2 truck slammed into Smith, immediately going ablaze and ending both driver's hopes of a Vegas win. Thankfully, all drivers involved were able to walk away from such a scary wreck.
Gilliland would reassert command with under 50 to go and seemed to be home free. However, an intentional spin by Carson Hocevar would trigger the last caution and seal the 38's fate. On the final restart, Gilliland did not go up to block Christian Eckes soon enough, allowing the ThorSport 98 to be on his outside in turn one. After leading a race-high 66 laps, Gilliland would drop like a stone through the pack. Meanwhile, the ThorSport trucks all took control with just three laps left. Tyler Hill pounding the turn two wall would force one more caution on the last lap. The race was over as the leaders hit turn three, with Eckes holding off Ben Rhodes for career win number one.
Eckes' Winning Reaction
"I wanted to prove to everyone that I could still do this," Eckes said. "You can look at my Racing Reference and see how bad it's been and how tough it is. This is big. It's been a tough year since last November. Hopefully I proved that I could still do this. I'm speechless, it's been a rough year."
Top 10 Results from Las Vegas
The ThorSport brigade of Eckes-Rhodes-Matt Crafton-Johnny Sauter would make Truck Series history. No single team had ever finished 1-2-3-4 in the Trucks until now. ThorSport also scored the first ever 1-2-3 result last year at Richmond.
The lone Truck in the top five not from the Ohio-based team was Todd Gilliland. Gilliland's Ford would settle for fifth after being the dominant truck for the second half. Stewart Friesen, Grant Enfinger, Austin Wayne Self, Ryan Truex, and Austin Hill all rounded out the top 10. Rhodes, Crafton, and Friesen were the only Playoff drivers to earn a top 10. The other five championship hopefuls all finished outside of the top 20.
Playoff Standings Shakeup
By virtue of finishing runner-up, Rhodes takes a narrow points lead over Nemechek. Friesen and Crafton round out the tentative Championship 4. Creed, Hocevar, Zane Smith, and Chandler Smith are all below the cut line one race into the Round of 8.
What's Next for Trucks
Next week, the Truck Series heads to Talladega for the ultimate wildcard Playoff event. Coverage of the Chevy Silverado 250 begins Saturday, October 2 at 1 p.m. ET on FS1, MRN, and SiriusXM NASCAR Radio Channel 90. After such a devastating Las Vegas for most of the elite eight, many driver's title hopes rest on surviving the inevitable superspeedway chaos.
Written by Peter Stratta
Be sure to follow us on Twitter
Be sure to follow the writer on Twitter
Photo by Meg Oliphant/Getty Images for NASCAR