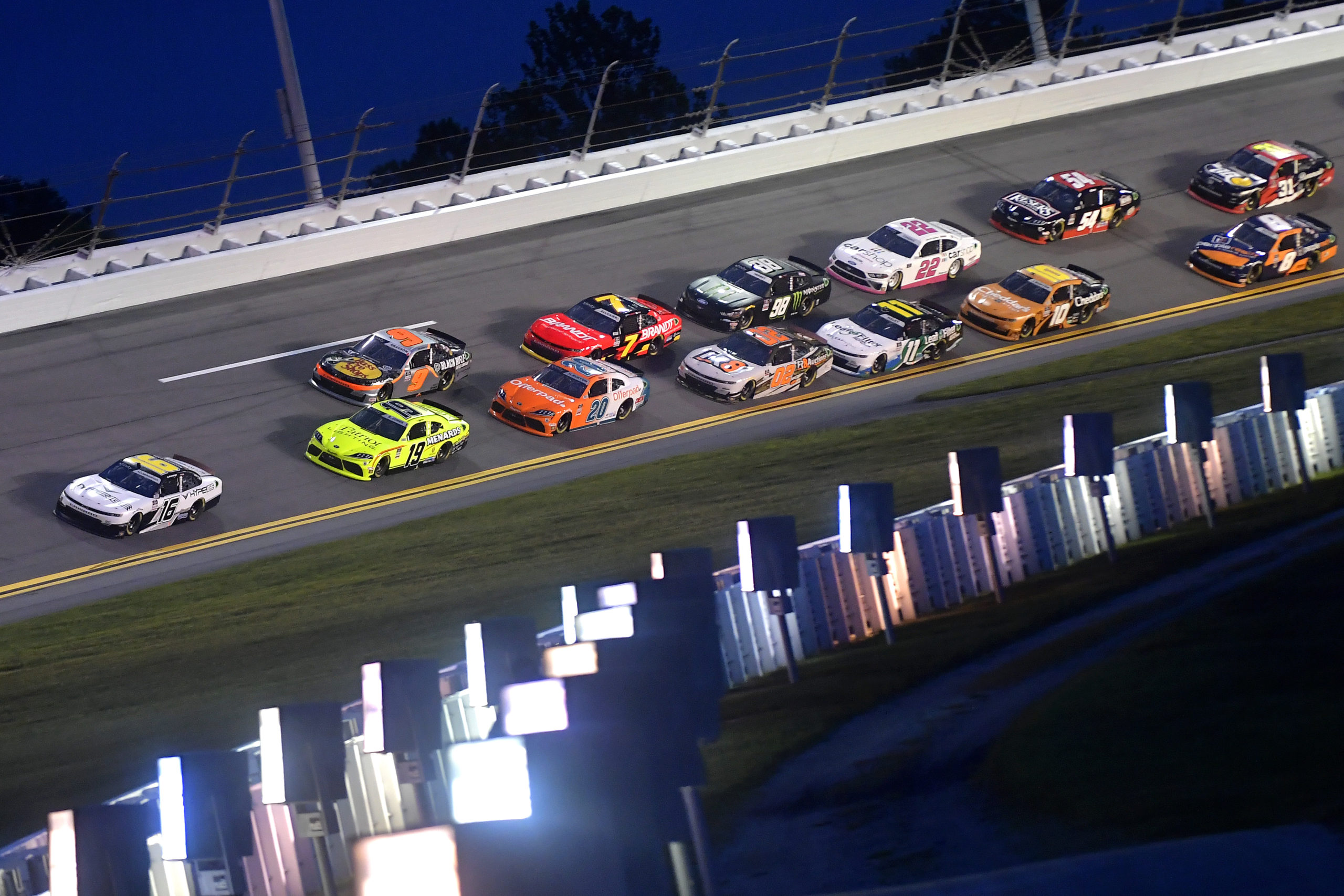 Underdogs Racing for Xfinity Series Championship Ready for Playoffs
CHARLOTTE, N.C. – At the bottom of the Xfinity Series Playoff grid are a very diverse group of drivers. These drivers are not necessarily competing for wins week in and week out. However, they all have still made the Playoffs. This postseason format has shown us all in years past that anything is possible, and anyone can move onward. With that being said, can any of these underdog teams advance onto the Round of 8, or even the Championship 4? These five drivers represent some of the best teams in the sport, such as Kaulig, Richard Childress Racing, Joe Gibbs Racing, and Stewart-Haas.
Jeb Burton
The third car from Kaulig Racing, Jeb Burton earned his first career win earlier this year at Talladega. Aside from the now-typical Kaulig superspeedway prowess however, 2021 has been a bit of a challenge for Burton. The Virginia driver has 15 top-10s on the year, with nine Playoff points slotting him as the seventh seed. With a bit of a cushion to start, how does Burton feel about his chances in the Kaulig 10 machine?
"The last couple weeks, I feel like we've been running better and better," Burton said. "Just haven't had the results. We've had a couple things go on out of our control. I feel like we're building momentum at the right time with the speed of our racecars. So I'm excited about that, my crew chief and I are on the same page, and I got a great pit crew and group of guys behind me. I'm excited to head to Vegas, and like I said I feel like we're building some momentum at the right time. I feel like we can get to Phoenix. If we can get there, I feel like we can win it all."
While Burton is above the cut line to begin the Playoffs, he still must survive Las Vegas to stay in the green. Race two of the postseason is at Talladega, where Burton will be tough to beat again. The 10 Chevrolet will start 14th in Las Vegas, the worst of any Playoff contender. Burton must rally early if he does want to remain in the Playoffs.
Myatt Snider
The lone Xfinity car from Richard Childress Racing, can Myatt Snider find victory lane again? Snider and the 2 team locked up their first-ever Playoff appearance all the way back in February at Homestead. Since then however, the 2 only has seven top-10s. Three of those top-10s have come in the last four weeks however. As a result, Snider may just be arriving for crunch time.
"I talked with a lot of people actually, like Tyler Reddick and Austin Dillon," Snider said. "The thing that I concluded for what is the best method in the Playoffs is just to keep doing what we've been doing. Not make any big changes, because that's when you start making mistakes. For us, I feel like we're starting to peak at the right time. Outside of a couple races, pretty much since coming back from the two-week break we've been in the top 10 pretty much the whole race. We had a lot of speed at Bristol and Michigan, and I feel if we just keep being consistent and in the top 10 like that the results will start showing. I don't think we'll make any big changes here, and I think we'll be ready to compete going forward."
The RCR organization has an uncanny ability to rise to the challenge and dig in when it comes to the Xfinity Series. Whether with Dillon, Reddick, or others, this program builds champions that often run under-the-radar. Snider could easily stun some people in these Playoffs, especially with the Charlotte Roval looming at the end of this opening round.
Brandon Jones
After a season with very few memorable moments, can Brandon Jones turn 2021 around in the Playoffs? Far from the winning season of 2020, the Joe Gibbs Racing 19 team has endured some tougher waters this year. Jones has 13 top-10s so far in 2021, but also has eight DNFs. Jones' best result of the season has been two runner-up finishes, but those pale in comparison to 10 finishes of 33rd or worse. Can Jones reset now that the Playoffs are here and truly battle for this championship?
"First off, the speed is there, that's no concern for us anymore," Jones said. "The speed is there to win races, so I think that's always been in the back of our heads this entire season. We're capable of winning these races, it's just got to all line up for us at some point. To be honest, I feel like our program has stepped up night and day compared to the times we did win last year. I feel like everything's gotten a lot better, we've all made steps in the right direction to get better, all putting in the time and the work to do it."
"Everything that's happened this year has been while running inside the top five or 10, so we just continue to push forward and look at the ones we were really good at. Even when we were taken out of races, we were still really fast."
Don't Count Jones Out Yet
"We got some momentum coming into the Playoffs," Jones went on. "At Bristol, we had a really good run. Had a phenomenal run at Michigan; had a shot to win that race, so we do have some momentum to go forward here. First round, we're a little bit skeptical. This is probably our weakest one as far as the tracks go, but Vegas has always been truthfully phenomenal for us. Our road course program has also gotten really really good here lately. We got to fight for it, but I feel like we can go win a road course. Those two right there are going to be really strong tracks for us."
Las Vegas truly has been a great venue for Brandon Jones, with six top-10s in nine career starts. This weekend, Jones will start eighth, looking for his first victory of the year. As a Joe Gibbs entry, Jones certainly has the speed to advance forward, but he just needs some luck to remain consistent.
Riley Herbst
After Chase Briscoe took Stewart-Haas to the Championship 4 last year, can the 98 return with Riley Herbst? Herbst has had a very up-and-down 2021 season, but recent weeks have shown hope in the 98 camp. Five of the last six races have seen the 98 finish in the top 10, including third at Bristol.
"I don't think it's really a second chance at all," Herbst said. "I think we have to execute from my standpoint behind the steering wheel, no mistakes on pit road, stop kind of trying too hard and being a little bit too eager and driving too aggressively, and getting into incidents or wrecks. Honestly, I think our last month of finishes has kind of trended in that direction. Back-to-back top fives is a lot better off than I was last year going into the Playoffs, so I think we're in a good mode right now."
Can Riley Herbst capitalize at his home track this weekend? The 98 will start 10th at Las Vegas, hoping to earn a third-straight top five. As the 11th seed, Herbst does have work to do to break into the Round of 8, but his speed has been on par with cars above him in points.
Jeremy Clements
The ultimate underdog in the 2021 Xfinity Playoffs is the 51 team with Jeremy Clements. The family-owned operation has seven top-10s this year, with a best finish of sixth at Darlington. Clements has made the Playoffs for the second time ever, but this time he does not have a victory. Rather, the 51 has been top 10 in points all season long. The 51 team's season has been one of the great under-the-radar stories to follow all year long, so how will he shift focus to the Playoffs?
"We're so much better off than we were [in 2017]," Clements said. "We struggled that year bad, that was the year with some body rules changes. Running the smaller spoiler and the different splitter changed everything for us. We never could get a grasp on it that year with the cars that we were running. We were just terrible really. Right now, we're way better off than we were that year. I'm excited to be in the Playoffs, have a fair shot at it again, and see what we can wind up with."
Clements has Confidence
"As long as we don't do anything dumb, myself included, putting ourselves in a bad position, I think we can move on. These races can have some crazy restarts and you never know what can happen. We have to just keep our nose clean, be there at the end, and get some top-10s. I'm a little worried about next week for Talladega, obviously anything can happen there, but the rest I feel good about."
For the opening round of the Playoffs, Jeremy Clements will start 13th at Las Vegas. While the 51 is at the bottom of the Playoff standings with no bonus points, this format is prone to unexpected moments and this underdog could very easily rise to the occasion.
The 2021 Xfinity Series Playoffs begin Saturday night in Las Vegas, with the Alsco Uniforms 302. Coverage begins at 7:30 p.m. ET on NBCSN, PRN, and SiriusXM NASCAR Radio Channel 90. One driver will leave Vegas sleeping easy for two weeks, and having no concerns over Talladega or the Roval. Can one of the underdogs in this year's Playoffs stun the racing world? Tune in to find out who can become the best of the rest.
Written by Peter Stratta
Be sure to follow us on Twitter
Be sure to follow the writer on Twitter
Photo by Logan Riely/Getty Images for NASCAR