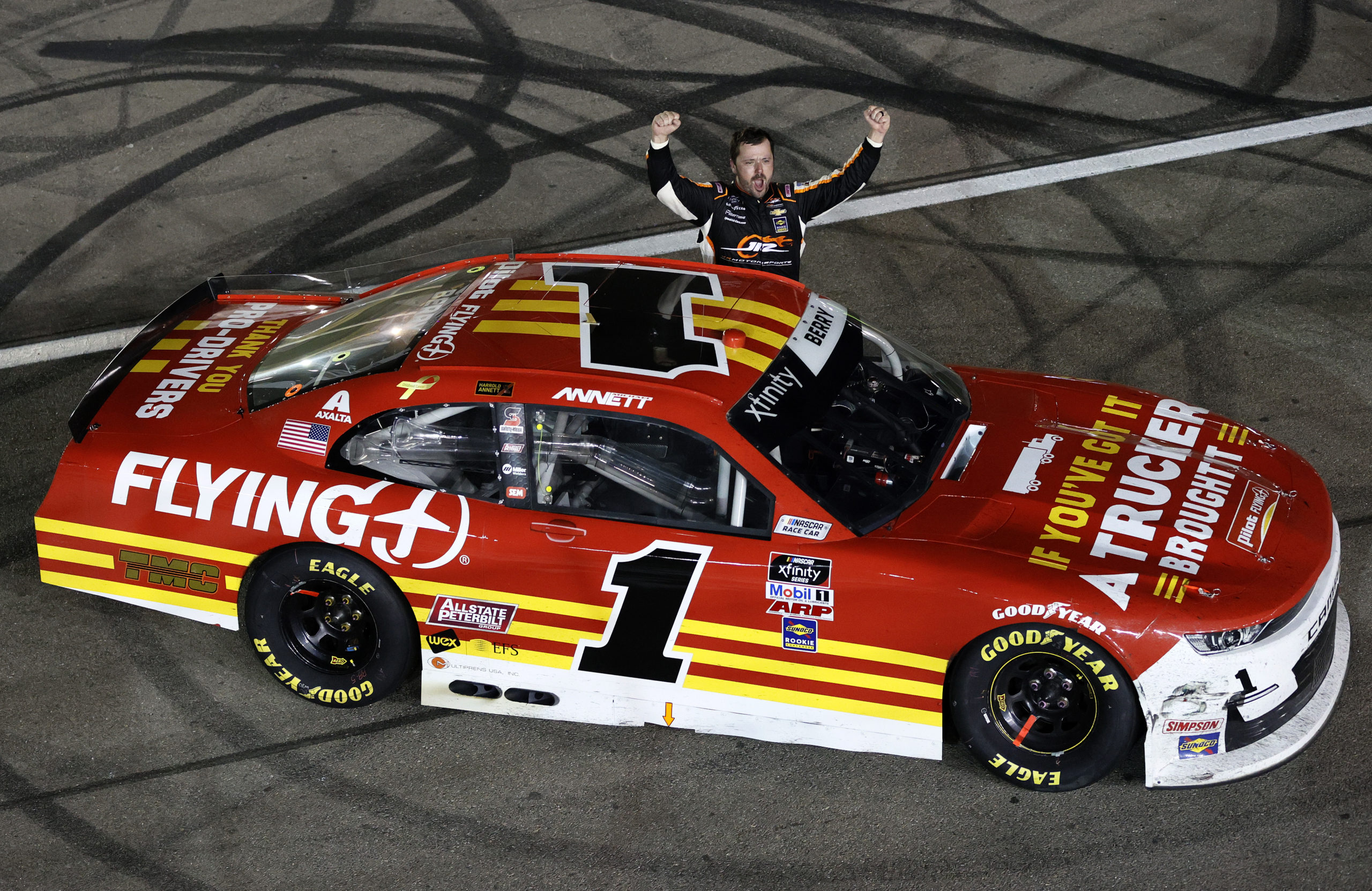 Josh Berry Back in Victory Lane After Stunning Playoff Field in Las Vegas
LAS VEGAS, Nev. – While the focus of the late model stock car racing world was on Martinsville for the Valley Star Credit Union 300, their pride and joy had other plans. Rather than defend his 2019 win of the short track crown jewel, Josh Berry was filling in for the injured Michael Annett in the JR Motorsports 1 car at Las Vegas. Despite not being a part of the Playoffs, Josh Berry was the class of the field, and went on to career win number two. This victory had added significance for JRM, as it was the organization's first ever 1-2-3 sweep.
Title Titans Tango in Stage 1
Coming into Las Vegas tied atop the Playoff grid, both Austin Cindric and AJ Allmendinger started on the front row. The two odds-on championship favorites would battle early, as the 22 of Cindric held an early lead. However, the Stage 1 win would go to Allmendinger's 16, as AJ came in clutch on a restart. It was this exact restart that would see carnage unfold and multiple Playoff driver's hopes go up in smoke.
After the competition caution, the aggression would be pegged on the race's first restart. Back in the pack, drivers went four (and almost five) wide entering turn one, trying to gain as many spots as possible. However, this would not end well at corner entry, as the 98 of Riley Herbst got turned across the field. The 98 quickly collected many innocent bystanders, ending the days of many drivers before lap 35.
In total 14 of the 40 cars total suffered some form of damage in this melee. This would include Playoff contenders Herbst, Jeb Burton, and Jeremy Clements. All three title hopefuls left Las Vegas finishing outside of the top 30, in a massive points hole. Race one of the Xfinity Series Playoffs was incredibly harsh to numerous underdog teams.
JRM Cars Came to Play
Stage 2 would see another Playoff driver step up to the occasion-Justin Allgaier. The 7 took command on lap 66 and never looked back. This would mark only Stage win number three of the year for Allgaier. As the race hit its second half, Allgaier clearly established himself as the man to beat. However, another challenger would quickly arise.
After fighting and clawing his way forward, Josh Berry was all over Allgaier's bumper with 45 to go. As the 7 got loose, the 1 made the pass and began to drive away. One final pit stop under green though would still determine the race outcome.
Allgaier came in for his final stop with 23 to go, while Berry stayed out an extra three laps. When the 1 exited pit road, he was briefly passed by the 7. In heavy lapped traffic though, Berry powered back around Allgaier for the lead and the eventual win.
Prior to pit stops, Berry held a lead of more than four seconds. Over the final 15 laps, Berry gained that lead again over Allgaier, leaving the 7 and everyone else in the dust.
Along with teammate Noah Gragson rallying late to third, JR Motorsports would finish 1-2-3. Las Vegas is the first time JRM has ever swept the top three spots of any Xfinity race. In addition, this comes just a day after ThorSport trucks had a top-four sweep.
Berry's Winning Reaction
"Oh my gosh, this thing was so fast," Berry said. "It just took me awhile to figure it out. I knew the race would go down to the bottom [lane] at the end, so I just wanted to work hard and make sure my car ran good on the bottom. Just had to stay disciplined and keep working on it, these guys made the right adjustments, and it was fast. Just finally got a long run, had everything together, and was able to do it."
"It was tough," Berry said of racing his Playoff-eligible teammate Allgaier. "Me and Justin have raced together a lot this year, and most of them he got the better of me. Today, we were able to get one."
"This moves the 1 car to the next round of the Owner's Points, and that's really important to this group. They've all worked so hard and been through so much, they deserve this. I want to say hey to Michael [Annett] at home, thank him and his group for trusting me to drive his racecar."
Top 10 Results From Las Vegas
Behind the JRM trio, Austin Cindric and Daniel Hemric each earned a top five. Brandon Jones, AJ Allmendinger, Ty Dillon, Justin Haley, and Harrison Burton rounded out the top 10.
Playoff Standings Update
Both Cindric and Allmendinger came in atop the points standings, and they also leave there. Allgaier, Gragson, and Hemric each have a healthy cushion above the cut line, while everyone else below them has work to get done.
What's Next in Xfinity
The Xfinity Series Playoffs roll onward to Talladega Superspeedway, for the Sparks 300. Coverage begins Saturday at 4:30 p.m. ET on NBCSN, MRN, and SiriusXM NASCAR Radio Channel 90. With all three cars locked and loaded for the Playoffs, Kaulig Racing will be tough to beat again on the superspeedway. Who can survive the chaos of Talladega to earn a ticket to the Round of 8?
Written by Peter Stratta
Be sure to follow us on Twitter
Be sure to follow the writer on Twitter
Photo by Steph Chambers/Getty Images for NASCAR