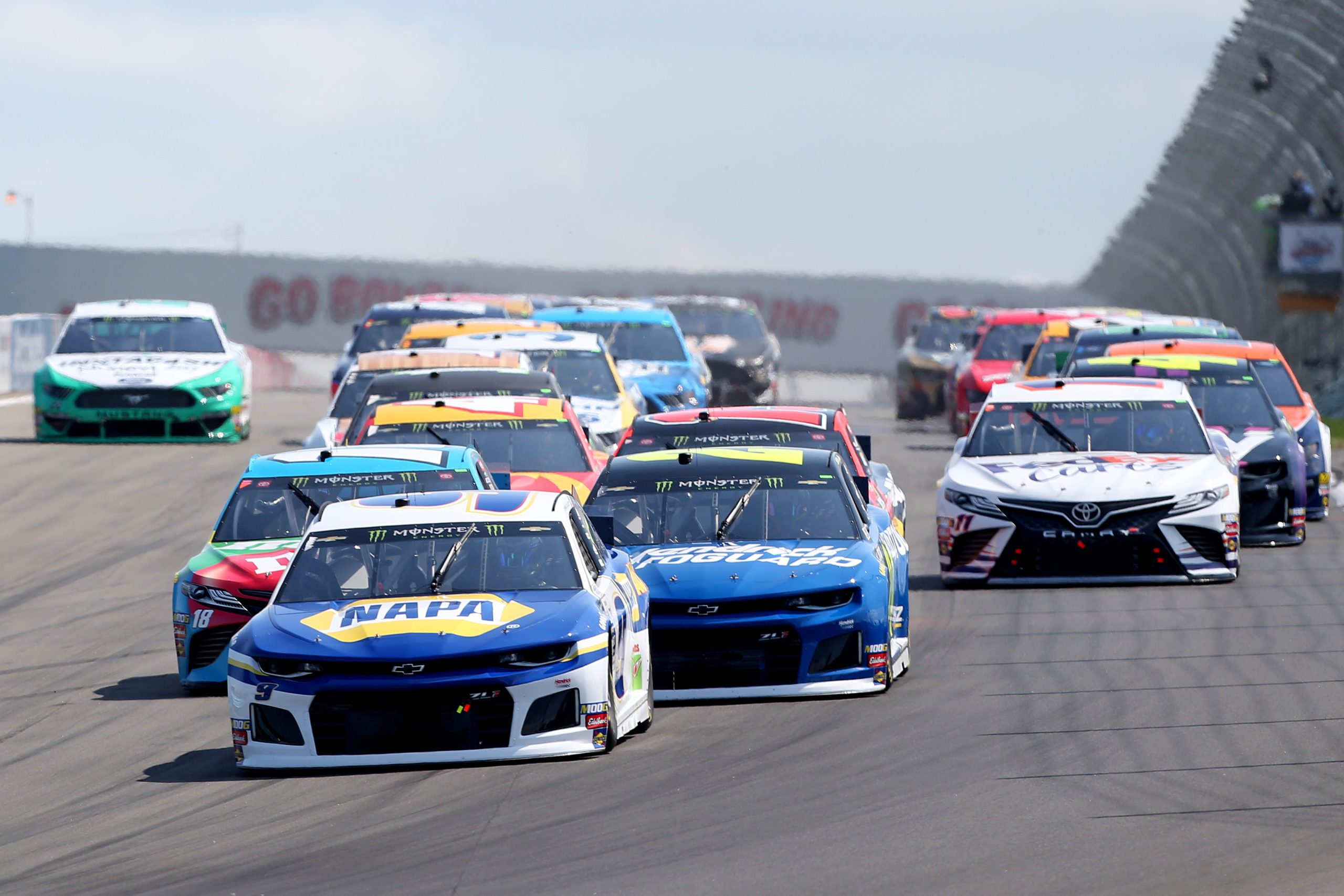 Who Will Roll a Perfect Game in Go Bowling at The Glen?
For the first time in two years, NASCAR heads to upstate New York for road course racing at Watkins Glen. Coming off the two-week Olympic break, who can score a statement win? The Playoffs loom ever closer, can the fifth road course event in 2021 see an upset, or will the usual suspects remain up front? Chase Elliott is looking for his third Watkins Glen win, can anyone stop him from scoring the hat trick?
Tyler Reddick
Currently the last man in the Playoffs, can Tyler Reddick's first career win come this weekend? Reddick has been sneaky good on road courses all year long, with the pole a COTA and a top 10 at Road America. Three years ago saw one young driver's first victory come in New York, can a similar fate fall in place for Reddick?
"It's very positive," Reddick said of his Watkins Glen outlook. "At the beginning of this two-week break, I really would have thought it was bad timing to just have two weeks away and have this break to prepare for these road courses. We've consistently been climbing up. Our momentum has been building. We've been really running well. But to see how New Hampshire went and having the No. 10 (Aric Almirola) winning and really shaking up the Playoff leaderboard, it was good to have a two-week off-period from racing."
"It may have been a break for a lot of teams and people, but for myself and a good number of us here at RCR, we took advantage of the time we had to really cover every single detail that we could on our race cars and take every last minute of preparation that we can to make our car better for Watkins Glen and be as prepared as we can be going into Indy as well. So, it ended up being a really good time to just focus on these two races coming up ahead. I'm glad it ended up shaking out the way it did there."
Reddick will go for his first career win but also try and retain the slimmest of Playoff margins Sunday. The last Playoff spot is currently a battle amongst both RCR cars. The RCR No. 8 Chevrolet will start 13th.
Brad Keselowski
While not necessarily known as a stout road racer, Brad Keselowski is one to watch out for this weekend. The Penske No. 2 Mustang will start from the pole Sunday after a third-place run at New Hampshire. Wanting to leave Team Penske on a high note, Keselowski should have plenty of motivation to perform. Penske Mustangs have been arguably the best on all 750-horsepower tracks this year, of which Watkins Glen is only the latest. Starting out with prime track position, Keselowski could leave New York with his first-ever road course win.
Martin Truex, Jr.
2017's Watkins Glen winner, Martin Truex, Jr. could easily have three-straight at The Glen and be going for four-in-a-row. MTJ has finished a close second to Chase Elliott in the last two trips to New York. Aside from the 9 car, the 19 may be the best active driver at Watkins Glen. After two runner-up results, MTJ may have the best shot to dethrone Elliott this weekend.
"I think the last two second place finishes, it was just track position. The 9 (Chase Elliott) ended up in front of us and we couldn't pass him. That's a really, really fast place and it can be difficult to pass. His car was better in different spots than mine. From lap times, we were faster both years – I could get to him, but he was fast in the right places where I couldn't pass him. I will have to hopefully figure out how to get faster in a few key areas. But I love going there, it's a fast place and it would have been awesome if we could have won three in a row out there."
Truex should be on everyone's short list of potential winners not named Elliott. The Joe Gibbs Racing No. 19 Toyota will roll off ninth on Sunday.
Joey Logano
The only driver ever to sweep a weekend at Watkins Glen, 2015 victor Joey Logano is another contender this time around. Logano rounds out an all-Penske front row, as he hopes to keep his strong 2021 road course stats alive. In the four prior road races this year, Logano has finishes of second, third, fourth, and 15th. The lone race not in the top five for the 22 was Road America. Aside from Elliott, Logano has been the best on road courses throughout the year. Since 2016 however, Logano's best Watkins Glen result is 23rd. The 22 will try and go for another win after starting second.
Chase Elliott
All eyes will be on Chase Elliott this weekend. The Hendrick No. 9 car has won the last two Watkins Glen races, and is a heavy favorite for a three-peat. Watkins Glen in 2018 was the site of Elliott's first career Cup Series win. He would follow that up a year later by leading 80 of 90 laps. Elliott also won the pandemic-substitute race for The Glen last year on the Daytona Road Course. Batting .500 already this year on road races, Elliott enters Watkins Glen searching for another win.
"We are excited to get back to Watkins Glen," Elliott said. "Any time you run well and can win somewhere, it's always nice to go back. Winning in the Cup Series, in general, is something to be proud of in my opinion, regardless of where it is or who you beat. The last couple of trips to The Glen I have enjoyed battling against Martin (Truex Jr.). I feel like we share a lot of mutual respect and have for many years, so I have enjoyed those battles with him."
Elliott should be everyone's odds on favorite for another win at Watkins Glen. The 9 team in 2021 is a few odd circumstances away from being 4-for-4 on road courses this year. With the right speed and execution, Elliott could end up with a New York hat trick and a third win on the season. Elliott will take Sunday's green flag from the 11th spot.
Kyle Busch
Perhaps Elliott's biggest competition Sunday will come from Kyle Busch. The only other active driver with multiple Watkins Glen wins, KB18 gets around The Glen quite well. Busch has led four of the last five races in New York, and also has a top 10 in all but three starts here.
"I like going to Watkins Glen," Busch said. "It's a road course, but it's kind of a high-speed road course. The difference in the two road courses, you think of Sonoma as like a Martinsville-type road course and you would think of Watkins Glen like a 2-mile oval, like a California- or Michigan-type road course. Watkins Glen has some speed and has some wide-open spaces a little bit, but there is still a lot of great racing that happens there since you are able to out-brake people getting into the corners, or having a better run through the Bus Stop, or maybe getting by someone in the Carousel. It's a fun place to race. I really like Watkins Glen and I hope we can have another solid run there with our SNICKERS Camry."
"At Watkins Glen, the biggest thing is pit strategy. Obviously, you've got to pick and choose when you're going to pit and stick to your plan. Whether or not we can still do it on two stops, I'm unsure of. You definitely have to be good at being able to carry speed there, obviously, through the esses and down the long backstretch. That seems to be the key part of the racetrack."
Busch will try and take the fight to Elliott and the rest of the field as he chases a third Watkins Glen win. The 18 starts 20th, but do not expect him to stay back there long.
Kyle Larson
The only man who stood between Chase Elliott and the Sonoma victory, Kyle Larson is gunning for another road course win. With a best Watkins Glen finish of fourth, the 5 will try and best that this weekend. Since his run of three-straight victories, Larson has cooled off a bit. The Pocono doubleheader did see the 5 earn two top-10s, but the three races since have only seen one other top 10 result. Larson beat the road course king once this year, and may just be able to do it again in the Empire State.
"Watkins Glen isn't my best road course track, but I enjoy racing there," Larson said. "It's fun because it's fast-paced. With little fall off (in times), you have to be aggressive the whole run and it seems you have to make some hairy passes in the braking zones to get by people."
The 5 will start Sunday from fourth, the best of any Hendrick car. While Larson will certainly have track position at the start, can he ward off a few hungry drivers who will be charging through the field?
Denny Hamlin
Still the winless points leader, can Denny Hamlin join the victory lane club at Watkins Glen? Hamlin does boast one win at The Glen, coming in 2016. Two of the three races since then have seen the 11 finish in the top five, so the Fedex team is underrated here. Can going to a road course for the first time in two years though be a bit more of a challenge?
"We'll prepare for it just like we do with all the other road courses," Hamlin said. "Where all the drivers will get in the simulators and get acclimated to it pretty quickly. But Cup drivers are so good at being presented with a challenge and stepping up and being extremely good at it. I expect some of the first laps of the race will be some of the fastest laps of the race because these guys are so tuned in. Although it will be different because it has been two years, for most drivers who have been doing it for 10-plus years, it will be a quick adjustment."
Hamlin Energized After Olympic Break
"It's definitely different to get a break like this, but I think it was good for everybody, especially the team guys, to get that break. But now it's time to get back to business. I'm confident we'll bring a fast car to The Glen, so we just have to go out there and execute."
Who will choose the right lane on the path to victory? The Go Bowling at The Glen will go green Sunday, August 8 at 3:00 p.m. ET on NBCSN, MRN, and SiriusXM NASCAR Radio Channel 90. Elliott definitely tops many people's minds as a winner, but he's only 2-for-4 in 2021 on road courses. Be sure to tune in and see if anyone else can reign supreme in the Empire State.
Written by Peter Stratta
Be sure to follow us on Twitter
Be sure to follow the writer on Twitter
Photo Credit to Matt Sullivan/Getty Images for NASCAR