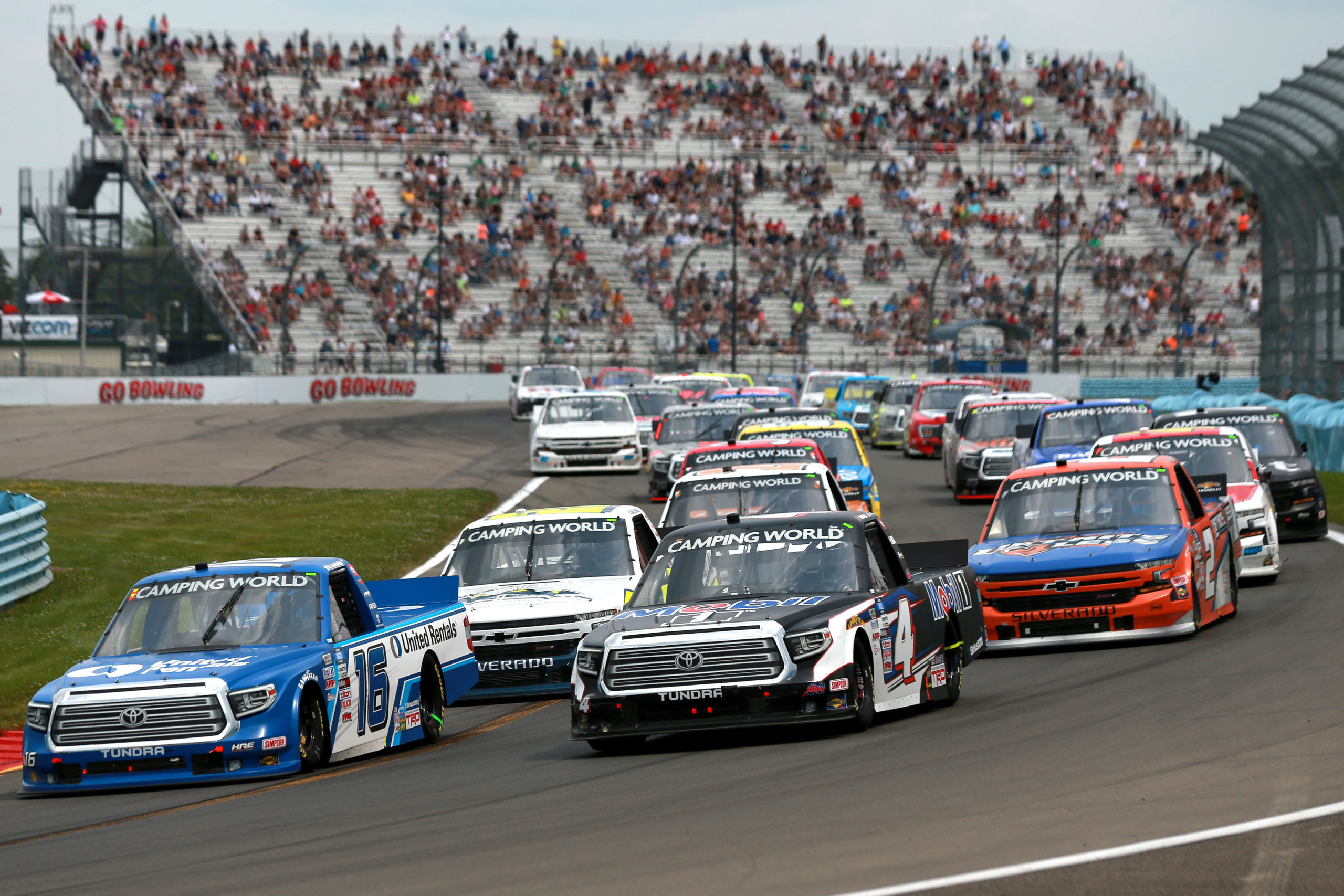 Austin Hill Ends Truck Regular Season with Two Victories, Playoff Field Set
WATKINS GLEN, N.Y. – The first Truck Series race at Watkins Glen in 21 years was a dramatic one. As the regular season finale, the final three Playoff spots were decided. In addition, Austin Hill put the No. 16 in victory lane for a second-straight race. The Hattori driver dominated at The Glen; he now enters the championship hunt with great momentum.
While lightning did call this race 11 laps shy of the scheduled distance, that does not change the coming stretch. The postseason is on for the Truckers, with their 10-man title fight kicking off in two weeks.
Wild Watkins Glen Start
Behind the front row of Austin Hill and Todd Gilliland, the first turn was madness. John Hunter Nemechek hit Ben Rhodes, sending the 99 into Chandler Smith. Despite this heavy contact and synchronized spins, the race remained green. Stage 1 would only see one caution, as it went to Todd Gilliland.
By virtue of short pitting Stage 1, Austin Hill had track position relative to Gilliland. While the 16 had to make up a few spots, he took the lead back on lap 29. Hill would take the Stage 2 win, his first of the season.
One Bubble Driver's Hopes End
With weather and lightning impending, the final Stage of the regular season went green. One driver who needed to win their way into the Playoffs would find the wall in a matter of laps though. After contact from AJ Allmendinger, Derek Kraus spun and hit the barrier out of turn four. This would mark the end of any postseason hopes for the 19 team, as they entered in a must-win scenario.
Lightning Rolls in
Only a few laps later, lightning struck within eight miles of Watkins Glen. The red flag immediately came out for a 30-minute hold. After a few additional lightning strikes, NASCAR called the race 11 laps shy of the complete distance. As a result, Austin Hill earned his second-straight victory in 2021.
Top 10 Results From Watkins Glen
Behind Austin Hill, regular season champion John Hunter Nemechek was a distant second. Sheldon Creed, Todd Gilliland, and Parker Kligerman were the rest of the top five. The remainder of the top 10 were Zane Smith, Tyler Ankrum, Paul Menard, Sam Mayer, and also Carson Hocevar.
18th-place finisher Chandler Smith was also disqualified postrace for failing height sticks. While this sends the No. 18 truck to last at Watkins Glen, it does not impact any Playoff positions or points. Smith was one of three drivers to secure a Playoff spot in Watkins Glen, along with Carson Hocevar and Stewart Friesen.
Hill's Winning Reaction
"It was nerve-wracking, that's for sure," Hill said about the lightning delay. "I didn't know if we were going to go back green or not, but it feels so good to win on a road course. I've been wanting to win on a road course for a really long time. Even back in the K&N days, I felt like I would get around the road course fairly decent and finally we had a race that does everything we needed to do. I was really biting my nails there and then when that rain came and I didn't know what was going to happen with the lightning and all that."
"Everybody at United Rentals and HRE (Hattori Racing Enterprises), they gave me a really good piece today and we were able to go out there and get it done. Really cool, really special to get a win at Watkins Glen. First time back in 20 years or so, it's really special."
By virtue of winning the last two weeks, Austin Hill has vaulted the 16 team up to second in points. While the No. 4 team is the title favorite, the 16 is also in prime position for a championship run.
2021 Truck Series Playoff Grid
John Hunter Nemechek enters Playoff race one as the points leader with 2,049 points. Austin Hill, Ben Rhodes, Todd Gilliland, and Sheldon Creed are the top five in points. The rest of the contenders are Zane Smith, Matt Crafton, Carson Hocevar, Chandler Smith, and also Stewart Friesen. Only seven races now separate one of these 10 drivers from being crowned Truck Series Champion.
What's Next in Trucks
The opening Playoff race for the Truck Series will take place at Worldwide Technology Raceway at Gateway. The WWT Raceway 200 Presented by CK Power will go green Friday, August 20 at 9:00 p.m. ET on FS1, MRN, and SiriusXM NASCAR Radio Channel 90. Last year eventual champion Sheldon Creed won at Gateway, can the St. Louis oval give us another title preview?
Written by Peter Stratta
Be sure to follow us on Twitter
Be sure to follow the writer on Twitter
Photo Credit to Sean Gardner/Getty Images for NASCAR