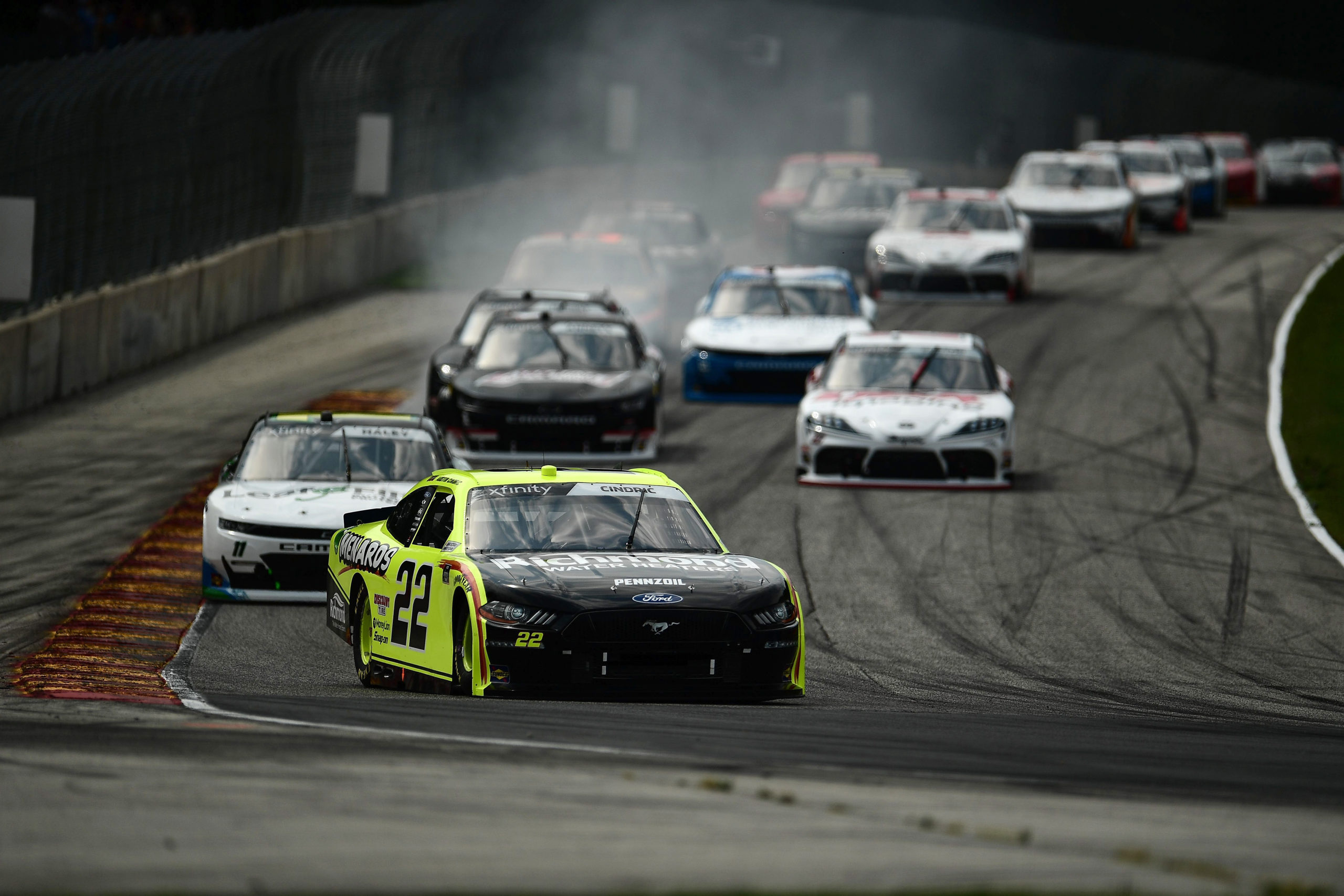 Who Will Celebrate July 4th With a Road America Win?
ELKHART LAKE, Wis. – For the first time since 2009, the NASCAR Cup Series will race on America's Independence Day. For the first time ever though, the July 4th weekend race will be competed at Road America. The four-mile Elkhart Lake, Wisconsin circuit hosted one lone Cup event back in 1956, but has seen the Xfinity Series since 2010. While this is not the first Cup race in Wisconsin, it will be the first time in the modern era for the premier series. Over half of the Cup drivers do have prior Xfinity starts here, so who are some favorites for the Jockey 250?
Kurt Busch
Last week's Pocono doubleheader saw Kurt Busch break into the provisional Playoffs, so can he keep the momentum going at Road America? All of Chip Ganassi Racing has been trending upwards in recent weeks, with breakout runs from both Busch and Ross Chastain. The 1 team has three top-10s in the last four races, so they enter Road America on a bit of a hot streak. Across all three road course races already this season, Kurt Busch has two top-10s. Busch also has one Xfinity Road America start, placing eighth in 2012. On the heels of Ganassi's big news this week, Kurt Busch would love nothing more than to celebrate July 4th with Chip Ganassi as winners.
Kevin Harvick
While not traditionally known as a road course ace, don't count out Kevin Harvick this weekend. Harvick will be pulling double-duty, as he will run Saturday's Xfinity Series race in BJ McLeod Motorsports' No. 99 car. With the added track time, Harvick can be a quiet contender on Sunday. Harvick enters Road America with three-straight top-10s. With seven races remaining until the Playoffs, Harvick is still winless on the year. Though Harvick's road course results this year have been very up-and-down, the 4 has been slowly gaining speed and performance in recent weeks.
Ryan Blaney
Mentioning Ryan Blaney and road courses often leads to the finish of the inaugural Roval race. Beyond just that chaotic last-lap, Blaney is a very under-the-radar road racer. Though he only has one top 10 in three road races this year, the 12 has shown improved speed as of late. Blaney was an aggressor in both Pocono races, making daring restart moves that picked off several positions. If the 12 had just a little more track position, he would have been among the front contenders. In Blaney's lone Road America appearance from 2015, he finished a close second to Paul Menard. Blaney may need a bit of strategy help to gain on the top teams Sunday, but the 12 could return to victory lane.
Martin Truex, Jr.
Often called the second-best NASCAR road racer, can Martin Truex, Jr. end the 19 team's slump at Road America? Despite four career road course wins, only once in three starts this year has MTJ earned a top 10. The 19 finished third a few weeks ago in Sonoma, only behind two Hendrick cars. Despite no road course wins since 2019, Truex is still listed as one of the favorites for Sunday.
Chase Elliott
Can the road course king reign supreme in Wisconsin? Chase Elliott has won the last three inaugural road course events, so what's stopping him at Road America? Dating back to his two seasons in Xfinity, Elliott finished fourth twice on the four-mile track. While Hendrick's consecutive win streak may have ended Sunday at Pocono, the 9 hopes to restart it this week. Elliott enters Road America confident for his second win of 2021.
"I've raced up at Road America a couple times in the Xfinity Series and I always really enjoyed going there," Elliott said. "It's a cool racetrack. There are a lot of race fans up there – a lot of people that enjoyed having us racing there. I've always felt very welcome and I don't anticipate this weekend being any different. I am looking forward to getting back up there."
If not for rain impacting the finish of the 2015 Road America race, Elliott may already have a win here. COTA was very kind to Elliott, as were the Daytona Road Course and the Charlotte Roval. Elliott will be among the favorites as he goes for his seventh career road course win Sunday.
Kyle Busch
Can Kyle Busch keep the Pocono momentum rolling in Road America? Busch will have plenty of track time across both races, as he will pull double duty for the fourth time this year. Running on Saturday at COTA a few weeks ago proved very helpful for Busch, as he took a commanding Xfinity victory and was a few laps shy of the Cup win. On another track Busch has never competed on, can the same results happen? KB is a heavy favorite for the Xfinity race, and with the right strategy could repeat on Sunday.
Joey Logano
The only top five finisher in all three road races this year, Joey Logano is an underdog for Sunday. Logano on road courses in 2021 has finished second, third, and fourth, so is the win just around the corner? Logano has never competed at Road America, so the 22 will be behind the 8-ball towards some of his competitors. At fourth in points with only one win, Logano hopes to add more Playoff bonus points with another victory. If there is a late restart Sunday though, expect Logano to capitalize and be tough to beat.
William Byron
While Larson, Elliott and Bowman have taken many Hendrick headlines this year, William Byron is still an impressive third in points. Despite only one win, the 24 only has one DNF all year (Sonoma) and has been a contender in many races. If not for being just a few laps short on fuel, Byron would have won last Sunday at Pocono. What is Byron's level of anticipation entering Road America?
"I'm excited for this road course," Byron said. "I finished sixth there in the Xfinity Series in 2017. It was a good run and felt like it was one of my best road course races in that series overall. I expect more of the same this weekend in the Cup car. You just want to make sure that the car turns well and that you're good in the braking zones. For us as a team, I think we will start off getting back to the basics of road course racing. We've had some bad luck recently but normally we're really good at this style of racing. I'm excited that it's another new track for the series and I think it will race really well for our cars."
Historically, Byron is an underrated road racer despite no wins. The 24 will try to continue their quietly consistent year and earn win number two on Sunday.
Kyle Larson
In the last road course race at Sonoma, Kyle Larson toppled road course king Chase Elliott for the victory. Can history repeat itself for the 5 at Road America? Coming off of two lost chances at a victory in Pocono, Larson is eyeing a return to victory lane and retaining his stranglehold on the sport.
"I've raced there before in an Xfinity car in 2013," Larson said. "I remember it was a really fun racetrack – a really long racetrack. I'm definitely excited to get back there this weekend because it's a really cool place. Whether on the simulator or iRacing, it's good to get visuals of elevation changes ahead of time." Larson did finish seventh here in Xfinity competition, and hopes for a better result after Sunday.
Denny Hamlin
Larson's tumultuous weekend in Pocono means that Denny Hamlin is still the points leader. Only by a slim two points though does the 11 team hold the regular season championship lead. Hamlin was two laps shy of a breakout win for 2021 last Sunday, having to pit for fuel coming to the white flag. Can Hamlin put the Pocono near-miss behind him and capitalize again at Road America?
"I didn't race there in the Xfinity Series, so I'll be one of the inexperienced guys," Hamlin said. "I like going to unfamiliar places, I like the process of trying to learn them. The great drivers have a way of figuring it out when they go someplace new. I hear it's pretty smooth and has some heavy braking zones. You're going to have to have a car that works well under braking. All road courses pose a challenge. Getting laps in the simulator, of course, helps. But, I'm excited about it. I love the challenge of being somewhere for the first time, and that track is certainly going to pose that challenge for me."
Hamlin Open to Challenges of a New Course
"Any time you can win somewhere new, especially when everyone is there for the first time, it makes it more special. It means you adapted to that racetrack quicker than everyone else. There will be some drivers that have some Xfinity experience there, like Kyle Busch, and they'll have a little bit of advantage over us. But I'm sure once we get through some practice, we'll be good."
Hamlin said postrace Sunday that the 11 had more speed than in recent weeks. With this uptick in performance, Hamlin should be one to watch out for Sunday.
NASCAR will celebrate July 4th with the first Cup Series race at Road America in 65 years. With such an unknown of a new track, who will adapt quickly and find victory lane? Tune into NBC, MRN, or SiriusXM NASCAR Radio Channel 90 Sunday at 2:30 p.m. ET to find out who takes the Jockey 250.
Written by Peter Stratta
Be sure to follow us on Twitter
Be sure to follow the writer on Twitter
Photo Credit to Stacy Revere/Getty Images for NASCAR