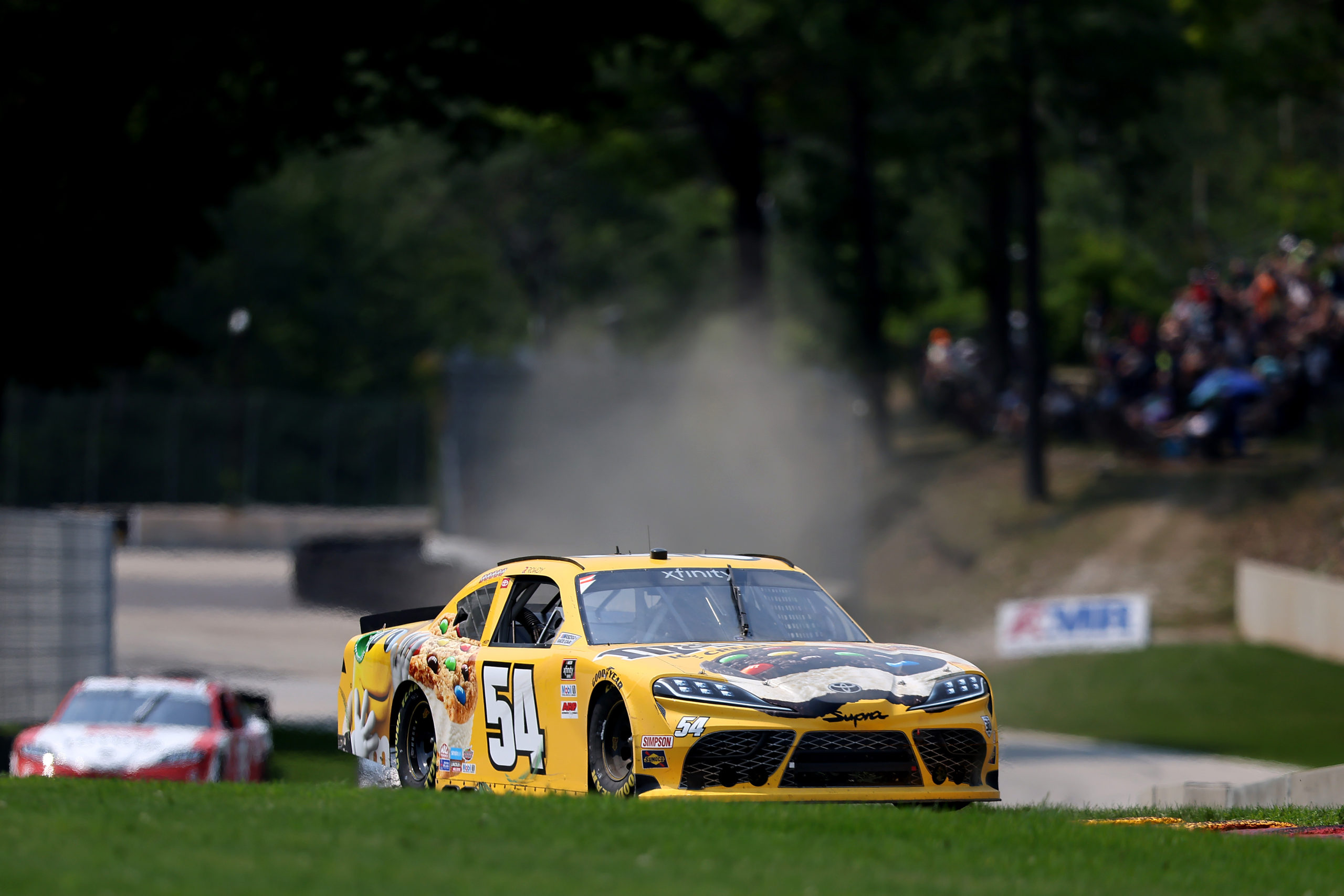 Fresh Tires Help Busch Win at Road America
ELKHART LAKE, Wis. – Kyle Busch used fresh tires to pass A.J. Allmendinger with five laps to go to win the Henry 180 at Road America. Busch overcame an early spin, as well as going off track at one point, to win his fourth Xfinity Series race of the season in as many starts. This win is the 101st of his Xfinity Series career. Although Busch did go four-for-four, this win was anything but a walk-off for the 54.
Allmendinger Makes it Look Easy in Stage 1
Allmendinger started third but took the lead on lap three. Under caution on lap six, the 16 stayed out while many others pitted.
On the restart, Ty Gibbs got a restart violation for switching lanes before reaching the start-finish line. This meant he had to go to the rear on the ensuing restart. Kyle Busch also ran into trouble after contact with Justin Allgaier sent him spinning.
Allmendinger won the Stage over Cindric, but the most impressive drive may have been from Noah Gragson. He finished fifth in Stage 1 after starting 36th.
Allmendinger Goes 2-for-2 with Stage 2 Victory
Cindric and Gragson stayed out under caution to inherit the top two spots. Daniel Hemric, who pitted before the end of Stage 1, used his fresh tires to quickly take the lead.
On lap 13, Sam Mayer had a hard crash after contact sent him spinning head-on into the wall. He was okay, but his season is off to a rough start after crashing for the second-straight week.
Allgaier took his first lead of the day on the ensuing restart but Allmendinger wasn't far behind. He got around Allgaier with three laps to go and held on to win his second Stage of the day over Allgaier and Hemric. The 2013 Road America winner, Allmendinger appeared strong after a Stage-sweeping day. AJ was trying to become the first-ever Xfinity repeat winner in Elkhart Lake.
Strategy Gets Cindric Back to the Lead
After Stage 2 would see another split decision on whether to pit. Allgaier and Busch stayed out while Allmendinger and others pitted. A pit road penalty dropped Allmendinger to the rear of the field.
Cindric took the lead just a lap after the restart. A caution on lap 27 allowed drivers to pit, knowing they could make it to the end on fuel. Most of the leaders pitted but six drivers stayed out. Cindric went from eighth to first in about two laps thanks to his fresh tires. He appeared to be home free but a caution with 11 laps to go bunched the field back up.
Late Caution Clears the Way for Busch
Knowing how important fresh tires were, the majority of the leaders pitted but nine drivers stayed out. Gragson and Allmendinger led the field to green with eight to go.
Myatt Snider spun just after the restart, setting off a chain reaction that caused a multi-car wreck behind him. Cindric and Allgaier both got damager in the ordeal that forced them to pit, effectively ending their chance to win.
Busch was in the best position, being the highest driver among those on fresh tires. He passed Allmendinger, who had just taken the lead, with five laps to go. It looked like there would be one last caution after another multi-car wreck happened with four to go but every driver drove away. Busch continued to pull away from the field to pick up his fourth win of the season. Over the closing laps, Busch schooled the competition as he drove off to win number 101.
Busch's Winning Reaction
In his first-ever appearance at Road America, Kyle Busch walks away as a winner. After a chaotic restart, Busch would only lead the final five laps en route to the victory.
"Tires were the saving grace for us," Busch said. "We had tires leftover when the 16 didn't. When we came and put those tires on I wasn't sure we'd be able to get through that many cars. Man, I wasn't sure what happened on the last couple restarts, just a melee going down the straightaway. Fortunate to be on the right side to get through that stuff without too much damage."
Busch also credited his win to a few unique people. "A lot of people to thank, Mark Mcfarland, the ARCA team, they came and helped me this weekend. And then also this might sound weird but Joe Nemechek and John Hunter. They'll know why but obviously it was very unique to have the opportunity to run this race today to get ready for tomorrow. I hate that I tore up my Cup car, but I think we'll still be fast. So hopefully tomorrow will look a lot like this day."
In 12 years of Xfinity racing at Road America, Kyle Busch is the 12th different winner. America's National Park of Speed has yet to see a repeat winner in NASCAR competition.
Busch will go for a weekend sweep in tomorrow's Jockey 250 Cup race from Road America. Tomorrow's action starts with Cup Series qualifying at 11 a.m. ET on NBC.
Top 10 Results from Road America
Kyle Busch is now four-for-four in the Xfinity Series this season. Daniel Hemric and Michael Annett used their fresh tires to score top-three finishes. AJ Allmendinger held on for fourth while Harrison Burton finished fifth. Kevin Harvick, Riley Herbst, Austin Cindric, Noah Gragson, and Justin Haley rounded out the top 10.
What's Next for Xfinity
The Xfinity Series is heading south for their second race of the season at Atlanta Motor Speedway. The Credit Karma Money 250 will take place next Saturday, July 10 at 3:30 p.m. ET on NBCSN. Kyle Busch will make his final start of the season in the Xfinity Series. Can anyone knock him off or will he remain perfect in 2021? Tune in to find out!
Written by Nicholas Sterling
Be sure to follow us on Twitter
Be sure to follow the writer on Twitter
Photo Credit to James Gilbert/Getty Images for NASCAR