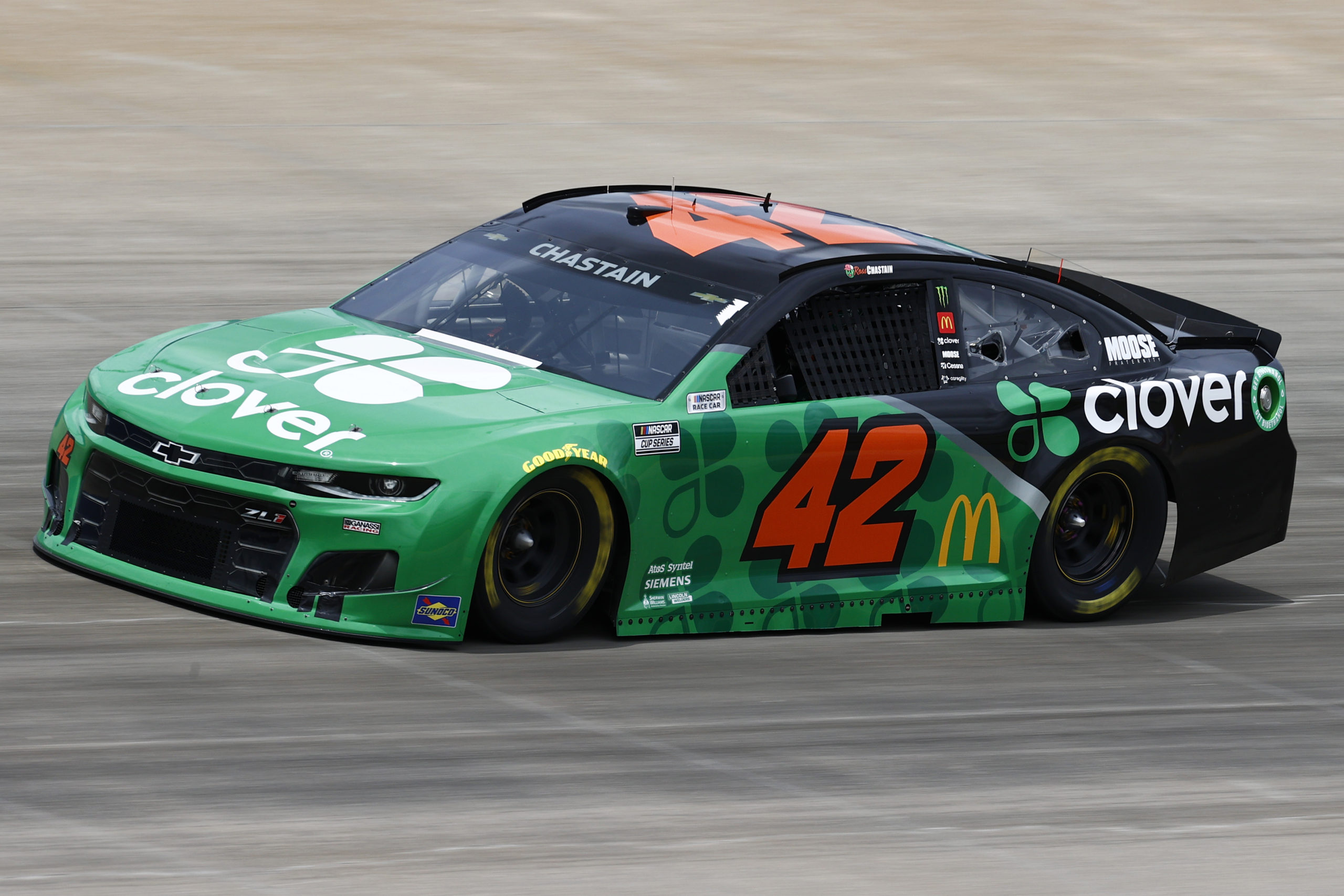 Questions Remain Around Trackhouse's Purchase of Chip Ganassi Racing
CONCORD, N.C. – Wednesday afternoon, Justin Marks and Trackhouse Racing announced the purchase of Chip Ganassi Racing's NASCAR operation. While financial figures are not public, this deal does involve all assets of the two-car NASCAR Cup Series operation. Above all, Trackhouse now retains control of both charters. Ganassi will continue to operate until the close of the 2021 season with drivers Kurt Busch and Ross Chastain. With all that being said, many questions still arise from this week's announcement. Two very valuable free agents are now open to a new ride for 2022 and beyond.
Ganassi Taken Aback
"At first it surprised me a little bit," Chip Ganassi said on receiving the call from Justin Marks. "But I have to say that after thinking about it for a while, it reminded me of about 20 years ago when I was talking to Felix Sabates about getting involved in NASCAR. I felt like there was a lot of young, energetic thought being put into what Justin was saying. Like I said, with all the new blood that seems to be coming into the sport now with Michael Jordan and Denny Hamlin and maybe Keselowski and Tony Stewart has got a team and Jeff Gordon getting back involved, the sport is ready for some new young blood. We always talk about a new generation of drivers, and I think you're going to see a new generation of owners now, and I think it's a great thing for the sport."
Marks Aspires for Greatness
"I thought about it for a few weeks before I worked up the courage to just do it," Marks said on reaching out to Ganassi. "I mean, I think sometimes I think there's a lesson here, and sometimes you've just got to make the call. That's what I did. I called him and I said, look, I'm in the process right now or at a point right now where I'm trying to identify opportunities to grow in this space and to create a great future for Trackhouse, and I just asked, that includes charters, that includes a potential acquisition of an entire operation, and if that's a conversation you'd be interested in having, then I'll come to Pittsburgh and we'll have an adult conversation about it."
Moreover, Ganassi and Marks do have a prior history together as driver and owner. From 2016-2018, Marks made a total of 22 starts for Ganassi's Xfinity Series team. The highlight of this timespan was winning the Mid-Ohio rain race in 2016.
Ganassi's Impact on NASCAR
A well-renowned businessman with teams in IndyCar, IMSA, and other series, Chip Ganassi's NASCAR endeavors began 20 years ago in 2001. Ganassi bought into Felix Sabates' Team SABCO, who had success throughout the 1990s with drivers including Kyle Petty and Joe Nemechek. 2001 saw Ganassi help Dodge return to the Cup Series, as Sterling Marlin gave the organization two wins.
2002 saw Marlin mount a serious threat for that year's Cup Series title. However, a cracked neck vertebrae from a Kansas crash forced him to miss the final seven races. Filling Marlin's seat in the No. 40 Dodge would be young upstart Jamie McMurray. In only McMurray's second ever start, he would win the fall race at Charlotte. McMurray would bookend his NASCAR career with Chip Ganassi Racing, earning five of his seven career wins. This included his remarkable 2010 season where he won the Daytona 500, the Brickyard 400, and the fall Charlotte race. McMurray would also make three Playoff appearances for Ganassi before retiring from full-time competition after 2018.
CGR has been home to many drivers over their two-decade tenure in the sport. Aside from the aforementioned Marlin and McMurray, Juan Pablo Montoya, Kyle Larson, Casey Mears, Reed Sorenson, and Dario Franchitti all made starts for the team. CGR's most successful seasons were 2002 for Marlin, 2010 for McMurray, and also 2017 for Kyle Larson.
Today, Ganassi fields entries for Kurt Busch and Ross Chastain. Both teams are on the verge of making the 2021 Playoffs. Busch has won twice for CGR over the last two years, while Chastain has turned heads in recent weeks in the 42 car. Ganassi as an organization has been trending upwards for the last month or so, expect both the 1 and the 42 to be serious contenders for a postseason spot.
What's Next for Ganassi?
With Ganassi exiting NASCAR, he will now focus entirely on his IndyCar and sports car efforts. CGR on the IndyCar side is the new home for Jimmie Johnson, who could run the full schedule in 2022. CGR are also the favorites for the 2022 IndyCar title with drivers Alex Palou and Scott Dixon. Ganassi is also very potent in IMSA competition, so Chip is far from done in the world of motor racing.
What Does 2022 Hold for Busch, Chastain?
Both of Chip Ganassi's charters will now go to Trackhouse Racing. Daniel Suarez's No. 99 Chevrolet does currently have a charter, but only due to a lease from Spire Motorsports. Spire recently sold that charter to Kaulig Racing for the coming year, forcing Trackhouse to buy both CGR franchises. As a result of this, the racing futures for both Busch and Chastain remain in doubt. Trackhouse has already said that one of their two cars for 2022 will belong to Daniel Suarez. So who exactly will their other driver be?
Kurt Busch's name has been linked to multiple teams, including Trackhouse. Busch has also been mentioned as a candidate for a second seat at 23XI Racing. The past series champion would also have loyal support from Monster Energy wherever he does end up. As far as Chastain goes, the future is much murkier for him. In the hours since this announcement, Busch and Chastain have both reaffirmed that their primary focus is making the 2021 Playoffs for Ganassi. Stay tuned for any updates regarding 2022 plans for Kurt Busch and Ross Chastain.
Trackhouse on the Rise
Trackhouse Racing has surprised many with several breakout performances in year one. Daniel Suarez was arguably the best car at Bristol Dirt, placing fourth after leading 58 laps. Currently, the 99 team sits just outside of the Playoffs at 18th in points. 2021 should already be seen as a huge win on-track for the 99 team, as they are in the midst of a tight postseason fight. By adding on all of the equipment, manpower, and resources from Ganassi over the offseason, this team should take a big leap forward next year. The future is certainly bright for the Justin Marks and Pitbull co-owned team. Trackhouse seems more than ready to face the NextGen era.
Written by Peter Stratta
Be sure to follow us on Twitter
Be sure to follow the writer on Twitter
Photo Credit to Jared C. Tilton/Getty Images for NASCAR