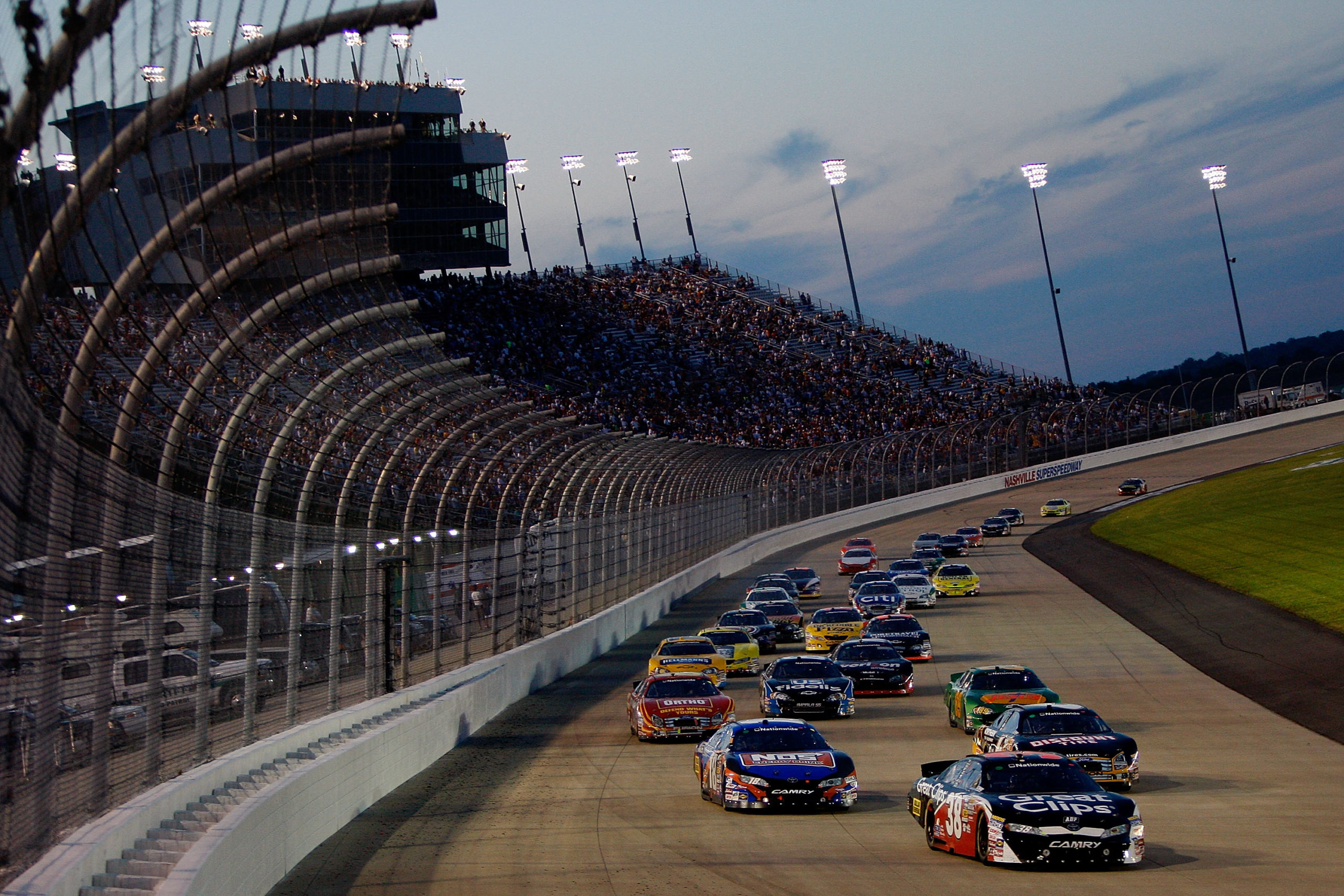 Who Will Win the Inaugural Cup Race at Nashville Superspeedway?
LEBANON, Tenn. – For the first time in 37 years, the NASCAR Cup Series heads to Nashville, Tennessee. While there is plenty of history at the famed Fairgrounds Speedway, Sunday will be the inaugural running of the Ally 400 at Nashville Superspeedway. Being a very unique 1.333-mile D-shaped concrete oval, this track could lead to an upset winner. Hendrick Motorsports has been unbeaten for the last month, but can another organization pull off a Music City miracle?
Austin Dillon
The winner of the last Truck Series event at Nashville Superspeedway, Austin Dillon could be a sleeper this weekend. The 3 team has remained well above the Playoff cut line all year, thanks to consistency. Aside from the Truck Series win, Dillon also has laps at Nashville in two Xfinity races, both of which were top-10s. But that is not all of Dillon's history at this track.
"Nashville (Superspeedway) kind of kicked off my Cup career," Dillon said. "One of my first, full-blown Cup tests was Nashville, leading into that season. We got to go test with the team; had a good time. We went there with the Trucks and finished third there with KHI. We had fun at Nashville. It was a good track for me. We kind of found something in the last session of practice in Trucks and it carried me through the weekend. We were able to be fast and competitive."
Dillon's First Cup Laps at Nashville
"It was exciting, getting to go have my time to be in the Cup Series and getting the time with the team. Obviously, they were Kevin Harvick's team and then we kind of jumped into that season. I was the new guy, so getting to hang out with the guys and just be a part of it. It was a fun time, obviously starting off my Cup career. I just remember going there, testing, and just trying things. We didn't get to race there, but it was cool just to go through and kind of get ready for a practice session. But it was also like a team-building, fun time because after the test, I think we went out downtown Nashville and had a really good time. The next day was not as productive as the first day."
"I'm looking forward to going back. I always felt like if we got a shot in the Cup car that it would be a good track for us. I can't wait." At 12th in points, Austin Dillon will go for his fourth-career win and the inaugural Nashville victory.
Alex Bowman
Why shouldn't the Ally 48 Chevrolet be seen as a contender for the Ally 400? Earlier this season, Alex Bowman won on Nashville's sister track at Dover, also a tough concrete surface. With all of the hype around his sponsor also being the race sponsor, Bowman has added incentive to win Sunday. The 48 team is riding a season-best streak of four-straight top-10s, dating back to Dover. Bowman has high confidence for win three of 2021 coming this weekend.
"This is a huge weekend for our partner Ally. It is their first entitlement race," Bowman said. "They have a lot of fun things planned for the sold-out crowd coming out to Nashville. We have a fun, neon paint scheme designed by Dale (Earnhardt) Jr., and I will have a new helmet that Bernard Pollard and Greg (Stumpff) from Off Axis Paint and I designed. It would be really cool to be able to bring home the Ally 400 trophy on Sunday with so many great people from Ally in attendance.
"Our last race we ran on concrete (Dover) we were able to claim the victory, so we are hoping for the same result on Sunday in our No. 48 Ally Chevy." The Ally Camaro will try and win the Ally 400 in a unique one-off paint scheme designed by Dale Earnhardt, Jr.
Brad Keselowski
A two-time Xfinity winner at Nashville, Brad Keselowski certainly knows how to navigate the concrete. Keselowski has 10 career Xfinity starts at the 1.333-mile facility, with seven top-10s. His two victories came in 2008 and 2010, one for JR Motorsports and one for Penske. The 2008 win marked Keselowski's first of 39 Xfinity Series wins, and set him on the course to become a Cup Series champion. That day also marked Keselowski's first NASCAR National Series win. Keselowski will hope to add to his already-successful stats at Nashville with an inaugural Cup Series win.
Kevin Harvick
Also a two-time Nashville Xfinity winner, Kevin Harvick is in desperate need of a victory this season. Harvick is one of the most experienced drivers at Nashville Superspeedway, with four Xfinity starts, a Truck start, and countless laps of Cup Series testing here. His five prior races on the concrete yielded a worst result of seventh. Veteran experience could pay dividends for Harvick this weekend, as he hopes to bring Grave Digger colors to victory lane.
"I didn't ever go to Nashville without the expectation of winning," Harvick said. "It was one of our best racetracks throughout the years and we've always had good success there and always enjoyed the racetrack itself. I'm looking forward to Cup finally going there. I know that facility was built to entertain having a Cup date and I can't believe it's taken this long because Nashville is such a great area for us as a sport. I'm excited to be there because we have just a ton of fans. Obviously, it's the home of Hunt Brothers Pizza, as well. So there's just a lot of good things that are happening when we go back to Nashville."
With loads of past experience and also testing laps at Nashville, Harvick enters this weekend with a bit of an upper hand. Practice for the 4 team will be much less about learning the track, and more focused on dialing in their Mustang. With the right circumstances, Grave Digger could upset the Hendrick domination in Tennessee.
Kyle Busch
The only active driver to win at Nashville in both Xfinity and Trucks, Kyle Busch boasts three Gibson guitars. Busch will be going for a personal milestone as well this weekend. Saturday could be Xfinity Series win #100 for the Las Vegas native. On the heels of such a potential historic achievement, how does Busch feel for Sunday?
"Nashville had pretty new concrete when we were there for those years," Busch said. "Since we've not been there in a while, it will be interesting to find out what has changed and see what new bumps are there and what new things have kind of come up over the years. Obviously, so many advancements have been made since I was there last time. We'll be getting more track time with the XFINITY car on Saturday and hopefully it helps us learn for Sunday as well. Certainly hoping we can bring home No. 100 this weekend, but these races aren't easy, so I'm looking forward to the challenge of going back to Nashville after all these years."
Busch won earlier this year on an intermediate track as part of a weekend sweep. The 18 will try and replicate that effort in what could be two landmark career moments for Busch.
Martin Truex, Jr.
With five Nashville Xfinity starts, Martin Truex, Jr.'s best result in Music City was second in 2004. The 1.333-mile track has been compared to mile-and-a-half circuits, as well as Darlington, so MTJ could be a contender for the win. Truex is arguably the best driver today on intermediate racetracks, and he is no slouch at Darlington. If any team is to take down the Hendrick stranglehold on the Cup Series, it may just be Joe Gibbs Racing.
"I think it's big for our sport to go to new places and new markets," Truex said. "The track is obviously unique with a concrete surface, so that's not something we see much during the season, especially on a bigger track. It'll be fun going back there after so long. When I ran there in the Xfinity Series, the track was relatively new still so it will be interesting to see how it has aged after sitting for so long."
Truex is no stranger to success at Nashville's sister track in Dover, can the Monster Mile master tame Tennessee too? Joe Gibbs racing may be well-equipped to take the fight to Hendrick Motorsports Sunday, so watch out for the 19.
Joey Logano
The 2009 Xfinity Nashville winner, Joey Logano's lone win here is part of his three top-10s in four career starts. Logano also boasts three poles here, all coming in a JGR Xfinity car. Now at Penske though, can Logano repeat his past Nashville success? Despite nine top-10s on the year, the Penske 22 crew still only has one win at Bristol Dirt.
At Nashville's sister track Dover, Logano finished fifth last month. This kicked off a streak of top-fives in three of the last four races for the 22. With this consistency, Logano could play upset at Nashville, especially with knowing how to win there. Penske put all three cars in the top five at the All-Star Race, so they are not far off from Hendrick's performance.
William Byron
With no past history in any series at Nashville Superspeedway, can William Byron go 1-for-1? Driver No. 24 is more than aware of how uncertain this weekend's race is for the whole field, so no prior starts at Nashville may not be a detriment.
"You're not going to have a good feel in general going into this weekend, I think. Nashville is going to be one of those places that you just need to adapt and learn as you go. It looks like a superspeedway but it's more of a short track with how tight the corners are. It's going to be tough, especially with the heat.
"I think that this race is going to be one of the toughest places we will go this season just because we don't have any notes on it. No one has any notes from any series, really. Things have changed so much since the last race there. I'm going to rely heavily on the truck race and watching the Xfinity race. I'll use that info to hopefully learn and be able to adapt faster in our race. It's going to be challenge but it's good to have a new environment and the excitement around it."
The past month has been a great time for Hendrick Motorsports. However, the 24 of Byron still only has the lone win this year from all the way back in February. Byron hopes to return the 24 to victory lane, but he will likely have to beat a few teammates.
Chase Elliott
After finishing second the last three weeks, can Chase Elliott go one spot better this weekend? Like many veteran drivers, Elliott has testing laps at Nashville from years ago. This limited experience on the concrete may be Elliott's key to learning Nashville ahead of his competition.
"My preparation for this weekend is really going to revolve around the test that I've had at Nashville in the past. I actually had a test with the 24 team in 2013, back when Jeff (Gordon) was driving with Alan (Gustafson) and (engineer) Tom (Gray) and a lot of our same group that we have now. I've spent some time talking about that and just some of the tendencies that I remember from the racetrack. I feel like the rules have changed, the cars are different, and Cup has never raced there to look back at a ton of races. Maybe watching an Xfinity race or something, but I think a lot of it is really just going to be more from the test for me, personally."
2013 was one of the final years where private testing was allowed in NASCAR. As a result, Elliott has some of the most recent laps turned on Nashville Superspeedway. Similar to Byron, the 9 team only has one victory this year, coming up short to Larson in recent weeks. Elliott will hope to see the 5 and everyone else in his rearview mirror come Sunday.
Kyle Larson
Will Kyle Larson's winning streak continue in Tennessee? There's little reason to doubt it will, as Laron's been lights-out quick everywhere in recent weeks. The past six races (including the All-Star Race) have seen the Hendrick 5 team not finish worse than second. This span of time includes multiple track types and also multiple rules packages. Larson also has some practice time from years gone by at Nashville, but expect the 5 team to adjust quick to this new track.
"I've tested there before – a couple times in an Xfinity car and I think once in a Cup car. It's a track where very few drivers have any experience. We will have practice and qualifying before this Sunday's race, so I'm looking forward to the challenge of getting up to speed quickly. This team and Hendrick Motorsports as a whole have been strong on intermediate-type tracks this year, so I hope we can have another strong finish in the Valvoline Chevrolet."
Nashville will be the debut week for Valvoline on Larson's No. 5 car, as the hottest driver in NASCAR hopes to keep his red-hot streak alive. Larson lost out to Bowman at Dover, can he go one spot better in Nashville?
Denny Hamlin
Still the Cup Series' points leader, will Nashville be the track where Denny Hamlin returns to victory lane? Nashville will be a 750-horsepower race, of which Hamlin has been the strongest all year despite no wins. Hamlin does have past Xfinity starts at Nashville; five races for driver No. 11 yielded a best finish of third in 2006. However, Hamlin knows that any track surface will change drastically after sitting unused for so long.
"It's been 15 years since I've raced there," Hamlin said. "I can remember how difficult it is to pass there, but we'll have practice and that will be really helpful to get to know the track to find the lanes that we want to be in. I think it's going to be a fun race, and it's always interesting when you're racing at a new track."
Hamlin's impressive points lead has shrunk in recent weeks thanks to Larson's run. The 11 will try and extend the regular season championship advantage and also earn win number one of 2021 this weekend.
Nashville is one of the most anticipated events on the NASCAR calendar for 2021. Coverage of the Ally 400 will be live Sunday at 3:30 p.m. ET on NBCSN, MRN, and SiriusXM NASCAR Radio Channel 90. The first race back on NBC Sports also marks the return to a major market with loads of fans. Who will leave the first Cup race in middle Tennessee in four decades as the maiden winner?
Written by Peter Stratta
Be sure to follow us on Twitter
Be sure to follow the writer on Twitter
Photo Credit to Chris Graythen/Getty Images for NASCAR