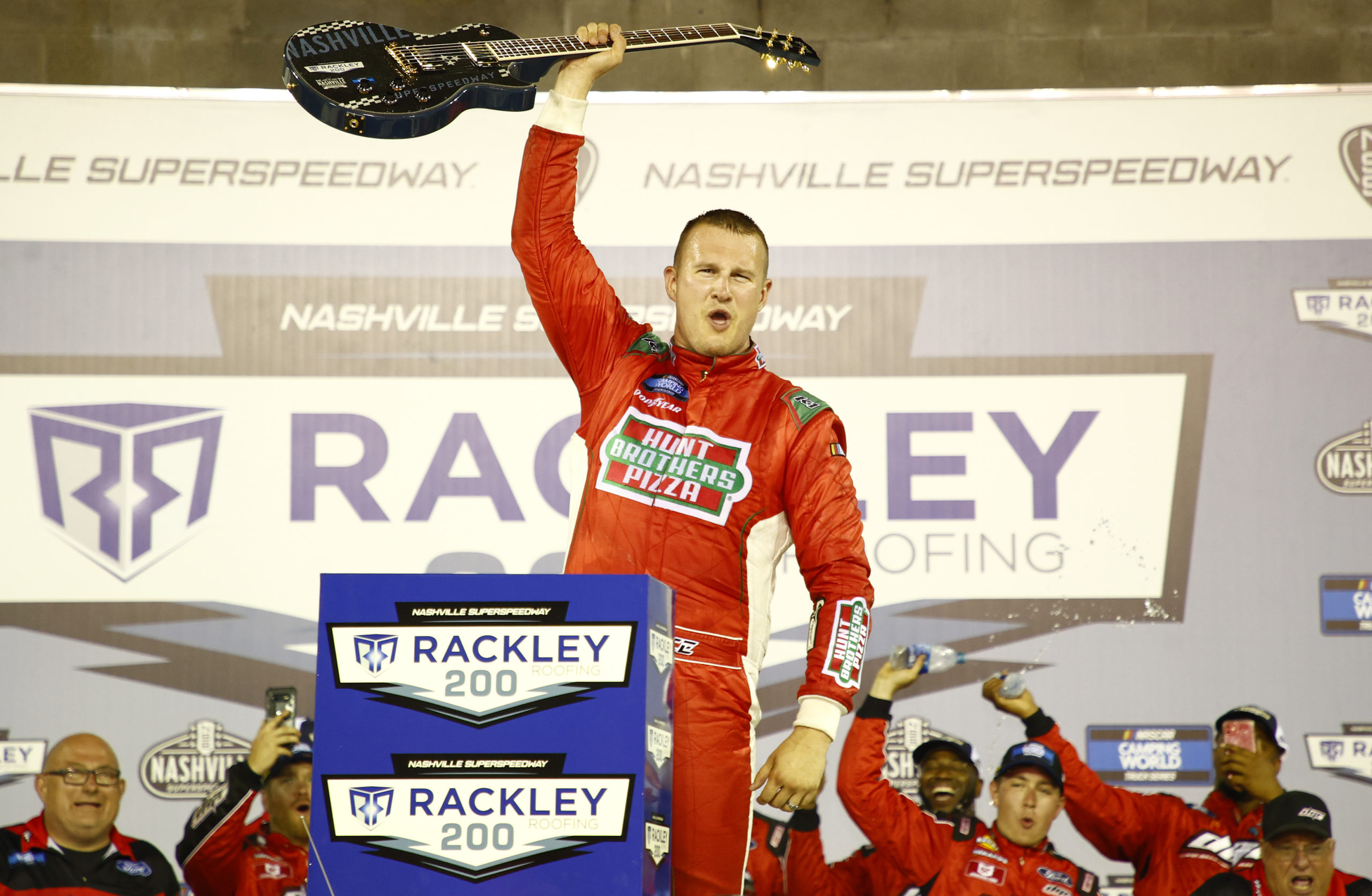 Ryan Preece Wins in First Truck Start, Return to Nashville Superspeedway
LEBANON, Tenn. – Ryan Preece came down to the Truck Series for a one-off start and is now 1-for-1. The Connecticut native earned his first Truck win in his series debut at Nashville Superspeedway. In the first race at the concrete track in 10 years, it came down to a late battle between Preece, Grant Enfinger, and Todd Gilliland. Preece's win is also the second victory for David Gilliland Racing.
Bubble Drivers Break Through in Stages
After earning his first career pole, Derek Kraus led for the duration of Stage 1. This marked Kraus' second-ever Stage win, and first of the year. Those 10 points could go a long way in Kraus' Playoff push, as he currently sits 15th in points.
Stage 2 would be the same dance, but with a different Playoff bubble driver. Chandler Smith took over the race lead on pit road between Stages, and remained out front for all of the second Stage. Stage 2 would only see one caution flag for William Byron's engine expiration.
Much like Kraus, the points from the Stage win could do wonders for the Kyle Busch Motorsports driver. The 18 entered Nashville just below the cut line. However, Smith would fade throughout the final Stage to finish 13th.
New Contenders Up Front for Finish
Not pitting after Stage 2 put Grant Enfinger and Stewart Friesen up front when the last Stage went green. An immediate caution came out for a spinning Johnny Sauter, right as Friesen edged ahead of the 98. The spin for Sauter only compounded a rough day that had also seen a speeding penalty.
The next restart would only lead to four laps of green flag racing. Contact back in the pack sent Derek Kraus hard into the outside wall. After his best run of the year and a Stage win, Kraus would leave Nashville wrecked and finishing 35th.
Three-Way Battle for the Win
Enfinger held the lead through these restarts, but he had to fight off a hard-charging Ryan Preece after Kraus' incident. The top two racing each other so aggressively also allowed third-place Todd Gilliland to close in.
Preece and Enfinger swapped the top spot back and forth for a few laps, with the 17 making the final pass with just seven laps to go. Gilliland's No. 38 also got by Enfinger, as the 98 faded to third in the closing laps. Preece had enough of a lead though to cruise to his maiden victory in the Truck Series. Preece is only the fifth driver in Truck Series history to win in their first start.
Preece's Winning Reaction
"Tonight was a lot of fun," Preece said. "Man pizza and donuts all week, that's all it was. Chad (Johnston) did a great job calling the race, great adjustments, and a great car from DGR. This Ford F-150 was pretty stout. Thank you Kevin Harvick, KHI Management, Hunt Brothers Pizza, and Morton Buildings for stepping up and allowing me to come out here to do this. This is why I love to race, I love winning!"
"Really I didn't know what to expect, I didn't know anything. I was just taking the guidance from Chad and my teammates and told them I'd be better in the race than I was in qualifying and practice. And fortunately, I lived up to that."
With Ryan Preece's Cup Series future being unknown, a Truck Series win could be a big statement. Only time will tell just how big this Nashville win will be in Preece's NASCAR career.
Top 10 Nashville Results
Ryan Preece and Todd Gilliland swept the top two positions for Ford, their first Truck Series 1-2 of the year. Grant Enfinger, Zane Smith, and Stewart Friesen were the rest of the top five. The remainder of the top 10 were Matt Crafton, Ben Rhodes, Ty Majeski, Austin Hill, and John Hunter Nemechek.
What's Next for Trucks
Up next for the Camping World Truck Series is Pocono Raceway next Saturday. The CRC Brakleen 150 will go green at 12 p.m. ET with coverage on on FS1, MRN, and SiriusXM NASCAR Radio Channel 90. Ryan Preece will try to go back-to-back at The Tricky Triangle. However, he will have to go against Kyle Busch, who is making his final start of the year. Can anyone keep Rowdy from a third win in 2021?
Written by Peter Stratta
Be sure to follow us on Twitter
Be sure to follow the writer on Twitter
Photo Credit to Jared C. Tilton/Getty Images for NASCAR