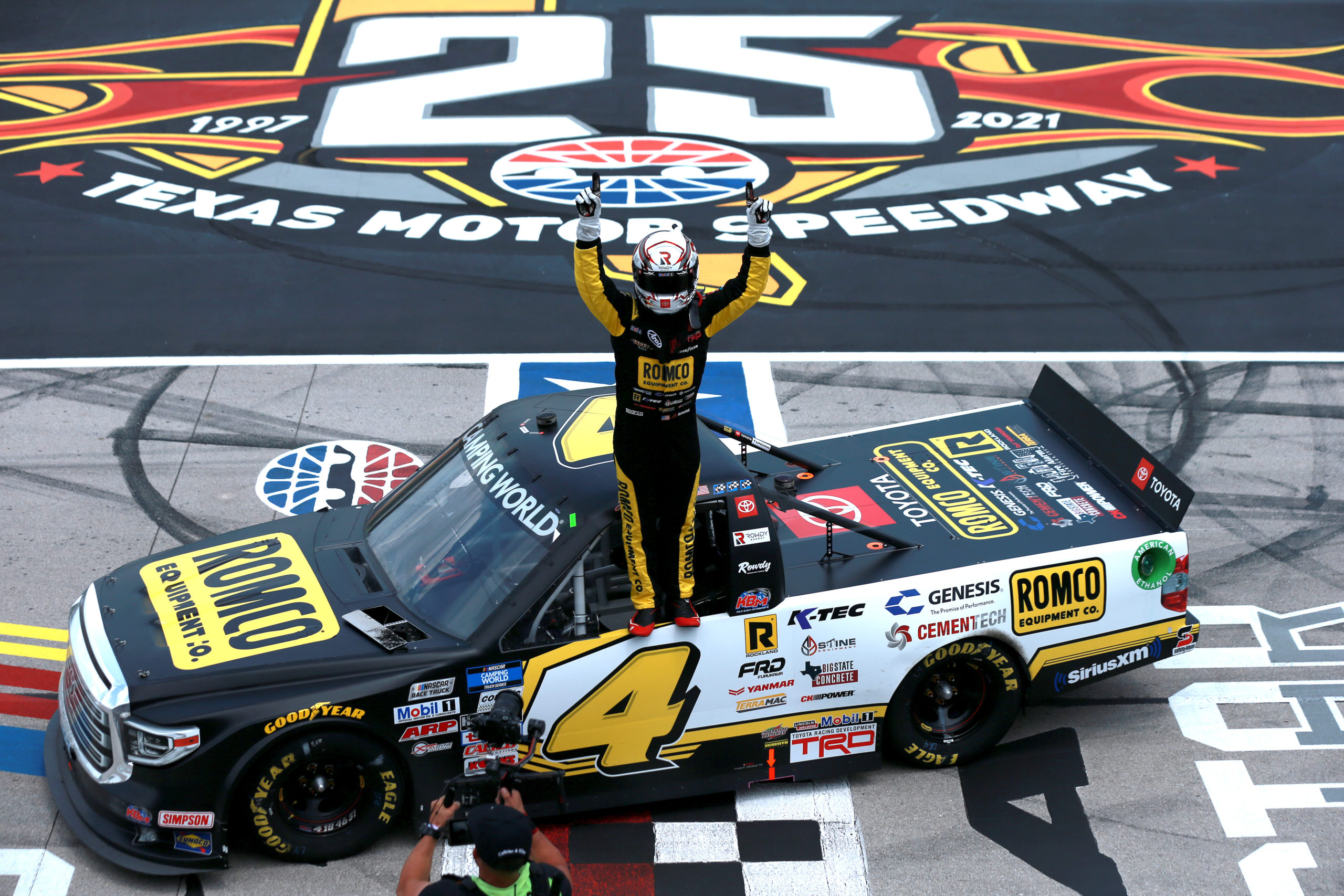 John Hunter Nemechek Beats Cup Drivers in Fourth Win of Year
Ft. WORTH, Texas – For John Hunter Nemechek, Texas went very similar to Charlotte. Despite a different track, it was the same result, as the 4 took a Texas-sized victory by leading 64 of 147 laps. In doing so, Nemechek held off two Cup Series stars, including the defending champion. With four wins already in 2021, #Here4Wins may just continue rolling onto the championship.
First to Worst for Creed in Stage 1
Last time the Truck Series took to Texas in October, Sheldon Creed put on a clinic. This win locked him into Phoenix, and eventually led to his championship. This time around, the Lone Star State was not as kind to the 2.
Creed drifted wide in turn two early on, spinning in the PJ1 traction compound and finding the outside wall. Less than ten laps later, the same incident happened for Creed in the same corner. This second crash was the end of the day for the 2, and also ended Stage 1. Creed would leave Texas in 35th.
The opening Stage went to the 4 of Nemechek, who battled against Ben Rhodes for the lead throughout the opening laps. Nemechek leads the Truck Series with eight Stage wins so far this season.
Cautions Break Up Stage 2
Unlike Stage 1, Stage 2 would be caution-filled, as the longest green flag run only lasted 12 laps. Two incidents in particular ended the days for two contenders. Stewart Friesen would spin entering turn three after contact from Carson Hocevar. Both drivers were racing for a spot in the top 10, and Hocevar simply misjudged where each bumper lined up.
The second major crash in Stage 2 involved Drew Dollar. The ARCA standout making his third start in the KBM 51 Truck had a hard hit after backing into the turn two wall. Turn two at Texas was certainly calamity corner for the Truckers, as it saw four separate accidents. The 51's spin would end Stage 2 under caution, with that Stage win going to Zane Smith.
Pit Road Chess Match Defines Final Stage
Despite Stage 2 having much attrition and many restarts, the final Stage remained clean and green. For 70 laps, the Truckers fought to the finish. Due to alternate pit strategy, Chase Elliott initially restarted up front, but Zane Smith and John Hunter Nemechek both led laps as well. By making his final pit stop later in the race, JHN leapfrogged Elliott for the top spot. The 4 came in for his final service with 28 to go, while Elliott pitted with 39 laps left. This 11 lap difference allowed Nemechek to build up a huge lead, which nobody could close. When Zane Smith finally pitted with 21 to go, Nemechek retook the lead and held it for good.
Even though he led laps and was a contender for the win after starting 22nd, Chase Elliott would have to settle for second. Coming up just behind Elliott was fellow Cup Series driver Ross Chastain, who also rallied from starting 24th. Beating Cup drivers is nothing new for Nemechek, as he has denied Kyle Busch two victories this year.
Nemechek's Winning Reaction
"I feel like we've been making a statement all year," Nemechek said. "I feel like we're one of the favorites every time that we show up to the race track. Can't say enough about Eric Phillips (crew chief) and all these guys. Everyone, the pit crew, everyone at KBM, the fab shop, machine shop, chassis shop. Everyone does so good with building our trucks and I'm just lucky enough to be behind the wheel. It's amazing to get win number four here. I haven't won with ROMCO Equipment on board yet in my career so finally we were able to get them a win. There's 250 of their employees here today so huge shoutout to them as well as the fans."
Nemechek Far From Done
"I hope this is only the beginning, I hope that we have a lot more to come. I feel like we have a lot more work to do. These guys work their tails off. I know Eric is one of the first guys there and last ones to leave every night. It's awesome. Win number 41 for him. Win number 10 for me. Just have to keep it going. We're #Here4Wins."
Post-Race DQ
One Truck that initially finished in the top five would be disqualified after post-race inspection. Ross Chastain's No. 45 truck was found to have an illegal part. The violated rule stated that the throttle body must be used as supplied by engine manufacturer NT1 without any modifications. As a result, Chastain was relegated from finishing third to last in 36th.
Modified Top 10 Results from Texas
Walking away from Texas in the top five behind Nemechek and Elliott would be Grant Enfinger, Austin Hill, and Chandler Smith. Texas marks Enfinger's best result this year, while it is Hill's fourth top five. For Chandler Smith, Texas was one spot shy of his season-best result as well. Zane Smith, Todd Gilliland, Tyler Ankrum, Todd Gilliland, and Josh Berry rounded out the top 10.
What's Next for Trucks
The next race for the Camping World Truck Series will be the Rackley Roofing 200 from Nashville Superspeedway. Coverage begins on Friday, June 18 at 8:00 p.m. ET on FS1, MRN, and SiriusXM NASCAR Radio Channel 90. Kicking off a tripleheader weekend marking NASCAR's return to Music City, this will be the Truck Series' 14th time at the 1.33-mile facility. Who will take home the famed custom Gibson Les Paul guitar trophy?
Written by Peter Stratta
Be sure to follow us on Twitter
Be sure to follow the writer on Twitter
Photo Credit to Sean Gardner/Getty Images for NASCAR