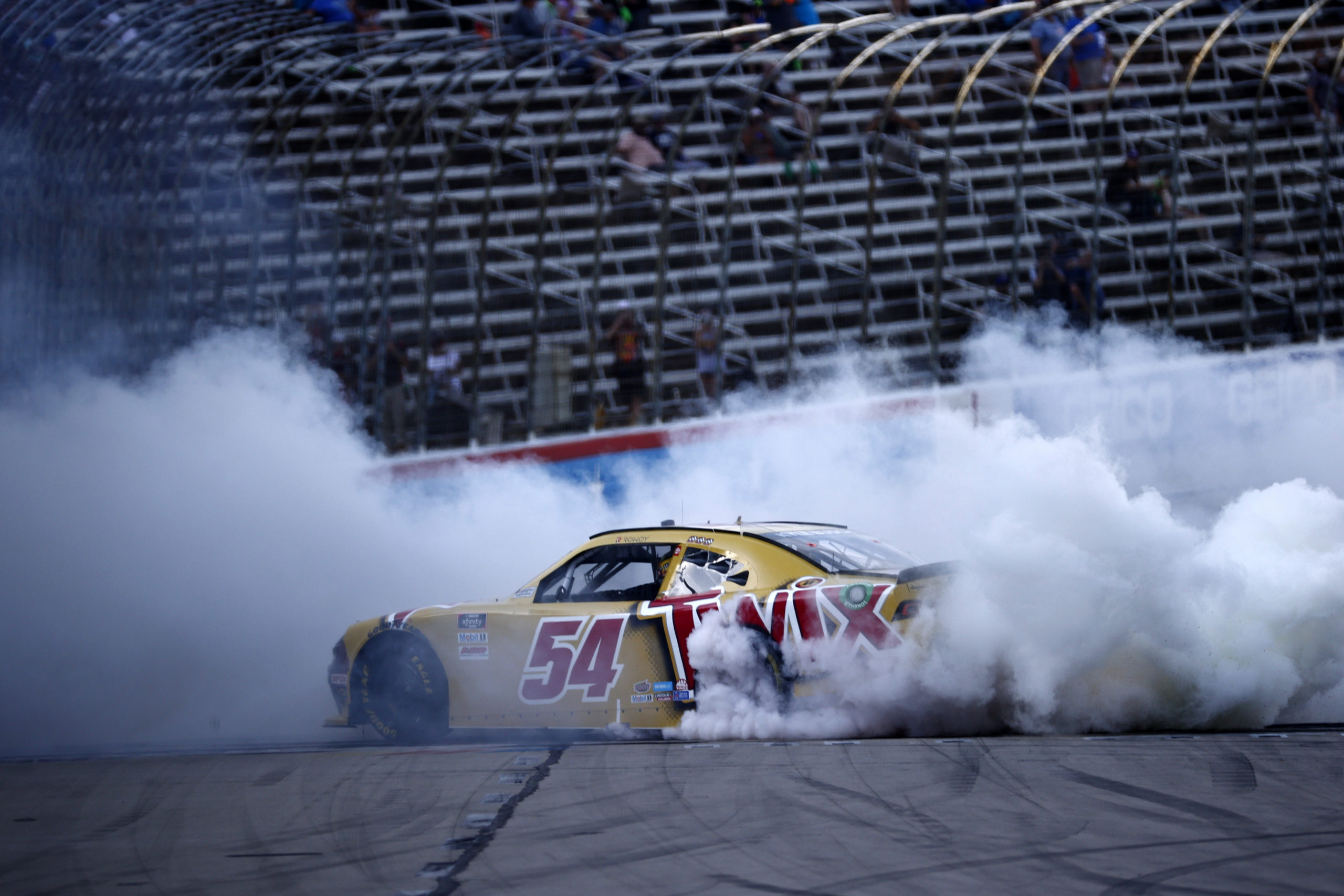 Busch Dominates for 10th Win at Texas
Ft. WORTH, Texas – Kyle Busch held off Justin Allgaier and Austin Cindric in overtime to win the Alsco Uniforms 250 at Texas Motor Speedway. Busch dominated much of the event, leading 94 of 171 laps. Busch has now won in both of his Xfinity Series starts this season. He's also just one win away from 100 Xfinity Series wins.
Drivers Move Forward Early in Stage 1
AJ Allmendinger led early from the pole, but all eyes were on Kyle Busch. He started 14th, but was in the top five by lap 10.
Brandon Jones took the lead from Allmendinger and barely held off Busch before the competition caution came out on lap 20.
Noah Gragson and Harrison Burton picked up a ton of spots themselves in the first 20 laps. Burton moved up to 10th after starting 18th, while Gragson went from 30th to 14th.
Busch's Mistakes Gives Cindric the Stage 1 Win
Busch immediately took the lead from Jones on the restart, but he didn't get away. His car got loose coming off turn two with 10 laps to go in the Stage though. Busch had to check up, and the loss of momentum allowed Cindric and Daniel Hemric to pass him. Cindric went on to capture his series-leading sixth Stage win of the season.
Busch Cruises in Calm Stage 2
Hemric's team had a great pit stop after Stage 1, giving him the lead over Jones and Busch. However, they wouldn't be able to hold Busch back for long. He quickly took the lead back from Hemric.
Halfway through the stage, Jeb Burton spun into the inside wall on the backstretch after contact with Josh Berry. Burton was running inside the top 10 when the incident occurred.
Nobody challenged Busch in the final 15 laps of Stage 2. He captured the Stage win with ease over Hemric and Cindric.
Justin Allgaier Comes to Life in Final Stage 
Busch kept the lead through a set of pit stops, but slipped on the ensuing restart. Hemric took the lead with a caution coming out a lap later. Gray Gaulding, Tanner Berryhill, and Matt Mills all crashed on the front stretch.
Busch got the lead back on the next restart after Hemric got loose on the bottom. Hemric lost all his momentum and fell back to eighth. Justin Allgaier took advantage and worked his way up to second. He got to Busch's back bumper before the caution came out with 58 laps to go.
Everyone pitted and it appeared Allgaier would beat Busch off pit road, but Busch methodically passed him despite coming out of his pit box behind Allgaier.
Allgaier finally got around him on the restart to take the lead for the first time all day. He held that lead for 23 laps.
Late Cautions Set Up Overtime Finish
Brandon Jones "spun" coming off turn four with just over 30 laps to go. In reality, Jones got sideways but NASCAR prematurely threw a caution. Busch passed Allgaier on the restart to take the lead back. It looked like Busch would pull away to an easy win.
However, a spin by Myatt Snider with 10 laps to go bunched the field back up. After a few side-by-side battles with Allgaier, Busch cleared him on the restart and built a sizable lead.
Harrison Burton spun into the outside wall with four laps to go to bring out the final caution of the day. Another great restart allowed Busch to cruise to his 99th career Xfinity Series victory.
Busch's Winning Reaction
"Just being with a great group of guys and everybody at Joe Gibbs Racing, it's pretty awesome to drive these Toyota Supras here in the Xfinity Series," Busch said. "Thank Twix, M&M's, Rowdy Energy for keeping me hydrated, it's hot out here. Going to need to get a little more of that here before tomorrow.
"All in all, just such a good car. I wouldn't say it was a great car because Allgaier was maybe just as good as us if not better. I was just able to think through a few things there on a couple restarts that may or may not have worked. There at the end, it really did. Thanks to Austin Cindric as well too, good teammate kind of today in helping. With this thing you always have to rely on the row behind you and you can't do it on your own anymore. He had some help for us on those restarts for sure."
Busch's Xfinity win also came just hours after his team went to victory lane in the Truck Series with John Hunter Nemechek. Busch will try and make it a perfect weekend Sunday night in the All-Star Race.
Top 10 Results
Kyle Busch's win makes him two for two in the Xfinity Series this season. Justin Allgaier was in position to win, but just didn't have control of the race on the final restarts. Austin Cindric strengthened his points lead with a third-place finish. Joe Gibbs Racing teammates Daniel Hemric and Brandon Jones also rounded out the top five. AJ Allmendinger, Noah Gragson, Brett Moffitt Justin Haley, and Michael Annett completed the top 10.
What's Next for the Xfinity Series
The Xfinity Series returns to Music City for the first time since 2011. The Tennessee Lottery 250 at Nashville Superspeedway will take place Saturday, June 19 at 3:30 p.m. ET. NBCSN will broadcast the race as they begin their portion of the season. Busch will be back in the car next week, so he should be the favorite once again.
Written by Nicholas Sterling
Be sure to follow us on Twitter.
Be sure to follow the writer on Twitter.
Photo Credit to Jared C. Tilton/Getty Images for NASCAR