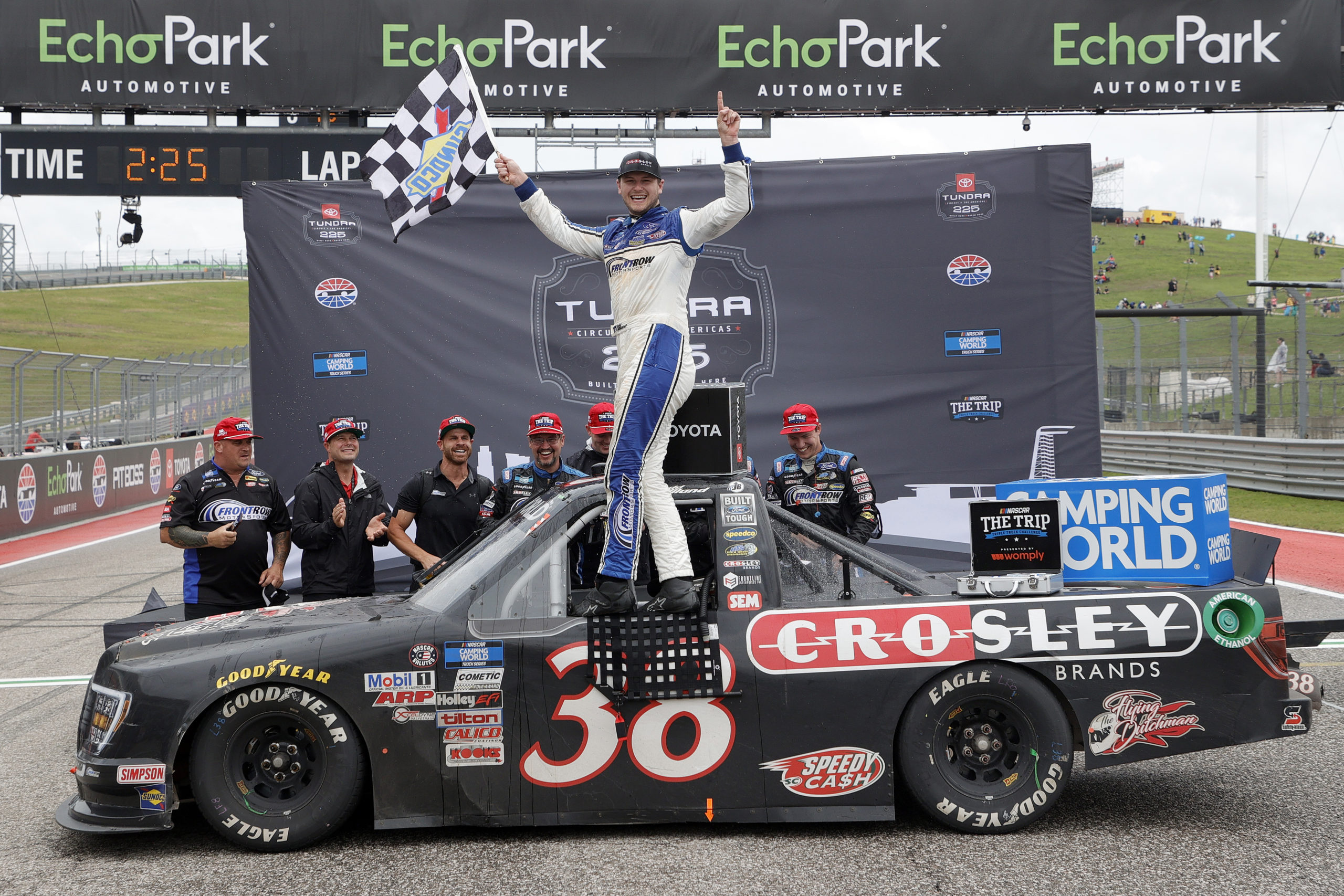 Todd Gilliland Takes Maiden Truck Win at COTA
AUSTIN, TEXAS – For the inaugural NASCAR event at COTA, the Camping World Truck Series put on quite a show. A race that started in downpouring rain slowly transitioned to a dry track by the finish. The race came down to a late battle between Tyler Ankrum and Todd Gilliland. Once Gilliland retook the lead he remained unbeatable, earning his second career win and first of 2021.
Grala Dominates Stage 1, Comes Up Short
Under a heavy deluge, the initial start would go in favor of Kaz Grala. Driving the Young's Motorsports No. 02, Grala hoped for an upset victory in this one-off appearance. For much of Stage 1, it would be Grala leading by a large margin. After starting fifth though, Todd Gilliland began to methodically work his way forward.
Short pitting by many of the leaders gave Gilliland the runner-up spot late in Stage 1. Through turn 10 on the last lap, Grala locked up his front tires. This allowed Gilliland to pounce and take the Stage win, his first of the year.
Texas-Sized Setback Between Stages
Under caution after Stage 1 would prove to be a major turning point. While coming in for service, Todd Gilliland's jack man went over pit wall too soon. This sent the 38 to the tail for the restart, putting Gilliland in a deep hole. Meanwhile up front, this gave the top spots to teammates Sheldon Creed and Zane Smith.
Creed and Grala would dominate much of Stage 2, before short-pitting again. With both the 2 and 02 coming to pit road together, this gave the lead and the Stage win to Ben Rhodes. Despite two wins this year, this only marked Rhodes' first Stage win of the year. After restarting Stage 2 in the rear, Gilliland did recover to ninth.
13-Lap Dash to the Checkers
Despite such hazardous conditions with the rain, both Stage breaks were the only cautions all race long. For the final Stage, the restart would see Creed, Grala and Tyler Ankrum up front. Creed initially got the jump, but Ankrum taking second kept the 2 on his toes. Both GMS drivers would go door-to-door for the lead for numerous corners. This allowed Gilliland to reel them both back in, as he passed Grala for third and set his sights on the lead.
Ankrum took the lead from Creed, but could not hold the top spot. With six laps left, the 38 went around the outside of turn 11 to take the lead away for good. Despite every effort from Ankrum, the 26 kept losing ground to the 38. Ankrum would eventually finish eight seconds back in second.
Gilliland's Winning Reaction
"I definitely did a lot of stuff wrong but that's what I love about road course racing," Gilliland said. "There's 20 turns here, 20 opportunities to pass but also make mistakes. Last year we didn't quite have the season we knew we could and just to come out here and win early, we've been building momentum and for my team to get this win is just amazing.''
"I'd say from the drop of the green flag I was pretty aggressive. Just as soon as you get to somebody, you can't mess around in these trucks, or the next guy will be on your back bumper pretty quickly. If you got the truck to do it, I think you have to just be aggressive. I probably made one or two people mad, but you just got to get by people when you can."
COTA marks Gilliland's second-career win, his first since Martinsville in October 2019. While it is Gilliland's second win, this is the first victory for this No. 38 Front Row Motorsports team. The 38 goes back to the Playoffs now for the second-straight year as well. With COTA being a Triple Truck Challenge race, Gilliland also took home a $50,000 bonus thanks to Marcus Lemonis.
Top 10 in Trucks from COTA
Behind the top three of Gilliland, Grala, and Ankrum, Grant Enfinger and Sheldon Creed made up the top five. Enfinger did not run on the Daytona Road Course in February, so fourth in his first road race of the year is no small achievement. Sam Mayer, Carson Hocevar, Zane Smith, Austin Hill, and Ben Rhodes were the rest of the top 10.
Playoff Standings Update
Todd Gilliland is the fourth Truck Series title contender to win this season. He joins Ben Rhodes, John Hunter Nemechek, and Sheldon Creed as a lock for the Playoffs. Austin Hill (+104), Matt Crafton (+86), Zane Smith (+60), Stewart Friesen (+58), Carson Hocevar (+26), and Johnny Sauter (+16) round out the current top 10 in points. The first driver below the Playoff cut line is Austin Wayne Self. Chandler Smith, Tyler Ankrum, and Hailie Deegan are all also on the wrong end of the cutoff.
What's Next
Up next for the Truckers is the annual May race at Charlotte. This year, Charlotte is the home of the third Triple Truck Challenge race, so the winner will get a $50,000 bonus. Coverage of the North Carolina Education Lottery 200 will be Friday, May 28 at 8:30 p.m. ET on FS1, PRN, and SiriusXM NASCAR radio Channel 90. If Creed or Gilliland can win at Charlotte, their winnings would total $150,000. Tune in and see if either driver can win the big pay day.
Written by Peter Stratta
Be sure to follow us on Twitter.
Be sure to follow the writer on Twitter.
Photo Credit to Chris Graythen/Getty Images for NASCAR