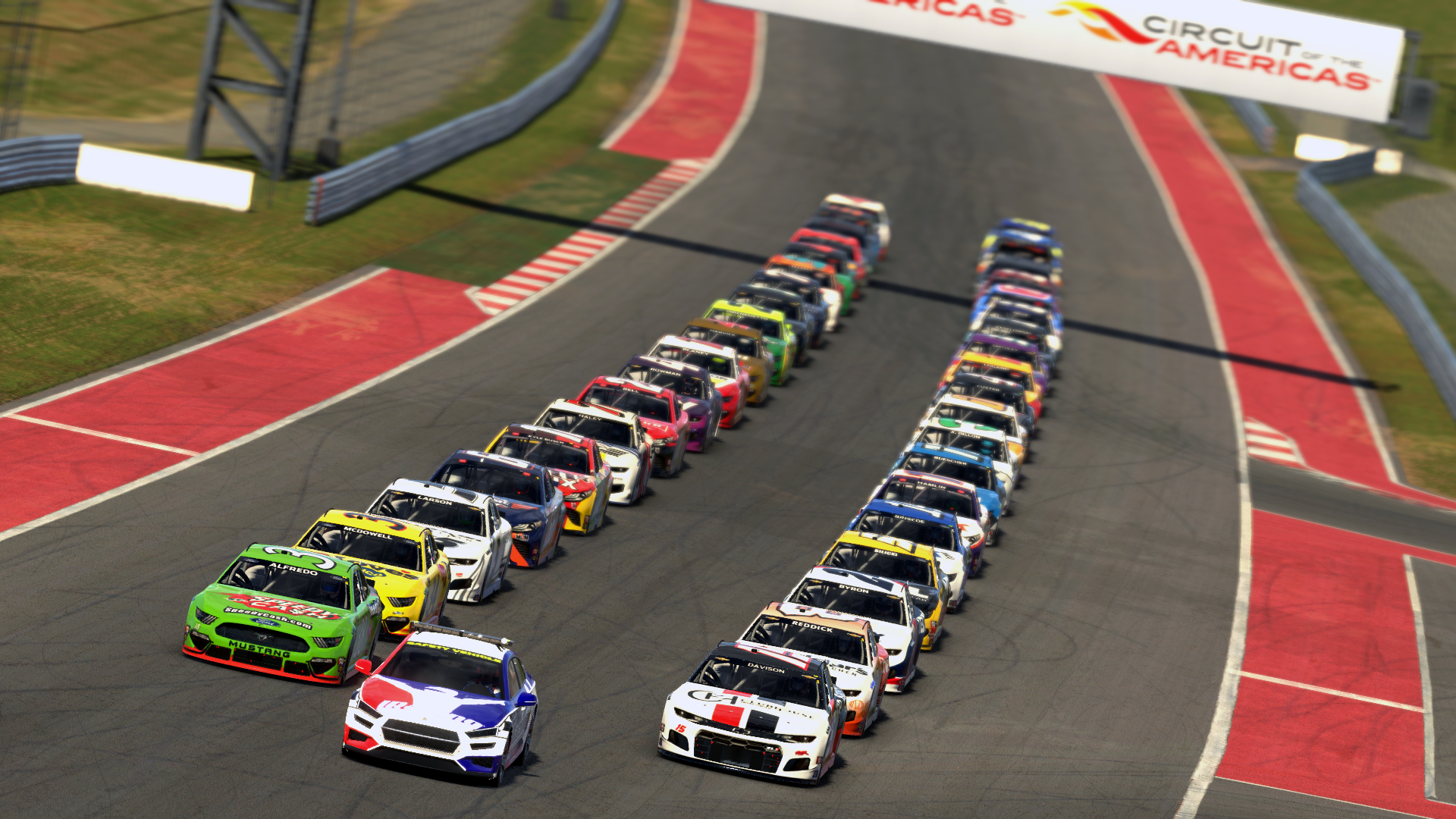 Will COTA Be Kind to Past Road Course Winners?
AUSTIN, TEXAS – Sunday will be one of the most highly-anticipated NASCAR races of the season. The Cup Series will make history with the inaugural race in Austin, Texas on Circuit of the Americas (COTA). The 20-turn, 3.426-mile course has hosted Formula 1 and IndyCar, but never NASCAR until now. With such a big, technical course being a great unknown, the list of potential winners is wide open. However, there are 10 past Cup Series road course winners entered into the field. Will one of them capitalize and win big at COTA?
Chase Elliott
By far the most prolific road racer in recent memory, Chase Elliott boasts five victories across three circuits. Elliott has a pair of wins at both Watkins Glen and the Charlotte Roval, and also won on the Daytona Road Course last year. With the 9 team's excellent production on road courses, Elliott enters this weekend as a heavy favorite for COTA. Elliott has testing laps at COTA, so he knows just how tricky this course truly is.
"We did the Goodyear test out at COTA a couple months ago, which was fun," Elliott said. "We got a chance to see a new racetrack. The track has a lot more elevation than I think a lot of people would think or see on TV. Turn 1 is a big hill and unless you are there to see it in person it doesn't look like it, so way more elevation than I anticipated. It was also interesting because I felt like different parts of the track had more grip than other parts. I suppose that's because they had to patch different areas and some areas have really old asphalt. One of the toughest things for me was understanding the level of grip at different points around the track.
COTA Requires Perfection
"I think it is going to be a real challenge, obviously a real long back straightaway that we have seen in the F1 races there so that will be interesting there. I think for our cars, I'm not exactly sure how we will handle and adapt to that. Being really detailed and hitting your marks as always and trying to put together a good race and you should be able to have a good result."
Earlier this season on the Daytona Road Course, Elliott was on his way to a commanding win until rain came. The 9 team will be looking to reassert themselves as king of the road courses at COTA. Through 13 races in 2021, they are still winless on the year. Expect Elliott to have tons of raw speed and certainly be up front contending for road course win number six.
Martin Truex, Jr.
If Elliott is the current road course king, then Martin Truex, Jr. may be just a step behind him. In Elliott's five road race wins, Truex has come in a close second to Elliott twice at Watkins Glen. Aside from that, Truex has four road course wins himself, one at Watkins Glen and three at Sonoma. While Elliott has won the last two trips to Watkins Glen, MTJ can say the same for Sonoma. With COTA being a tight, slow and technical course similar to Sonoma, MTJ enters Austin with confidence.
"COTA is definitely quite a bit different from the road courses we have raced on over the years," Truex said. "I feel like it has some characteristics of Sonoma and some from Watkins Glen. We were fortunate to be a part of the tire test back in March. But I'm sure most everyone has spent some time in the simulator and on iRacing just to get familiar with the layout. You've got some blind corners and elevation changes. It's all about finding your marks and when you turn in and what gear you're in and how much speed you're carrying and finding the braking points and all those things."
Truex on Practice
"That practice session is going to be pretty interesting. It's only 50 minutes and it takes two minutes to get around here, so that'll be a challenge. I'm looking forward to it, I think most guys are excited about the opportunity to come to a new market and a world-class facility for the first time."
If anyone is to challenge Elliott for the COTA win, it may be Truex. After a dismal day in Dover last week, the 19 team is looking to regain ground in the fight for the regular season championship. COTA could very well come down to another 9-vs-19 battle for road course supremacy.
Kyle Busch
Four-time road course winner Kyle Busch will not lack in track time this weekend. Busch will make his first of five Xfinity Series starts at COTA, as practice heading into Sunday's Cup race. Busch, with two wins at both Watkins Glen and Sonoma, is a very talented road racer. Recent times have not yielded the best results for the 18 on road courses though. The last five road course races for Kyle Busch feature four finishes of 30th or worse. Busch's most recent trip to road course victory lane also came way back in 2015 at Sonoma. If the Ben Beshore-led 18 team can hit on the setup in practice though, Busch could be a contender again. Practice may be just what the 18 team needs to learn COTA and prepare for the 68-lap dash on Sunday.
Kevin Harvick
With a win at both Watkins Glen (2006) and Sonoma (2017), Kevin Harvick is another underrated road course talent. Earlier this season Harvick placed sixth on the Daytona Road Course, but COTA will have its own set of challenges. Harvick is one of eight drivers pulling double duty this weekend, as he will also run the Xfinity race on Saturday. Harvick will drive the No. 5 Ford for BJ McLeod Motorsports. Make no mistake though, this will be a Stewart-Haas Racing car just fielded under the McLeod banner.
Why Harvick is Running Double Duty
"I'm a huge visual person. The experience I have in going to these racetracks for a long time – I can tell you every crack, every curve and every marker on the wall. Those are the things I want to have embedded in my mind before we get to Sunday. I want to make sure we've hit most of the curbs and know where you can take a risk making a pass and where to make time and how to get on and off of pit road in a live situation, because the practices are short. The Xfinity car is going to be the best tool. Just being able to make laps is the most important thing." COTA will mark Harvick's first Xfinity Series start since Darlington in 2018. With the added track time, the 4 could be a quiet challenger for Sunday.
Christopher Bell
The most recent Cup Series road course winner, Christopher Bell won at the Daytona Road Course in February. That day saw Bell pass Joey Logano with two laps to go and hold on for his first career win. Bell is also a highly overlooked road racer, as he also holds an Xfinity win at Road America. Despite wins on two separate courses though, Bell knows that COTA is its own animal.
"I'm pumped to get back to a road course after our win at Daytona," Bell said. "COTA is a world class facility and it's great to be able to have a race at an amazing venue. It's going to be a very interesting race since there are a lot of sections on the racetrack that open up great passing opportunities and will probably open up a lot of mayhem too. But I think it's going to be a great show." On the momentum of the Daytona Road Course win, Bell could be in the right position late on Sunday to capitalize again.
Ryan Blaney
Inaugural Charlotte Roval winner Ryan Blaney has also been a road course sleeper. Since his 2018 win at the Roval, Blaney has not finished worse than eighth there. In addition, the 12 has a top five at both Sonoma and Watkins Glen.
"I think the difficult thing will be us going there without much practice," Blaney said. "You're not going to have a lot of time to run around the racetrack to get mental notes, which are huge, especially at road courses. You're going to be using a lot of the race to continue learning the track. I feel like there's probably going to be five or six good passing zones. There's a lot of heavy braking zones and tight corners. You just try to be as prepared as you can for it, from the sim to utilizing all of practice and then qualifying."
Blaney's Roval triumph was definitely an example of being in the right place at exactly the right time. While the 12 may not be a heavy favorite for Sunday, luck could strike again for Blaney on a road course.
Denny Hamlin
Amazingly, Denny Hamlin only has one career road course win, coming in 2016 at Watkins Glen. While the 11 may not have multiple road wins like his teammates, he has been a contender everywhere this year. The Daytona Road Course saw Hamlin place third, his second-straight top five there. Road courses have been very hit-or-miss for Hamlin in recent times though. Hamlin's records at Sonoma, Watkins Glen, and the Daytona Road Course are all stout. However, the Charlotte Roval has yielded a best finish of 12th for the 11. With COTA being very tight and technical like the Roval, could Hamlin face a very uphill battle?
"I've never raced [at COTA], so there are a lot of unknowns," Hamlin said. "But it's a first-class facility, and it's in a great market. It checks all the boxes for a new venue. Road courses are tricky, and this one specifically I've never raced on. I know our team is going to bring a fast car again this week. From there, it's all about execution and making the least amount of mistakes."
Through 13 races, Hamlin has a stranglehold on the points lead but is also still winless. Can COTA be the site of the 11's maiden triumph of 2021? Like Hamlin said, Sunday will be all about minimizing self-inflicted errors.
Joey Logano
2015 Watkins Glen winner Joey Logano could upset many with a COTA victory. While Logano only has the lone road course win, the 22 has been stout on many circuits. Logano boasts three top-10s in three starts on the Charlotte Roval. In addition, Logano has a ninth and a second on the Daytona Road Course. Logano did come in clutch for another 2021 inaugural event on the Bristol Dirt. The 22 team will hope for another major win on Sunday.
AJ Allmendinger
The playing field for Sunday is equal for all teams. With such an unknown, why can't AJ Allmendinger and Kaulig Racing pull off an upset? Allmendinger's road racing prowess is arguably the best in the series, despite only being a part-time competitor. 'The Dinger' will pilot the Kaulig No. 16 after competing in Saturday's Xfinity race, where he is a favorite to win. Could Sunday be Cup Series win number two for the former open wheel standout?
At the Daytona Road Course in February, Allmendinger brought home a seventh-place result. He enters COTA with confidence looking for more. The 2021 Xfinity season for Allmendinger has resulted in a Las Vegas win and six top-10s through 10 races. AJ is in the thick of a championship fight in the Xfinity Series. On Sunday though, the 16 will simply be trophy hunting. Allmendinger could be the Texas-sized upset winner COTA delivers us. It will definitely be fun to watch him learn this course.
Kurt Busch
Although Kurt Busch only has one road course win (Sonoma 2011), his road racing acumen is far greater. Kurt Busch was a highlight reel all to himself in February at the Daytona Road Course. The Monster Energy No. 1 car slid through the grass from the lead, only to battle back to a fourth-place finish. The season since then has been tough sledding for the Ganassi team though. A stretch of bad luck has seem them tumble from eighth to 18th in points. Could another road course be just what Kurt Busch needs to turn his season around? The elder Busch brother is excited for Austin.
Busch on Flexible Strategies
"I laugh a little bit when I think about going to COTA," Busch said. "That track was designed for Formula 1 cars, cars that can cut around tight apexes like turn 1, turn 11 and 12. Our big heavy stock cars are going to struggle with that; but it's a new challenge and I'm looking forward to it. With the asphalt being abrasive at COTA it's going to wear out the tires, so your strategy is going to have to evolve on the fly. It's going to be quick movements that you make and commit to, so with all that being said, I'm ready to attack course, find the right rhythm with the lap time but also find the right tire strategy bring us to Victory Lane. It's a cool place with 20 corners; lots of action coming!"
Can 1 Team's Season Get Back on Track at COTA?
The Daytona Road Course was Kurt Busch's bright spot in the first half of the regular season. Can COTA give the 1 team another high point as they look to break back into the top 16 in points? Busch's veteran knowledge and adaptable talent should translate nicely to the 20-turn circuit. The 2004 champ could leave COTA with a very nice points day or more.
COTA will certainly be a can't-miss show, as the Cup Series tackles a world-class racing facility. The Cup Series' lone practice session will be Saturday morning at 9 a.m. ET, with qualifying Sunday at 11. Coverage of the Echopark Texas Grand Prix will be Sunday, May 23 at 2:30 p.m. ET on FS1, PRN, and SiriusXM NASCAR Radio Channel 90. Chase Elliott may enter COTA as a heavy favorite, but Daytona proved that the 9 isn't perfect on road courses. It will be a site to see the 40 best stock car racers tackle an all new technical circuit.
Written by Peter Stratta
Be sure to follow us on Twitter.
Be sure to follow the writer on Twitter.
Photo Credit to NASCARMedia