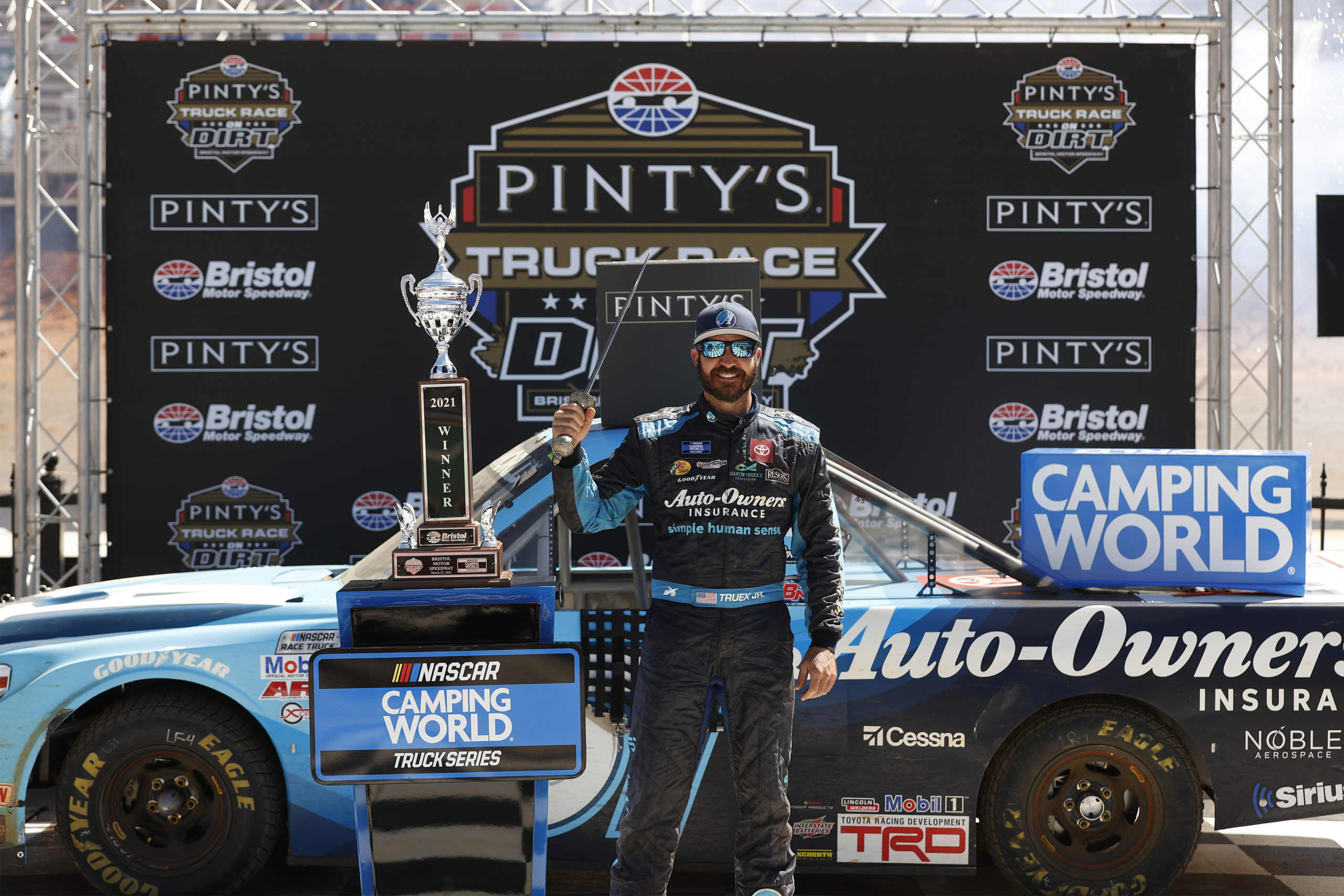 Martin Truex, Jr. Dominates Bristol Dirt for Maiden Truck Series Victory
BRISTOL, Tenn. – Coming into the Truck Series Bristol Dirt race, very few had Martin Truex, Jr. pegged as a favorite. The past Cup and Xfinity Series Champion has minimal prior experience on dirt. However, he made it look like he's one of the best dirt aces. Piloting the Kyle Busch Motorsports No. 51 Toyota, Truex would lead 105 out of 150 laps in a flat-out domination. In his first Truck start in nearly 15 years, Truex is now a winner in all three NASCAR National Series.
Surprisingly Calm Opening Stage
Despite the heavy rainfall that pushed this race to Monday, the track surface was near-perfect at the start. Although John Hunter Nemechek started on pole, he would fail to lead a single lap. Rather, it was Austin Hill then Sheldon Creed trading the top spot amongst themselves. Creed appeared to be the truck to beat, as he was lights-out for much of Stage 1.
The defending series champion's bid for his first Stage win of the year would have to wait though. A late caution in Stage 1 would set up a one-lap dash to the green-and-white checkers. Although Creed fired off strong on the restart, it would be Martin Truex, Jr. getting around the 2 on the outside. After starting 15th, Truex would only lead a lone lap to take the Stage 1 win.
Contender's Day Ends Early
10 laps into Stage 2, one driver's day came to a premature close. While racing inside the top five, John Hunter Nemechek went around in turn two. With nowhere to go, both Derek Kraus and Timothy Peters piled into the stalled 4 truck.
Nemechek was far from happy after this incident, as he walked towards Matt Crafton's truck and clapped in a sarcastic manner. During this escapade, a safety truck also got into the 4 truck, causing more damage. Afterwards, Nemechek said "Matt [Crafton] just flat out ran over me. That one will be in the memory bank. I guess the 19 and his spotter need a pair of glasses, I'll have those waiting for them in Richmond."
Far from the potential win Nemechek anticipated, the 4 will have to go for their second win of 2021 in three weeks time at Richmond. Meanwhile up front, the 4's teammate Truex was still leading. After outdueling Ben Rhodes on a few restarts, Truex would go on to sweep both Stages.
Prerace Favorite's Sour Day Goes South
Early in the final Stage, a very slow truck caused a big crash in turn three. Mike Marlar, in his Truck Series debut, was slow down the backstretch and into turn three. While Marlar was up towards the wall, Kyle Larson tried to go around the 56. This resulted in Larson getting spun, and Brett Moffitt and Danny Bohn both piled into the 44. After being seen as a heavy favorite for both Bristol Dirt races, Kyle Larson would be out before lap 100 of the Truck race. His ill handling Niece truck was never in contention though, as Larson struggled to make the top 15.
Short Runs Define Closing Laps
Two more cautions would halt the action in the final 50 laps. Johnny Sauter and Chandler Smith would both find the inside wall off of turn two. This would be closely followed by Andrew Gordon hitting the barrels at pit entry. Aside from these minor incidents though, the remainder of the race was clean and green.
On every restart, Truex could not be beat. The final restart would be "the worst restart of my life," in Ben Rhodes' words. Driver No. 99 would miss a shift trying to beat Truex down into the first turn.
As the laps wound down, nobody had anything for Truex, as he took a commanding win on the Bristol Dirt. Truex only failed to lead 45 of the 150 laps.
Top 10 Results from Bristol Dirt
One second behind Truex in the runner-up spot was Rhodes, who was very hard on himself for the botched final restart. Raphael Lessard and Todd Gilliland each scored their best results of 2021 in third and fourth, while Chase Briscoe placed fifth. The rest of the top 10 went to Grant Enfinger, Zane Smith, Parker Kligerman, Austin Hill and Austin Wayne Self.
Truex's Winning Reaction
"They had to put dirt on Bristol to get me back to Victory Lane here," Truex said after his maiden victory in the Truck Series. "It's been a long time. That was a blast. I'm still really surprised. I wanted to run this race so I could get more experience for the Cup car, and then we got out there in practice and it felt really good and I was having a lot of fun. So I just kept trying to work with the guys and tell them what I needed.
I kept thinking, 'what's going to happen next, am I going to get a flat tire or something stupid?' This 51 is pretty much used to finishing in victory lane, so a lot of pressure there, so I'm glad we could get it done.
It was really amazing just how much the track changed, but I'll have to say this thing stayed really, really good the whole time. I think if you've got a good car, you are going to be good all day long. It just depends on what they do to the track. It's getting hotter, it's going to keep drying out and get slicker. So we will see what they do to prep it, but no matter what they do, that was a blast and I'm looking forward to this afternoon."
Truex is now only the 36th driver in NASCAR history to win in the Cup, Xfinity, and Truck Series. Truex's first Truck win came in his third-career start, and first since 2006. Truex is also the oldest first-time Truck Series winner since Michael Waltrip won at Daytona in 2011. Truex's win also marks three-straight victories for Kyle Busch Motorsports, each coming with a different driver.
What's Next for Trucks
The next stop for the Camping World Truck Series will be Richmond Raceway in three weeks. The Toyota Care 250 will go green 1:30 p.m. ET on Saturday, April 17. Coverage will be on FS1, MRN, and SiriusXM NASCAR Radio Channel 90. The last Richmond Truck race saw ThorSport drivers place 1-2-3, can that magic be captured again at The Action Track?
Written by Peter Stratta
Be sure to follow us on Twitter.
Be sure to follow the writer on Twitter.
Photo Credit to Chris Graythen/Getty Images for NASCAR