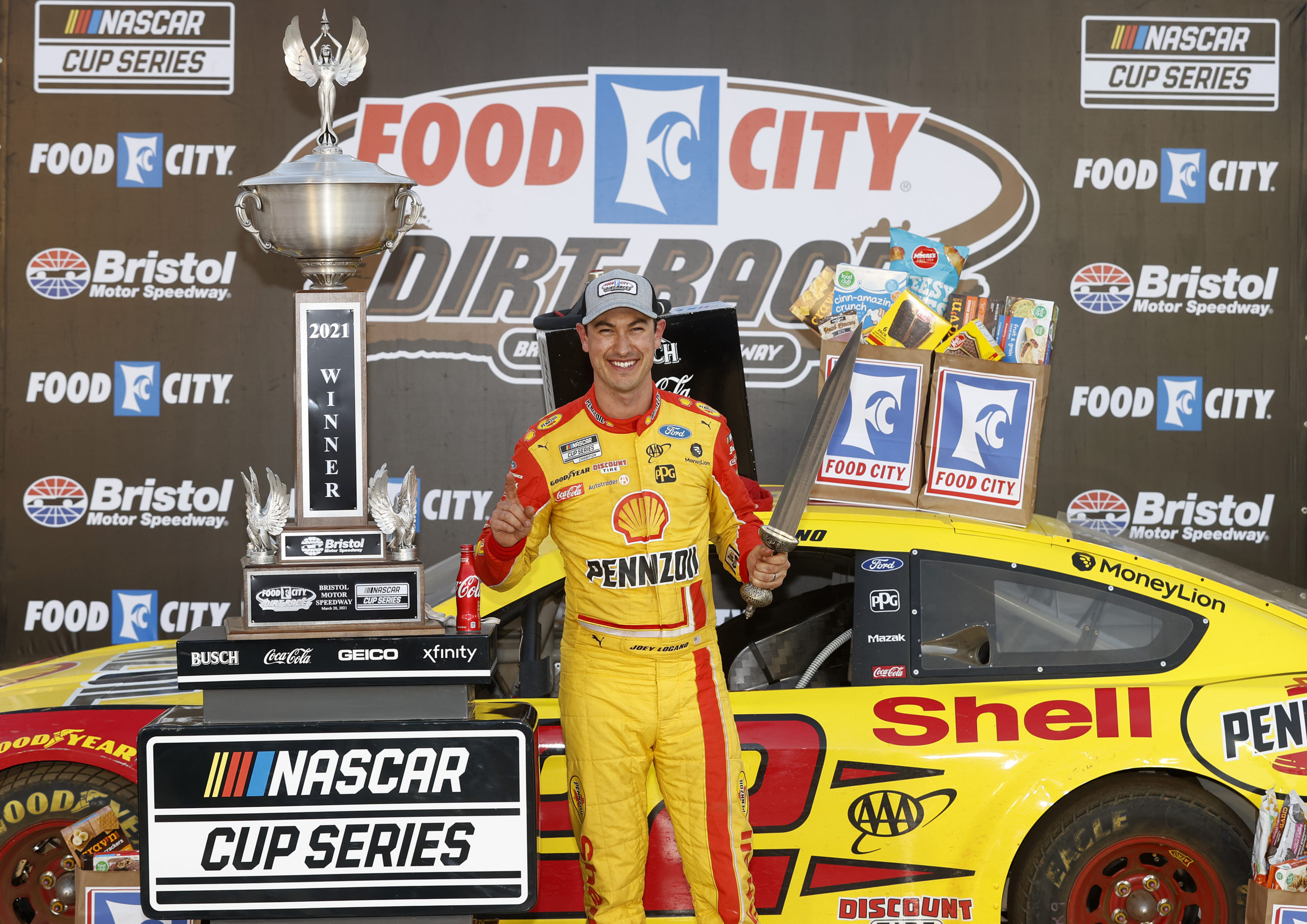 Joey Logano Outlasts Field in Bristol Dirt Race Victory
NASCAR's first Cup Series dirt race in 51 years was absolutely one to remember. After dominating runs by Martin Truex, Jr. and Daniel Suarez, neither of them would capitalize in the final Stage. Rather, the historic win would go to Joey Logano. Logano marks the seventh different winner in seven races in 2021. As a dirt racing novice, Logano winning the Bristol Dirt race was a bit of an upset.
Joe Gibbs Racing Dominant in Stage 1
After heavy rain and flooding pushed this race to Monday afternoon, Denny Hamlin led the first lap. Lap two however would see Kyle Busch take command, as the 18 looked stout out front. This would not last long at all though, as Martin Truex, Jr. had the top spot by lap 10. Truex, just coming off winning the Truck race, hoped to pull off a doubleheader sweep. Truex would hold the lead the remainder of Stage 1. However, Truex's first Stage win of the year was anything but a calm time out front.
Rash of Major Crashes
Lap 41 would see the day come to a very early end for four drivers. While racing Stewart Friesen out of turn two, Aric Almirola clipped the apron and went spinning. The sideways Smithfield Mustang would be clipped by Shane Golobic. After hitting the inside wall, Almirola came back up the track, right into the paths of Corey Lajoie and Anthony Alfredo. None of these four drivers would turn another lap due to heavy damage. For Almirola especially this early retirement hurt. Driver No. 10 has four finishes of 30th or worse so far in 2021.
The first competition caution came out a lap early when Ryan Newman spun after contact from William Byron. The spinning 6 car did avoid any major contact, but teammates Kevin Harvick and Chase Briscoe both hit each other swerving out of the way. Briscoe suffered a broken shock here, but was able to limp home in 20th. Harvick did not fare much better, as the 4 would finish 15th.
The Newman spin would trigger the first competition caution after 50 laps. In this first stint, Christopher Bell drove from 15th to second. In addition, Kyle Larson also drove from 39th all the way to fifth. While both were seen as heavy favorites, their paths would quite literally collide once racing resumed.
Dynamic Duo Taken Out of Commission
Just after the restart on lap 53, Christopher Bell tried running in the high line through turns one and two. Bell's car had minimal grip up here, and thus spun out. Bell's stalled No. 20 would then be hit by both Larson and Ross Chastain. For Bell and Chastain, this crash marked the end of the road. While Larson did continue, he was laps off the pace and not running competitively. Bell and Chastain left Bristol in 34th and 35th, while Larson only mustered a 29th-place effort.
The Calm After the Storm
With so many contenders out of the race so early, the tempo for the rest of Stage 1 was calmed down. The remaining 41 laps ran without issue, with Truex taking the Stage win. A couple standouts in the Stage 1 top 10 included Daniel Suarez, Bubba Wallace, Ryan Newman, Ricky Stenhouse, Jr. and also Chris Buescher. Suarez was challenging Truex for the lead late, but eventually fell off.
Stage 2 would see Suarez run strong yet again. On the restart, Suarez immediately got to second, and on lap 134 the Trackhouse 99 took the lead. Truex would fade to third at the second competition caution, as William Byron took the runner-up spot.
Under this caution, Suarez jokingly told the FOX broadcast "I don't know what I'm doing." Suarez's first-ever dirt race came less than a week ago, as he was one of the most inexperienced dirt racers in the field leading this race past halfway.
Audible Call Made on Restarts
A series of immediate restart-cautions led NASCAR to make a rare audible call. Lap 154 would see a hellacious crash out of turn four, where 12 drivers were involved in a major crash due to excessive dust.
After lap 161's crash between Keselowski and Briscoe, race control said that all remaining restarts would be single-file. The ensuing Stage break would also have an extended break for track preparation.
Once racing resumed, Suarez held off every charge from Joey Logano. A caution late in Stage 2 would give Logano one more shot at the Stage win however. The green flag came back out with nine to go in Stage 2, and Logano took the lead on lap 193. For Logano, this marked his second Stage win of the year. Suarez would still finish a respectable second, giving that No. 99 Chevrolet quite the ride.
Momentum Shifts for Final Stage
While Logano did lead the entirety of the final 50-lap Stage, several different contenders took their shot at the 22. On the lap 202 restart, Denny Hamlin immediately came up to second, and set his targets on Logano. The top two would gap the field by several seconds, with lapped traffic giving Hamlin a chance. Logano methodically worked his way by each car though, staying ahead of the 11.
Overtime Gives Contenders One More Opportunity
Hamlin has one final shot in Overtime, after the 66 of Mike Marlar spun. The 11 tried pushing the 22 into the corner, but lost momentum once he tried going up high. Stenhouse got by Hamlin for second, and Logano cruised to the Bristol Dirt victory. Logano now has won at least once in each of the last 10 seasons, and is also the seventh driver to lock up a 2021 Playoff spot.
Top-10 Results from Bristol Dirt
Behind Logano, Stenhouse and Hamlin, Daniel Suarez and Ryan Newman both picked up their first top fives of 2021. The remainder of the top 10 were William Byron, Tyler Reddick, Ryan Blaney, Erik Jones and Chase Elliott.
Logano's Winning Reaction
"How about Bristol on dirt?" Logano exclaimed. :This is incredible, unbelievable racetrack — great job by everyone that prepped the track. Obviously, a lot of work over here the last few days. We did a lot of work in the dirt department here the last few weeks.
I was getting nervous. There were so many first-time winners and different winners than there has typically been I said, 'We've got to get a win to make sure we get in the Playoffs,' so it's amazing to get this Shell/Pennzoil Mustang into Victory Lane at Bristol. There's nothing like winning at Bristol, but putting dirt on it and being the first to do it is really special."
Logano on Final Stage
"When they watered the track the last stage that kind of changed everything. Denny and I had a heck of a race because he found grip up top and I was like, 'Well, I don't know how to do that,' so I had to go up there and try to figure that out to defend the lead position and then eventually just worked the lapped cars. That was very hard as well as it should be. Everybody is racing to stay on the lead lap, so I was able to get through them as needed and, of course, the late-race caution but what an amazing team.
Everyone at Team Penske really put together some really good cars to come here and wing it.  That's what this is about. Nobody really knew what to put in the car and we were able to adjust the right way throughout practice and get into Victory Lane."
What's Next in Cup
After a well-deserved Easter off week, NASCAR will pick back up at Martinsville Speedway. The second-annual Martinsville night race will go green at 7:30 p.m. ET on Saturday, April 10. Coverage will be on FS1, MRN, and SiriusXM NASCAR Radio Channel 90. With so many drivers at odds with each other, will tempers flare in this Saturday night short track spectacular?
Written by Peter Stratta
Be sure to follow us on Twitter.
Be sure to follow the writer on Twitter.
Photo Credit to Chris Graythen/Getty Images for NASCAR