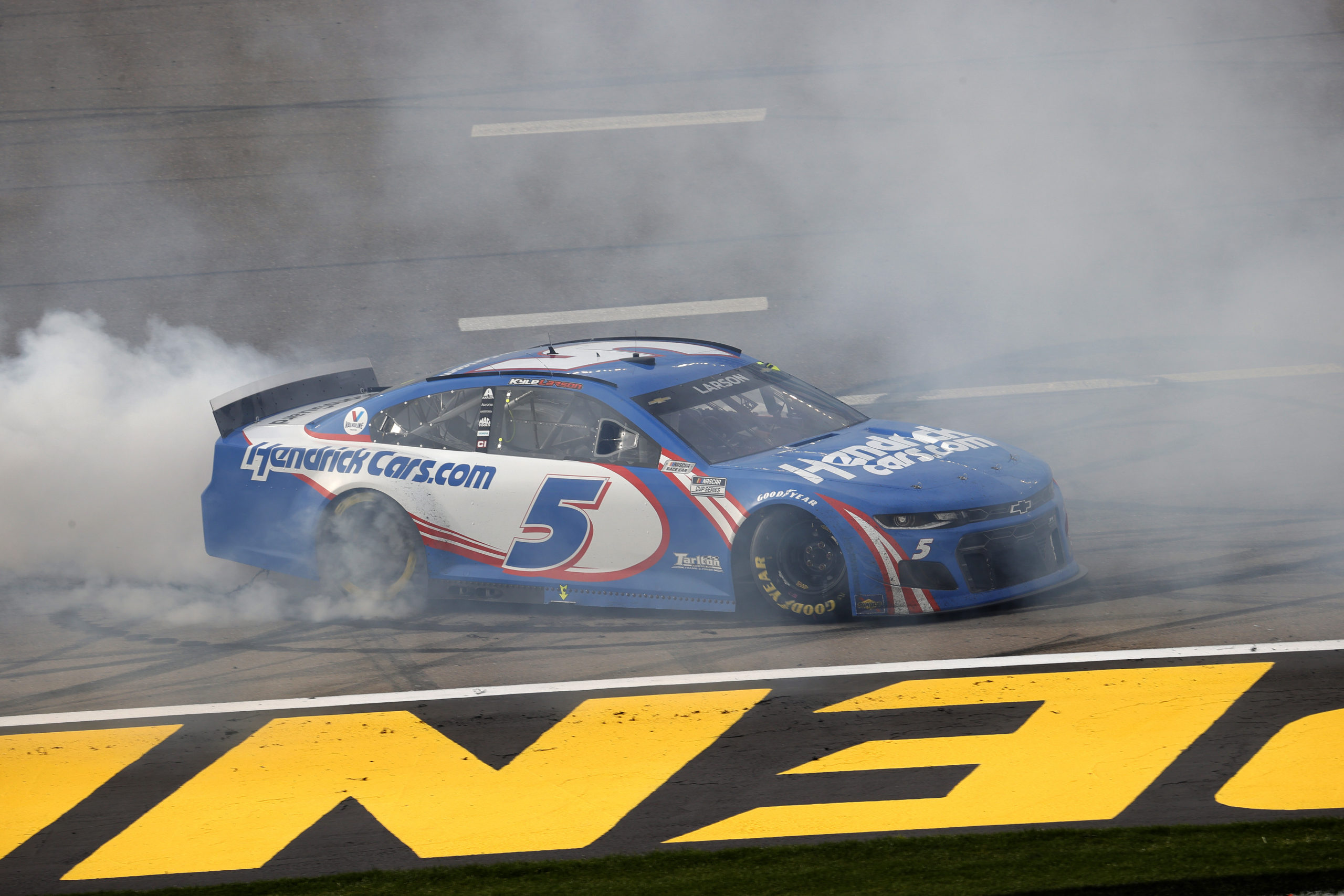 Kyle Larson Scores First Win of 2021 in Dominating Fashion at Las Vegas
LAS VEGAS, Nev. – "I didn't know if I'd ever have an opportunity to win a NASCAR race again," Kyle Larson said after taking the victory in Las Vegas. The past 11 months have been a path of trials and tribulations to say the least for Kyle Larson. After saying a racial slur on an iRacing broadcast last April, he was suspended from NASCAR and left without a ride.
Almost a year later, the Elk Grove, Ca. native is back in Cup Series victory lane at Las Vegas. Larson flat out dominated the second half of the Pennzoil 400, taking the checkers by three seconds. While far from erasing any wrongdoings he did, Larson returning to NASCAR victory lane is a big moment of redemption all should appreciate.
Hendrick, Penske Performance on Display for Stage 1
Despite Kevin Harvick starting from pole, the 4 would fail to lead a single lap. Instead, William Byron would lead the opening lap with a daring three-wide move on Harvick and Kyle Larson. Byron appeared stout out front, with teammates Larson and Chase Elliott both eventually making it a Hendrick 1-2-3. Elliott would take the lead away from Byron on lap 20. The Napa 9 would lead up until the competition caution, where Larson took over the lead on pit road.
Once racing resumed, the impressive runs from all four Hendrick cars subsided. Larson lost the lead to Denny Hamlin on the restart, as the Gibbs 11 car flexed some early muscle. Hamlin's lead would be short-lived though, as Larson took command on lap 44. An immediate debris caution would see Larson as one of very few to not pit. The next run to the Stage 1 conclusion would happen with Larson at a significant tire disadvantage.
The restart with 30 laps to go in Stage 1 immediately saw the Penske cars take over. Joey Logano and Brad Keselowski both swapped the lead a few times, looking to add to Penske's Vegas win total. Logano leading extended his streak of Vegas races led to 11, which is an all-time record. Also on older tires however, Logano's pace would fall off, and he would succumb to Chase Elliott. As laps wound down in Stage 1, it was a back-and-forth battle between Elliott and Keselowski.
Over the final 10 laps of Stage 1, the 2 and 9 traded the top spot many times. Only with two laps left in the opening Stage did Keselowski clear Elliott for good. Keselowski took the Stage 1 win by a few tenths over Elliott, his first of the year.
Minor Setback for Elliott on Pit Stop
Pit stops following Stage 1 would be less-than-ideal for the 9 team. First of all, Elliott slid too far into his box, forcing himself to back up when leaving. Elliott's car also got dented on the door near the jack post. He would have to pit again with damage. This sent the 9 car all the way back to 28th after some lengthy and extensive repairs.
Up front meanwhile, the start of Stage 2 was a Penske showcase. Keselowski held serve out front, while Ryan Blaney and Matt DiBenedetto were both in close pursuit. However this parade would not last long, as Kyle Larson began to methodically pick off each position. Lap 107 saw Larson retake the lead, looking for a valuable Stage win.
Aside from a cycle of green flag pit stops, Larson led the remainder of Stage 2. This would mark his first Stage win since the Charlotte Roval in 2019. With 100 laps yet to go, Larson appeared to be a true contender.
Elliott Narrowly Avoids Chaos
The final Stage was briefly halted by a few quick yellows. With 98 to go, Chase Elliott spun from 11th in the middle of the pack. Miraculously, nobody hit the 9, but Elliott lost track position again. The 9 would only be able to recover to a 13th-place effort, far short of the speed shown in Stage 1.
Another one-car incident affected Aric Almirola's day. After running outside of the top 20 all afternoon, the left front tire went flat on the No. 10. This sent Almirola into the turn one wall and out of the race. A very uncharacteristically off day for all of Stewart-Haas Racing would only see Harvick lead the team to a 20th-place finish.
At the time of Elliott's spin, Denny Hamlin was just narrowly ahead of Larson by a bumper. This gave the 11 control for both restarts, where he held position over teammate Martin Truex, Jr. The Almirola caution would see Larson lead a few cars down pit road for tires. While he would restart 17th, Larson had 83 more laps to regain ground.
Although Truex briefly took the lead here from Hamlin, Larson was back on top of both of them in no time. Hamlin retook command with 76 laps left, but the 5 was growing ever-larger in his rearview mirror. With 61 laps left on the board, Larson took the lead once again from Hamlin.
Near-Disaster for Larson
Under the final cycle of green flag pit stops, a mistake just about cost Kyle Larson dearly. When coming to pit road, Larson had to maneuver around a lapped car and botched his entry. As a result, Larson had to run another lap and pit a lap later. This cost the 5 any lead he had, as he exited just a few tenths ahead of Brad Keselowski.
This turned out to be a non-issue though, as Larson easily got well ahead of Keselowski in the closing laps. The 5 would not take the lead back until getting by Daniel Suarez though with 30 laps left. The closing laps had no change up front, but a strong day for one of Larson's teammates unraveled itself.
With 14 laps left and while running ninth, Alex Bowman had a tire go down. Thankfully he was able to make it to pit road, but had a very close call. While cutting onto the apron, Anthony Alfredo zoomed by to the inside of the 48. This near-miss could have been disastrous for both drivers, but no contact resulted. Bowman was black-flagged with a commitment line violation, and only rebounded to 27th.
Over the closing laps, Larson simply managed a big lead he held over Keselowski. The 2 was able to close in by a few seconds, but ran out of time. Kyle Larson earned his first NASCAR win since fall 2019 and first on a 1.5-mile track. With everything Larson has gone through over the past year, this is one of the biggest victories of his career.
Top 10 Results From Las Vegas
Behind Larson and Keselowski in third was hometown driver Kyle Busch. Busch put together his best result so far in 2021, with his first top five. The rest of the Vegas top five were Denny Hamlin and Ryan Blaney. Past them, the remainder of the top 10 were Martin Truex, Jr., Christopher Bell, William Byron, Joey Logano, and Erik Jones. Jones putting together a top 10 run for Richard Petty Motorsports is an unsung result that could be a great sign of things to come for team 43.
Numerology Behind Larson's Vegas Win
Larson's Vegas triumph puts him in the Playoffs for the fifth time. Larson is the fourth different winner in four races this year, and the second-straight winner for Hendrick Motorsports. Larson's seventh career win is also the first victory for crew chief Cliff Daniels. Kyle Larson is also the 20th different driver to win for HMS, with the fewest starts before winning. Hendrick Motorsports now stands at 265 Cup Series wins, only three behind the all-time record held by Petty Enterprises. Only time will tell who gets Hendrick that elusive victory and where it will be.
Do not expect Larson's winning ways to slow down anytime soon, as the floodgates may have just opened. Expect the 5 to become a regular contender, especially as we get on into the Playoffs this fall. Larson's NASCAR redemption tour just took a major leap forward.
Larson's Winning Reaction
"It was such an awesome race car," Larson said in victory lane. "Cliff (Daniels, crew chief) and everybody did a great job preparing this piece. It was so much fun to drive. I could go wherever I wanted to. I knew we had a really good car once we would kind of get single-filed out; but just drafting early in the run was tough. But thank you so much Mr. Hendrick, Jeff Gordon, and everybody at Hendrick Motorsports for the amazing opportunity I've been gifted. Hendrick Motorsports, Chevrolet, everybody at the engine shop, thank you so much for all the hard work This is definitely special."
"To get this awesome opportunity with Hendrick Motorsports and Mr. H taking a massive chance on me, then going out there and being strong all year, it's been great.
I knew we were close to getting a win. Our pit crew has done a really good job all season long. Cliff and everybody has been bringing really fast racecars to the track. For the most part I've been doing my job, too, on the racetrack.
I knew if we could continue to do that, we would get a win. Today we put it all together, and had a dominating race car to go along with it. Made my job behind the wheel a lot easier.
It's cool to get a win this early in the year, now we focus ahead and try to win a lot more, rack up Playoff points, put ourselves in a good spot once the Playoffs start."
What's Next for Cup
Race five of the 2021 NASCAR season will conclude the West Coast Swing in Phoenix. The site of the Championship race will be host to next week's Instacart 500. Coverage begins on Sunday, March 14 at 3:30 p.m. Et on FOX, MRN, and SiriusXM NASCAR Radio Channel 90. Phoenix last fall saw Chase Elliot crowned champion, can the 9 get two-straight on the desert mile?
Written by Peter Stratta
Be sure to follow us on Twitter.
Be sure to follow the writer on Twitter.
Photo credit to Chris Graythen/Getty Images for NASCAR