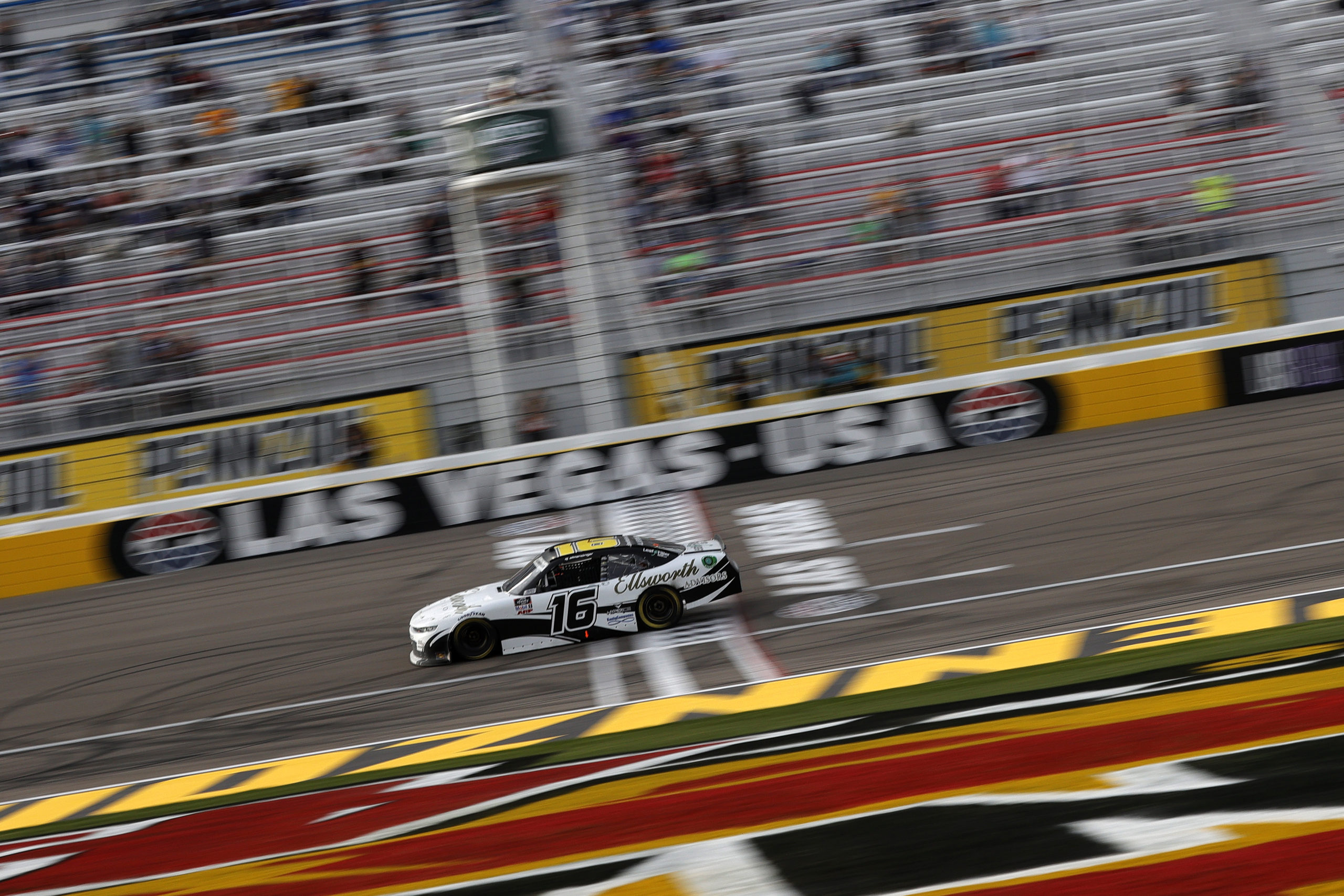 AJ Allmendinger Wins Sixth Career Xfinity Series Race
LAS VEGAS, Nev. – AJ Allmendinger passed Daniel Hemric on the final restart of the day with 11 laps to go to win the Alsco Uniforms 300 at Las Vegas Motor Speedway. Allmendinger ran up front most of the day, but didn't take the lead until early in the final Stage. He would go on to lead 44 of 200 laps, winning his second-career race on an oval track.
Austin Cindric Continues to Rack Up Playoff Points
Austin Cindric started the race on the outside of the front row and took all of two laps to take the lead. Cindric wasn't challenged until a lap 17 caution brought the field back together. Daniel Hemric passed Cindric for the lead after restarting on the inside. The lead lasted just a few laps, as Cindric quickly got back by him. Justin Haley made a run at Cindric late in the stage but was unable to pass him. This was the third consecutive race Cindric had won a stage.
Top Contenders Have Issues in Stage 2
Daniel Hemric beat Austin Cindric off pit road to take over the race lead. Cindric's car began dropping back just a few laps later. The problem was a flat tire for the Stage 1 winner. He tried to pit but he was on the outside coming off turn four and couldn't get down to pit road in time. He appeared to be in big trouble limping around at such a slow pace, but he caught a huge break.
As Cindric was driving on the apron, Ty Dillon got loose and spun into Riley Herbst, bringing out the caution. Cindric had gone a lap down but was in the free pass position, putting him back on the lead lap. Meanwhile though, Herbst's day came to an early end. It's been a very unlucky start to the 2021 season for driver 98. He has been caught up in someone else's mess in all four races this season.
Ryan Sieg had a flat tire a few laps later and spun into the front stretch grass. The splitter dug into the grass, causing major front-end damage. Justin Haley spun going into turn three after contact with Josh Berry two laps after the ensuing restart.
Daniel Hemric Fends Off the Field to Win Stage 2
Despite all the problems for top contenders, Daniel Hemric kept his Toyota out front. He briefly battled Justin Allgaier early in the Stage, but Hemric kept the lead. He would go on to pick up his first Stage win of the season and 11th of his career. Austin Cindric recovered from being outside the top 30 to finish 10th.
Hemric and Allmendinger Swap the Lead in Final Stage
Brandon Jones worked his way to the lead for the first time after winning the race off pit road. Jones held the lead for 25 laps to begin the Stage. However, the 19 was run down by Hemric and Allmendinger. Hemric kept the lead for the ensuing 20 laps but he wasn't able to hold off Allmendinger any longer. Allmendinger took control of the race for the first time on lap 139.
Justin Haley briefly held the lead through a cycle of green-flag pit stops but Allmendinger took it right back once Haley pitted.
Late Cautions Bunch the Field Up One Last Time
Allmendinger looked to be in control but a caution with 27 laps to go changed the game. The caution was for a Harrison Burton spin after contact with Austin Cindric going into turn one. Burton tried throwing a late block on Cindric down the front stretch, which resulted in the 22 punting the 20. Burton was able to continue though with minor damages.
Daniel Hemric beat Allmendinger off pit road but the leader would be Ty Dillon, who stayed out after running out of fresh tires. The two leaders easily passed Dillon.
Dillon crashed just a lap later after moving up in front of Brett Moffitt, sending both cars into the wall. Dillon's spotter was changing batteries for his radio during the crash. The lack of communication with his spotter likely caused the crash.
Hemric chose the outside on the final restart of the day. The decision turned out to be costly, as Allmendinger cleared him on the inside coming off turn two. Hemric had nothing for him in the final 10 laps, with Allmendinger cruising to his first win of the season.
Top 10 Xfinity Results From Las Vegas 
Allmendinger's win locks him into the Playoffs, while Hemric's second-place finish marks the eighth of his career. He has yet to win in the Xfinity Series. Brandon Jones came home third, Austin Cindric recovered from his flat tire to finish fourth, and Noah Gragson bounced back from heartbreak last week to finish fifth at his home track. Michael Annett and Josh Berry both earned season-best finishes of sixth and seventh, respectively. Justin Haley, Harrison Burton, and Jeb Burton all overcame issues to round out the top 10.
Allmendinger's Winning Reaction
"First of all, it's awesome to have you all back in the grandstands," Allmendinger said to a limited crowd in Las Vegas. "It's emotional because you don't know when you're going to do this again. You never know. This could be the last one (win), you never know, I hope it's not I think we can do a lot more."
"Even though I'm back fulltime, this is fun, but I want to win so bad for Matt [Kaulig] every week. It's hard to put into words what he means to me. Truly how bad I want to win for him. It means that much to me that he believes in me."
What's Next for Xfinity
The Xfinity Series finishes up their west coast swing with a trip to Phoenix Raceway. Every driver will be looking to get valuable information they can use for the Championship race later in the season at Phoenix. Coverage of the Call 811 Before You Dig 200 will be Saturday, March 13 at 5:30 p.m. ET on FS1, MRN, and SiriusXM NASCAR Radio Channel 90. Austin Cindric will look for his second-straight Phoenix victory after winning the race and championship there last fall.
Written by Nicholas Sterling
Be sure to follow us on Twitter.
Be sure to follow the writer on Twitter.
Photo Credit to Chris Graythen/Getty Images for NASCAR