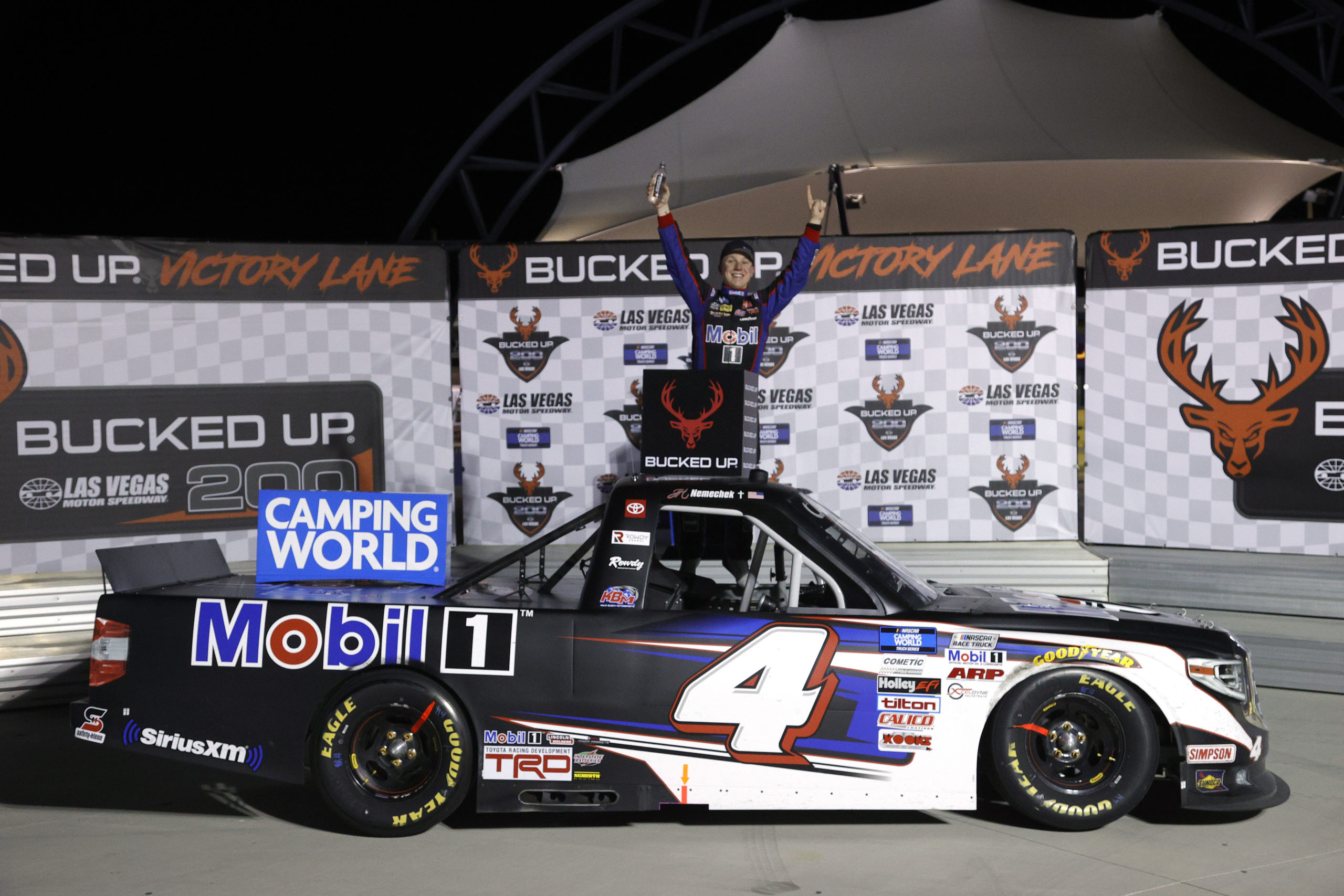 John Hunter Nemechek Holds Off Kyle Busch for Vegas Truck Win
LAS VEGAS, Nev. – "We came into this year with the #Here4Wins and we are here for wins," John Hunter Nemechek said after a dominant night. One of the more surprising moves of the NASCAR offseason has already paid off. John Hunter Nemechek is back in victory lane in the Truck Series. The 23-year-old beat Kyle Busch at his boss' home track of Las Vegas. After getting Stage wins in each race so far this season, is the 4 truck a championship contender? A win this early in the year has Nemechek's confidence high.
A Tale of Two Toyotas in Stage 1
Stage 1 was a case of two extremes for Kyle Busch Motorsports. Nemechek started third and quickly found the lead. Meanwhile, Kyle Busch started 29th and made up ground fast. To the surprise of few, Busch was in the top 10 by lap eight.
The opening 30-lap Stage was only slowed by one early caution. Nemechek led this first segment from lap seven until the Stage break, while Busch would finish fourth.
Busch Returns to Form in Stage 2
After restarting third for Stage 2, it took Kyle Busch all of 12 laps to grab the lead. Busch passed Nemechek and began to drive away, looking for his 60th career Truck Series win. This Stage appeared to be foreshadowing of a typical Kyle Busch truck race, as the 51 won it handedly. With two Stages in the books from Las Vegas, it appeared that both KBM trucks were the ones to beat.
Attrition Picks Up in Final Stage
Although neither KBM truck started the final Stage as the leader, Nemechek had the top spot again within a lap. However, this final Stage would eventually be defined by several short sprints. This kicked off on lap 70, when Conor Daly brought out a caution. The IndyCar star in the Niece 44 truck slammed the outside wall after losing control while three-wide. Daly did walk away from this fiery scene, and blamed the accident on his inexperience in stock cars.
Ten laps later another caution would fly, this time for the third Kyle Busch Motorsports truck. Chandler Smith spun after contact in turn two sent him around. With just over 50 laps left, the other two KBM entries would battle it out once again for the win.
Trouble for Busch Only a Minor Setback
On the ensuing restart, Kyle Busch made contact with another truck, causing a tire rub. The left rear tire on the No. 51 eventually let go on lap 90. Busch spinning on the apron would trigger another caution. However, Busch would pit with little damage and get back on track. Trapped a lap down though, he would still need another caution to get back in contention.
The Big One in Turn One
After yet another wild restart, chaos ensued due to one premature move. Raphael Lessard thought he was ahead of David Gilliland entering turn one. The 24 was not quite clear of the 17, as contact sent both trucks spinning back up into traffic. Collected in this pileup would be Hailie Deegan, Sheldon Creed, Ryan Truex and also Bret Holmes.
With less than 30 laps to go, the green flag once again fell on Nemechek. Busch would also be back on the lead lap, and was charging hard to regain lost ground. With 22 laps left, the 51 would re-enter the top 10. A lap 116 caution for Cory Roper would give Busch another shot at the lead and the win.
Busch restarted eighth with 13 laps to go, it would take the 51 only a lap to get to third. Busch's forward march was only halted by another caution. Intense four-wide racing on the restart would result in Chase Purdy getting loose and slamming into Jordan Anderson. With nowhere to go, Anderson's 3 truck and Tyler Ankrum's 26 both found the inside wall.
Busch's Final Charge Just Not Enough
With only a six-lap sprint now to the checkers, Busch would restart behind Nemechek. The 51 gave the 4 a huge push, clearing all other challengers. However, Nemechek had enough of a gap where Busch could not catch him again. Nemechek would hold off all late charges from Busch, and took the checkers six tenths ahead of his boss.
Top 10 Results From Las Vegas Trucks
Behind Nemechek and Busch, the remainder of the top five were Austin Hill, Stewart Friesen, and Matt Crafton. The rest of the top 10 were Zane Smith, Grant Enfinger, Parker Kligerman, Christian Eckes, and Ben Rhodes.
Nemechek's Reaction to Las Vegas Win
"It's an awesome day," Nemechek said. "The goal here for us was to come here and win. We've been close the last two weeks and we have fast race trucks. I can't thank everyone enough for giving me this opportunity. The opportunity to come here and race in the Truck Series for Kyle Busch Motorsports is an amazing opportunity and we're capitalizing on that. We want to be the dominant one this year and we want to win as many races as we can. It's awesome to get it kicked off here in Vegas and beat the boss."
This win puts John Hunter Nemechek into the Truck Series Playoffs for the third time. This will surely be his best shot at the title though, in arguably the best truck in the series. Just how many wins can John Hunter rack up before the postseason begins?
Nemechek went on to say if he really was better than Busch and how he held off the 51 over the final Stage.
"[Kyle] was faster than me in Stage 2, so I really didn't know. It was all about using our truck to the best we could possibly do, wrapping the bottom and taking the dirty air away. He had to run up and it created more lap time for him. Overall, it was an awesome victory."
What's Next for Trucks?
The next stop for the NASCAR Camping World Truck Series is Atlanta Motor Speedway. March 20 will see Nemechek try to beat Busch again in the FR8 Auctions 200. Coverage begins at 2:30 p.m. ET on FS1, MRN, and SiriusXM NASCAR Radio Channel 90. It was a bit of an upset to see Kyle Busch not win at Las Vegas, he will surely show no mercy against anyone in Atlanta.
Written by Peter Stratta
Be sure to follow us on Twitter.
Be sure to follow the writer on Twitter.
Photo credit to Chris Graythen/Getty Images for NASCAR