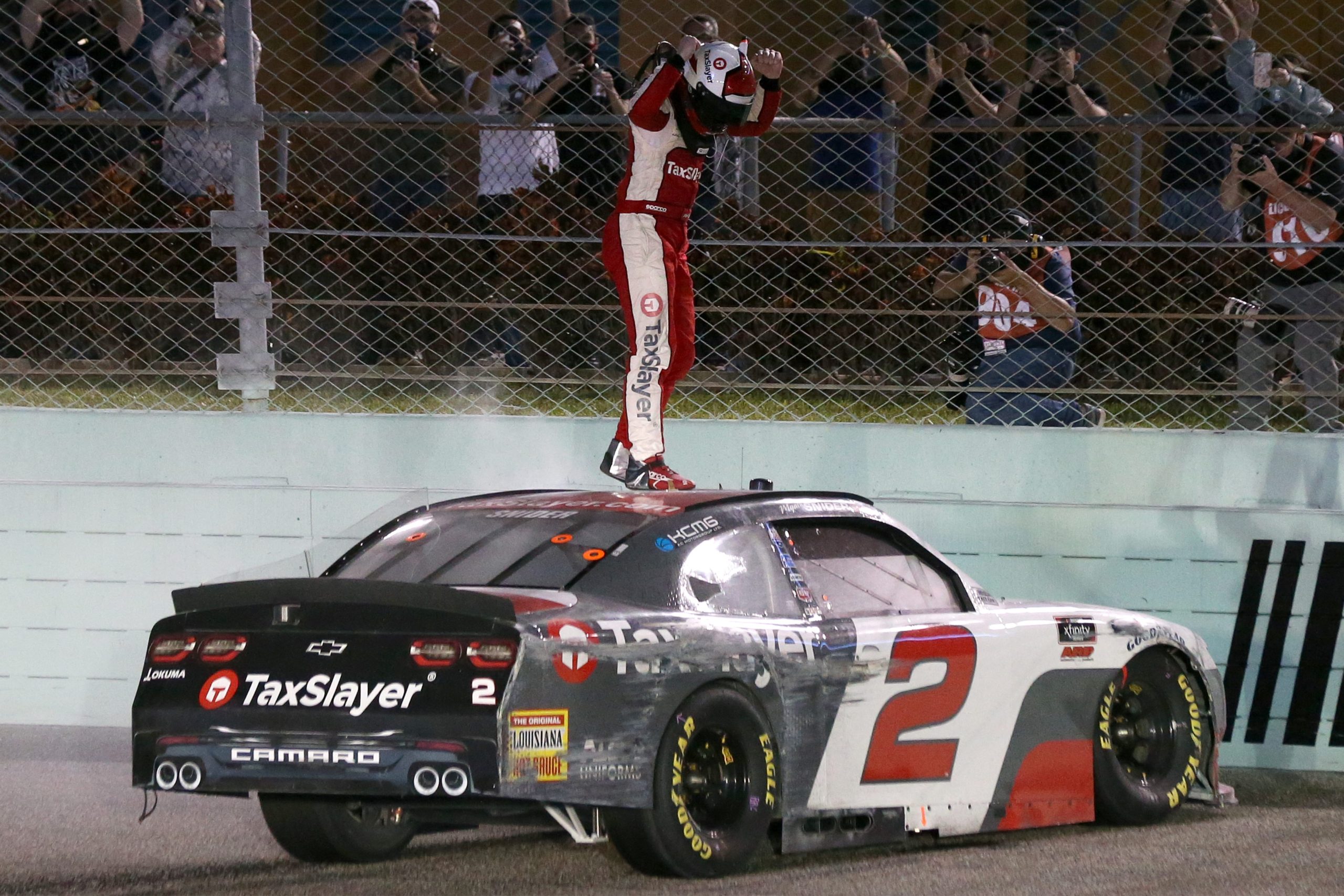 Myatt Snider Steals the Win at Homestead
HOMESTEAD, FL. – Myatt Snider capitalized on a late-race crash by race leader Noah Gragson to win the Contender Boats 250 at the Homestead-Miami Speedway. Snider took the lead after Gragson's crash but lost it on the ensuing restart. After a quick caution, Snider reclaimed the lead from Tyler Reddick and held on to earn his first career win.
Pit Strategy Shakes Up Stage 1
Austin Cindric started on the pole and wasted no time pulling away from the field. He built a nearly five-second lead by lap 20. Two drivers were quickly making their way through the field though. Noah Gragson started 23rd and made it to fourth in just 20 laps. Tyler Reddick also started deep in the field but advanced to 13th halfway through Stage 1. A caution on lap 26 is where the fun began.
The first 19 cars stayed out with Justin Haley, the first car on fresh tires, restarting in the 20th position. Fresh tires were the way to go all day, with Haley going from 20th to the lead in just two laps. His teammate, AJ Allmendinger would pass him for the lead, and eventually the stage win with three laps to go. Allmendinger used his fresh tires to go from 27th to first in seven laps. Gragson dropped back to 10th on old tires while Cindric finished 14th.
Kaulig Racing Dominates Stage 2 Until Late Caution
AJ Allmendinger and Justin Haley held the lead coming off pit road and really had no challengers until late in the stage. After restarting outside the top 10, Noah Gragson and Austin Cindric worked their way up into contention. Gragson actually made it up to third before a caution with 13 to go in the stage.
Harrison Burton was running inside the top 10 when his car started smoking under caution. These problems would end his day, the 20 finished in last place.
Cindric Wins Stage 2 with Smart Pit Strategy
Cindric, Ryan Sieg, and a host of other cars made the decision to pit for fresh tires rather than save a set for later. Cindric's decision worked to perfection. The 22 would go from 22nd to first in just two laps. He went on to win Stage 2 over Myatt Snider, who also pitted for fresh tires. Allmendinger fell back to eighth.
Early Cautions Lead to Different Strategies in the Final Stage
Austin Cindric held the lead off pit road with Noah Gragson just behind. Colby Howard stayed out but he was quickly passed because of his much older tires. A few laps later, Justin Allgaier slid up in front of Riley Herbst, putting both cars into the wall and bringing out a caution. The incident ended the day for Allgaier, who would finish in 39th. This yellow would bring everyone down pit road for fresh tires.
The field ran green for just 11 laps until a caution gave drivers and crew chiefs another decision. Most of the field stayed out with so few laps on their tires. A few guys mid-pack did come to pit road though. This included both Brett Moffitt and Jeremy Clements.
Noah Gragson Looks for Redemption at Homestead
AJ Allmendinger snagged the lead away from Austin Cindric on the ensuing restart. He held the lead for the next 14 laps, but someone was quickly catching him. Brett Moffitt, who restarted 19th, made his way through the field and to the lead with just 33 laps to go. The problem for Moffitt though was that Noah Gragson's car was even faster, despite having older tires. Gragson took the lead from Moffitt just two laps after Moffitt got the lead.
Gragson dominated the two races at Homestead last season before late cautions doomed him. It looked like he was on his way to a redemption win, especially after Moffitt had to pit with eight laps to go with a flat tire. Unfortunately, trouble struck Gragson.
With just two laps to go, Gragson was running the top line when David Starr cut a tire. Starr's car went into the wall, right in front of Gragson. He tried to avoid Starr but was unsuccessful, running right into the back of him. It was another heartbreaking finish at Homestead for Gragson, who led 34 laps but only had a 34th place finish to show for it.
Myatt Snider Capitalizes on Gragson's Crash to Earn First Win
Myatt Snider won the race off pit road over Tyler Reddick and Brandon Jones. Snider spun his tires on the first overtime restart and lost the lead to Reddick before the final caution came out. Snider perfected the second OT restart and got out to the lead. He held off one last charge from Reddick and Jones to capture career win number one in the Xfinity Series.
Snider on First NASCAR National Series Win
"Wow! What a win," Snider exclaimed postrace. "I guess I learned my lesson on that first restart. I spun the wheels, and then I saw Tyler Reddick spin the wheels on the second restart and I knew I might have a chance. One thing I've always noticed about myself is that I'm always better when I have a rabbit to chase. I knew that if I could just get as much power as I could and lay out ahead of everyone else I would have a pretty good chance, and with Tyler restarting the race he had a better chance of spinning the tires himself. Tyler is tough to beat because he has a lot of experience as a NASCAR Cup Series driver. But luckily, we did it. We slayed it! I have to thank all of these RCR guys, TaxSlayer and everyone who has helped me my entire career. It's been a rough journey but we're leaving here with a win and I can't complain. The first thing I am going to do is celebrate with my team. These guys have such experience and they have guided me so much. This win puts us in a really good position for the rest of the year."
This win puts Snider into the 2021 Xfinity Series Playoffs alongside defending champ Austin Cindric. Snider also makes it two-straight first time Xfinity Series winners, following up Ty Gibbs' triumph a week ago.
Top 10 Results From Homestead
Although Reddick did cross the finish line just behind Snider, his car was disqualified in postrace inspection. The Our Motorsports entry did not pass on height sticks, thus was relegated to a 40th-place result. The revised top five were Brandon Jones, Daniel Hemric, Jeb Burton, and Austin Cindric. The rest of the top 10 were Justin Haley, Brett Moffitt, Ryan Sieg, Jeremy Clements, and Josh Berry.
What's Next in Xfinity
The west coast swings begins next week for the Xfinity Series. The drivers take their talents to the Las Vegas Motor Speedway. Coverage of the Alsco Uniforms 300 will begin at 4:30 p.m. ET on FS1. Vegas native Noah Gragson will look to earn redemption at his home track after yet another heartbreaking defeat.
Written by Nicholas Stering
Be sure to follow us on Twitter.
Be sure to follow the writer on Twitter.
Photo credit to Sean Gardner/Getty Images for NASCAR