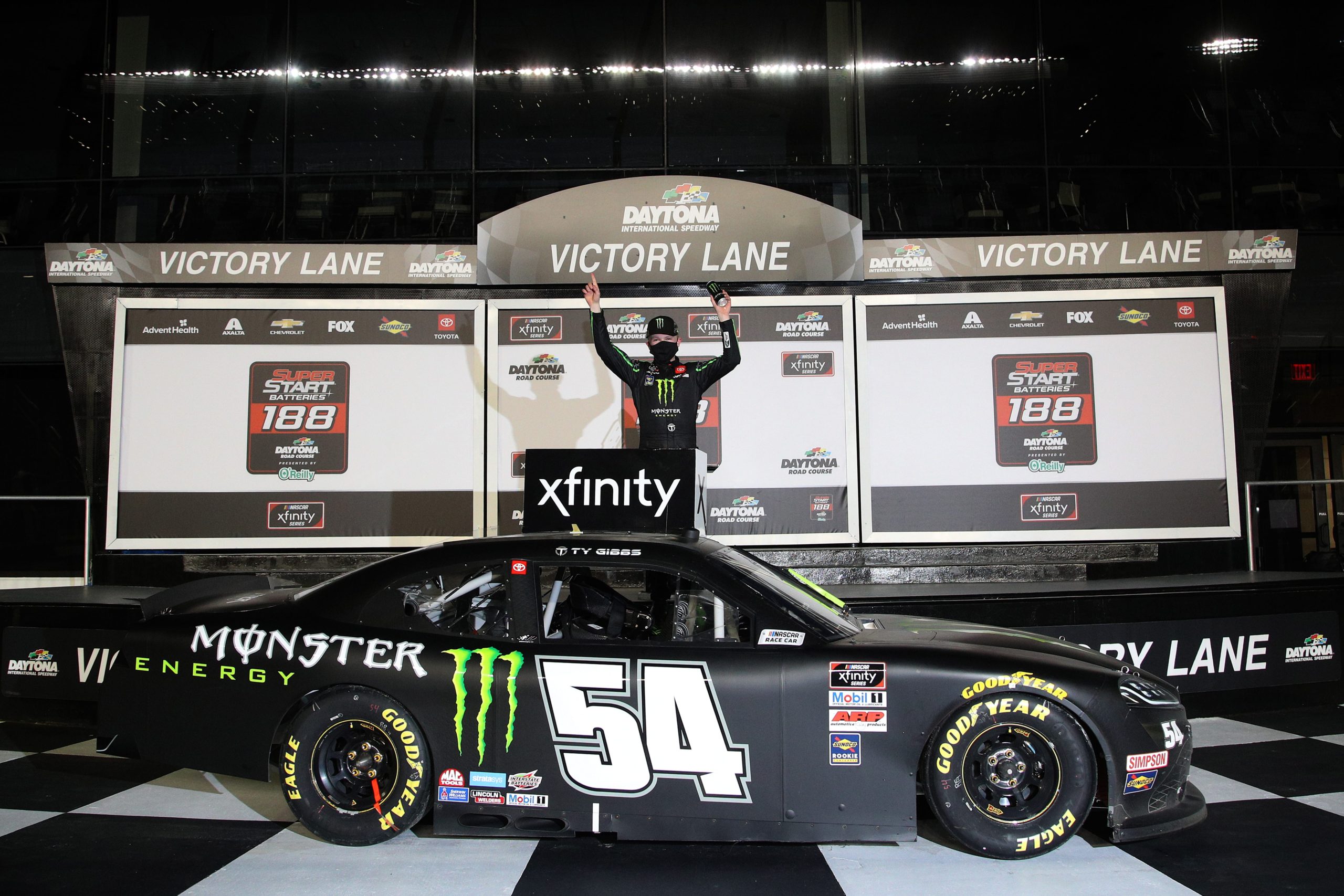 Ty Gibbs Survives Wild Finish to Win Daytona Road Course
DAYTONA BEACH, Fla. – After battling with Austin Cindric for much of the final stage, it looked like Ty Gibbs' chance to win was over. Then came a late caution. Both leaders came to pit road and were able to use their fresh tires to come from 11th and 12th to first and second. Gibbs got ahead of Cindric on the final restart and used that cushion to win the Super Start Batteries 188 at the Daytona Road Course. Gibbs became the sixth driver to win in his Xfinity Series debut, and third-youngest series winner ever.
Austin Cindric and AJ Allmendinger Dominate Stage 1
Austin Cindric started on the outside of the front row and wasted no time taking the lead. He flew around the outside of pole-sitter Brett Moffitt coming off turn one. AJ Allmendinger, who started sixth, was in second by lap two. Allmendinger eventually worked his way around Cindric with just a few laps to go in Stage 1. The two had opened up a three-second lead over the field before the caution flew for Ryan Vargas stalling at pit exit.
The two leaders chose to stay out while many other cars came into the pits. Leading this group were Harrison Burton and Brett Moffitt. Burton used his fresh tires to get back up to sixth by the end of the Stage.
Cindric and Allmendinger Crash Coming to the Finish of Stage 1
Allmendinger and Cindric got away from the field on the final restart of Stage 1. It appeared Allmendinger would cruise to his first Stage win of the season, but Cindric closed the gap coming to the green checkered flag. Cindric got to the inside coming off the final corner and it looked like Allmendinger just kept turning down until Cindric was on the apron.
Allmendinger spun downwards, suffering damage to his car when the front end dug into the grass. Cindric also sustained right front damage, but the crew was able to repair it. Allmendinger ran around in the back the remainder of the race. He would ultimately finish 35th. Riley Herbst was also involved in the crash. He had damage from going into the grass as well. This would end his day, and lead to a 39th-place finish.
Ty Gibbs Wins Stage 2 in Xfinity Series Debut
Burton would inherit the lead after the majority of the leaders pitted. Cindric restarted 31st after making numerous pit stops to repair damage. Burton would lead the race for all of two laps before Ty Gibbs took the lead. Gibbs, the grandson of NASCAR owner Joe Gibbs, was making his Xfinity Series debut. Gibbs led the remaining 10 laps to win the Stage. He became just the second driver to win a Stage in his first career race. Cindric marched all the way up to sixth by the green-and-white checkers.
This Stage ran caution-free, with the only on-track incident being a blown tire for Miguel Paludo. Paludo was running sixth at the time of the incident.
Cindric and Gibbs Battle it Out in Final Stage
Gibbs lost a few spots on pit road while Cindric would restart fourth behind leader Gray Gaulding. Daniel Hemric would work his way around Gaulding for the lead, but Cindric and Gibbs would make their way to the top two just a lap later. A problem for Jade Buford brought out the caution with 15 to go.
Gibbs fell back to fourth after having a bad restart but he quickly got back to second. The drivers got side-by-side multiple times before Cindric began to pull away with seven laps to go.
Late Caution Sets Up Chaotic Overtime Finish
A caution with under five laps to go gave the leaders a big decision. Would they come to pit road for fresh tires or keep track position? The two leaders came in for tires while nine drivers stayed out. The first restart was chaotic with leader Ryan Sieg and second-place Myatt Snider both going off the track in turn one. Another caution came out after a group of cars piled up in turn three.
Gibbs restarted fifth with Cindric just behind in seventh. It took Gibbs only three turns to take the lead from Jeb Burton, who was on older tires. Cindric got to second a few turns later but he couldn't make up enough ground to catch Gibbs. Gibbs led 14 of 56 laps en route to his first career win.
Top 10 results from the Xfinity race on the Daytona Road Course were Ty Gibbs, Austin Cindric, Daniel Hemric, Brandon Jones, Jeb Burton, Harrison Burton, Miguel Paludo, Brandon Brown, Justin Haley and Jeremy Clements.
Gibbs Joins Exclusive Club
Ty Gibbs is only the sixth driver in Xfinity Series history to win their debut race. Others on this list include Dale Earnhardt, Joe Ruttman, Ricky Rudd, Terry Labonte, and Kurt Busch. Ty Gibbs however is the only driver on this list without a prior Cup Series start.
Gibbs' Reaction to Historic Win
"You know, I can't thank everybody right now," Gibbs exclaimed. "This is like a dream come true to me. This is awesome, I can't do burnouts, that's one thing I cannot do at all. I just can't thank everybody, this is just a dream come true to me. I really didn't think I had it there. Kind of fought back and we won. Thank you to Monster Energy and everybody, I don't even know what's going on."
"I don't even know how to feel. This is really hard for me to explain. After my uncle passed away, it's been hard for me. It's just a dream come true. I'm just rambling. I'm excited. Mixed emotions for sure. This is just awesome."
"I don't even know how I kept going. It was the man above. He's done everything for me. He put me in this great family and in this great situation in life. I feel like I had to earn a lot of respect tonight. And I don't think I did a too good of a job. I hit the grass and kept on rolling, I have no words. I just won at Daytona."
What's Next
The Xfinity Series travels down to south Florida to the Homestead-Miami Speedway. Coverage of the Contender Boats 250 will begin at 4:30 p.m. ET on FS1, MRN, and SiriusXM NASCAR Radio Channel 90. Noah Gragson was dominant in both races at the track last season but was passed late in each of them. Harrison Burton and Chase Briscoe each won there last season. Can Gragson rebound to pick up the win that got away from him, or will someone else step up?
Written by Nicholas Sterling
Be sure to follow us on YouTube and Twitter.
Be sure to follow the writer on Twitter.
Photo by Chris Graythen/Getty Images for NASCAR