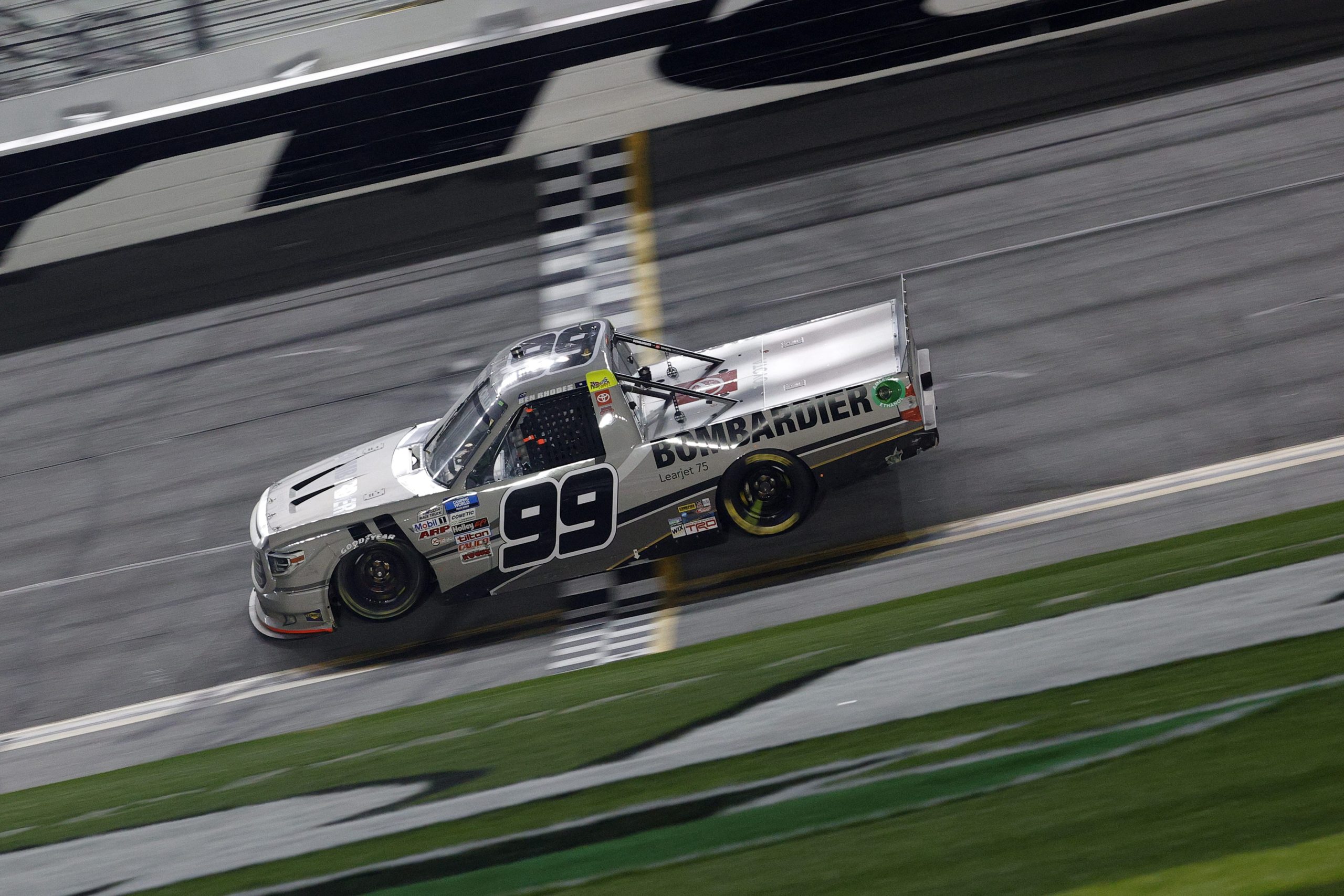 Ben Rhodes Wins Dramatic Marathon Race at Daytona Road Course
DAYTONA BEACH, FL. – After going until September last year before winning, Ben Rhodes has now opened 2021 with two-straight victories. Rhodes earned his second win in as many races on the Daytona Road Course, a week after winning on the Daytona oval. This race that started in the rain would eventually go into a triple-overtime finish. The scheduled 159-mile distance turned into a 184-mile contest. Rhodes had to hold off late charges from both Sheldon Creed and John Hunter Nemechek. Is the No. 99 ThorSport team now a championship favorite after two consecutive wins to begin 2021?
Calm Before the Storm in Stages
Aside from starting on a heavily-saturated 3.61-mile course, both of the opening Stages were relatively calm. The entirety of Stage 1 would be paced by John Hunter Nemechek, who started fourth in the No. 4 Toyota.
Stage 2 would be much of the same, as the green-and-white checkers at lap 25 would go to Raphael Lessard. Sheldon Creed did lead much of Stage 2, but lost several positions late. Stage 2 would also be a turning point for Nemechek. The 4 lost oil pressure and would trigger a caution. This yellow for the stopped 4 would evidently end the second Stage. The field of potential winners would be wide open when the final Stage commenced.
Craziness Kicks Off in Final Stage
Only five laps into the final Stage, a large cleanup would have to ensue. Carson Hocevar would make contact with the sand barrels at pit exit. Ryan Truex would also be involved in this melee. The Niece 40 Truck would eventually lose a hood due to heavy damages. This set forth a lengthy caution for sand to be cleared of the racing surface and for the barrels to be reset.
This caution would also be a major setback for Sheldon Creed. While leading under yellow, the defending champion attempted to save fuel. Unfortunately for the 2, he coasted too far and could not maintain pace car speed. The 2 got sent back to sixth for the restart. Arguably the fastest truck in Daytona would have to come through five competitors to gain the lead again.
When the green fell again with nine laps left, it would be madness up front. After a few corners, it would be Ben Rhodes leading with Creed up to second. This lap would not be complete under green however. Another caution would be triggered when Brett Moffitt hooked Zane Smith in the front chicane. Also involved were Raphael Lessard and Parker Chase.
The ensuing restart would also not see a full lap complete. Austin Hill would loop his No. 16 Toyota in the backstretch chicane. Three laps would remain in regulation, but this race would go into Overtime after Sam Mayer and Tanner Gray tangled in turn five.
Caution Just at the Wrong Time
For the first attempt at Overtime, Rhodes got a great jump and was clear by the infield exit. However just as he was less than 200 feet from the white flag, a caution came out. The 22 of Austin Wayne Self would be against the wall in turn 10. Rhodes was less than pleased that a caution flag flew so close to him taking the white.
The second attempt at Overtime would not even last three corners. Tyler Ankrum, Chandler Smith, and more trucks went spinning out of turn one. The third time would apparently be the charm for Overtimes on the Daytona Road Course.
Once again, Rhodes got a good jump over Nemechek. After the earlier oil pressure loss, the 4 had fought all the way back to being in contention on Overtime. Rhodes would take the white flag this time without any issues behind him.
Race Ends Prematurely
As the leaders were going down the backstretch, one truck stalled in the final chicane. NASCAR deemed it unsafe to race by the stopped 44 of Jett Noland, and threw a race-ending caution. As a result, Ben Rhodes earned his second win of 2021. Rhodes has scored a Daytona sweep for the Trucks, and also gave Toyota their 200th Truck Series win.
Rhodes on Roller-Coaster Day
"It's unbelievable," Rhodes said. "I don't have words for it. I don't even know what to say. This is so cool. I just have to thank my team. The Bombardier Tundra was fast all day. ThorSport Racing gave me a truck that handled this year and we were fast. Rich (Luches) is a really good crew chief. It's good to be paired up with him and all of the guys on my team. I'm just thrilled. I don't know what to say. I've been on cloud nine all week, so it's above that. I'm just so happy."
"It was the most stressful race of my life for sure. There's been stressful races, but this was really stressful. I thought it was going to be taken away from us for sure. I'm not sure if they showed me throwing my hands up, I hope they didn't. Hope they didn't listen to the radio either. I was a little frustrated. Gosh, it all worked out now. So stressful, so stressful. I don't think I've had one that stressful before."
Rhode(s) to the Title?
"It's looking better now with these extra Playoff points," Rhodes said of his championship aspirations. "I've learned that Playoff points are the winning ticket. They get you to the final four and I guess we're at 10 now or maybe 11. That's such a relief and we came into this race, I finished horrible here last year, had a horrible race last year and basically fell out of the seat. I was struggling physically hardcore with all the heat at this race. I was a little intimidated coming back to this road course, not going to lie. To conquer this and to conquer the speedway, this is our championship year, I really believe that. I don't know, a lot of racing left and a lot of season left so we'll see what happens."
Rhodes has certainly started off 2021 in the best way possible. Both victories have him locked into the Playoffs, and he can now chase after bonus points. The past two years have seen a ThorSport truck win the Regular Season Championship and make the finale. Can Rhodes better that? He appears to be well on his way to a deep postseason run.
Top 10 Results From Daytona Road Course
Both comeback stories of the night fell just short of the win, as Sheldon Creed (2nd) and John Hunter Nemechek (3rd) were just behind Rhodes. Todd Gilliland and Riley Herbst would round out the top five. The remainder of the top 10 were Matt Crafton, Derek Kraus, Kaz Grala, Timmy Hill and Christian Eckes.
What's Next for Trucks?
Next week is an off-week for the Trucks, closing out a two-week stretch to open the season. The Truckers will take to Las Vegas Motor Speedway the following week for the Silver State 200. Coverage will begin on Friday, March 5 at 9 p.m. ET on FS1, PRN, and SiriusXM NASCAR Radio Channel 90. Kyle Busch is running this race, so he will be the odds-on favorite. However, Ben Rhodes is one of several drivers who will have a chance at toppling the Truck Series' all-time wins leader in his hometown.
Written by Peter Stratta
Be sure to follow us on Twitter.
Be sure to follow the writer on Twitter.
Photo credit to Chris Graythen/Getty Images for NASCAR