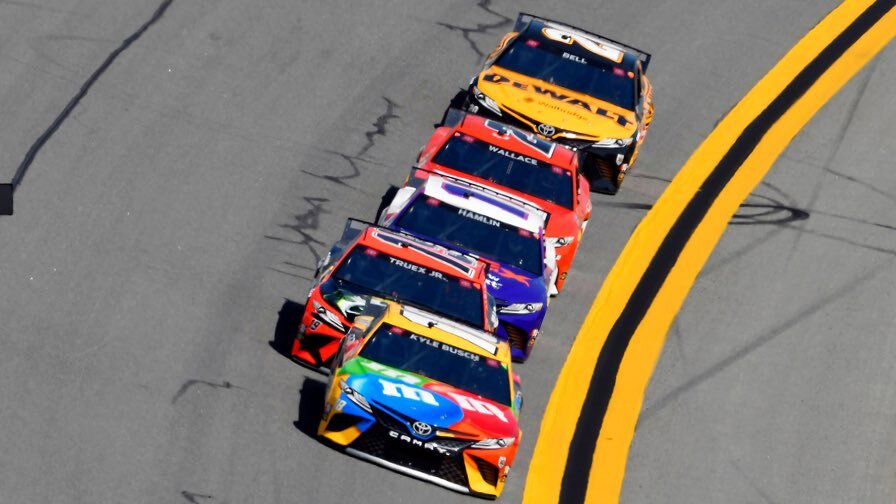 2021 NASCAR Team Preview: Joe Gibbs Racing/23XI Racing
After their best year ever in 2019, 2020 was a mixed-results year for Joe Gibbs Racing. The powerhouse team that scored 19 victories in 2019 won only nine times in 2020. Denny Hamlin won seven of those races, while Kyle Busch and Martin Truex, Jr. only won one apiece. Coming into 2021, JGR enters a new alliance with the brand new 23XI Racing. These five Toyotas are sure to be contenders in 2021, as there's a breath of new life in the Toyota Racing stable.
Busch Confident for 2021 with Beshore
One of the most obvious teams to struggle in 2020 was the 18 of Kyle Busch. The 2019 Cup Series Champion only won once in his title-defense season. The Texas win was en route to an eighth-place points finish. Busch attributed much of his team's hardships to a lack of practice and qualifying. With only eight races in 2021 having any practice, a big change came to the 18. This change can atop the pit box, as Ben Beshore replaces Adam Stevens at the head of this team. Beshore and Busch do have past experience together, in Xfinity competition they have four wins. Busch and Beshore also worked together when Stevens was suspended in 2017. Those three races saw the 18 finish ninth, seventh, and fifth respectively. Coming into the new year, where is Kyle Busch's confidence for the new opportunity with Beshore?
"We've been meeting periodically here and there, talking on the phone a little bit here and there as well, too," Busch said. "I've had my fair share of seat fittings here this off season, just to kind of get everything kind of back in order, back where I wanted it and to feel comfortable and stuff like that. So he (Ben Beshore, crew chief) was a part of each and every one of those. Just being down on the floor, being with some of the guys and kind of intermingling and mixing in with what all we were doing and had going on."
New Relationship Already Building
"Besides just kind of side talk on that front, we obviously talked about a lot of different things that we did do well and didn't do well last year, as far as the 18 team goes. So I kind of let him into my aspect of what I thought. I know also that he's obviously been in constant contact with Adam (Stevens, 20 crew chief) as well, too with their relationship. Obviously, Adam hired him on. He brought him on years ago in 2015 when I got Adam as my crew chief on the Cup side. There's been a lot of things that those guys have been working on and the engineering groups and stuff going back and forth on how to prepare for this year." 
Busch Feeling Like He was Fired
"Ben (Beshore) brings in himself and he's working with the number 20 team engineer from last year, which was Erik Jones' engineer with Chris Gayle and then the number two engineers as well from that group. And then pretty much all the 20 guys as well, too. So I kind of feel like I got fired from the 18 car and moved over to the 20 guys. With the way everything kind of played out, how it looks in the shop and they got the hauler, I have a new hauler, they kept a surface plate. I got a new surface plate. So there's this whole thing mentally in my head that I kind of got fired and rehired. Maybe that'll hold true with how it looked in 2007 to 2008 from Hendrick to Gibbs. And I went off and won eight races. It's a new challenge, it's a whole group, but looking forward to it." 
Despite the tough year a season ago, Kyle Busch's mental approach to 2021 remains unchanged. Expect a return to normal form for Busch, as this change atop his team should spell wonders. The 18 is sure to be a Playoff contender, as they should rack up multiple wins throughout the regular season.
Hamlin Heading into 2021 Looking for More
In many ways, 2020 was a career year for Hamlin. However, he still left the season empty-handed without a championship. The past two seasons have been a career renaissance for driver No. 11, with 13 wins in that span. This includes back-to-back Daytona 500 victories for the Joe Gibbs team. Arguably at the strongest point of his career, the lone thing Hamlin has yet to achieve is the elusive championship. That carrot still dangles out in front of Hamlin. How can Hamlin, Chris Gabehart, and the 11 team replicate and better their Championship 4 run?
"When we look at our season goals we have numbers we'd like to get to," Hamlin said. "In the end, you know, where we've had success, a lot of those tracks are gone. This year you go from 20 550 races to 12. Road courses, we didn't have any wins in the last two years. So that goes from two to seven. So the schedule hurts us as far as our historical data is concerned and kind of that success that me and Chris (Gabehart, crew chief) have had.
"But we find different goals, like okay, to get to the wins that we feel like we need to be at. To make the final four, to have the bonus points that we need to carry us just in case we have a bad second to last round, like we did last year, we need to get to a certain amount of points. How do we get to those points? What is the avenue that we need to take to get those points, especially with the schedule shifts?
Hamlin Needing Improvement on Road Courses
For me, it's working on my road course skills. I've got to get better at them. And I mean it's a bigger part of our schedule now. It's not something you can just kind of write off and say, you know, the road to the championship, doesn't lead through these races so it's not where I'm going to focus my effort. You've got to look at the numbers and say, okay, this is a significant part of our schedule. How can I get better as a driver and improve on them to give ourselves a better opportunity to win on those tracks that I historically have a low winning percentage on? I thought that we were pretty good on the road courses last year. We obviously had some great finishes. We ran up front, but I just think I need to get a little better to really be one of those guys. There's going to be a threat at it every single time we hit the track. So the road to the Championship 4, in short, is a different road for us than what it was over the last couple of years." 
Hamlin only has one career win on a road course, coming back in 2016 at Watkins Glen. Road courses will definitely impact this year's Playoffs and who does or does not advance to the Championship 4. The first road course race is week two of the year. With that being said, we will quickly find out if the 11 team has done their homework.
Truex Hoping to Topple 2020 Woes
Even though Martin Truex, Jr. made a deep Playoff run a season ago, that was only on the strength of one win. His lone victory of 2020 came early in the season at Martinsville Speedway. 2020 was a big transition year for Truex, with new crew chief James Small. Despite some consistency late in the year, much was left to be desired for the 19. Entering the new season, Truex envisions a return to title-contender mode.
"I'm optimistic that we will have a better season," Truex said. "I think last year that we had a lot of near misses. A lot of tough breaks, a lot of great race cars along the way and obviously, some races that we were off and that we didn't do the job that we should have or needed too. I think last year there was a lot of unique challenges. Not having practice was probably one of the biggest things that hurt us, especially the first half of the year, when we came back from the COVID shutdown. I felt like throughout the season, we got better and better at that. Towards the end of the year, we were right where we needed to be."
19 Closed Out 2020 Strong
"We really had a strong Playoffs. We just had a couple of near misses there. Obviously, the Darlington crash and the loose wheel at Martinsville while leading. I feel like we were in position to go to the Final Four. There was a lot of opportunities for us last year to have a great season. We came up short on a lot of those little key areas and decisions or little mistakes along the way. We're all looking at trying to get better. I think part of our sport is how do you get better all the time, and that's really what you are looking at. We understand some things we could have done better. Hopefully, we will find some speed in our race cars this year going into the season and we can put it all together."
With a year of communication under their belt, Truex and James Small could become a dynamic duo. The 19 team had an impressive streak heading into the Playoffs last year, with eight-straight top fives. Expect that consistency to return for Truex, and expect this underrated road course specialist to contend for victories on some of the new tracks.
Bell Eager As Ever to Begin Season
Entering his first season in-house at Joe Gibbs Racing, Christopher Bell has lots of pressure on him. Bell is the man behind the revamped Joe Gibbs Racing No. 20 team, with Adam Stevens at the helm. Stevens brings over to this team much of the group that raced with Kyle Busch for six years. With more or less the former 18 team behind him, expectations for the sophomore driver are high. How is Bell managing this external tension to win early and often?
"It's been a lot of fun to transition back to the Cup side of JGR," Bell said. "I've spent a little bit of time in the Cup building throughout my Xfinity days, but for the most part it's all new to me. A lot of the styles are similar from LFR (Leavine Family Racing) to JGR, but it's just a completely new group of people. It's fun to be able to work with my car chief Chris Sherwood again. He was my car chief on the Xfinity side, and he's on this 20 group too. So between him, Adam Stevens, and everyone on this 20 car, just trying to get to know everyone and build those relationships. It's been quite the offseason, and I'm excited to get going to the racetrack, week-in and week-out."
Performing for Gibbs
"I'm in a difficult position, no doubt about it. Whenever you drive for Joe Gibbs Racing or any top organization, I think that the expectations are to be a championship contender. Coach (Joe Gibbs) provides all of the resources needed to have four championship caliber teams and that is what the goal is. Anything short of that is not good enough. This is my first year here. I don't think that people are realistically expecting me to compete for a championship this first year. But eventually that needs to be the end goal. To have a championship caliber team, and I hope that I'm a championship caliber driver to lead that group."
While Bell is still a very young and inexperienced driver, he definitely has one upcoming race circled on his calendar. The March 28 Food City Dirt Race at Bristol will be arguably the best shot the Oklahoma native will have at earning his first career win. Aside from that race though, the Gibbs 20 team should be in the thick of the battle for a Playoff spot. With superspeedways and unknown road courses, Bell's chances at winning in 2021 are pretty high.
Wallace's Best Shot Yet in NASCAR?
Many eyes both from within NASCAR and from outside the racing sphere will be on Bubba Wallace in 2021. Moving from Richard Petty Motorsports, Wallace will now drive the No. 23 Toyota for 23XI Racing. A team co-owned by Michael Jordan and Denny Hamlin is sure to draw in a plethora of attention and hype. The question remains though, can Wallace deliver results on-track? Wallace believes that the coming season is the best opportunity he's had to date in any level of NASCAR.
"Last year I think we kept getting better and better," Wallace said. "Do I expect to jump in and win right off the bat? No, not at all. I know the sport, if it was that easy, a lot of people would be doing it, but it's not that easy. And I know the competition that we go up against it's tougher than it's ever been. So I'm excited to get under way and just see where we stack up. We start to build a resume at Daytona and build off that and continue to get better for our team. It's going to take a couple of races, just like any new team will to get everything underneath us and make sure like, 'Oh, we missed that last week.' Let's make sure we don't do that and prepare for the next and build on that.
Nothing Happens Overnight
"Once we get going and get a couple of races under our belts, then we can really start to pinpoint our weaknesses or our strong points and build off those and grow from those and learn from everything. So there's a lot riding on us, you know, I've had personal goals of two wins. There's nothing wrong with having personal goals at all. For a personal goal for everybody, everybody in the field to win every race, not really doable. (Kevin) Harvick and Denny (Hamlin) tried to do that last year. I think you just have to go out and be competitive and I've felt more competitive and more passion, more drive than I ever have with everything that's right out in front of me with this opportunity. So we'll go out and get it." 
Joe Gibbs Racing and 23XI are sure to be regulars competing for wins and Playoff spots in 2021. Even though 23XI has a deficit of being a brand new group, they should be up to speed by the end of the regular season. Busch, Hamlin, Truex, Bell, and Wallace all may make up spots in this year's Playoffs representing Toyota. Their quest for the Cup begins Sunday in the Daytona 500.
Written by Peter Stratta
Be sure to follow us on Twitter.
Be sure to follow the writer on Twitter.
Photo credit to Toyota Racing via Twitter