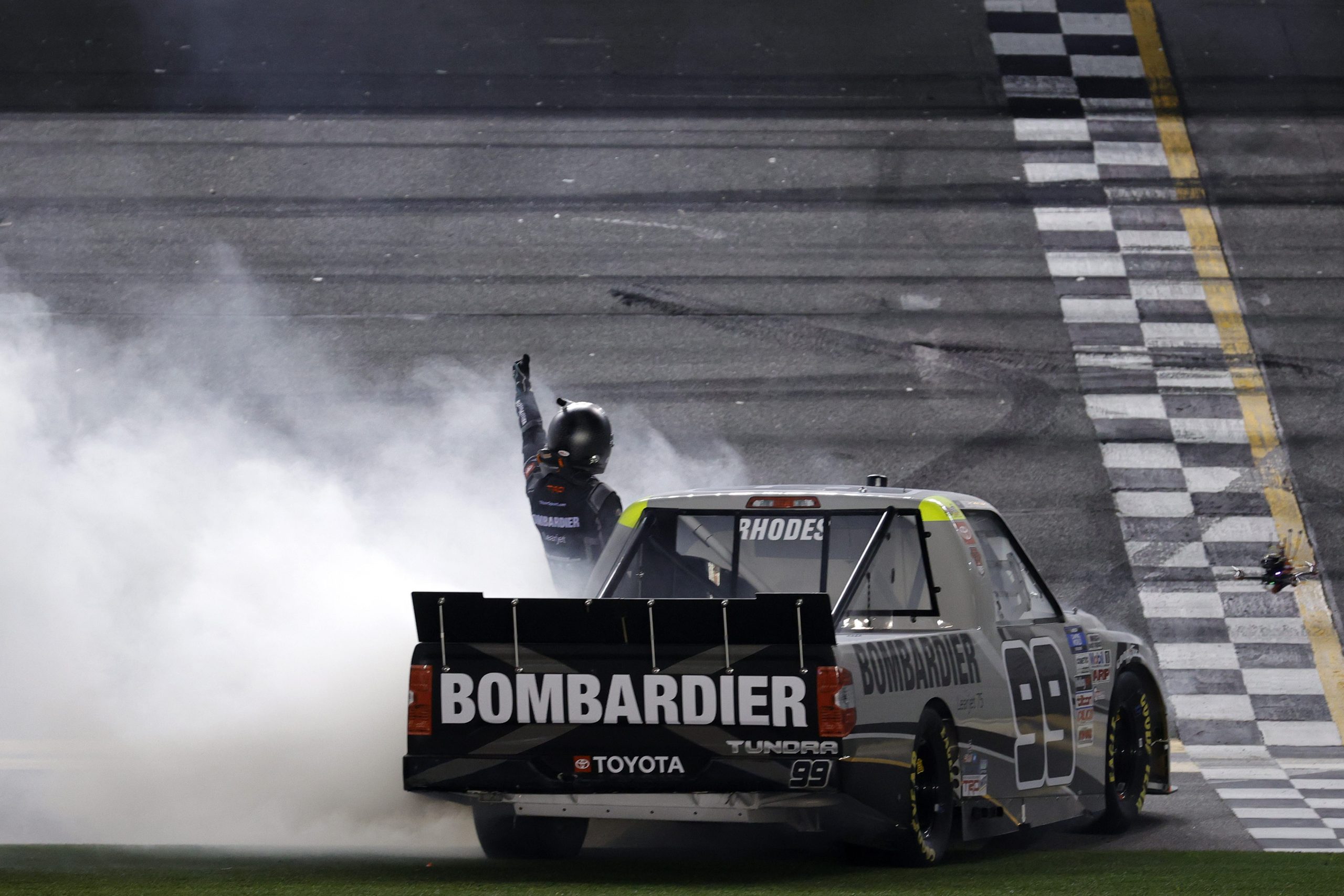 Ben Rhodes Finds The Checkered Flag First In The Truck Season Opener
Ben Rhodes and Thorsport Racing have found themselves in Daytona victory lane following the NextEra250. The 23-year-old Louisville, KY native ducked to the outside of Cory Roper entering the tri-oval and reached the start-finish line ahead of second-place finisher Jordan Anderson by a margin of 0.032.
"When your a kid, Daytona is the place you want to be," Rhodes said post-race. "It's the biggest race of the year. Now that my home track (Kentucky Speedway) isn't even on the schedule, there's nothing that compares to this win. This is it for me. It sunk it, but it hasn't. I haven't gotten to see my team yet, but I can't imagine what trouble they're stirring up right now. We've all dreamt of this. It's finally come together tonight."
Trouble Early & Often
Stage #1:
When racing at a superspeedway, we know trouble could be around every turn. Tonight certainly had its fair share. At the drop of the green flag, Tanner Gray didn't launch and reported a broken axle on his 15 truck. As a result, James Buescher, Gus Dean, and Derek Kraus all had trouble behind Gray. The damage would be too severe for Buescher and Dean. They would both take their wrecked trucks to the garage before ever crossing the line in one piece. Derek Kraus would struggle for the remainder of the night and eventually head to the garage as well.
After taking the green, the remainder of Stage #1 would be an intense battle all the way to the finish. Raphael Lessard would finish first with Sheldon Creed and Grant Enfinger behind him.
Stage #2:
On paper, the second stage may look calm but the racing intensity never let up. One caution flew for a cut-down tire on the 19 truck of Kraus, setting us up for a few lap dash to close the stage. After an intense battle for position, it was John Hunter Nemechek sweeping around Ben Rhodes coming to the line. Rhodes' teammate Johnny Sauter surprisingly pushed Nemechek and not Rhodes to the stage victory. Raphael Lessard and Johnny Sauter finished second and third in the stage.
Stage #3:
In Stage #3 the caution flew on lap 53, again for the 19 of Derek Kraus losing a tire and spinning. Ryan Truex also found a piece of this. Kraus took his truck to the garage to end a tough night. The field then restarted with 42 to go. Both David and Todd Gilliland found themselves at the front of the field. On lap 61, Austin Wayne Self went for a spin bringing out the caution. Jordan Anderson was also involved, but both were able to continue.
Bryan Dauzat led the restart on lap 65, but the caution would soon come out again as a bad bump from Todd Gilliland sent Tyler Ankrum sideways. A few trucks got together behind them, but everyone was able to drive away.
Chandler Smith led the restart with 32 to go. Within a few laps, Todd Gilliland was taken four wide and got spun off the nose of Matt Crafton's truck. Gilliland collected Stewart Friesen among other drivers, causing our first big one.
.@NASCARONFOX takes another look at what happened midway through the final stage at @DAYTONA. pic.twitter.com/eCGGpBNmky

— NASCAR Camping World Trucks (@NASCAR_Trucks) February 13, 2021
With 22 to go, Chandler Smith led on another restart. A few laps later, Hailie Deegan would nose into the backstretch wall after an attempt to avoid trucks that were checking up. Deegan would get back on track after losing three laps. She finished 24th in her first full-time start.
With 15 to go we received the penultimate restart. Timothy Peters quickly got out front, but a ThorSport Racing lineup lead by Ben Rhodes made the pass around the outside. Brett Moffitt went for a single-truck spin, but no yellow was displayed. With six laps to go, Chandler Smith also went for a lonely spin, keeping us under green. However, just a few seconds later a 10+ truck big one broke out.
Two separate incidents back-to-back! @CSmithDrive spins, but then an accident on the backstretch takes out multiple contenders! pic.twitter.com/1sfAUYn5KY

— NASCAR Camping World Trucks (@NASCAR_Trucks) February 13, 2021
After cleanup, Ben Rhodes was the restart leader in NASCAR overtime. As they got around to the white flag, it was defending champion Sheldon Creed leading Cory Roper. Roper would get around Creed and lead the field out of turn four. On the outside with a push from Matt Crafton, Ben Rhodes would get around Roper and cross the start/finish line first. Jordan Anderson, who finished runner-up here one year ago, would sneak underneath Roper to score another close second-place finish.
Take a look at the finish of the #NextEra250 at @DAYTONA! pic.twitter.com/WAS949ftrb

— NASCAR Camping World Trucks (@NASCAR_Trucks) February 13, 2021
Jordan Anderson On Another Second Place Finish:
"As a kid growing up, wanting to be a race car driver, Daytona was the holy grail," Jordan Anderson said post-race. "The amount of history and all the legends that have raced here. To be able to come here two years in a row to finish second… that was a pure Moses moment we had here to go from 11th to second. My whole life, having to fight and claw for everything we've had, all the partners and sponsorship we've been able to put together, people that have jumped behind us. To just be here on this national stage is so special. It means so much."
Cory Roper On A Career-High Third Place Finish:
"What a great race, what a great time. I can't think my sponsors, partners, and team enough," Roper said. "Without them, it's just not possible to be here. My crew chief Shane just works his tail off on this. My brothers, friends, and brother-in-laws all come to the shop at night to work on this truck. To be able to do this with the people you know and love then run upfront like this is pretty rewarding. This is huge."
Where Can You See The Next Truck Series Race?
The Camping World Truck Series will turn right and left next weekend on the Daytona International Speedway Road Course. Defending Champion Sheldon Creed won the inaugural truck race here last August. Can he grab a second win? Coverage of that race begins at 7:30 pm ET on FS1, MRN, and SiriusXM NASCAR Radio.
Written by Noah Lewis
Be sure to follow us on Twitter.
Be sure to follow the writer on Twitter.
Photo credit to NASCARMedia.