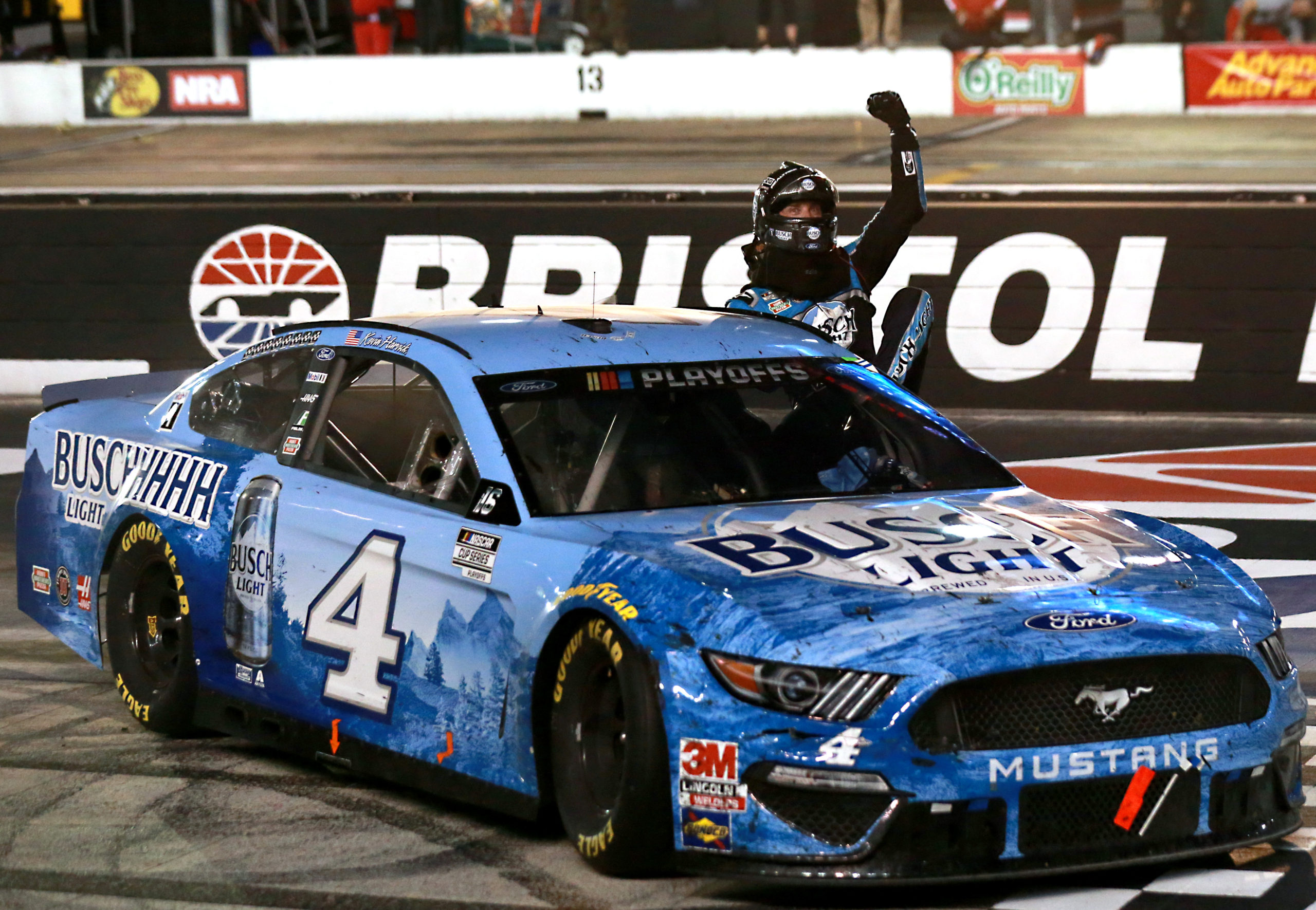 2021 NASCAR Team Preview: Stewart-Haas Racing
On paper 2020 was a banner year for Stewart-Haas Racing, one of their most prolific in team history. However their title run did end in heartbreak, as Kevin Harvick failed to make the Championship 4. Rookie Cole Custer also scored the upset win at Kentucky, while both of the remaining SHR cars also qualified for the Playoffs. One year removed from such an amazing season-long effort, how does Stewart-Haas look? With a new driver in Chase Briscoe, how will he fare in his Cup Series rookie campaign? SHR won a total of 10 races in 2020. In 2021, these four Mustangs all hope to win multiple times.
Harvick Not Slowing Down After Tough Playoff Loss
Coming into the Round of 8 elimination race last fall at Martinsville, Kevin Harvick had a 43-point buffer above the cut line. The 4 team went on to have one of the worst performances in their history. As a result, Harvick was left on the outside of the Championship 4 picture heading into Phoenix. Despite this uncharacteristic postseason collapse, Harvick remains as determined as ever for the 2021 Cup Series title.
"The expectation is to go out and be competitive," Harvick said. "I think as you look at last year that's one of those that you check off as a career year. You obviously want to do that again. But I've been around this long enough to understand that those types of seasons don't come around all the time. But, look, it's not to say that it's not possible because that's surely the goal. To try to repeat that and do that again.
"The expectations are obviously the same as they were every other year. I think as you look back you capitalized on the days you're good. You capitalized on some days when people have trouble. We also ran well at the racetracks we were supposed to run well at and made good days out of them. It was definitely a great year. I think as we go into this year the expectations are to be competitive and try to put yourself in position to win races again. This is something that we do every year. Last year we were just fortunate to put ourselves in victory lane a few more times than we had in the past. They're not all gonna go like that, but that's the goal."
Harvick Has Moved On From 2020
Harvick went on to describe how any driver has to put last season in the past and worry about now. "I think as the season ended and we got about a week through it I was done and over with it and had a lot to do moving forward. In this business you just don't have time to dwell on it. If you're gonna continue to be good at what you do, you have to be able to put your mind back to work and take the things that went wrong and make them better, re-focus and you have to use those things as motivation in order to make those particular things better. I think those guys know that.
"I feel like I'm wasting my breath talking about everything that happened last year. We've talked about what went wrong and I've moved on and tried to be ready for this particular season. To do the things that you need to do in order to get the season started right and be competitive on a week to week basis. They know that I'll get pretty frustrated if they want to sit and dwell on what happened last year when we're already just over a week away from the Daytona 500. They better have moved on. If they haven't, they don't talk to me about it."
The Ageless Wonder
Ultimately Harvick was a non-factor in the Phoenix finale. Even if he made the Championship 4 his season likely would not have ended any different. Moving onto this year, Harvick is still a favorite to hoist the Bill France Cup in November. Expect the 4 team to be consistent contenders week in and week out. They could easily rack up wins similar to last year. At 45-years-old, Harvick has no appearance of letting off the gas anytime soon.
Almirola Aiming for Victory Lane Again
Despite an incredible streak last summer where he earned nine-straight top-10s, Aric Almirola left 2020 winless. Coming off such a strong year but failing to win, Almirola enters this season as hungry as ever. As a superspeedway racing ace, Almirola's first win in 77 races could come Sunday in the Daytona 500. Whether or not it comes this week, Almirola knows winning is a priority for the 10 team this year. He also knows the challenges he must overcome to earn that elusive win.
"I would say we've got fast race cars," Almirola said. "We've got to continue that. We've got to continue to bring really fast Smithfield Ford Mustangs to the racetrack, and then from that point really is about just executing. I know you probably hear that from 39 other drivers, but it's true. All of the little details matter. I've got to do my part in the race car from hitting my marks and finding the most grip and the most speed on the racetrack, doing a good job on restarts and gaining more spots than I lose."
10 Team Must Bring Their A-Game
"We've got to do better on pit road. We've got to get to where we're one of the top teams on pit road. You see year after year the teams that battle for the championship are usually in the top six or seven average pit crews on pit road for the season. So, we've got to do better at that. We've got to execute the races better, just all of it has to happen in order to win at this level. It's so hard to win a Cup Series race, incredibly difficult and you've got to be perfect and you've got to do all the little things right."
2021 is a make or break year for the driver from Tampa, Fla. With no victories in over two years, the time may be running out on his tenue at Stewart-Haas. If Almirola can replicate the top 10 streak he had last year, then the 10 could be leaving the field in a cloud of bacon smoke.
Custer Looking to Continue Impressive Rise
The upset special of 2020 came at Kentucky Speedway, when Cole Custer restarted sixth and won in two laps. This momentous performance put the rookie driver in the Playoffs, and eventually secured Rookie of the Year. In his sophomore season now, what is Custer's approach to the coming year?
"I'm hungry to get going," said Custer. "I think we're excited to try and go out there and run in the top 10. I think that's the biggest thing.  Last year, we could hit it right from time to time and run in the top 10 and compete for a win. We just need to do it more consistently and I think this year we have a lot more notes to look at. I have a lot better idea and more confidence in the cars, so I'm looking forward to trying to put ourselves in that category and try and be up front more.
"We'd like to win a race again and make the Playoffs. It's just a matter of last year I feel like we could run in the top 10 and compete for wins when we hit things right and I was driving the track right and everything was working. It's just a matter of doing that more consistently this year. We've got to fight and claw to stay up there near the front and get stage points and make sure we're there at the end of the race."
Custer Has More Confidence
"Your rookie year you're just making sure you're not backing it into the fence and not tearing up race cars. So this year you've been to all the racetracks, you have an idea of everything, so now you can go up there and really get aggressive with it and have some more confidence. I think we're just really hungry to go out there and run towards the front more and I think the more we can run towards the front and having those opportunities we're gonna have more opportunities to win races. I'm ready to get the year going and get to Daytona."
Custer enters 2021 as optimistic as can be, as he has become a quiet underdog for wins. Custer is still a very young and inexperienced driver though, so aside from perfect circumstances he may find trouble replicating the win from last year. Regardless, the 41 should be in the mix of pointing their way into the Playoffs. The 41 could surprise some this year though, especially with the unknowns of road courses and superspeedways.
Briscoe Brimming for Rookie Campaign
By far the standout star from Xfinity competition last year, nine-time winner Chase Briscoe is now a Cup Series rookie. The Indiana native moves into the 14 car to replace the retired Clint Bowyer. With so much success last season on so many different track types, it is not inconceivable to see Briscoe potentially win a race this year. Regardless, Briscoe will have a step learning curve ahead.
"You just have to try to keep it in perspective," Briscoe said. "You know you're gonna be humbled without a doubt. There are gonna be a lot of times where you're gonna leave for the racetrack and it's gonna be a huge learning day. That's something I'm personally really excited to see. I will need to get better because racing against 25-30 guys that can win week in and week out, that have so much more experience than me. They've been in so many of these scenarios and situations that I've never been in.
"Just trying to learn from them and see, 'Okay, this is what I can do in this situation and this is what I can do in that situation,' is gonna be huge and something I'm really excited for. I think personally you still have to go to the racetrack every week thinking you can win the race, so I'm still gonna have that mindset."
Managing Expectations for Briscoe
"Just because I'm a rookie and never really raced in the Cup Series or been against these guys I'm still going to the Daytona 500 thinking I have a shot to win it and I'm gonna go there trying to win it. I'm definitely gonna go there and try to win the race. I feel like as a rookie you can win the race. Look at Cole last year. He was able to win a race that people probably didn't expect him to win, so you just have to go there and once the season starts I think we'll really see where I stack up. You never know if you're gonna be a 25th-place guy, a 15th-place guy, a fifth-place guy. I'm just excited to see where I stack up and where I need to try and get better."
Briscoe will be making his Cup Series debut Sunday in the Daytona 500. While his talent, age, and experience level trump recent rookies, the 14 winning a race would still be an upset. At some of the new road courses or a superspeedway though, the flagship Stewart-Haas car could return to glory.
Stewart-Haas Racing is sure to bring some quick Mustangs to the track weekly in 2021. How quick will Briscoe adapt to the Cup Series? Can Almirola win again? Will Harvick have another nine-win season? Can Custer upset everyone again? These questions will surely be answered as the 2021 season rolls along.
Written by Peter Stratta
Be sure to follow us on Twitter.
Be sure to follow the writer on Twitter.
Photo credit to NASCARMedia