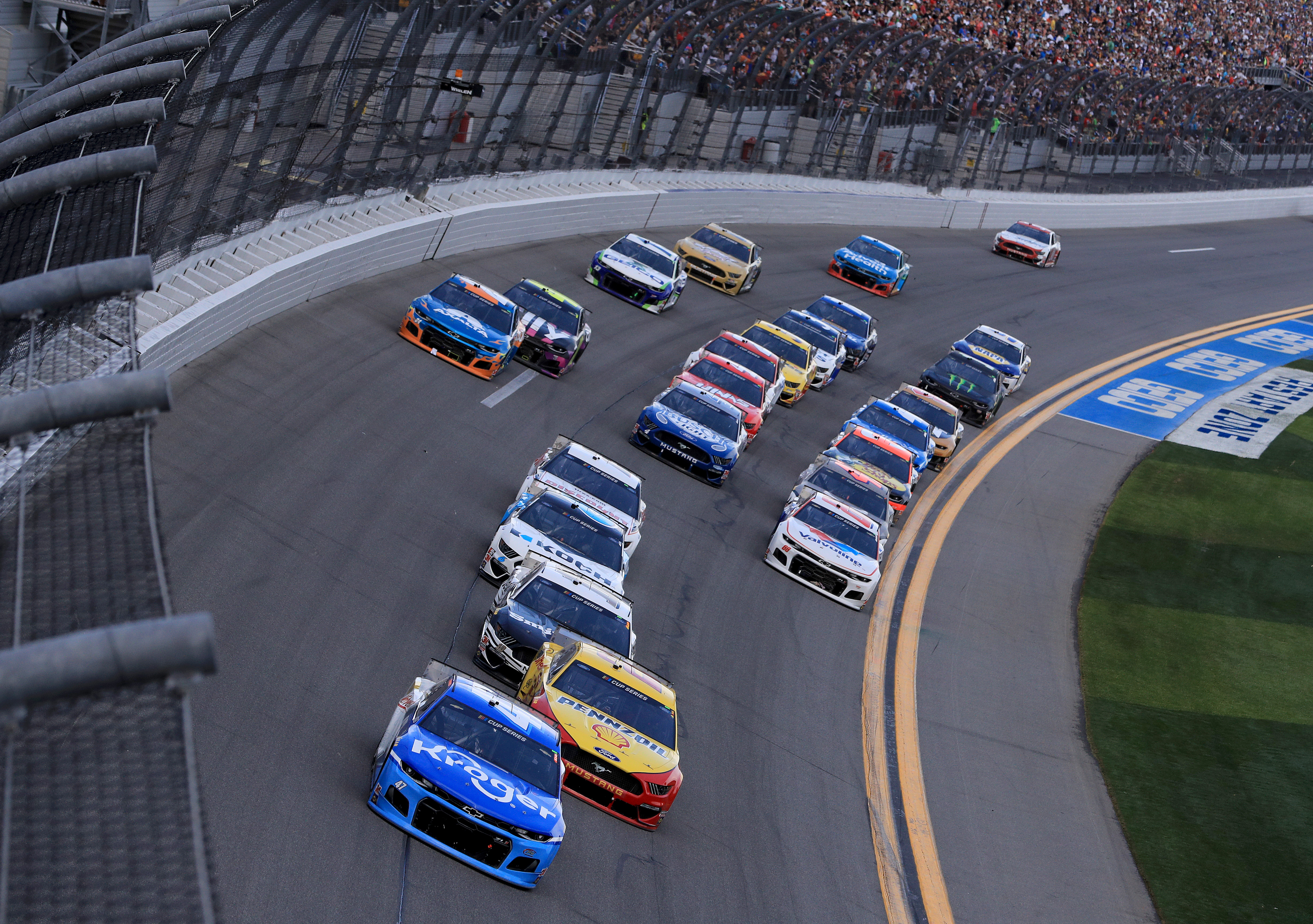 Daytona 500 Entry List is Already Stacked, Will More Show Up?
In just over three weeks, the green flag will fall for the 63rd Running of the Daytona 500. A maximum cap of 40 cars will start the race on Sunday, Feb. 14. Already, The Great American Race's entry list is well above that mark. Multiple cars and teams won't be in the biggest race of the NASCAR season. A few entries came out just this week, including some past Daytona 500 Champions.
The 2021 Daytona 500 could attract an unusually large field. With this being the last year of the Gen 6 car, many teams who do not typically run could attempt to make the biggest race of the year. Many small teams have Gen 6 cars, and are capable of putting together an effort for a one-race deal. As of the time of this writing, 46 entries are confirmed or rumored. Currently, that is the largest field for the Daytona 500 in five years. Qualifying and the Duels will have several driver's fates in flux. Are we done seeing announcements for Daytona 500 attempts? Let's take a look at the latest additions to the season-opening lineup.
Kaulig Returns with Kaz Grala
Already a powerhouse team in the Xfinity Series, Kaulig Racing hopes to make their second-ever Cup race. In last year's Daytona 500, Justin Haley debuted the No. 16 Chevrolet and wheeled it to a 13th-place finish. This year, Kaz Grala will hope to make this team's second-straight Daytona 500.
This attempt as an open car for the 500 will also mark Grala's second time behind the wheel of a Cup car. Back in August on the Daytona Road Course, Grala subbed for the ill Austin Dillon in the No. 3 Chevrolet, finishing an impressive seventh. Kaulig will also field the 16 for the following race on the Daytona Road Course, with AJ Allmendinger returning to Cup competition for this one-off appearance. Expect to see the 16 attempt all of the superspeedway or road course races this year with either of these two drivers.
Ty Dillon Lands Daytona Ride in 96
Gaunt Brothers Racing will return for another Daytona 500, this time with Ty Dillon behind the wheel of the No. 96 Toyota. Left without a ride after Germain Racing closed down at the end of 2020, the younger Dillon has found a temporary home here. Dillon and the 96 team will try to make both the 500 and the following Daytona Road Course race, with sponsorship from Bass Pro Shops and Black Rifle Coffee Company.
Gaunt Brothers is scaling back their operations from last year, when they were full-time with Daniel Suarez. Last year at Daytona, the 96 failed to make the 500 after a crash in their Duel race. Since Ty Dillon has three career top-10s at Daytona, the 96 is hoping for better results in 2021. Dillon's driving plans past the first two races of 2021 are still TBD, so hopefully he can attract another team or sponsorship.
McMurray Returns for Another 500
2010 Daytona 500 Champion Jamie McMurray will make his first NASCAR start in two years. The Joplin, Mo. native is already locked into the field, driving the chartered 77 Chevrolet for Spire Motorsports. McMurray's most recent start in NASCAR also came with Spire, at the 2019 Daytona 500. That day, McMurray led laps before finishing 22nd. McMurray will have sponsorship from Advent Health, as will Ganassi drivers Kurt Busch and Ross Chastain. Daytona will mark McMurray's 584th Cup Series race, as he will take a one-week hiatus from his current role as a Fox Sports booth analyst.
Cope Making Final 500 Start
1990 Daytona 500 champion and StarCom Racing co-owner Derrike Cope will come out of retirement for one last ride around Daytona. The 62-year-old driver will enter in the Rick Ware Racing No. 15 Chevrolet. This car will be built by StarCom, but fielded by RWR. This will also mark Cope's 24th and final start in the Daytona 500, his first since 2011.
The 15 is one of four chartered entries fielded by Ware. In addition to Cope, the 51 will run with Cody Ware, the 52 with Josh Bilicki, and the 53 will be with Joey Gase. The RWR 15 team did finish tenth in the 2019 Daytona 500 with Ross Chastain, so Cope could get a good finish if he remains clean throughout the race.
Cindric Attempting Cup Debut
2020 Xfinity Series Champion Austin Cindric is just the latest on a list of several drivers hoping to make their Cup debut at the Daytona 500. Cindric will enter in a fourth Team Penske car, the No. 33 Ford Mustang with 12 team engineer Miles Stanley as crew chief. Penske cars are always among the ones to beat, especially when working together at the head of the pack. If Cindric is to make the race as an open car, a fourth Penske car could spell doom for the rest of the field.
Who Else Could Show Up?
Even with 46 entries already in the 63rd Daytona 500, two more teams are still questionable about showing up next month. John Cohen's NY Racing team might attempt the full season as an open car. However, no driver or sponsor has been announced. NY Racing previously fielded the No. 44 Chevrolet, last attempting a race in 2015.
One final team who could try to qualify for the Daytona 500 is Tommy Baldwin Racing. The team owned by the former crew chief appeared last at the 2019 Daytona 500, with Ryan Truex in the No. 71 Chevrolet. No driver, sponsor, or even car number have been announced for TBR though, so stay tuned for any updates.
One thing is for certain, at least a few quality cars, drivers, and teams will go home after the Bluegreen Vacations Duels on Thursday, Feb. 11. Be sure to stay tuned to see who makes it into the Great American Race, and who has to watch from the sidelines. The NASCAR season is right around the corner, as Speedweeks is less than two weeks away from kicking off.
Written by Peter Stratta
Be sure to follow us on Twitter.
Be sure to follow the writer on Twitter.
Photo credit to NASCARMedia