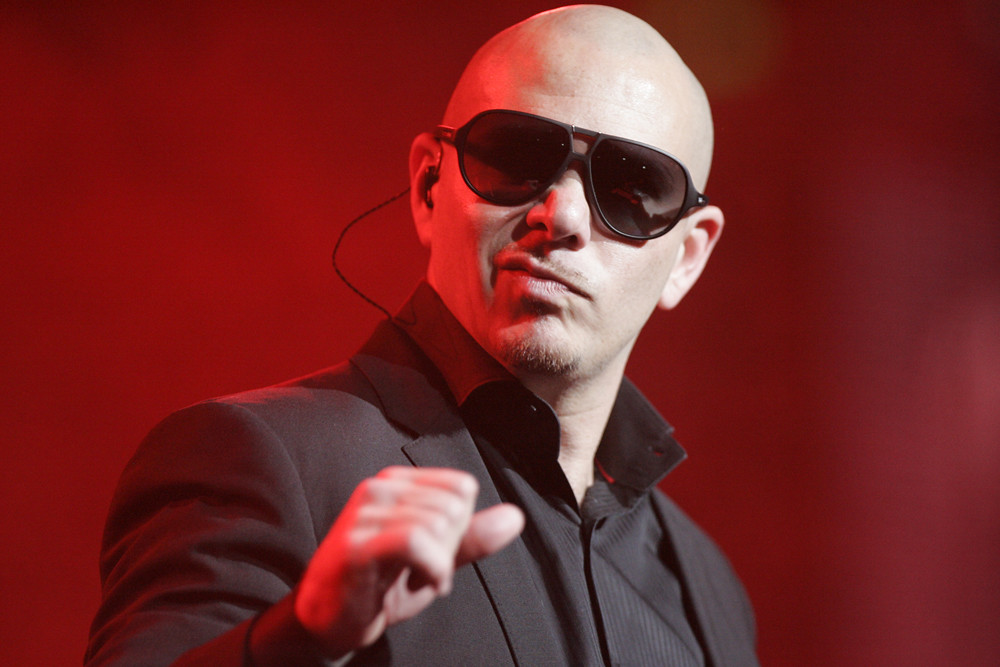 Pitbull is Ready to "Go to the Moon" with Trackhouse Racing
GRAMMY® Award-winning global superstar Armando Christian Pérez, known by his stage name Pitbull, spoke with the media on Tuesday about his recently announced co-ownership of Trackhouse Racing. Alongside fellow owner Justin Marks, team partner Ty Norris, and driver Daniel Suarez, the 40-year-old Pérez is excited to hit the track in 2021.
"I want to say thank you to Justin and Daniel for the opportunity to be able to be a part of this," Pitbull began. "Getting involved in the team…this is deeper than sponsorships, this is a movement. This is a revolution/taking a sport and creating a culture." Pitbull's partnership in the new Chevrolet-backed team was announced on his 40th birthday back in January.
How Pitbull's Interest in NASCAR Started
In 2013, Pérez launched SLAM! a series of schools for grades 6-12 that focuses on a more engaging way of learning, specifically with Sports Leadership and Management. During its launch, Pérez brought in a NASCAR show car. After seeing the reaction it caused among the students, Pérez knew he wanted a part of NASCAR.
"We had brought a NASCAR car to SLAM! the first day eight years ago. If you would have seen the look on those kids' faces when they saw that car, they just had no clue that it was actually something that was tangible.
Since that day is when I said, wow. I'm a big believer in the law of attraction, I want to be involved. There's no better time to be involved in NASCAR with Trackhouse, Daniel, Justin, and Ty than now. It is all about creating awareness. In the same way that music is a universal language, I also see NASCAR as a universal language. Everybody loves a fast car and a great story, you know?"
How Involved Will Pitbull Be With The Team?
With a simple Google search, one thing you'll learn about Pitbull is that he works hard. At Trackhouse Racing, he expects to do nothing less.
"We are fully involved and committed to the team since the minute that we ended up doing this deal. Just to make it clear, I'm far from a celebrity. That I'm not. I'm a hard, hard worker. Big difference. Celebrities will sell anything. I'm not here to sell anything. I'm here to help the culture, help unify, more than anything help motivate and inspire those through my story, through Daniel's story, Justin's story, Ty's story, and NASCAR's story."
Pérez later stated: "Why say that the sky is the limit when you know there are footprints on the moon? We're on the way to the moon with Trackhouse."
Pitbull's Mission with Trackhouse Racing
Pitbull's mission with Trackhouse Racing has been very clear: unity. As an American of Cuban descent, Pérez feels it's important to take NASCAR from a stereotypically "white sport" to a multi-cultured gathering for all.
"In these times we're living in right now, the most important thing is to let everybody know out there, there's only one most important race, it's the human race. It's what these races are about at this point, bringing the sport, creating the culture…through the races, through the cars, through our stories.
I know it because I live it, I've seen it. Music is a universal language. When I'm out there performing for everybody, it doesn't matter whether you speak English, Spanish, Chinese, Italian, if you are black, white, pink, purple, or orange. We all speak music when we're there.
When it comes to NASCAR, we watch the cars race, it's about letting everyone know no matter what in life if you focus, you work hard for it, you can achieve it. That's my story and Daniel's story. That's why we appreciate Justin and Ty investing in us as far as believing in us. And we're here to win and show everybody in the world how to bring everybody together through NASCAR and Trackhouse."
Pitbull Will Serve As Grand Marshal For The Daytona 500
One of the highest honors in our sport is giving the command to fire engines for the Daytona 500. In fact, last year the President of the United States was the one to give those "most famous words." For this year's Daytona 500, Pitbull will add even more prestige to his first race as team owner by also bringing 40 racecars to life.
"It's an amazing honor," Pérez said about the opportunity. "I look forward to it. Like I said, man, it's history in the making, bottom line. You're going to hear me at Daytona!"
Where You Can Catch The Daytona 500
You can catch Trackhouse Racing's Cup Series debut in the 63rd running of the Daytona 500. Race coverage begins on February 14th, at 2:30 p.m. ET on FOX, MRN, and SiriusXM NASCAR Radio Channel 90. TSJSports will provide full coverage from the track all weekend long.
Written by Noah Lewis
Be sure to follow us on Twitter.
Be sure to follow the writer on Twitter.
Photo credit to Eva Rinaldi via Flickr