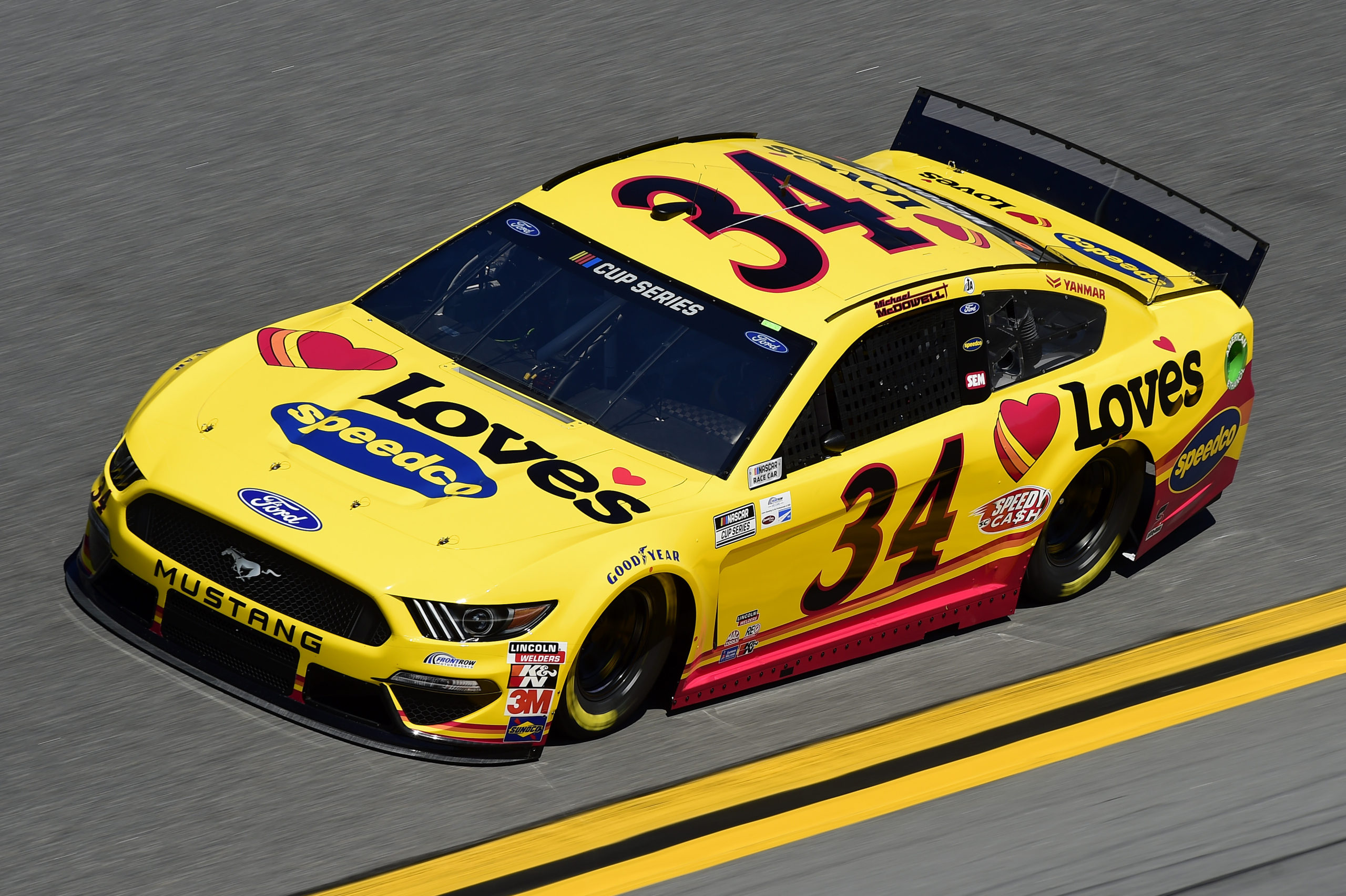 Front Row Motorsports Adds Anthony Alfredo to Cup Series Lineup
Front Row Motorsports announced today their entire driver and crew chief lineup for the 2021 NASCAR season. This Ford-powered team will field multiple teams once again in both Cup and the Camping World Truck Series. While much of their roster is the same from 2020, John Hunter Nemechek's departure opens the door for another rookie-Anthony Alfredo.
Alfredo, 21, of Ridgefield, CT will take over the No. 38 Ford Mustang in the Cup Series. Alfredo's Cup Series debut will come in the Daytona 500 next month. He will also compete for Rookie of the Year honors. Alfredo will work alongside crew chief Seth Barbour, who has been with FRM since 2017.
Alfredo spent 2020 competing in the Xfinity Series on a part-time basis for Richard Childress Racing. In 19 starts in 2020, Alfredo scored two top fives, nine top-10s, and a best finish of third at Texas.
Prior to 2020, Alfredo competed in the Truck Series part-time for DGR-Crosley Racing. Across 13 starts in 2019, 'Fast Pasta' had two top-10s. Known more for his iRacing prowess than his limited starts in real-world racing, Alfredo brings youthful optimism to FRM for 2021.
"This really is an unbelievable moment," said Alfredo. "When you start out racing karts as a kid, you dream of making it to the sport's top level. I want to thank Bob Jenkins and everyone at Front Row Motorsports for making this dream a reality. I know the challenges ahead, but I'm here to work hard and prove myself."
McDowell Making Return After Quietly Consistent Year
Returning to the seat of the No. 34 Mustang will be Cup Series veteran Michael McDowell. 2021 will mark McDowell's fourth season with FRM, as it comes on the heels of his best season to date. In 2020, McDowell earned career bests in top-10s (4), average finish (20.9), races running at finish (34), and championship result (23rd). After turning in the most consistent year yet for Front Row Motorsports, the Arizona native returns with crew chief Drew Blickensderfer.
Gilliland Gunning for Another Playoff Showing in Trucks
Rounding out FRM's full-time teams will be Todd Gilliland, once again piloting the No. 38 F-150 in the Camping World Truck Series. In his first year with FRM in 2020, Gilliland made the Truck Series Playoffs, finishing the year 10th in points. Although Gilliland failed to win, he did score four top fives and 10 top-10s. Gilliland's lone Truck Series win came in the fall of 2019 at Martinsville. He will hope to add to that win total in 2021. Gilliland will once again work with crew chief Chris Lawson.
Ragan Returns Again for Daytona
Lastly rounding out today's announcement is the return of David Ragan for one more race. Ragan will attempt to run the Daytona 500 in the No. 36 Mustang. Last year, Ragan made the show in this open car, and managed a career-best Daytona 500 result of fourth. Unlike his teammates, Ragan is not locked into the Daytona 500. The 36 will have to either qualify in on speed or race its way in through the Duels. Ragan is a past winner at the World center of racing, winning the 2011 Coke Zero 400.
Ragan previously ran with FRM across seven seasons, winning this organization's first race at Talladega in 2013. The Georgia driver retired from full-time competition after 2019, but the 2020 Daytona 500 showed that he can still get the job done. Derrick Finley will once again crew chief this team.
FRM will announce all of their team's partners in the coming weeks ahead of the 63rd Daytona 500 and the 2021 NASCAR season.
While Front Row Motorsports is not a powerhouse organization, they are capable of fielding cars that can occasionally contend. McDowell's quietly great season proved that FRM is proficient enough to sneak into some results above their class. Be sure to keep an eye on their fleet of drivers all year long, as they all will be ones to watch out for.
Written by Peter Stratta
Be sure to follow us on Twitter.
Be sure to follow the writer on Twitter.
Photo credit to NASCARMedia