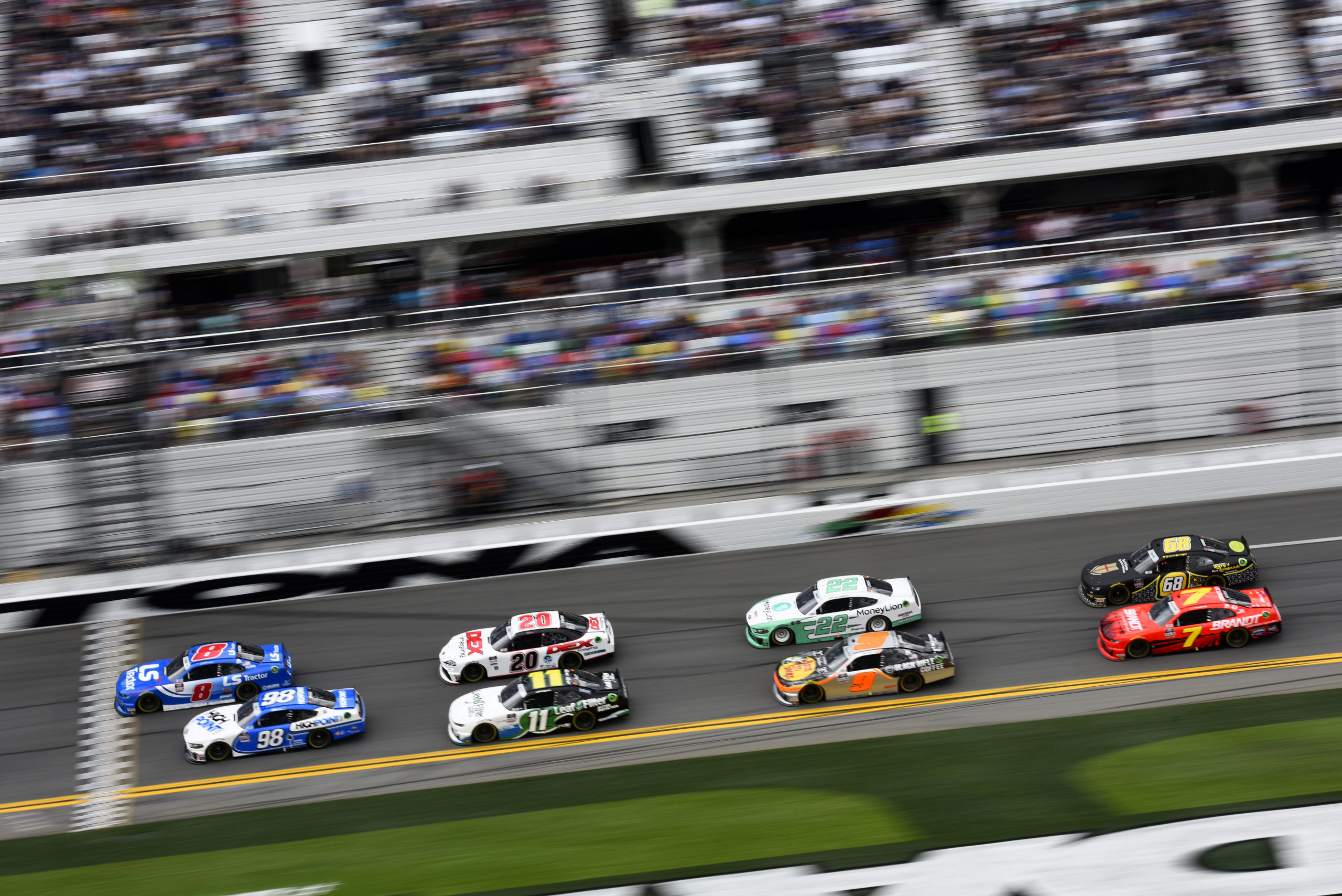 2021 Xfinity Series Silly Season Update
The NASCAR Xfinity Series is where driver's names are made, and heading into 2021 there is a void in this level that needs filling. Four drivers who have now moved onto the Cup Series are responsible for nearly half of the race wins over the past two years in Xfinity competition.
While the defending series champion is returning, who else can establish themselves as a star in 2021? Many Playoff-caliber teams will have new drivers. Let's take a look at who will be in a new seat for the new year, as Daytona draws ever nearer.
Career Renaissance at Kaulig
After the best season in this young team's history, Kaulig Racing hopes to come our swinging in 2021. The Chevrolet backed team will field three full-time entries, highlighted by Justin Haley returning to the flagship No. 11 car. Replacing Ross Chastain in the No. 10 NutrienAg Solutions Camaro will be Jeb Burton. Burton enters into his first full-time ride since 2014. Burton will be racing alongside his cousin Harrison for 2021, hoping to earn his first Xfinity Series win.
Teaming up with Haley and Burton at Kaulig will be AJ Allmendinger. The 39-year old veteran brings the most experience of any Xfinity Series competitor for 2021. Allmendinger has run in the No. 16 for Kaulig part time the last two seasons, earning three wins in this time. The 16 has won the last two races on the Charlotte Roval in addition to last summer's Atlanta race. With his first full-time ride since 2018, Allmendinger has to be seen as a title favorite. Will the experience and multiple new road course races pay off for the California veteran?
RCR Sliding Back into Contention with Snider?
After running part-time with multiple drivers in 2020, Richard Childress Racing returns to the full-time Xfinity lineup for 2021. The new driver of the 2 car will be Myatt Snider. Snider spent 2020 in the Xfinity Series, but split time between RCR and the 93 car at Ryan Sieg Racing. In eight starts for RCR, Snider earned three top 10s. The last time the RCR 2 team was full-time, they took the 2019 championship. Are similar successes ahead for Snider? He was 16th in points to close out 2020, now in one seat he hopes to make a deep Playoff run.
Hemric Hopeful for Success with Gibbs
After a dismal part-time effort with JR Motorsports in 2020, Daniel Hemric returns to full-time competition with Joe Gibbs Racing for 2021. Hemric will be piloting the famed 18 car, hoping to earn his elusive first NASCAR victory. Hemric's past full-season ventures in Xfinity have been very fruitful, as he made the Championship 4 in both 2017 and 2018. While another finale appearance would be great, Hemric wants to solidify himself as a NASCAR winner, with hopes of returning to the Cup Series. In perhaps the strongest car in the series, Hemric should have many opportunities to take a checkered flag.
Change of Scenery for Herbst
After an abysmal rookie year, Riley Herbst moves from the JGR 18 to the Stewart-Haas 98 car. Monster Energy sponsorship will support Herbst in this new venture, as he will now race the Mustang vacated by Chase Briscoe. Aside from his well-publicized struggles, Herbst did score two second-place finishes in 2020. He also took home 17 top 10s en route to a 12th-place points finish. The 98 team won a series-leading nine times in 2020, can Herbst return this team to Victory Lane?
Short Track Aces in JRM Flagship Car
While JR Motorsports' championship-contenders remain the same for 2021, their all-star 8 car will have some new faces. Team owner Dale Earnhardt, Jr. will run one race, likely at Martinsville. Ever since retiring from the Cup Series following 2017, Earnhardt has run one Xfinity race per year.
Filling out the 8 in the remaining races will be veteran Josh Berry, and young prodigy Sam Mayer. The stalwart in JRM's late model program, Berry will be making his first Xfinity starts since 2017. Berry will drive the 8 for 12 races, while Mayer will take it over for the second half.
Mayer, at just 17-years old, is quickly rising NASCAR's ranks as one of the hottest young talents. The two-time defending East Series champion won 11 races across ARCA national, ARCA East, and also the Truck Series in 2020. Mayer will be running the Xfinity campaign once he turns 18, ahead of a full-season effort in 2022. Across all three of these drivers, expect the 8 to be a constant presence up front for 2021.
Our Motorsports on the Rise?
After their first Xfinity season, Our Motorsports will be doubling down for 2021. Brett Moffitt, who ran with them for most of 2020, will race the No. 02 full time in 2021. Moffitt scored seven top 10s in 29 starts with this underfunded team. Although Moffitt is running the full Xfinity Series, he is still competing for the Truck Series championship.
In addition to the 02, Our Motorsports will also field a second fill-time team. Likely to be numbered as the 03, this team will debut in Daytona with Tyler Reddick behind the wheel. Reddick will make his first Xfinity start since his Homestead win that earned the 2019 championship. This team will likely have a rotating cast of drivers, possibly including one young star from IndyCar. Santino Ferrucci has had his name tied to this team, as he is very much interested in dipping his toe into the NASCAR ranks. Over the offseason, Our Motorsports has also moved into a new shop in anticipation of this team expansion. Our Motorsports is hoping to forge a path similar to Kaulig, as an underfunded team that becomes a contender.
2021 will certainly be an interesting season for the Xfinity Series. With many new drivers at new teams, Austin Cindric will absolutely have his work cut out for him in his championship defense. As Daytona is less than two months away, the silly season shakeup is slowly taking shape.
Written by Peter Stratta
Be sure to follow us on Twitter.
Be sure to follow the writer on Twitter.
Photo credit to NASCARMedia