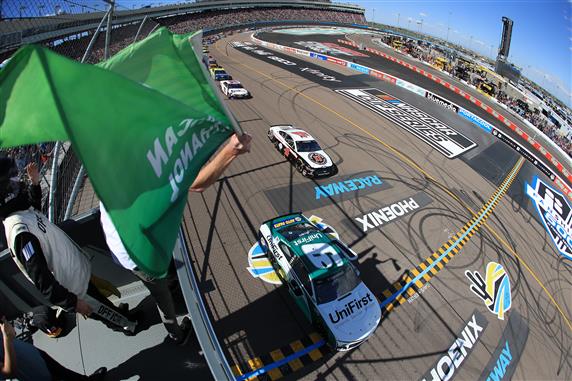 Previewing the 2020 NASCAR Cup Series Championship 4 Battle
Sunday at Phoenix Raceway will be the site of one driver achieving the ultimate goal in stock car racing. One will hoist the NASCAR Cup Series championship trophy. Joey Logano, Chase Elliott, Denny Hamlin, or Brad Keselowski will be the lucky driver standing tall in a matter of days at the desert mile. Are any of them favored heading into the season finale? 312 laps will determine who engraves their name on the Bill France Cup. Let's see if stats and trends say if any of these four competitors come into Sunday with an advantage.
Joey Logano
The only competitor to win the title under this format, Joey Logano makes his fourth Championship 4 appearance. Logano enters Phoenix on the strength of three wins this season, including Phoenix back in March. Up until the Round of 8 opener at Kansas though, Phoenix was Logano's most recent trip to victory lane. The 22 was locked in two weeks earlier than his competitors. As a result, the Penske team has had extra time to shift all their focus to the Phoenix car. Logano won his 2018 championship in a very similar manner, after winning the first race in the semifinal Playoff round. Can Logano win his second career title in just three seasons? Phoenix has been kind to the Connecticut native in recent years.
Logano's Phoenix Stats
In 23 career starts at Phoenix Raceway, Joey Logano has two wins, five top fives, 12 top 10s, and an average finish of 14.3. Over the past three Phoenix races though, Logano has three-straight top 10s. In the last two trips here, the 22 has led at least 60 laps. In summary, Logano's average finish here is the worst of the Championship 4. However, he has been fast in the desert recently.
Parallels to 2018 in Logano's Eyes
"Every year has its own personality that it takes on," Logano said. "Honestly I feel like this year feels a lot like 2018. It's actually kind of funny because I think about 2018 where we had not the best summer months. Then we kind of picked it up as the Playoffs started. Won Martinsville, the first race of the third round, which set us up to race for a championship in Miami that year.
It's funny, I brought this up to my guys a month and a half or so before the Playoffs started. I said, Hey, you never know, you got to keep fighting. You never know when the tides are going to turn. The next thing you know you're up there in contention to win every week, also race for a championship.
We went from in the summer months searching for a direction to make our car faster, to being in contention to win. Now in my eyes, like I said in 2018, feeling like you're the favorites by winning the first race in the third round. I honestly feel that way again.
Interesting how it's kind of lining up to be the same. Hopefully it lines up to be the same all the way to the end. A lot of things can happen between now and then. I like our chances. I like where we're at. We'll go out there to Phoenix and give it a shot. Like I said, feels a lot like 2018 so far."
Penske is a Hidden Powerhouse
Penske has been the team to beat on the low downforce, high horsepower tracks this season. With that in mind, both Logano and Keselowski will be favored to win their second title. Either winning would also mark the third Cup for Roger Penske. Logano is as focused and confident as ever to take this title. His recent experience in taking a title away from favorites cannot be overlooked.
Chase Elliott
After a dominant run last week at Martinsville, Chase Elliott won his way into his first Championship 4. Elliott is in the midst of the best season of his young career. The 9 team boasts career-highs in victories (4), top fives (14-tie), top 10s (21-tie), and average finish (12.0). As the first Chevrolet racing for a title since 2016, can the 9 return Hendrick Motorsports to the title stage? Elliott has done everything short of win at Phoenix, especially in the fall race.
In nine Phoenix starts, Chase Elliott has a pair of top fives, five top 10s, and an average finish of 13th. Earlier this year at Phoenix, Elliott started on pole, led 93 laps, won a Stage, and finished seventh after a loose wheel. The 9 was a race-winning contender back in March, so expect Elliott to have similar speed Sunday.
Elliott Leaning on Hall of Famers
Not making a past finale, Elliott has looked to a few past champions for some advice on how to handle this championship battle.
"For me, I'm very lucky. My dad obviously has had great success over the years, has been around this deal for a long time. Obviously Jimmie is a great one to lean on, too.
The big thing from talking to dad that I feel like he's kind of mentioned is just enjoy these moments because these aren't things you can take for granted. You don't know when your last race win is. You don't what tomorrow brings. Nothing's guaranteed, right?
I think just enjoying these moments, trying to embrace them, especially after a race like Sunday, you wish you could just slow down time and enjoy that moment and make it last a little longer, but you can't. You just have to enjoy them as much as you can, put emphasis on that.
I feel like that's where I'm at right now, is not taking the situation for granted, knowing it's not an easy thing, knowing it's not something that comes every day, try to make the most of a great opportunity."
Elliott Hoping to Join Exclusive Club
Although Elliott is admittedly lacking in championship week experience, momentum is real and that 9 has been fast on short tracks. Crew chief Alan Gustafson has won before at Phoenix, with Kyle Busch, Mark Martin, and Jeff Gordon. Can Chase Elliott add to that list on Sunday and win his first Cup title?
Denny Hamlin
One of the two fastest and most consistent cars all year long, Denny Hamlin and the Fedex 11 look to cap off another impressive season. Making his third Championship 4, Hamlin hopes the third time is the charm in earning his first championship. Hamlin's 2020 campaign has been highlighted by seven wins, 13 top fives, 17 top 10s, and an average finish of 11.3. Hamlin did win a year ago at Phoenix when it was the second-to-last race, but that was under a vastly different rules package. With a pair of desert wins, how confident is Hamlin for Sunday?
"I'll let you know after the race is over why we won," Hamlin said. "But it's going to take execution and a fast car. Those are the two things that you're going to have to do to win. I think it's going to — will take a win to win it all.
You know, I thought I was in a good position last year and things just didn't work out, right, so there's no givens. I don't think there's any favorites. I view all my competition equally, that they're all dangerous in their own different ways.
This one is a tough one to handicap. From my perspective, I'm a numbers guy, I like the law of averages. If I just keep putting myself in that Final Four, eventually things will fall my way."
Hamlin's Championship Mindset
"From my perspective it's just focusing on what I can control and not anything else. It's not up to me to make the strategy call, it's not up to me to prepare the race car, put the setup in it, it's up to me to drive it to the best of my ability. It's up to me to prepare for the weekend like I've been preparing all year long. All I can do is control what I can control, and I'll live with the result no matter what that is.
Yeah, I mean, where things can get sideways is when you start second-guessing yourself, and I certainly think that — I feel from my perspective I won't second-guess any moves that I make. Last year I had no regrets. Really the last two times I've raced for championships I've had no regrets. I mean, our strategy call in 2014, staying out with nine laps to go when we were running good in the race anyway, we didn't need to, that wasn't my decision, but it was our team's decision. I did the best I could driving and it came up short. And last year same thing, I did the best I could driving, and our play didn't work.
It's just I feel better about knowing that what my capabilities are, I know what I know and I also know what I don't know. And so what I don't know is that it's not up to me to try to do other people's jobs and prevent them from making mistakes. Let everyone do what they need to do."
Is Hamlin the Heavyweight?
With more experience in championship fights than any of his competitors and the most speed this year, Hamlin should be a favorite right? This year's Championship 4 is a very even matchup and the tight confines of Phoenix Raceway will have them all on top of each other all race long. If Hamlin does get up front though, watch out as he will be driving the laps of his life.
Brad Keselowski
The last man into the Championship 4 on points, Brad Keselowski raced his way in by a single point over Kevin Harvick. The Penske 2 crew can be upsets and take this title, as they've sneakily put together a very impressive season. Four wins, 12 top fives, 23 top 10s, and an average finish of 10.3 have Keselowski in his second final four. Keselowski's car for Phoenix will be the unbeaten chassis he raced at New Hampshire and Richmond, two races he dominated. With such a fast car, what is the Michigan driver's outlook for Sunday?
"Well, I would say I feel pretty darned good, yeah," Keselowski said. "You know, I've had different conversations internally this week than I had the last time I was in the Championship 4, that at their most basic level come from a high level of confidence. There's nothing guaranteed, but I'm very confident we're going to go there and be very competitive and have a great shot to win the race.
That's what I can guarantee is that we'll be there, we'll be focused, my team is going to bring a great car, and the chips will fall where they will from there. But our preparation and all that will — it's already at a very high level, and I feel good about that."
More Stress Put on BK
Keselowski went on to say how he feels the grunt of the pressure as the only one on his team who's won a title. "I definitely feel the weight on my shoulders as far as leading the team, being the sole member that's won a Cup championship before. There's also a great sense of pride I take in that, and I think mutual respect that we all have for each other as a team accordingly, and that's okay. I'm really relishing the position I have within my team right now."
While Keselowski is a past series champion, that 2012 title did not come under this format. In addition, Keselowski has yet to earn a single win at Phoenix Raceway. He would certainly be checking off quite a few boxes if he were to win on Sunday.
In only a matter of hours now, one of the above drivers will be crowned Cup Series champion. Coverage of the Season Finale 500 from Phoenix Raceway will be Sunday, November 8 at 3 p.m. ET on NBC, MRN, and SiriusXM NASCAR Radio Channel 90. After a long and arduous season abruptly stopped by the global pandemic, NASCAR has roared back in an amazing way. All of the hard work put forth by the entire industry will culminate Sunday with the championship race.
Written by Peter Stratta
Be sure to follow us on Twitter.
Be sure to follow the writer on Twitter.
Photo credit to NASCARMedia