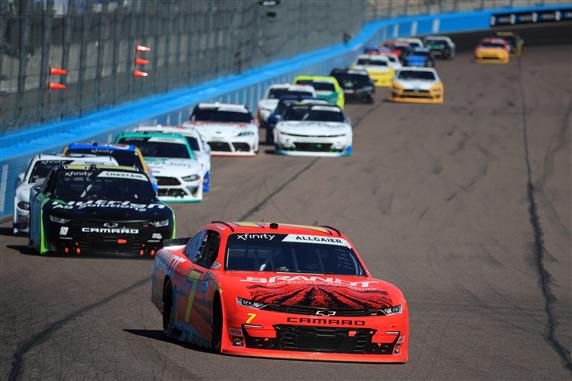 Previewing the Phoenix Xfinity Championship 4
After 32 races spanning nine months it all comes down to this. Chase Briscoe, Austin Cindric, Justin Allgaier, and Justin Haley will battle for the 2020 Xfinity Series championship at Phoenix Raceway. It's the first Championship 4 appearance for Briscoe, Cindric, and Haley, while Allgaier will be making his fourth appearance. Can the favored driver be toppled from his perch?
Chase Briscoe – Championship Favorite?
Briscoe has been the class of the field for the majority of 2020. He has a series-leading nine wins, 991 laps led, and is tied with Allgaier at 12 Stage wins.
Briscoe has already won two Playoff races this season, including a Round of 8 win at Kansas Speedway to lock himself into the Championship 4. On the other hand though, he has finished outside the top 15 in the Playoffs three times. Even with the struggles, he led at least 20 laps in every Playoff race except Martinsville.
Briscoe Brimming with Confidence
In three career starts at Phoenix Raceway, Briscoe has finished sixth twice and eighth. He led 14 laps in last fall's race. With strong past results at Phoenix, Briscoe enters Saturday optimistic.
"I felt like we made some good gains the last time we were there," Briscoe said. "I feel like the results didn't necessarily show the speed that we had. We had a miscue on pit road towards the end of the race and had to go to the back and got back to sixth, so I felt speed-wise we were pretty good. Statistically, it's not my best racetrack, but we still won nine races this year. The confidence is high.
I feel like we've been the best team all year long and there's no reason why we can't go to Phoenix and be the same way. I feel like we're going in there with nothing to lose and everything to gain. We've just got to go there and do our normal deal no different than all the other 32 races. If we just go there and focus on the 98 car and nobody else, I feel like we're gonna be in the hunt at least at the end. As long as you're in the hunt, you've got a chance for it, so that's what we'll try to go do."
Saturday will likely be Briscoe's final appearance in Xfinity competition. He will be moving to the Cup Series next season to replace Clint Bowyer in the 14 car. A championship would be the icing on the cake to cap off a dominant season.
Austin Cindric – 1B to Briscoe?
Coming into the 2020 season, Austin Cindric had only won on road courses. Everyone knew he had the speed to win but he could never close the deal. He had some close calls early in the season but he just couldn't get it done. Then came the Kentucky doubleheader. Cindric dominated both races, leading 50 percent of the laps between the two races, to capture his first career oval wins. Those wins started a streak in which he won five of six races. The one race he didn't win in that stretch? Kansas Speedway, where he was passed on the last lap.
Cindric has been a little hit or miss in the Playoffs. Four top 10s are great, but only one of those is a top five. It could be argued that he hasn't had the best car in any Playoff race. Two finishes of 28th and 34th don't help his cause either.
Cindric Knows to Remain Calm and Calculated
Cindric enters Phoenix knowing that it's a race that could and should come to him, and his level of aggression will follow suit. "It is a 200 lap race. There are 199 laps you can screw up and not put yourself in position on the most important one. With this format and with the way our races have gone over the last six weeks, I have been worried about points the entire time. Now I can just worry about where I finish. The stages are just time for me to drink water and get ready for another green flag run."
The 22-year-old also knows that aggression from his three competitors will be high this weekend. "We have all watched the Xfinity races enough this year to know that we are going to be pretty aggressive as far as whether that is just packing air on each other or maybe some contact. I am not going to make any speculation but I am sure everyone will be giving 100 percent."
Cindric has found similar success to Briscoe at Phoenix Raceway. Cindric's Phoenix stats are four top 10s in five starts, including two top fives. He'll need to improve those finishes just a little to win the title.
Justin Allgaier – Master of Phoenix Raceway?
The first half of Justin Allgaier's season was just okay by his standards. He had four races in which he led over 50 laps, including 156 at Bristol, but no wins. Five DNF's in that stretch certainly didn't help his case either. After Road America, a switch flipped and the 7 team became the contender we expect them to be. The eight races leading up to the Playoffs saw three wins, six top 10s, and 478 laps led.
Unfortunately for Allgaier, the Playoff finishes have looked more like the ones he had in the first half of the season. Three finishes outside the top 20, including two DNF's, are not something you want at this time of the season. He did have one of the best cars at Texas Motor Speedway before crashing late, and finished second at Martinsville Speedway. He has shown that he can still compete for wins.
Is Phoenix Perfect for Allgaier?
The venue for this year's championship race may be just what Allgaier needs to nab that elusive title. Phoenix is one of Allgaier's favorite tracks, as he almost always runs well here. "Each Phoenix race kind of has its own differences," Allgaier said. "No two Phoenix races that I can remember throughout history have been the same, especially with PJ1. There's a lot of unknowns with the racetrack itself. The advantage for me this year is in years past, I've not felt great racing for a title at Homestead. I don't ever really feel that comfortable there. I'm never super excited to go there, even though it makes for fantastic racing. I love watching races there that I'm not a part of.
Meanwhile, I look at Phoenix as being statistically one of my better racetracks, one that I really enjoy going to. Our team has done a fantastic job of being good there. Racing for the 2020 title is a completely different feel for me, going into this finale. But the circumstances are very different. You never know what the three others are going to do for a win, or the other drivers for that matter. The unknowns of this weekend are the real kicker for me."
Allgaier by far has the most experience of any Championship 4 driver at Phoenix Raceway. His 20 starts at the track have yielded two wins, seven top-fives, and 385 laps led. One of those wins came in the fall race season, in which he led 85 laps. He led 51 laps in this year's spring race before finishing 13th. Phoenix may just be Allgaier's best track, and he enters Saturday as confident as ever to take the title.
Justin Haley – The Underdog
Justin Haley has consistently run in the top 10 all season but he's rarely threatening for wins. His most consistent stretch came in the middle of the year. In a 10 race stretch from Atlanta to the first race at Texas, Haley had one win, eight top 10s, and went from eighth to fifth in the standings. He has three wins this season, all coming at superspeedways, but just three Stage wins and 113 laps led.
While guys around Haley faltered in the Playoffs, he kept up his consistency with five finishes of 12th or better. His one finish outside the top 12 was when he crashed at the Charlotte Roval while running at the front. He did win his third-straight superspeedway race at Talladega, but he only led the final two laps.
Haley Embraces Underdog Status
"I obviously feel like the underdog, like I always have been," Haley said. "But I feel like we're very capable. If you look back at the spring, we were the highest-finishing Championship 4 driver then. That doesn't mean much, but I feel like our short track program has improved quite a bit since then. We're taking our Richmond car, which was super fast and finished second to Allgaier. We have been tweaking on that thing for awhile now. I feel like our shots are very good, a lot of people are counting us out, but I don't feel like that's the case at all. I think our short track program is great, we've been at least getting better at Phoenix, and I'm looking forward to it."
Haley has been improving at Phoenix Raceway. He has finished 12th, seventh, and fifth in three career starts. He was the highest finisher among Championship 4 drivers at Phoenix in the spring race with that fifth-place run. Haley is going to have to show he can compete for the win because another top 10 run won't cut it.
How to Watch the Championship 4 Race
The Xfinity Series championship comes down to 200 laps at Phoenix Raceway. Coverage of the Desert Diamond Casino West Valley 250 will be Saturday, November 7 at 5 p.m. ET on NBCSN. Since the Xfinity Series started using the Championship 4 format, the champion has won the final race in three of four years. The four drivers should go into Phoenix knowing a win is their only path to the championship.
Written by Nicholas Sterling
Be sure to follow us on Twitter.
Be sure to follow the writer on Twitter.
Photo credit to NASCARMedia