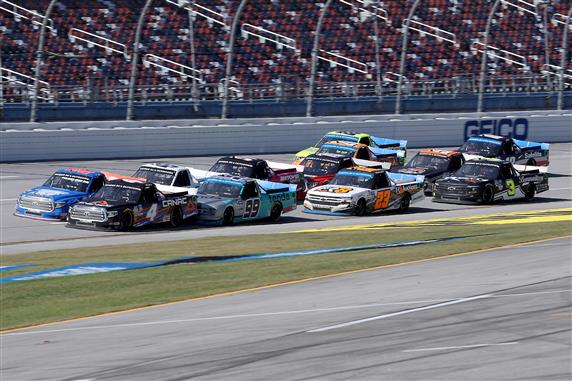 First-Time Winners Shine in First Round of Truck Series Playoffs
So far this postseason has been anything but typical in the Truck Series. Through the first three-race round, only one contender has gone to victory lane. In the other two weeks, a young driver has earned their first career win. Two drivers were also eliminated from the championship fight after Talladega. Who is left in the title fight heading into Kansas? Let's take a brief look back at the Round of 10 for the Truck Series Playoffs.
Mayer Pulls Off Upset at Bristol
To kick off the postseason's first round, the Truckers took to the high banks of Bristol. Even though Grant Enfinger started on pole, he would fail to lead a single lap. Rather, Brett Moffitt took off, looking for his first win of the season.
Moffitt went on to lead 117 of 200 laps, but lost position late. Moffitt's lead would succumb to his young teammate, 17-year-old Sam Mayer. In just his seventh career start, Mayer upset the racing world by stealing a Playoff win. The Wisconsin driver would double down on that night in Bristol, winning the ARCA race that immediately followed the Truck action. While Mayer won by over four seconds, Moffitt brought home his fourth runner-up result of the year.
Mayer recently took home the Sioux Chief Showdown title as well in the ARCA Menards Series. In addition, Mayer also took the ARCA Menards Series East title. This marked his second-consecutive East Series title. Mayer has set the short track world on fire in 2020. The future is certainly looking bright for this young driver, as he will go part-time Xfinity racing next year for JR Motorsports. Mayer was previously a JRM late model driver, so 2021 will be a homecoming for him.
Austin Hill Doubles Down in Las Vegas
When the Truck Playoffs went west for the second race in the first round, it would be a familiar face in victory lane. Austin Hill capitalized on a late restart to steal the win from dominant driver Sheldon Creed. Hill now has two-straight Playoff wins in Sin City, as well as a pair of victories this year.
With a locked up spot in the Round of 8, Austin Hill was the one driver sleeping well in the week leading up to the Talladega elimination race. Hill's Vegas win also came after a lackluster result at Bristol. The Hattori Racing 16 is aligning themselves nicely for another title run.
Lessard Benefits From Early End at Talladega
For the Round of 10 finale, the Truck Series would head to Talladega. Two drivers would see their championship aspirations end on the 2.66-mile superspeedway. The day started with an early big one, which happened late in Stage 1. This incident was triggered by Sheldon Creed throwing a late block for the lead into turn three. Contender Zane Smith would be one of 11 trucks involved, but he had enough points to transfer through.
Gilliland Goes Out Prematurely
One of the eliminated drivers would be decided not long after the big one, as Todd Gilliland lost an engine early. Oil he put down on the backstretch would cause Tanner Gray to lose control and slam the inside wall. After making his first postseason appearance on points, Gilliland's Playoffs came to an early close.
After a late debris caution, the race would restart with only two laps to go. Non-Playoff driver Stewart Friesen led them to the green, but would have to fend off the hungry pack. Friesen would be leading at the white flag, but get shuffled out of line by turn two. The 52 would continue to fall backwards, eventually getting turned by Playoff driver Christian Eckes. This crash would also collect the 16 of Austin Hill, and trigger a race-ending caution.
Narrowly ahead at the time of caution in turn three would be Raphael Lessard. The French-Canadian rookie for Kyle Busch Motorsports would beat out Trevor Bayne by mere feet to earn the win. After a rough year, the KBM 4 team is once again in victory lane. Lessard's first career win is yet another Playoff upset, and comes in his 24th career start.
The only Playoff contenders who would leave Talladega in the top-10 would be Ben Rhodes, Brett Moffitt, and Matt Crafton.
The second driver out of the Playoffs following Talladega would be Christian Eckes. After his last-lap contact with Friesen, the rookie did not have enough points. The last lap of Talladega was certainly a simultaneous high and low for KBM.
Lessard Joins Exclusive Club
Raphael Lessard becomes only the 10th foreign-born race winner in any of NASCAR's three National Series. He is also the fifth to earn a Truck Series win. The list he joins includes Ron Fellows, Daniel Suarez, Nelson Piquet, Jr. and Stewart Friesen.
Playoff Standings Entering Kansas
Entering Kansas, the top seed is Austin Hill, with 3028 points. Sheldon Creed, Zane Smith, and Grant Enfinger make up the top four. The remainder of the standings heading into the Round of 8 are below. Only 25 points separate all eight drivers, so anyone could point their way into Phoenix.
The Round of 8 kicks off from Kansas Speedway on Saturday. The Clean Harbors 200 will be live on FOX, MRN, and SiriusXM NASCAR Radio Channel 90 on October 17 at 4 p.m. ET. If one of the elite eight drivers left standing wins Kansas, they will be locked into the Championship 4 in Phoenix. Can one team take a step closer to the 2020 title, or can another play upset?
Written by Peter Stratta
Be sure to follow us on Twitter.
Be sure to follow the writer on Twitter.
Photo credit to NASCARMedia