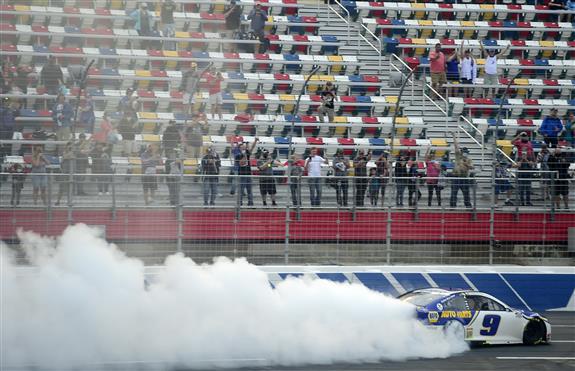 Chase Elliott Earns Third Win of 2020 on Charlotte Roval
The road course dominance Chase Elliott has shown since 2018 reigned supreme again on Sunday. For the second year in a row, the Napa 9 Chevrolet pulled off a comeback win at the Charlotte Roval. For Elliott, this Roval victory has some historical weight, as this marks his fourth-straight road course win. Only Jeff Gordon had ever won more than four-in-a-row on road courses. The Roval also solidified the Round of 8, is Elliott a possible sleeper for this year's title?
Historical Start Leads to Clean Racing
For the first time since the 1966 Daytona 500, the Cup Series would be racing in the rain. The start of Sunday's race was deemed wet by NASCAR, thus everyone started on treaded rain tires. Even with this wildcard factor on this already-tough track, the opening run was fairly calm. Brad Keselowski got out to the lead on the first lap, and would hold strong out front early. Lap eight would see Chase Elliott take over after closing in on the 2 for several laps. By the lap 10 competition caution, Keselowski had slipped to fourth.
Under the first caution, teams had the option to change to slick dry-weather tires. Of the front runners, only Ty Dillon took this gamble. Even though the dry tires initially sent the 13 back to 28th, it was definitely a net gain over the long run.
Up front, Clint Bowyer was able to wrestle the lead away from Martin Truex, Jr., as Elliott was slow into turn one on the restart. Bowyer, who came into Sunday below the Playoff cut line, was facing elimination if he did not win. Bowyer appeared to be the class of the field early, but his time out front would be brief.
Underdog Performing in Stage 1
On dry tires, Ty Dillon was up to five seconds per lap faster than anyone. Everyone else saw the major benefit of the slicks, and one-by-one every driver hot pit road for slicks. Bowyer stayed out however, trying to gain valuable Stage points. On lap 20, Ty Dillon took the lead away from Bowyer.
As it appeared that Ty Dillon would cruise to an unprecedented Stage 1 win by a huge margin, one car got stuck off course. John Hunter Nemechek spun off of turn six and stalled his 38 Ford in the grass, forcing a caution. Bowyer would finally pit under this caution for dry tires, as would Truex and Kyle Busch. The highest-running driver still on wet tires would be Kurt Busch in fifth, as it would be a one-lap dash to close out Stage 1.
Crazy Last Lap of Stage 1 Leads to Insane Top 10
On the restart, Ty Dillon got a big jump and was clear by turn one. Behind him, it was madness as Christopher Bell and Matt DiBenedetto raced it out for second. At the line next time by for the Stage 1 win, it would be the younger Dillon ahead of Bell, DiBenedetto, William Byron and Timmy Hill. For Ty Dillon, the Roval marks his third career Stage win and first of 2020. In a lame duck situation at the 13 team, Ty Dillon was auditioning his heart out by leading laps and taking a Stage at the Roval.
Following Stage 1, Kevin Harvick clinched his way into the Round of 8 on points. Thus far, he would join Las Vegas winner Kurt Busch and Talladega victor Denny Hamlin as the only drivers safely advanced on.
Non-Playoff Drivers Shine in Stage 2
By virtue of not pitting under the Stage break, Christopher Bell would inherit the lead for the start of Stage 2. The 95 initially took off, with William Byron jumping up to second. Byron's 24 car would poke out front into turn one just a lap later. The 24 then began to pull away from the field, as he was one of the lightning-quick Hendrick cars. This run would see one of the oddest moments of the day, even though it did not trigger a caution.
Coming through turn three, Brad Keselowski went for a slow and lazy spin. Since he spun back across the track, he came to a rest right in the paths of both Erik Jones and Matt DiBenedetto. Amazingly, all three drivers were able to avoid major contact and continued onward.
Past Roval Winner Takes Over
Not long after his teammate's slide, Ryan Blaney began to stalk down Byron for the lead. The 2018 Roval winner took command on lap 40 into turn one, as the 12 appeared to be the best car on track. Blaney quickly gained a lead of more than three seconds as the laps ticked off late in Stage 2. Much like Stage 1 however, a late caution would erase a big lead.
Very similar to earlier, a car going off track and getting stuck in the grass in turn six would trigger the caution. This time, the unlucky driver was JJ Yeley.
Stage 2 would conclude with a three-lap run to the green and white checkers. Blaney got the jump on the restart, as he was able to hold off a charge from his teammate Joey Logano. Back in the pack meanwhile, Kyle Busch had a flat tire in turns three and four after contact with Clint Bowyer. The 18 limped around very slowly, but made it to pit road without further issues. Ryan Blaney would take the Stage 2 win, just ahead of Chase Elliott.
Hamlin's Efforts Hampered
The last lap of Stage 2 would also see Denny Hamlin back it into the wall out of turn eight. The 11 Fedex Toyota had right rear damage from this contact. Hamlin's less-than-stellar day made him all the more thankful he was able to win last week at Talladega, and not have to worry about the Roval.
Blaney Makes History with Unlikely Stage Win
Coincidentally, Ryan Blaney also won Stage 2 in 2018 en route to winning the inaugural Roval race. Blaney's Stage win also carried a bit of added importance. Neither Stage on Sunday was won by a Playoff driver. This has happened only once before, at Homestead in 2017 when Kyle Larson swept the Stages. In a do-or-die elimination race, only five Playoff contenders scored any Stage points.
Contender Faces Trouble Before Restart
After Stage 2, pit road was a very populous place. Everyone on the lead lap came in for tires and fuel. One Playoff team had a dismal pit stop, as Chase Elliott's team failed to get his left front tire on tightly. This brought the 9 back down pit road as the field restarted for the final Stage, putting the defending Roval winner in 28th. If Elliott were to make it two-for-two, he would have to recover from adversity again.
Up front meanwhile, William Byron retook the lead as cars were going everywhere in the infield. Through turn six Cole Custer and Denny Hamlin went around, as well as Ty Dillon and Joey Logano making contact. Matt DiBenedetto also had a tire rub on the 21, but despite all of this craziness the race remained under green.
Drivers would finally be able to catch their breath on lap 64, when a caution flew for debris and also for Ty Dillon going off course in turn six. After leading laps and winning Stage 1, Ty Dillon's race went south. The 13 was able to continue, but only brought it home in 23rd.
Dillon Goes for a Spin
A bad day would soon turn worse for the Dillon brothers, as not long after the ensuing restart Austin Dillon spun. The 3 was entering the final chicane when Kyle Busch clipped him, sending him around. Austin Dillon was yet another driver who faced elimination if he did not win. The 3 was certainly put behind the eight ball here. The elder Dillon would only recover to finish 19th.
This caution saw the field pit with 38 laps left, but the leader would face an issue. Byron would be caught speeding, and have to give up the lead to restart in the rear. As a result, the leader for the restart would be Blaney.
More Issues Up Front
Although Blaney got away cleanly on the restart, another driver would not be so lucky. Clint Bowyer suffered heavy nose damage in a turn one stack-up, setting the 14 even further back. Just days after announcing his retirement, Bowyer appeared to be one of the fastest cars at the Roval, but that was quickly changing.
Just a lap later, Ryan Blaney also had trouble while leading. Out of turn four Blaney looped it, and narrowly avoided getting hit by Matt Kenseth. This put the 12 in a hole, and gave the lead to Ryan Preece. Preece would hold serve for a few laps, until Alex Bowman and Chase Elliott got by him. Both Elliott and Bowman were close on fuel, but the 9 was six more laps to the good than the 88. It was only a matter of time Bowman could hold off the 9, as the 88 would lead only two laps here.
Hail-Mary Move By Busch
Not long after Elliott took command, a debris caution flew with 24 laps to go. At the same time, Matt Kenseth went hard into the tire barrier in turn three. With this caution, anyone who pitted would be good to go on fuel. Amazingly though, Kyle Busch from third stayed out, inheriting the lead. Behind him were a few fellow Toyotas, making a buffer between himself and Elliott. However, on older tires and short on fuel the 18 would need a miracle to maintain.
Busch held the lead and a Playoff transfer position for a lap, as Erik Jones stormed by the 18 with 19 laps to go. A lap later, Elliott pulled off a crossover move to get position on the 20. Elliott quickly got out to a several-second lead, and appeared to be well on his way to another clutch road course win. However, a stalled Brennan Poole would bring out one final caution with 12 laps left.
Nothing Stopping Elliott
When the green fell again with 10 laps remaining, Elliott set sail and never looked back. The 9 was on cruise control, taking the win by nearly four seconds. Behind Elliott, Kyle Busch ran out of fuel late, ending his Playoff chances. Coming to the white flag, Truex and Kurt Busch also had issues. While racing for third, both past champions went around in the backstretch chicane. They both got righted though and each came home in the top-10.
Top-10 Results From Charlotte Roval
Behind Elliott in a distant second place was Joey Logano. With the runner-up result, Logano was able to transfer through to the Round of 8. Rounding out the top five were non-contender Erik Jones, Playoff driver Kurt Busch, and Ryan Blaney.
The remainder of the top-10 were William Byron, Martin Truex, Jr., Alex Bowman, Cole Custer, and Clint Bowyer. Even though Bowyer recovered from his late restart damage to finish 10th, it was far short of the win he needed to move on in the Playoffs.
Elliott's Winning Reaction
"I thought our car was better than it was here last year," Elliott said. "I thought I was better than I was last year. Didn't pile drive the barriers this time. That was good. Was able to finish it off the right way, which is always encouraging. Looking forward to this next round, trying to make some noise."
Even though Elliott joins an exclusive club with Jeff Gordon, he kept things in perspective. "I know he had a great run. I think we all respect his career beyond just that. Yeah, just trying to get better. Jeff is a four-time champion. We don't remember him for his four road course victories in a row, although it was great. Being a champion and trying to have the next level of success that he had is certainly a goal. Just trying to improve."
Elliott knows that the Round of 8 will be an uphill battle for him and the 9 team. "I think it's going to be a really big challenge for us to move on, as I think it is for everybody in this round, unless you just have a bunch of wins. I think today's win is big. Getting those extra five points can be the difference. We just have to bring our A game, push ahead, really try to execute three solid weeks."
Elliott Expecting Excellence in Round of 8
"We made the Round of 8 the last couple years. That's a great thing. That's a great achievement. But we always want more. We see the same people make the Final 4 every year. We've been very close to asserting ourselves amongst that group. I think we're very capable of it. When we're at our best, we run with those guys. I think we've proved that in the past.
We just have to be a little more consistent, eliminate those bad racetracks, I think we can make some noise."
Standings Reset for Round of 8
With no upset winner at the Roval, the four drivers eliminated from the Playoffs are Kyle Busch, Austin Dillon, Clint Bowyer, and Aric Almirola. The standings reset puts the Round of 8 drivers at 4000 points apiece, plus their bonus points. Harvick and Hamlin are once again the top two in the standings.
How to Watch the Next Race
Up next for the NASCAR Cup Series is race one of the Round of 8 from Kansas. The Hollywood Casino 400 will be live next Sunday, October 18 at 2:30 p.m. ET. Coverage will be on NBC, MRN, and SiriusXM NASCAR Radio Channel 90. With a spot in the Championship 4 up for grabs, can an upset winner take a spot in Phoenix?
Written by Peter Stratta
Be sure to follow us on Twitter.
Be sure to follow the writer on Twitter.
Photo credit to NASCARMedia