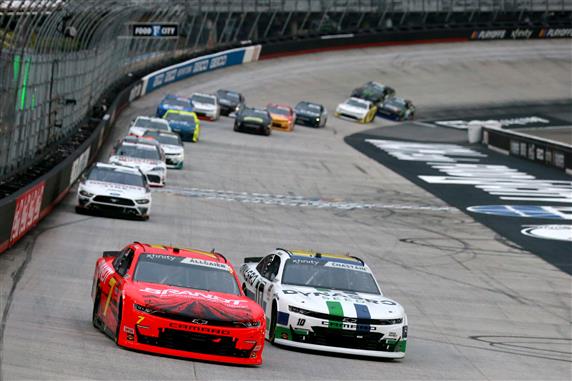 2020 Xfinity Series Playoff Preview from 12 Contenders
After more than 6000 contested miles in 26 races, 12 contenders are set for the 2020 Xfinity Series Playoffs. This elite group of competitors represent all different levels of experience. For one driver, experience will pay off in seven week's time at Phoenix. Who will make up the Championship 4, and who will hoist the trophy? All 12 drivers made their cases as to why you should not count them out.
Brandon Brown
The ultimate underdog in this year's Playoffs, Brandon Brown is making his first postseason appearance. The Brandonbilt Motorsports 68 team has had a few notable high points so far in 2020. Brown has four top-10s, including a best finish of seventh at both Daytona and Bristol. Brown's family-owned team will be getting a bit of an upgrade in equipment for the Xfinity Series Playoffs. For select races, the 68 will be leasing ECR motors.
"(Leasing motors) is going to be huge for us," Brown said. "Now there's no more excuse, it's been taken away. You can go out and look at these teams and say 'I wish I had that budget or motor or car.' Now it brings confidence to myself, knowing that we're coming out with the best we got. I know that ECR is going to give us the best that they can to help us be as competitive as everyone else. This now allows me as a driver to go out and execute on what I know how to do, to showcase that I can get it done."
Brown's engine upgrades from ECR are contingent on how far he gets in the Playoffs. He will have one of those prime motors for this weekend at Las Vegas. Watch out for the 68 to be a potential contender.
Riley Herbst
The rookie out of Joe Gibbs Racing has had a very up-and-down 2020 campaign. Riley Herbst has four top fives, 16 top-10s, an average finish of 15th, but also five DNFs. Herbst's first year in the Xfinity Series has been a bit hampered by a lack of practice and testing. He believes little on-track time has stunted his growth as a driver.
"When we set our plans and objectives in January where we wanted to be in June and entering the Playoffs," Herbst said. "We counted on all four test sessions that a rookie gets and all of the practice that I should have got. That kind of threw a wrench in our plans a little bit. I thought we would have had a win by now in this part of the season. We've had some highs and lows as part of the season. I'm looking forward to it. I think that I have the confidence and the car to go win in the Playoffs."
Herbst also addressed his progression throughout the season. "We are just trying to improve week in and week out. Trying to be better than we were last week, and I think that's shown throughout these seven months. Hopefully getting into these Playoffs and we can go out and get a win."
Herbst is starting behind the eight ball for these Playoffs, but all hope is not yet lost. The 18 is only nine points behind the cut line. Should Herbst's first round be three solid races in the top ten, he has the chance to point his way onto the Round of 8. Herbst's quest to gain points will begin this weekend at his home track of Las Vegas Motor Speedway.
Michael Annett
A season ago Michael Annett was the first man in the Playoffs after winning Daytona in February. This year has been a bit more challenging for the JR Motorsports 1 team. Annett has three top fives, 16 top-10s, and an average finish of 11.9. While both of his teammates have scored victories this season, 2020 has Annett still winless. Bristol also ended a streak of six-straight top-10s for the 1. Some momentum must be regained in Las Vegas.
"We've been really consistent," Annett said. "Unfortunately, that consistency has been top-10s, we'd love for it to be top fives. I think that's what it's going to take to get out of the first round, running each segment and finishing the race in the top five. That would be key. I wouldn't call this season a success at this point, we have had all those top-10s, but it's just not good enough. The field is too strong and race wins is what it's all about."
Annett may just need top five runs to advance out of the first round. He enters Las Vegas only eight points below the cut line. Annett's more than recognized the goal he must aim for. A return to form for the 1 could have them sitting pretty. Prior to Bristol, Annett had scored 13 top-10s in 14 races. If the 1 can remain in the top 10 again for the next three weeks, he should be able to advance on.
Ryan Sieg
Another underdog in this year's Playoffs is Ryan Sieg and the 39 team. Making his third Xfinity Series postseason appearance, Sieg's season has been capped off by a career-best four top fives and also eight top-10s. These strong results have resulted from an increased technical alliance with Richard Childress Racing. Sieg had higher expectations for 2020 knowing the better equipment he'd have under him.
"Coming off last year I feel like we expected to be in the Playoffs," Sieg said. "We thought we'd be a few positions better, but with the circumstances with COVID and mechanical issues we fell back a bit. We've made it in now, we're ready to hit the reset button and get after it in Vegas. I feel like we're stronger this year than we were last year, the new cars are better and we're clicking better on the personnel side. I feel like the first win is coming soon."
Sieg enters the Playoffs coming off a bit of a slide. In Richmond the 39 placed 12th and 15th, also with a 14th at Bristol. Just prior to Richmond though at Darlington, Sieg rallied back from an early crash to finish third. Sieg must remain clean if he wants any shot at advancing onward in the Playoffs. The 39 has been stricken with pit road penalties and unforced errors in recent weeks.
Ross Chastain
The Melon Man enters the Xfinity Series Playoffs on a big high. Though Ross Chastain has been winless so far in 2020, it was announced this week that he will take over the 42 car at Chip Ganassi Racing next season. As if he wasn't already, Chastain enters the postseason confident and ready to put on a show. Though the Kaulig 10 team has yet to win, they lead the series with 23 top-10s. Chastain also has five second place finishes, including last week at Bristol. Chastain has done everything but win in 2020, and enters the Playoffs at the eighth seed.
"Being truthful, I don't know how to balance (this year's Playoffs and looking forward to next year)," Chastain said. "But I'd hope that I never change how I drive because of having a job or not. I feel like I can only drive at 100%, not 101, not 110, and I'm not going to drive at 95%. I hope that never changes. So I hope with age and life I don't lose that. I think being honest with myself if I do, I'll step back from racing at this level because it takes 100% effort and focus. You do need to balance stuff in life though to enjoy life."
Chastain Living in this Moment
"But narrowing in on this Xfinity Series run with the 42 car out in front of us, I'm staring down the barrel of a championship run with this 10 team. This is truly unlike anything I have ever experienced. I was able to experience a lot last year at Niece Motorsports with our championship run, but we didn't have the mentality of building for the finale all year long, it came late. That's what made it so cool, jumping in after nine races and running for the championship. On the flip side, this has been more methodical, planned out over the course of the year. Building on a notebook for Phoenix. That's all that I can focus on right now, next year will happen in due time."
Expect Chastain and the 10 team to be as motivated and determined as ever in these coming weeks. Chastain has been on the doorstep of victory lane many times this year, but has yet to close it out. If the 10 can get into victory lane, this team's ceiling could be the championship.
Harrison Burton
The youngest driver in this year's Playoffs, Harrison Burton's two regular season wins locked him into the title hunt. Though Burton has won twice in 2020, his last victory was at Homestead in June. As a result, the remainder of Burton's regular season was sporadic with either top-10s or struggles. Burton knows that he does not enter these Playoffs as a title favorite. However, he relishes in the chance to prove people wrong.
"I know what I think of our team, and I think we have a chance to win it all and that's all that matters," Burton said. "Internally, you have seen sports teams that no one believes in and they make it happen because no one believes in them. Hopefully, no one believes in us. I love that mentality of trying to find a way to prove people wrong. I feel like that is what this year has been about for me. When I signed this deal and came to Joe Gibbs Racing, I was confident in myself but there were people that doubted whether or not I should even be here. I think we've proven that we should, and we have a lot of things to build on for the future."
Burton Focusing in on Title Hunt
"For now, it's all about these next seven races and making the most out of our opportunity. If I could win a championship, that would change my entire career. It would change my whole life. You are racing for everything. It's everything. Yeah, I'm excited to go to battle with my guys and I know that they are going to bring their best and I'm going to bring mine, and no matter what, I'm going to be able to lay my head down at night and know that I put the effort in that I needed to and I know whatever happens I tried my hardest."
Burton and the Joe Gibbs Racing 20 team do enter the postseason on a bit of momentum. In the last eight races, they have six top-10s. At the seventh seed, Burton is in a precarious position where any issues could end his Playoffs. If the 20 can stay in the top 10 throughout the first round, he should be able to advance on.
Justin Haley
Making his second Xfinity Playoff appearance, Justin Haley earned his way in off of wins at Talladega and Daytona. Haley has been quietly consistent all year long, with 16 top-10s. Much like Chastain, Haley has soaring confidence in the Kaulig team. He know that they can deliver him racecars capable of truly gunning for this title.
"I'm a lot more confident this year," Haley said. "We have a lot more Playoff points, faster race cars, and I feel like we're in contention to win every race. Heading into the Playoffs this year obviously I have a few wins and Stage wins, that's given us a gap to the cutoff line. I think we should hopefully have a pretty easy first round and then the second round is going to be a little tougher. We have some really good tracks for us here in this first round."
Haley should not be counted out of making a below-the-radar run for Phoenix. Both Kaulig cars have been fast all year. If Haley can stay clean, he may be one of the final four contenders.
Brandon Jones
After earning his first career win in last year's Playoffs, Brandon Jones has scored three more victories in 2020. This has the Georgia native seeded fifth for his fourth postseason appearance. As the veteran driver at Joe Gibbs Racing, the 19 could have an upset special in these Playoffs.
"This is unique year for me coming into the Playoffs," Jones said. "I've made it, I think the first round, every year that I've ran in the Xfinity Series I've made it with no wins. This is a whole another game changer for me to be able to have the wins, to have the confidence coming into the Playoffs with those wins.
If you look back, they are all tracks where I came into the year saying I needed to work on. I needed to get a little bit better at, and that was Auto Club. It didn't go our way, but we were on track to win that one and Phoenix, that has always been a really difficult race track for me. Darlington, who would have ever thought that place? There's a whole bunch of tracks that we have done so well at that were just not on our radar this year, so it's got me really excited for the Playoffs."
Jones Confident for Round 1
"I think this first round is going to be honestly really good. Vegas has always been really great to us. We've always been really fast there. I felt like we had the car to win earlier this year. I think we got a big hole in the nose during the race and it kind of altered our handling some. Talladega and the Roval, I'm not really sure how those are going to go but they can definitely take a turn really fast and go your way, so I think this first round will be good and then we've got some great tracks after that. I have the confidence that we can make it to the last round. I think that the tracks are in our favor as well."
At the fifth seed, Jones has a bit of a buffer above the cut line at +18 points. The 19 team enters the postseason with back-to-back eighth place runs. While Jones is not one of the top picks for the 2020 title. However, he could make a splash if he survives past this opening round. Next month's race at Kansas will see Jones go for three-straight wins in the heartland.
Noah Gragson
The first driver to lock up a spot in the 2020 Xfinity Series Playoffs, Noah Gragson got in via winning the Daytona season-opener. Another win at Bristol soon followed for the 9, but it has been mixed results since. Gragson has been a constant in the top 10 all year long, but has lacked race-winning pace.
"We all feel really confident in ourselves," Gragson said of the 9 team as a whole. "These tracks leading into the Playoffs have been decent for us, but once we get into the Playoffs I feel like there are some really good racetracks for our team. I have full confidence in my crew chief, Dave Elenz, and our whole team. We're closer than we've ever been, really like a family. I think that's shown in how we've been running so far. We have a lot of confidence in each other and in our race cars as well.
Everyone is working really really hard to get these Camaros ready. Overall, I feel confident in this team. I know the last few weeks have not been up to par or to this team's standards, but we still continue to have that confidence. I can't wait to get to these racetracks and show everyone what we're worth."
Gragson's optimism in his team was certainly evident, but they have to take a step forward in performance. Eight of the last nine races have seen the 9 in the top 10. Nevertheless, he's only led over 20 laps once in that stretch. The 9 team needs to get up front and contend for wins if they are to make Phoenix.
Justin Allgaier
One driver who cannot be counted out of the 2020 championship battle is Justin Allgaier. Allgaier made the Playoffs with three regular season wins. He is also chomping at the bit to make it into Phoenix. The desert mile is Allgaier's best track by far. He believes if he is one of the final four, he can win that race. Whether or not he gets to the finale is the focus now though. With a recent sweep of the Richmond doubleheader, the 7 team could be hitting their stride in perfect time.
"First and foremost, it's nice to show some fruits of our labor," Allgaier said. "We've had fast race cars week in and week out. We've led a ton of laps, won a ton of Stages, and had the car we felt like to beat at a ton of these places. Even though Chase and Austin have the most wins, I feel like we've been right there on a regular basis. It's been disappointing to not really have anything to show for it. This last month-and-a-half has obviously been great, to get those wins."
Is the 7 Arriving at the Right Time?
"But there were a lot of months in the summer where we were wondering what we needed to do to turn our luck around. A lot of times in this sport momentum is really easy to lose, but really hard to gain. Our team has had to do an overly-important job trying to build some of that momentum. We've succeeded for now, but we still have seven races to go. Those wins in the last month-and-a-half aren't going to effect the Playoffs other than a few bonus points. We still have to do a great job and push forward in going for a championship."
The 7 team and Allgaier are getting red hot at seemingly the perfect time. With bonus points from their recent wins, the 7 can race more calmly than some of his competitors. Aside from the title favorites of Cindric and Briscoe, Allgaier has to be seen as a favorite to make Phoenix.
Austin Cindric
The regular season champion, Austin Cindric has had his best year yet in NASCAR. Five victories have Cindric as a co-title favorite with Chase Briscoe. Cindric has never entered a Playoffs this highly seeded, as he is tied for the points lead. However, Cindric doesn't see himself as the favorite just yet. He also thinks that it is too early to name a favorite for the championship.
"I think it's definitely too early," Cindric said. "What you've got to realize is the Xfinity Series has been very peaky this year with a lot of guys with a lot of momentum at a lot of different times. You look and there's six or seven guys that have been able to step up and win races this year. Winning races gets you to the next round and winning races gets you to the Championship 4. So there could easily be either some surprises or some guys that haven't been as prevalent in the last month or so to really step up and make a difference. I would definitely agree with that and definitely see that as another reason to bring our A-game."
With the amount of bonus points Cindric has accumulated, it would take a catastrophe to keep him out of Phoenix. The 22 will be one of the fastest cars week in and week out throughout these seven weeks. Expect the Penske team to pick up a few more wins.
Chase Briscoe
The most recent winner in the Xfinity Series, Chase Briscoe caps off an incredible regular season atop the Playoff grid. Briscoe leads the series with seven victories this season. However, he only has two wins since July 4th. One of those two wins was last week at Bristol though, where he passed Cindric late. Briscoe's been having a career year, very similarly to his Ford teammate Cindric. But, he also doesn't feel like the title favorite yet for the Xfinity Series.
"I don't know if you can really pick a favorite right now," Briscoe said. "I think this year has been so, everybody hits their moment and at different times. It's been really streaky. You look at us, we won five out of the first 12 and then Cindric won five out of six. Allgaier wins three, so I feel confident that we can make it to the final four. But I don't know if there's really one guy that sticks out over any of the others. I feel like anybody on any given day can be the guy to beat. This series has really been competitive all year long."
Don't Engrave the Trophy to Briscoe Yet
"I would love to say, 'Yeah, you've got to beat us to win the championship.' But truthfully there are a lot of really good race car drivers, a lot of really good race teams in this series. It's gonna be hard to beat any of them on any given day. So you just have to hit it right that day and hopefully we can be that guy to beat. But yeah, I feel confident we can make it to the final four. Once you get to Phoenix though, you're gonna have to be on top of your game. Those other three guys are gonna be on top of their game. Whoever wins is obviously the guy that did the best and the team that hit it the best."
Much like Cindric, hardly anything will keep Briscoe out of Phoenix. The 98 team won at Las Vegas in the spring, they will be among the favorites to win on Saturday. Briscoe said he needs eight wins to feel ready to move into the Cup Series. Now he is only one victory away from that lofty goal.
How to Watch Playoff Race 1
The Xfinity Series 2020 Playoffs begin this weekend at Las Vegas. The Alsco 300 will be the first opportunity for someone to take a big step closer towards the championship. Coverage of the Alsco 300 will be on Saturday, September 26 at 7:30 p.m. EST on NBCSN, PRN, and SiriusXM NASCAR Radio Channel 90. After Vegas, Round 1 will then go to the wildcard tracks of Talladega and the Charlotte Roval. As a result, one driver will be sleeping peacefully as the Vegas winner. Stay tuned for continued updates from the Xfinity Series Playoffs.
Written by Peter Stratta
Be sure to follow us on Twitter.
Be sure to follow the writer on Twitter.
Photo credit to NASCARMedia