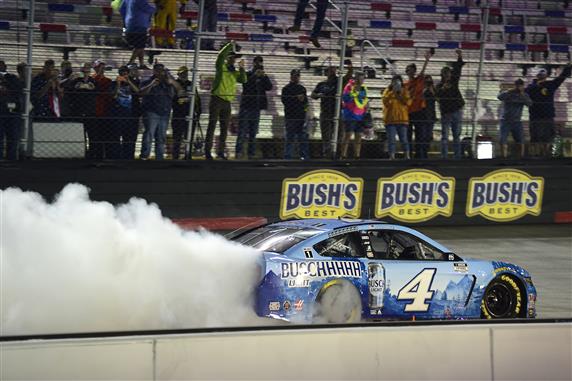 Harvick Holds Off Busch for Ninth Win of the Year in Bristol Night Race
At Bristol the big storyline throughout the night race was the Playoff cut line, and which four drivers would go home. Up front meanwhile, Kevin Harvick put on a driving clinic. After the 4 methodically worked his way to the front, he hardly faltered, leading almost half of the 500 laps. Kyle Busch valiantly tried chasing down Harvick at the end. However, there was nothing separating Harvick from his ninth win of 2020. On the unlucky end of the night though, the title hopes of Cole Custer, William Byron, Ryan Blaney, and Matt DiBenedetto all came to an end.
Keselowski Looks to Continue Momentum in Stage 1
By virtue of last week's Richmond win, Brad Keselowski started Bristol on the pole. Not only was the 2 looking for two-straight wins, he was also hoping for a Bristol season sweep. The Discount Tire Mustang took off early, but did not get a big lead. On lap 18, Kevin Harvick pounced to take the lead away. The 4 would lead until a caution for a spinning Ricky Stenhouse, Jr. on lap 30.
Joe Gibbs Racing also had their work cut out for them in these early laps. Denny Hamlin, Kyle Busch, and Erik Jones all failed prerace inspection multiple times, having to each start in the rear. This proved to be little issue for Busch, as he was slicing and dicing his way through the field. Hamlin and Jones were both also marching forward, but the 18 was the fastest car on track.
When the green flag fell again on lap 41, Keselowski took off. The 2 appeared to be on his way to an easy Stage 1 win, but Chase Elliott began moving up. Lap 107 would see the 9 pass the 2 for the lead in lapped traffic. Elliott would hold on to win Stage 1, his seventh of 2020. Kyle Busch also worked all the way up to second at this Stage conclusion.
Busch Returns to Dominant Form in Stage 2
The 18 would take the lead on pit road and easily took off for the start of Stage 2. Busch would go unopposed for over 100 laps, as Stage 2 went largely caution-free. That would change however on lap 234, when a Playoff driver found trouble.
After earning points in Stage 1, William Byron appeared to be on his way to battle for a Round of 12 spot. After running into the back of Joey Gase though, Byron had heavy nose damage on the 24 car. Byron pulled behind the wall and would be done for the night. After a clutch first career win at Daytona a few weeks ago, William Byron's Playoff hopes ended just before halfway at Bristol.
When Stage 2 resumed, only nine laps were left. This second Stage would prematurely end under the yellow flag when Ryan Newman spun, giving a dominant Stage win to Kyle Busch. Busch led all but one lap in this segment, earning only his second Stage win of 2020. The 18 appeared to be the class of the field by a mile, but he would soon face tough competition.
Harvick Takes Off in Final Stage
Though Busch initially took off for the final Stage, Harvick would take the lead back on lap 281 and drove off. Harvick would set a torrent pace, lapping all the way up inside the top 10. Harvick even gapped Busch by over five seconds. Had a caution not come out to break up this run, Harvick could have possibly lapped all the way up to Kyle Busch.
However, the yellow did fly on lap 408 when Harvick tried to come onto pit road. As the 4 was slowing, Austin Dillon in the 3 had to check up and ran into the side of James Davison, sending the 53 around. This caution came out with only six cars on the lead lap.
The green flag would come out for the final time with 82 laps left, and the battle was on. Harvick had the lead, but Busch was right on his bumper. Once the top two hit lapped traffic, the race became a game of chicken with finding holes around the slower cars. Harvick got stuck behind Reed Sorenson with 40 to go, allowing Busch to sneak on by. Ten laps later though, Joey Logano held up Busch, letting Harvick get the lead back.
Although Harvick did not pull away from Busch, being just ahead of the 18 proved to be enough. The cat and mouse game between the 4 and 18 continued as the laps ticked off. By the closing laps, the top two were within a car length. Harvick did hold on to earn his ninth win of the season by just three tenths over the 18.
Top 10 Results from Bristol Night Race
Kyle Busch came up just short after leading 159 laps, winning a stage, and performing better than he has in weeks. Busch is still winless in 2020, but could this strong race give the 18 momentum moving forward? Do not count Kyle Busch out of this championship yet.
Coming up less than a second behind both Harvick and Busch would be Erik Jones in third. After missing the Playoffs, a top-three run is an amazing achievement for the 20 team, as Jones is still looking for a ride in 2021. Rounding out the top five would be rookie Tyler Reddick and Aric Almirola.
The final Playoff contenders in the top 10 would be sixth-place Clint Bowyer and seventh-place Chase Elliott. Both of them move onto the Round of 12, as they each had top five cars at times throughout the night.
The final drivers in the top 10 would be an interesting combination of underdogs. Chris Buescher, Ryan Preece, and Michael McDowell all outlasted some serious competition to earn amazing results. The fact that only five Playoff drivers placed in the top 10 at Bristol should not be understated, the rest of the drivers were up front and contenders late in the race.
Harvick's Winning Reaction
Harvick knew that he had beaten one of the best ever at Thunder Valley. "To beat Kyle Busch at Bristol, I kind of got myself in a little bit of a ringer there," Harvick said. "I hit a lapped car and got a hole in the right-front nose, but just kept fighting. We don't have anything else to lose. We were here to try to win a race. I know how much Rodney really enjoys coming here and, hell, how can you not enjoy coming here with all this enthusiasm. Everybody is tired of being at home."
Hole in His Nose Didn't Phase Harvick
Harvick explained more about the nose damage he got and how it affected his battle with Busch. "We had just a really, really good Busch Light Ford Mustang tonight. I got it a little dinged up with 50 or 60 laps to go. I knocked a hole in the nose and made it a little too tight through the center of the corner, but turned into a heck of a race, in and out of traffic there with Kyle. He got me once pinned up there in traffic and I was able to do the same thing back and then hold the lead there until the end. Just really proud of everybody for everything that they've done all year and just continuing to fight, and there's not many races that you can win that are like winning here at the Bristol night race. That was a lot of fun."
Is Harvick in His Best Year?
On earning his ninth win and maybe having his best season ever, Harvick put things into perspective. "I love that it's in the conversation of being the greatest season ever. You look at the sport's gurus that don't know a lot about racing, they put these graphs up and talk about where your peak seasons are, where you're good, where you're bad. Where you're good is where you have the best results, and fortunately for me, they're coming right now. I've been fortunate to be surrounded by a great group of people that have the same commitment to doing the things that I like to do, and that's race cars and try to do it at a very high level.
I'm just fortunate to be able to still be doing this for 20 years now and be successful, and we got to nine, so that's one step closer than we were at eight. I don't know if we'll make it to ten, but we're going to keep trying to do the best we can every week, and it's just been an unbelievable year."
Drivers Eliminated From Title Contention
While Harvick was the big winner for the ninth time in 2020, four other drivers leave Bristol out of the title hunt. Needing a win to move on, Ryan Blaney only mustered a 13th-place run. The 12 was racing very aggressive at times and was in the top five, but faded late. The same is also true for Matt DiBenedetto. The 21 came home 19th after leading a few laps. Rookie Cole Custer also finished 23rd, not earning enough points to transfer onward. Lastly, the early-race exit by William Byron doomed the 24's Playoff hopes, as he finished 38th.
Standings for Round of 12
With the standings reseeding for the Round of 12, Harvick is still the man on top with 3067 points. Hamlin is not far behind with 3048, and Keselowski rounds out the top three with 3035. Joey Logano (3022), Chase Elliott (3021), Martin Truex, Jr. (3016), Alex Bowman (3009), Austin Dillon (3005), Aric Almirola (3005), Clint Bowyer (3004), Kyle Busch (3004), and Kurt Busch (3001) round out the list of contenders.
How to Watch the Next Race
The Round of 12 will kick off next week at Las Vegas Motor Speedway. Coverage of the South Point 400 will be on Sunday, September 27 at 7:00 p.m. EST on NBCSN, PRN, and SiriusXM NASCAR Radio Channel 90. Harvick will certainly be a favorite for the win, but Truex and Logano are the two most recent winners here. Who can punch the first ticket to the round of 8?
Written by Peter Stratta
Be sure to follow us on Twitter.
Be sure to follow the writer on Twitter.
Photo credit to NASCARMedia