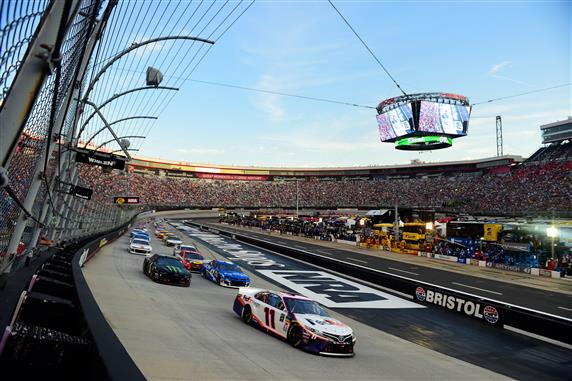 Who Has the Upper Hand at Bristol for the Elimination Race?
For the first time in its the sixty-year history, the Bristol Night Race will end some driver's championship hopes. Saturday's Bass Pro Shops Night Race from Bristol Motor Speedway is the first elimination race of the 2020 Playoffs. At the cut line, 34 points separate seven drivers. Among these contenders, who's sitting pretty and who needs a miracle? The race for the 2020 championship will end for four at Bristol, who will be those unlucky drivers?
Aric Almirola (+7)
Aric Almirola's regular season was highlighted with nine-straight top-10s, and his Playoffs have also been solid. The opening two rounds saw the 10 place ninth at Darlington and eighth at Richmond. This has the Stewart-Haas driver at 10th in points. Almirola may seem a bit comfortable for Bristol, but he must still be wary. Almirola has not finished better than 29th in the last four trips to Thunder Valley. This same streak has seen the Florida native crash out twice. Another poor finish at the half-mile would derail his Playoff hopes. The 10 enters this weekend with momentum, but must finish in one piece. Almirola should be in contention for another top-10, but cannot risk crashing out again.
Kurt Busch (+7)
One would think that a six-time Bristol winner would be overly confident heading into this weekend. That could be the case to an extent for Kurt Busch. The last six Bristol races have see the Las Vegas native win once and earn five top-10s. He also has one top-10 already in these Playoffs, with an eighth at Darlington. Busch is still winless in his 2020 campaign however. Could Bristol be the track for the 1 to turn their season around? At seven points ahead, Busch must points race and finish as high as possible. With four-straight Bristol top-10s though, this could be the weekend where the 1 is in contention for a win.
Clint Bowyer (+3)
Perhaps the most consistent driver on this list at Bristol, Clint Bowyer has to feel good about this weekend. The 14 enters Thunder Valley on the cut line, but also with five-straight Bristol top-10s. Can Bowyer hold off those below him in the elimination race? It's certainly possible, as he's gone 10th in both Playoff races so far. Bowyer was a close second at Bristol in the spring, the 14 will try to keep alive his hot streak on the concrete.
William Byron (-3)
Coming off an abysmal showing at Richmond, William Byron looks to regain lost ground at Bristol. The 24 enters the elimination race three points shy of advancing on, gunning for his second Round of 12 appearance. Byron's recent finishes aim towards success at Bristol; he had three-straight top fives before Richmond. Bristol has been a hit-or-miss track for Byron though. In five starts, he has only one top-10, eighth in May. Saturday night may just be a 500-lap battle amongst the 24 and the 14 for that final transfer position. Each of them hope to join their teammates in the Round of 12.
Cole Custer (-8)
For a rookie, Cole Custer has performed admirably in these Playoffs. Results of 12th and 14th have him within striking distance of the Round of 12. At eight points back, a solid Stage or bad luck by a driver above him could vault the 41 up. As stated before, just making the Playoffs was a big win for the Rookie of the Year driver. Can he possibly play with even more house money in the next round?
Matt DiBenedetto (-25)
In his maiden Playoff voyage, Matt DiBenedetto has been behind the eight-ball from the start. The man who entered as the 16th seed has finishes of 21st and 17th. This leaves him entering the elimination race at a 25-point deficit to the cut line. DiBenedetto likely needs to win at Bristol to have any shot at advancing forward. However Bristol is Guido's favorite track, and the one-year anniversary of his miracle run.
A season ago at the Bristol Night Race, DiBenedetto willed his way to the lead late. It was not until 12 laps remained when he lost the top spot to Denny Hamlin, and had to settle for second. Matty D will need another Bristol miracle if he wants to stay alive in the title hunt. DiBenedetto also is not guaranteed to return to the Wood Brothers Racing 21 next year, so he is once again driving for his career.
Ryan Blaney (-27)
The unluckiest driver in this year's Playoffs has been Ryan Blaney. Before the green flag even fell in Darlington, the 12 was stripped of 10 points for an inspection failure. On-track success did not follow, as Blaney has results of 24th and 19th. Much like DiBenedetto, Blaney likely has to win Bristol to avoid elimination. Blaney has been strong at Bristol in the past, but has troubles closing out his strong runs. The Penske driver has led at least 100 laps in three of the last five races here, with three top-10s.
Earlier this year appeared to be another standout run for Blaney at Bristol. That would be until an early incident took him out. The 12 would finish last that day. Blaney has no issues getting around Bristol, but needs to close it out on Saturday. After opening 2020 with so many strong performances, the Penske 12 team faces elimination after Round 1 of the Playoffs. A Bristol win would be the most clutch moment of Blaney's career.
Four drivers will have to say goodbye to their chances at the 2020 NASCAR Cup Series title this weekend. Coverage of the Bass Pro Shops Night Race will be on Saturday at 7:30 p.m. EST on NBCSN, PRN, and SiriusXM NASCAR Radio Channel 90. One thing is certain, Bristol is sure to be madness for an elimination race.
Written by Peter Stratta
Be sure to follow us on Twitter.
Be sure to follow the writer on Twitter.
Photo credit to NASCARMedia