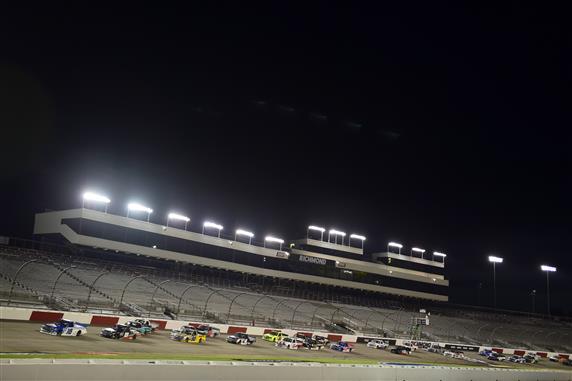 All 10 Drivers Preview Their Chances in the 2020 NASCAR Truck Series Playoffs
After the regular season finale last Thursday at Richmond, the 10-driver field for the Truck Series Playoffs is set. In seven race's time, we will know the 2020 Gander Outdoors Truck Series Champion. Being the first Truck Playoff field to have 10 participants, this group is a very eclectic mix. This field includes past champions, rookies, and one who still has yet to win a race. Who will be the 2020 Truck Series Champion? Hear from the 10 contenders as they prepare to do battle on the Bristol high banks.
Tyler Ankrum
The last man in the 2020 Truck Series Playoffs, Tyler Ankrum secured his position by finishing fifth at Richmond. Ankrum has made his second Playoff appearance, but not due to a win this time. 2020 has been a bit of a learning year for the GMS driver. Ankrum has three top-fives, seven top-10s, and an average finish of 12.8. On the flip side, the 26 team has three finishes worse than 20th.
"Coming from DGR, I was 18-years-old, there were other drivers two or three years older and younger than me," Ankrum said. "It was weird that I had the most amount of experience there. It was a very weird dynamic and I actually struggled a lot with that.
"This year with no practice or qualifying it's been harder for me to get the feel that I want. DGR versus GMS is a completely different body and chassis. Overall though, I feel really good about the Playoffs. I'm looking forward to Bristol and Las Vegas. Going forward, there's a lot of opportunities to make mistakes, but also to gain on other's mistakes. I think we're going to figure it out here soon. We've had top five or top-10 speed, but we haven't had that dominant speed I've been looking for this entire year."
Coming into the Playoffs, all of GMS Racing has to be viewed as a real threat. Ankrum has been slowly trending towards the front of the pack as this year has gone on. If the 26 team can perform at their level and have flawless execution, expect strong finishes and chances at wins for Ankrum.
Todd Gilliland
One driver who failed to make the Playoffs a year ago, Todd Gilliland enters his first postseason with his new team. Gilliland's performance has been incredibly underrated this year, as the 38 has had a few race wins taken from them. One could easily remember a few weeks ago at Gateway, where Gilliland was knocked out of the way after dominating.
"Missing the Playoffs last year has made me appreciate making it a lot more," Gilliland said. "I expected to make the Playoffs each of the last two years, and I was expected to do so. Just finally being able to do it and see my team's excitement these past few days has been special. We're part of something only 10 drivers are this year. I'm just that much more appreciative.
"I think people have noticed our speed and that we've been getting better and better. We still aren't where we want to be week in and week out though, we've been kind of hit-and-miss. There's races like Gateway where we're the dominant truck, which is hard to do these days. I think we can find glimmers of that every once in awhile. We just need to perform at that level more consistently. I think we're getting better and better every week still."
If Gilliland can retain his team's higher end of performance, then he should be able to score major points in this first round. The 38 has been marred by streaky finishes this year, such as at Richmond where they were 17th. Gilliland has plenty of experience at each of these tracks, so if he stays clean he should move on in these Playoffs.
Christian Eckes
The lone driver in these Playoffs from Kyle Busch Motorsports is also the one without a Truck Series win. Christian Eckes has been close to a victory many times this year, but has struck out every time. Eckes believes that despite not winning, the 18 team shouldn't be counted out as title threats.
"Obviously, wins will make it easy," Eckes said." There are a couple race tracks in both rounds that I feel really good about, really the next round I feel good about all of them. Bristol and Vegas in this one. You can't really feel good about Talladega. I feel good about our chances to go and win. Three of them I've ran second to Kyle at and one of them I wrecked. I feel good about it. Obviously, we haven't won yet, but the Playoffs and the energy that provides might help us push across that line. We will see what happens, but I feel pretty good about it.
"Everything needs to be better. There's not necessarily really one group that needs to be better, just everything needs to be better. I feel like the Playoffs, and the energy of needing to be focused and needing to do all this stuff and working harder for the Playoffs will kind of help bring us into that area that we need to be in, so I'm just looking forward to getting to Bristol."
Eckes Going for Top Rookie
Not only is Eckes racing for the championship, he's also still racing for Rookie of the Year. His only competition now for this honor is Zane Smith. Despite this, Eckes said the championship is the main focus, and in order to be seen as a true threat the 18 needs to win. With the speed they've shown in 2020, a win could be just around the corner for Eckes.
Matt Crafton
The defending Truck Series champion finally broke his winless drought this year at Kansas. Since then, Matt Crafton and the ThorSport 88 have been hit-or-miss, with three top fives in six races. This 88 team has been the picture of consistency in years past. With Crafton's experience trumping the rest of the field, they should be seen as a title favorite. Crafton has certainly been here and done that before, and enters the Playoffs as confident as ever.
"Under this format, 'win and you're in' is the easy part," Crafton said. "The hard part is to maximize points, each and every week. Just not making mistakes is key, and that's what we did throughout the Playoffs last year. Yes, if you can win, that's first and foremost. But at the end of the day, you have to worry about getting every stage point and maximizing them. We're going to go out and try to win the race, but also try to maximize stage points and see where we can go from there.
"I can honestly say our only weakness is Talladega. It's the only place we have circled going 'oh boy just get us a win and maximize our points going here.' If we don't get a win, maybe we can lock ourselves in having enough stage points there. Talladega is just one of those places where you have no idea when and how it's going to bite you. It's been a thorn in my side too many times."
Crafton's strategy heading into these Playoffs is clearly to earn as many points as possible if not win. If the 88 can stay out of trouble, then Crafton should have little issue making his fourth Championship 4 appearance.
Ben Rhodes
Another ThorSport driver breaking a long winless streak, Ben Rhodes earned his victory of 2020 at Darlington. Outside of there, the 99 team has been one of the most consistent all year. Rhodes' only finish worse than 20th was Daytona in February, where he crashed out. He finished the regular season third in points, with 11 top-10s. After missing last year's Playoffs, Rhodes enters 2020's postseason with vengeance and courage.
"We're surfing a big wave right now," Rhodes said. "It comes from my team. They've been putting in a ton of hours and have been working really hard on developing some new things for our setups. That has led to more raw speed when we unload. This season has been especially hard for us, just with the new restrictions and no practices or testing. A young team like our's is stuck in a box, we show up and try to be consistent, but how can you be better? We have to keep improving, but still unload steady. We've hit on a few things though that have been working well for us and we're happy. We're going to take our Richmond truck to Phoenix, which I'm happy about, we just have to make the final four first."
Rhodes' average finish this year of 8.8 is second-best of Playoff drivers, trailing only Austin Hill. With the consistency the 99 has shown, advancing through the first round and fighting for a Championship 4 spot is a very real possibility. Rhodes was fast in Richmond, and was part of a ThorSport 1-2-3 finish there. This marked the first top-three sweep for a single team in Truck Series history. Expect Rhodes to be up front out of the gate at Bristol, as ThorSport is always strong on the half-mile.
Brett Moffitt
The highest-seeded driver without a win in 2020, Brett Moffitt has done everything but close it out in recent weeks. The 23 truck has been a recent fixture among the top five, typically going against a GMS teammate for the win. The 2018 champion knows he has the speed to make it to Phoenix, but can he get an elusive first win in one of the next races?
"If you look at last year and even the year before, I really never hit my stride until the summer months," Moffitt said. "I feel like that's because each year I've been with a new team and crew chief. It takes awhile to build the relationship and the communication to be successful. Having no practice this year certainly slowed that process down. I feel like over the past two months especially though, we've been a truck capable of winning week in and week out. I feel good about where we're at, it's great to start the Playoffs and kind of hit the reset button going forward."
Moffitt and the 23 team have been threats to win in each of the last six races. The 23 has a streak of eight top-10s in the last nine races as well. Barring any colossal meltdown, the 23 team should be safe to move on from this first round. Moffitt opened last year's Playoffs with two wins, including one at Bristol. On Thursday night the 23 will be one to watch out for.
Grant Enfinger
Though he did not get the regular season championship this year, Grant Enfinger does have three wins entering the Playoffs. Two of those victories book-ended the regular season at Daytona and Richmond. The 98 has been as strong as ever, leading the ThorSport charge many weeks. Enfinger only has one finish worse than 13th since June, only adding onto his consistency. Although Enfinger won the regular season title a year ago, he enters the Playoffs this time feeling even better with his wins.
"We've definitely had some highs and lows this year," Enfinger said. "It seems like the last couple years, we would just be super consistent, backing into a top five. But this year, it's like us missing it results in a 12th or 14th. This year has changed a lot of different aspects, so we're not having a chance to fine tune on things in practice. We were also locked into the Playoffs way back in February, that gave us an opportunity to try some things and be aggressive with setups and calls. I feel like that's part of the reason why we've been a little less consistent this year, partly why we're lacking in Stage points. We haven't had to get them, obviously we want them, but our mindset going into Bristol is to go after the win."
The 98 team and Grant Enfinger have to be seen as favorites to make it to Phoenix and maybe even for the title. These Playoffs are shaping up to be a showdown between ThorSport and GMS, who can come out on top?
Austin Hill
The regular season champion, Austin Hill and the Hattori Racing 16 are in the Playoffs for the second-straight year. With only one win though, Hill's regular season was defined by consistency. He leads all Truck Series Playoff drivers with 14 top-10s. Hill knows how important staying consistent will be in this seven-race battle.
Most Consistent in 2020
"You are going into these race tracks where anything can happen," Hill said. "Bristol is one of those race tracks, if you put yourself in a predicament, you can end up in a wreck very easily. Then you look at a place like Talladega or Martinsville, and it's one of those race tracks – especially Talladega – where you can be doing everything right, leading the race and end up in a wreck somehow.
"We just have to do our thing – what we've been doing all season, which is be aggressive on restarts, be aggressive throughout the race to try to get stage points and try to keep that clean air. That's been the biggest success for us, just being up front, each and every week and not losing spots during the race and on restarts, trying to stay consistent with all of that. Just keep doing our thing.
"Scott (Zipadelli, crew chief) and everybody at HRE (Hattori Racing Enterprises) has been doing a good job at being really consistent on where the truck is when we unload, when we get to these race tracks. The setups and everything have been really close. We've had to work on it a few times throughout the season to make it a little bit better, but it's been good. We've been strong all season, and we just have to keep it up."
Austin Hill has been the benchmark for consistent racing this year, with only two races outside of the top-10. The 16 team must retain this level of performance to make it past the opening round, but may have to win to lock into Phoenix. Ever since their title in 2018, the Hattori team has been a yearly title threat, do not expect that to change.
Zane Smith
One breakout star in the Truck Series this season has been Zane Smith. Smith has earned his first two career wins, coming at Michigan and Dover. Nine top-10s has also delivered Smith the second seed to start the Playoffs. Smith is also still a rookie in this series, going against Christian Eckes for Rookie of the Year. As part of the GMS powerhouse team, Zane Smith expects to go far in his first postseason.
"I probably didn't expect to even make the Playoffs as a rookie," Smith said. "But I'm really not surprised at the same time with the speed we've had. I feel like my level of aggression fits the Truck Series really well. It's been working out for us so far.
"The tracks that are on the schedule for us-Bristol, Texas, Kansas-line up well for us. I've never been to Martinsville, but I think it'll be good to us. Phoenix is really good for me too, it's up there with Dover. Hopefully we can win soon and not have to be on the bubble."
Zane Smith and the 21 have been leading the way for GMS for much of 2020, expect them to come out swinging at Bristol. It's been five years since a rookie has won the Truck Series title, can Zane Smith break that streak and write history?
Sheldon Creed
Another driver who's taken the Truck Series by storm recently, Sheldon Creed has been fast everywhere. His first career win was a rain-shortened Kentucky race, with additional victories at the Daytona Road Course and Gateway. The 2 enters the Playoffs as the top seed, with 26 bonus points. As the man atop the standings, Creed is in new territory for the next few races.
"It's certainly pretty cool for our whole team to be leading the points," Creed said. "We have a long way to go though, the pressure is on for sure. At Bristol this weekend we just need to keep doing our job. I know we struggled last weekend, but we need to score as many points as possible this weekend. It's cool, but I put a lot of pressure on myself. I kind of expected this out of us, it feels good."
As the top seed, Sheldon Creed is playing with house money to an extent. His points cushion is far from comfortable, but he will likely be a contender in the closing laps Thursday night. The 2 has been wildly inconsistent outside of their wins too, so Creed needs to put together a status-quo race this week.
The Round of 10 for the 2020 Truck Series Playoffs kicks off Thursday night at Bristol. Coverage will be at 7:30 p.m. EST on FS1, PRN, and SiriusXM NASCAR Radio Channel 90. The championship battle begins at The World's Fastest Half Mile, who can lock up their spot into round two and be one step closer to the Gander Outdoors Truck Series title?
Written by Peter Stratta
Be sure to follow us on Twitter.
Be sure to follow the writer on Twitter.
Photo credit to NASCARMedia