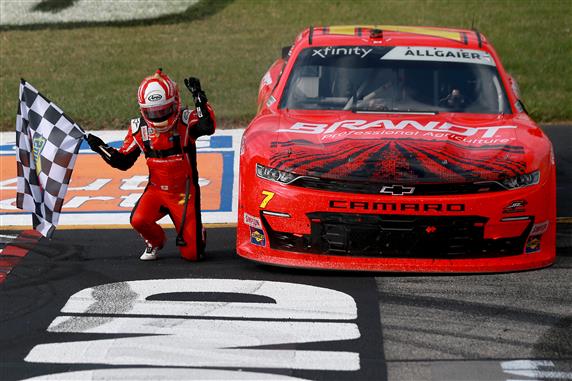 Justin Allgaier Dominates Richmond Races for Xfinity Doubleheader Sweep
Justin Allgaier used a dominant effort on Friday night and Saturday afternoon to sweep the Xfinity doubleheader at Richmond Raceway. Allgaier led 78 laps Friday and 135 circuits on Saturday en route to his second and third wins of 2020. With two wins just prior to the Playoffs, is the 7 team peaking at the right time?
Familiar Faces Finish Up Front in Stage 1
Ross Chastain started on the pole Friday night and led the first 38 laps before his Kaulig Racing teammate, Justin Haley, took over just before the competition caution. Brandon Jones, Harrison Burton, and a few others stayed out under the caution in order to save a set of tires.
On the first lap of the restart, Myatt Snider spun into the backstretch wall to bring out the second caution. Chastain got a little bit of damage after hitting the wall on the restart but it did not affect his performance.
Chase Briscoe got to the lead on the ensuing restart, but it was short-lived as Austin Cindric got by him for the lead. Cindric would hang on to win Stage 1 over Briscoe and Chastain.
Contenders Show Up in Stage 2
Austin Cindric won the race off pit road and held the race lead for 45 laps until Justin Allgaier made his way to the front. Justin Haley had to pit twice to repair damage under the stage caution and had to start at the rear. However, he had an extremely fast car all night and worked his way all the way back to third by Stage end. Allgaier claimed his ninth Stage win of the season.
Allgaier and Haley Battle to the Finish
Justin Allgaier held the lead off pit road but it was short-lived as Justin Haley took the lead with 77 laps to go. Allgaier sat back and saved his tires for about 30 laps before going after Haley. After battling for about 10 laps, Allgaier finally got around Haley for the lead and ultimately the win. Haley held on for second while Kyle Busch finished third in his final Xfinity start of the season. Amazingly, Busch failed to lead a single lap after starting 29th.
Friday's Top Two Waste No Time Early in Race Two
Tommy Joe Martins started on the pole with the starting lineup being an inversion of Friday night's top 15. Three lead changes took place before lap 30 as Brandon Jones, Chase Briscoe, and Noah Gragson all had the lead early on. Gragson led at the lap 40 competition caution but Justin Allgaier and Justin Haley were both not far behind. Allgaier took the lead on the restart and held it the rest of the way to pick up another Stage win.
Late Caution Shakes Things Up in Stage 2
Justin Allgaier spun his tires at the beginning of Stage 2, allowing Ross Chastain to make a three-wide move and take the lead. Allgaier decided to ride around behind Chastain and save his tires. Once he was let loose, he tracked down Chastain and took the lead with 23 to go in the Stage.
Colby Howard hit the wall 13 laps later to bring out the caution. The majority of cars came down pit road for tires, but Allgaier and Noah Gragson stayed out. Chastain, Justin Haley, and others easily passed the two leaders. Chastain would go on to claim his second Stage win of the season.
Allgaier Cruises on Fresh Tires to Take Command
Justin Allgaier restarted 11th but it took only 14 laps for him to take the lead from Jeb Burton. Allgaier checked out from there and built a seven-second lead with 22 to go. That's when Riley Herbst came down on Brandon Brown and forced Herbst into the wall, bringing out the caution. Thanks to his big lead, Allgaier would easily win the race off pit road. He then cleared Jeb Burton on the restart with 13 to go. Allgaier would steadily pull away to complete a sweep of the doubleheader. Burton held off Ross Chastain to finish second. Austin Cindric also clinched the regular-season title with a 10th place finish.
What's Next for Xfinity?
The regular-season finale for the Xfinity Series will take place at The Last Great Colosseum. Noah Gragson won his second race of 2020 at Bristol back in June, but has not visited victory lane since. Coverage of the Food City 300 at Bristol Motor Speedway will be Friday, September 18 at 7:00 p.m. EST on NBCSN, PRN, and SiriusXM NASCAR Radio Channel 90. Can hold Brandon Brown hold onto the final Playoff spot or will a surprise winner jump into contention?
Written by Nicholas Sterling
Be sure to follow the writer on Twitter.
Photo credit to NASCARMedia