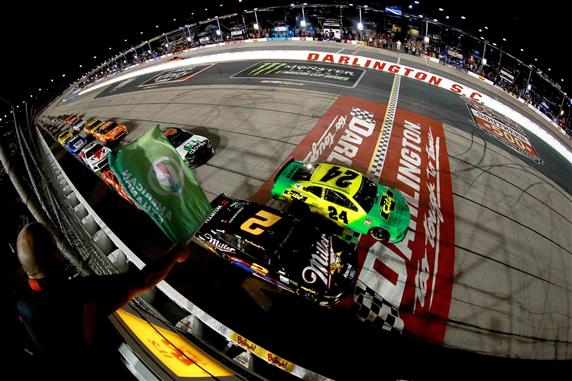 Drivers Preview their Chances in the 2020 NASCAR Cup Series Playoffs
The 2020 Playoffs are upon us for the NASCAR Cup Series. After perhaps the most unconventional regular season to date amidst COVID-19, 16 drivers are in after 26 races. It is evident that many different mindsets will converge this Sunday at Darlington. Who can take it to the title favorites of Harvick and Hamlin? Let's take a look at each of the 16 Playoff contenders and analyze their chances over the next 10 weeks.
Matt DiBenedetto
The last man in the 2020 Playoffs is also making his first postseason appearance. After beating Jimmie Johnson by six points in Daytona, Matt DiBenedetto secured the final spot in the title hunt. With the points reset, the 21 team is now 16th in the standings at 2000 points. With zero bonus points, just getting out of round one will be a challenge for DiBenedetto. His recent struggles are also going against him in his quest to make the next round.
Strong Start Leads to Summer Slide for 21
"To summarize our season, we started the year and we had fast cars but we didn't execute well," DiBenedetto said. "We had a lot to work on. We were a new group working together so we didn't maximize our races. It is frustrating if you don't maximize what you have to make the best of your day. But we got to work communicating and figuring out what we needed to do.
During 2020 it is crazy times, but we really worked on communicating. In the mid stretch we got to the point we were running up front weekly and we got stage points like eight stages in a row. We were running top-five and top-10 and right up front. That was great. Then we got into a bit of a slump where not all of them were execution. We went to Texas and we were running fourth and got wiped out by a lapped car. That hurt us really bad points-wise. At Kansas we got our car really good and thought we could run top-five or top-10 at worst but got wiped out on the restart. Bristol we got wiped out from a crash. Then we went to Dover and just flat out struggled."
DiBenedetto Optimistic About Upcoming Tracks
"Some of the circumstances were just not really great luck. Some of the things we can improve on as a team. Now, we are in the playoffs thank goodness and have a lot of race tracks that are big strengths for us. We are prepared as a team to go out and execute."
Making the Playoffs alone is a big win for DiBenedetto. 2020 has been a career year for the driver out of Grass Valley, California regardless. DiBenedetto has tied his career record for top-10s, has an average finish of 15th, and will best his highest finish in points. While he is starting behind everyone else in the Playoffs, the 21 could make up spots by attrition or by finishing Stages and races up front. The 21 does have an uphill battle ahead, but with three strong results in the first round could advance onward.
Kurt Busch
The 2004 Series Champion has had an uncharacteristic year to date. Through the first 26 races, Kurt Busch has four top-fives, 14 top-10s, and an average finish of 13.4. 2020 marks the first time in seven years where Kurt Busch failed to win a race in the regular season. However, Kurt remains confident in his team despite the lone bonus point.
"I think we're in a good spot," said Busch. "We're in that underdog-type position. But with the tracks that are coming up with Darlington and Richmond and Bristol, those are all my favorites. And the team has run really well at those tracks. And so we just have to go execute as a team and not get too far ahead of ourselves. That's really what we've got to do these first few races to get to the next round."
As one of the most experienced drivers in this year's Playoffs, Kurt Busch's consistency (or lack thereof) in this opening round will determine his fate. The Ganassi 1 car finished third and 15th in both Darlington races in May. To gain points on the cut line, Busch must have a strong result on Sunday and gain Stage points.
Kyle Busch
'It's still 2020,' has been the mantra of Kyle Busch's season. The defending series champion has yet to win this year. As a result, he only has three bonus points putting him at the 14th seed. Kyle's lack of wins has not been a reflection on his team's execution, but rather a series of bad luck. The 18 Toyota has been in position to win many times this year, but has always come up short. Despite this, Busch still has a path forward in these Playoffs, and the lack of a win does not deter him.
"Think about it," Busch explained. "It's a 16-year investment that we've placed on that being able to win a race in 16 consecutive seasons so hopefully we can keep that going and get it to 17 and then to 18 or however many that I'm here. It would be nice if I'm able to keep winning races all the way through my career each and every single year that I'm out there."
2020 Has Not Been Year of the 18
"This year has just not lent itself to our favor so far, but the Playoffs start now and we're still in this thing. We've got an opportunity to go out here, obviously being on the bottom side of the spectrum rather than the top side of the spectrum during the Playoffs so it's going to be a different Playoff for us than what we're used to. Looking forward to the challenge and if we can win it this year then there's no reason why any year we should ever not have an opportunity to win it."
2020 has without a doubt been a trying year for the defending series champion. However, Kyle's not known for winning multiple races throughout any Playoff run, but rather coming in clutch for the title. The 18 is at jeopardy of having their first ever winless season, as Busch enters Darlington below the cut line. Busch's struggles and a potential turnaround will be a big story to watch throughout these Playoffs.
Clint Bowyer
Clinching a Playoff spot after Stage 1 in Daytona, Clint Bowyer enters the 2020 postseason rejuvenated and confident. The Stewart-Haas 14 team has strung together spurts of consistency, including at Darlington. In the second May race, Bowyer swept both Stages before finishing 22nd. Bowyer must do better though to gain on the cut line though, and he knows the pressure is on now.
"I'm gonna postpone that pressure until I get in that car Sunday night," Bowyer said. "I'm just gonna wait for then, I'm not gonna go ahead and feel pressure right now. I will feel the pressure. That's just the way it is. I can tell you this, there's nothing that lasts longer than a bad run. I'm mad about it. You ask my wife, she'll say, 'God, will you please get back to the racetrack and try to fix whatever this is' because you come home as a racecar driver and you are super-pissed and not much fun to be around for a couple days after a bad run."
Bowyer has looked like a contender at times this season, while in other races the 14 is way off. Bowyer's gap to the cut line is only a single point, but he cannot afford any setbacks. The 14 team has to come out to Darlington and perform well, as they try to break into the top 12.
Aric Almirola
On the heels of a contract extension, Aric Almirola enters the Playoffs confident. Earlier this season, the SHR 10 car had a streak of nine-straight top-10s. A top-10 in each of the three races of the first round should be enough to move on. Almirola is used to having to perform in these Playoffs. Two years ago, the 10 team made the Round of 8. Almirola was contending for a Championship 4 spot until the checkers fell in Phoenix. Almirola is confident that his amazing streak from the summer months this year can be replicated.
"At the end of the day you have to perform," Almirola explained. "Me joining Stewart-Haas Racing and performing at the level that I have over the last three years has turned me into a consistent playoff contender. My first year there in 2018 going really deep into the rounds of the playoffs and ultimately finishing fifth in the points was reinvigorating for me and my career, absolutely."
Almirola's Past Playoff Push a Plus
"In 2018 I had a lot of confidence and it was kind of nice because there was very low expectations for us. We were a new team. It was my first year at Stewart-Haas Racing and nobody really paid any attention to us at all. Having that confidence and low expectations we performed really well. Through the summer leading up to those Playoffs that year I saw the potential that we had. We went really far in the Playoffs and almost made it to Homestead, came up just a little bit short, but we finished fifth in the points, which was an incredible year for me professionally and personally.
Then going through this year I feel like we are performing at a higher level than 2018 when I had that much confidence going into the Playoffs. I am looking forward to the Playoffs. I feel like we have the potential. We've been all around it, we just haven't put it all together to win races, but we've been so close. We've led a lot of laps, and run top five a lot. When you do those things, typically you'll find yourself in victory lane, so maybe the Good Lord is just making me be patient and wait for the Playoffs to come."
Many drivers pinned Almirola as an underdog to watch out for in these Playoffs. With his confidence, the 10's speed, and others taking notice, the 10 could spoil some Playoff brackets.
Cole Custer
The lone rookie in the 2020 Playoffs, Cole Custer is merely thankful to be in contention off of his upset Kentucky win. Being part of such a highly-touted rookie class, Custer is also grateful to have clinched Rookie of the Year 10 weeks early.
"I think we can go in there and prove some people wrong," Custer proclaimed. "But at the end of the day it's about being consistent and it's about being competitive. I think we've had a lot of peaks and valleys at times this year, but at the same time we just need to try and level it out more going into these Playoffs. If we can be consistent and we put all the pieces together for these last 10 races, I think we've shown that we can compete with anybody. It's just trying to put those pieces together every single race."
As a rookie, Custer's expectations should not be overstated. However, he has the best driver of the year as a teammate and mentor in Kevin Harvick. Making the Playoffs alone is a victory for the 41 team. If they advance out of the Round of 16 then it will simply be Custer playing with house money.
Austin Dillon
Making his fourth Playoff appearance in 2020 thanks to his Texas win, Austin Dillon hopes to make an impact. Dillon's Texas win came as a result of Richard Childress Racing's 'War Room' helping the 3 team make the winning call. Dillon believes that having this center at the team's campus back in Welcome, North Carolina is an advantage over his Playoff competitors.
"I think Justin (Alexander) truthfully makes the call and I would give him credit for the win at Texas," Dillon said. "I think the what the the War Room has done has just give us another option and more of an eye in the sky to relay more information that Justin might not be able to process fast enough. The ability to process information faster is key to success and those guys in the War Room can be focused on other information that Justin can't see so they can relay that to him and him trusting him is another part of that."
Data-Driven Strategy Moving Forward
"I do feel like at Texas myself and him kind of made the call and then with help from our data showing that this was available and it's the smartest route to go as far as keeping track position. It was it was the right decision to make so we'll definitely use our War Room and our strategy tools to help us gain as many points as possible and hopefully put us in a situation where we can win again."
Dillon is at a precarious spot in points. The 3 currently sits 10th in points, tied for the last spot in the top 12. As a result of the cut line being so tight, Dillon must come out of the gates on the offense at Darlington. Going down a lap early or not scoring Stage points could put the 3 in a deep hole going forward.
William Byron
The most recent winner in the NASCAR Cup Series, William Byron's big Daytona victory propelled him to his second postseason appearance. With a second year in the Playoffs, Byron and the 24 team have higher goals.
"For us I think now that having that first win of the season, first for me, for this team, we're now more focused on just executing the details of each race. Obviously our goal this year was to make it further than we did last year in the Playoffs which was the Round of 12.
If we can make it to the Round of 8, this year would be a success for sure. We just have to take it one race at a time. A lot of these tracks are good for us, I think probably the first round is our weakest tracks. We just have to try to focus on that, try to compete in every race, and try to get out of this first round with good runs. Richmond is definitely our worst track, so we'll have to really focus there to have a strong run."
As Byron stated, the Round of 8 is the 24's goal for the 2020 Playoffs. This goal is lofty, but not impossible. Byron just needs to have three solid results to start, despite racing at his worst track in Richmond.
Alex Bowman
Of the 16 Playoff drivers, Alex Bowman is one of three who locked up his spot prior to the COVID-19 pause. After his win at Auto Club way back in March, the 88 team knew they would run for the championship. Since the return however, it's been very mixed results for Bowman. In the first race back at Darlington the 88 was second, but failed to score another top-five until Dover a few weeks ago. Bowman addressed his team's up-and-down results and knows what he needs to do to survive the first round.
"The summer was pretty rough on us," Bowman bluntly stated. "We started the season really strong. Coming back from the break, we were still really strong and it fell off really hard for the summer. Trying to identify why that happened, what we did wrong and getting better over the last couple of weeks, especially. So, I think we're in a good place going into the Playoffs."
Bowman Optimistic for Darlington Return
"Darlington, for us, we were really fast there the first two races this year. The first race we finished second. The second race we had a way better racecar. I started racing my competitors instead of the race track and hit the fence, so that's on me to not do this time. But I think we can be really strong and have a really good day. I think each and every week during the Playoffs we're going to be really good, but Darlington is one that we had circled that we can be really strong at, for sure."
While Bowman has not had much results-wise throughout the summer, there is still hope for the 88. In the second Dover race two weeks ago, Bowman was one of three Hendrick cars to finish in the top-five. After a seventh-place run in Daytona, Bowman hopes to make it three-straight top-10s in Darlington. The 88 was one of the strongest cars there in both May races, so keep an eye on him.
As for the rest of the Playoffs, Bowman has proven himself capable of being a dark horse contender. With their points position, the 88 team should challenge for a Round of 12 spot and possibly even more. Bowman just needs to reverse his recent inconsistency and return to his early-season form.
Ryan Blaney
For the fourth-straight year, Ryan Blaney made it three Penske cars the Playoffs. Like past seasons though, Blaney scored only a lone win in the regular season, and is thus at a bonus points disadvantage. The inability of the 12 team to win on a regular basis has stymied Blaney from being a true title contender in years past. Despite starting this year off strong, Blaney thinks a lack of bonus points will hinder them again.
"Obviously, we'd like to have some more wins in the regular season," Blaney said. "That's what's kind of hurt us in the last few years in the Playoffs and throughout the rounds. We made it to the round of eight a couple of times, but just don't have Playoff points.
You've got to win pretty much and you have these years to where every year it seems like there are a couple guys that have tons of wins in the regular season and they have massive bonus points and that really pays off when you get in the round of eight and makes it hard for those guys who don't have them like we don't. But I feel like our team has had more capability this year to win more races and be more competitive, it's just a shame it hasn't happened. Some of that was our doing and some of that you can't control, but our whole group feels really good."
Blaney Versus Title Favorites
"I think our cars are pretty decent right now. You obviously have the 4 and the 11 who are really strong. Everyone is gonna be strong in the Playoffs, so you really have to be on top of your game, but I like our momentum. It's just a matter of putting races together and taking them one race at a time. I think this team can do that, but it's gonna be important for us to win in the rounds. That's what it's gonna take for us, I feel like, to advance or have really, really good point days, but I feel really good about this team.
Todd Gordon and I worked well together this year, it's just a matter of, like I said, keep building with each other and not making any mistakes, not having any blowups in the rounds. You can't really have a mulligan. I'm not saying we're in the worst position. There are guys in worse positions than us, but we're not in the best position, so we just have to have a solid 10 races."
The 12 team had incredible speed to start off the year, but lacked in closing out races. If Blaney is to truly contend for the 2020 championship, the 12 needs to clean up their mistakes and fully capitalize on strong runs.
Martin Truex, Jr.
Perhaps the biggest underdog threat to the title this year is 2017 champion Martin Truex, Jr. Despite only one regular season win, the 19 has quietly been one of the most consistent teams recently. Truex is riding a streak of eight-straight top-fives. The 19 Toyota has been close in many of those races, but lacked just a little speed or performance. Truex referenced his lack of wins and said it's been small things keeping him from victory lane.
"There's been different things here and there," Truex said. "I think at times, we have not been the best car, and at times, we have been. It's really not just been one thing. I think it's a combination of things. We've had a few races where the strategy has got mixed up a little bit, and we lost control of the race. In a few races, I felt like we probably should have won, but I feel like in general, other than two or three races, we have optimized what we had and ran second or third."
With only the lone win, Truex is at a disadvantage in bonus points. However, he realizes that consistency will still deliver him to the Championship finale in Phoenix.
"I think the first couple rounds you just don't want to beat yourself. Obviously, as the field narrows down, the cars get stronger and things become more difficult. It's harder to gain points as you widdle down the field as the stronger guys rise. Granted if we are still one of them, it's hard to gain."
Truex Has Been Here
"We've been in position before. In 2015, we made the Final Four without winning a race. We did it with consistency. We didn't have a lot of Playoff points. We've been on the other side of it. We've had the most and didn't even need them. That's what I look at – the years that we were strong, and we were consistent, and we had a lot of Playoff points. We didn't even have to use them. That's what gives me confidence. Hopefully, we can repeat that and not need them, but you never know. Certainly, I would feel better to have them because it gives you that thought of 'hey, we can have a mulligan here or there. If something crazy happens, we can get through it.' Not having that, it's tougher to deal with for sure. No question about it."
Truex enters these Playoffs as a true title contender. The New Jersey driver has made the Championship 4 in four of the last five years, with great postseason execution and performance. Do not be surprised to see the 19 win again in the coming weeks, as we approach some of his best tracks.
Chase Elliott
For the fifth-straight year, Chase Elliott has made the Playoffs. After convincing wins at Charlotte and the Daytona Road Course, the 9 feels as confident as ever to make a deep run. Much like Bowman though, Elliott started 2020 off strong but has faltered throughout the summer.
"I feel like we've had some really good runs at the beginning of the year and then got into a little bit of a dip there over the last couple of months," Elliott said. "Then I thought Dover we were back competitive again. So, I think for me, I just look at a little bit of the inconsistency. I think we need to be more consistent across the board. I'm encouraged by the fact that when I feel like we have things going, we can compete for wins at a lot of different style race tracks, which is awesome. So that definitely give me confidence."
Elliott Exuberant for Upcoming Races
"But this deal is all about what has happened lately, what your performance has been up to this date, and what you have ahead to try to improve on and how much you need to improve. So right now, I'm just thinking about having had a good run at Dover. I had a fast car, and that was a style race track that I felt like is more of the direction of a 1.5-miles. So, I look at that and I'm encouraged. And I have confidence, like I said, that when things are good, I think we can compete with whomever. So, I think from that side, it's a good thing."
A confident Chase Elliott could be dangerous in this year's Playoffs, as the schedule lines up nicely for the 9. Elliott has to have races such as Bristol, the Charlotte Roval and Martinsville circled on his calendar. More now than ever, Elliott believes he can make the Championship 4. If the 9 retains consistency, then the Hendrick team may just sneak into the finale.
Joey Logano
The second Penske car in the 2020 Playoffs is the 22 of Joey Logano. While Logano did score two wins, they both came before the season's pause. As a result, the 22 comes into this year's Playoffs going over five months since their last win. However, recent weeks have seen the 22 migrate closer to the front. Logano has seven top-10s in the last nine races, and also swept the Stages in Daytona.
"We just need to continue the confidence and consistency we've had over the last few weeks," Logano said. "If you take Daytona out, we've been able to string together quite a few top-10 finishes and put ourselves in position to possibly win with some things going our way. So no need to come off of that. We need to continue to slowly build and become stronger as a team."
Logano Faces Up his Competition
"You're not gonna find one thing that's gonna be a light switch that's gonna put us all the way to where the 4 and the 11 are, but we're not far off. We're two or three little things away from that and this year is just reminding me of 2018, which was a great season for me. We had some growing pains and some things we had to learn throughout the regular season and we slowly built the speed back up for the Playoffs. Next thing you know, we won two of the most important races and we won the championship.
It just had that feeling to me throughout the regular season. So I feel like for those reasons I'm as confident as anybody rolling into this thing in our race team and myself because we've been here before. We've done this before, so we're ready to rock."
Logano enters the 2020 Playoffs as confident as ever to take the championship. The 22 team is a contender year in and year out, and with their recent top-10 streak expect Logano to advance easily. In his first year teamed with crew chief Paul Wolfe, the 22 has to be seen as a threat for the Championship 4 in Phoenix.
Brad Keselowski
The last Penske team in the Playoffs, Brad Keselowski enters determined as ever for the title. Similar to Truex, Keselowski is methodically putting together one of his statistically-best seasons. Keselowski believes that like in 2014 and 2015, he has a team that can steal the championship from the favorites. Keselowski's motivation to get a second title is nearly second-to-none, as he looks to cement his legacy in the sport.
"First off, I don't like to suck, so that's one thing that drives me," Keselowski said. "If you're gonna do something, do it well and winning races and going for a championship, in my opinion, is doing something well. So that drives me because I don't want to embarrass myself. But beyond that, building a team, seeing them come together, being a part of it and the camaraderie, that's pretty darn cool. I like to see other people come together and I like to be a part of it, so there's a lot of things that drive me and those are probably the two biggest — not the only ones."
Don't Count Out the 2
"I think in a lot of ways I've been blessed as much as many of us have to be here at this time and point in my life, in my career, in the history of the world. We have the opportunities we have, so why not make the most of them? I met with my team yesterday in a socially-distanced gathering and I told them at the end of this 10 weeks someone will be holding the championship trophy. Why not us? I still feel that way and that's my approach. Why not us? We can do it just as well as anybody and I'm ready for that challenge. I want to do it as a team and I think that's exactly what we're gonna do."
With the regular season domination from Harvick and Hamlin, Keselowski's 'Why not us?' mentality may be just what he needs to make a deep Playoff run. Keselowski enters the 2020 Playoffs as the third seed, with three regular season wins. Aside from a catastrophic issue, the 2 should be safe for this first round. Keselowski has to be seen as perhaps the third-best driver so far this year, so expect him to battle for a ticket to Phoenix.
Denny Hamlin
Seen as a co-favorite for the 2020 title, Denny Hamlin comes into the Playoffs as motivated as ever. After an amazing run in last year's 10-week fight, a piece of tape on Hamlin's grill is what kept him from the 2019 title. This year, the 11 team only seems better. Aside from the six wins, Hamlin has 15 top-fives through 26 races, including five second-place finishes. The 11 of last year had a few speed bumps, while this year's team has become wildly more consistent. Hamlin knows what it's like to enter the Playoffs as a title favorite, and how to manage these 10 weeks. Hamlin is taking these Playoffs round-by-round and is excited for the next three races.
Hamlin's High Hopes for Round 1
"I want to see how we do in the first round," Hamlin said. "These are historically really good tracks for me. I think that I want to see our momentum continue. We're not going to race any differently, especially in the first round. I think that I'm going to be very aggressive. I'm going to try to get more wins. I just want to see who shows up from the competition standpoint that maybe people have slept on or maybe hasn't shown everything they had until the Playoffs started. I think there will be one or two guys that find a way to run significantly better than what they have shown during the regular season and we're going to have to step up our game accordingly to that."
With 47 bonus points, Hamlin dos not need to win in this first round, but expect him to. Between Darlington, Richmond and Bristol, Hamlin has eight victories. Hamlin seems to be in the prime of his career. He should be able to make Phoenix with ease barring any major issues. Can this finally be Hamlin's year?
Kevin Harvick
The regular season champion has been nothing short of excellent for 2020. Kevin Harvick's seven victories puts him within striking distance of a 10-win season, as his best is eight. With the number one seed, expect Harvick to all-but definitely cruise through each round and make his way to the Phoenix title fight. Harvick and the 4 team's secret to their continued success has been approaching the regular season as if it's Playoff racing.
"Four or five years ago we sat down as a team and really tried to figure out how we could Playoff race every week," Harvick said. "There's no switching gears from that mindset into a different mindset. I think that, for us, has worked very well because when we get to the Playoffs it's not how do we switch gears into Playoff mode, it's keep doing what you've been doing at that level in order to continue that going forward, so momentum comes in different waves."
Harvick's Seemingly Nonstop Momentum
"Obviously, we've been fortunate to have great momentum throughout the year and have been able to capitalize on the weeks when we've had great racecars and the weeks that we haven't we've made decent finishes out of what we've had. I think momentum is real, but it comes and goes. Starting the Playoffs — our theory is not that you change gears and try to do something different, it's you better be ready and already have been in that mode."
Can anything keep Harvick from Phoenix? It's not likely, as his bonus points cushion nearly totals a full race and will only grow. While Harvick making it to Phoenix may be a forgone conclusion, his performance at Phoenix will be another story. While Harvick does have nine wins there, none have come since 2018. It will certainly be a great 10-week battle between Harvick and Hamlin. These two have certainly separated themselves as the title favorites for now.
Race one of the NASCAR Cup Series 2020 Playoffs will be this Sunday from Darlington. Who will punch their ticket to the Round of 12 by beating The Track Too Tough to Tame? Who will join Harvick and Hamlin as the ones to beat? Be sure to not miss a lap of action on NBCSN as the Playoffs start.
Written by Peter Stratta
Be sure to follow us on Twitter.
Be sure to follow the writer on Twitter.
Photo credit to NASCARMedia