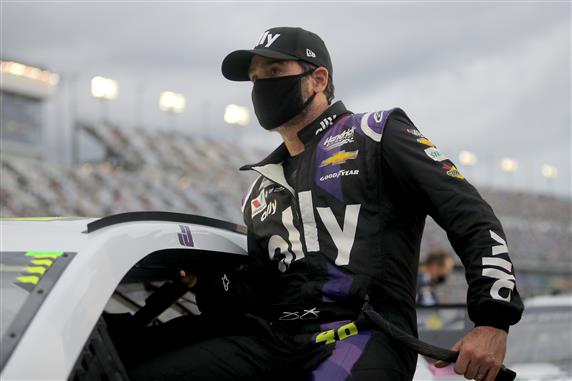 Jimmie Johnson's Championship Hopes are Over, But Winning is Top Priority
Jimmie Johnson's Playoff hopes came to a screeching halt in last Sunday's Cup Series race at Daytona. With just a few laps remaining, the 7-time champion was collected in a crash. The team would salvage a 17th-place finish. But teammate William Byron winning and Matt DiBenedetto finishing 12th eliminated any chance at a postseason run for Johnson.
"I knew it was going to be an emotional few weeks going down the stretch," Jimmie said after his run at Daytona. "I'm definitely disappointed. But, we've been running well and I still know I can win a race. There are still races to win. After a couple of beers and a flight home, I'll get a good night's rest and try to shake it off tomorrow. Then, just focus on the next race."
Jimmie Johnson's New Focus is to Go Out With a Trophy
That next race Johnson is talking about is none other than the Southern 500 at Darlington Raceway. Johnson has scored three victories at the track "Too Tough To Tame" and his most recent finish is eighth. Now as the team no longer has a championship on the line, Johnson feels they'll be strong enough to keep up the fight despite the disappointment.
"It's really this team," Johnson said. "If our DNA was different and if our bond was different, we would have started crumbling a couple of weeks ago when the pressure was really on. You can tell from our performances that it isn't the case. The accountability and belief we have in one another really carries the tempo and the mindset for the team. Guys were bummed out as I was getting out of my car, but we all know there are ten more races to try and win. That's what everyone's focus is, to send me out with a trophy."
Can Johnson end his career with one final win? Stranger things have happened, and some Playoff tracks are Jimmie's favorites. Be sure to watch out for the Ally No. 48 at tracks such as Bristol, the Charlotte Roval, Talladega, and Martinsville. It has seemed that nothing has gone to plan in Johnson's retirement tour. Tune in over the next 10 weeks to see if Johnson's legendary career can end with one more high point.
Where to Watch Jimmie's Next Race
Do you think Jimmie Johnson can find victory lane in the final 10 races? Round number one starts with the 71st Southern 500 at Darlington Raceway.Coverage begins Sunday, September 6 at 6 pm EST on NBCSN, MRN, and SiriusXM NASCAR Radio Channel 90.
Written by Noah Lewis
Be sure to follow us on Twitter.
Be sure to follow the writer on Twitter.
Photo credit to NASCARMedia.