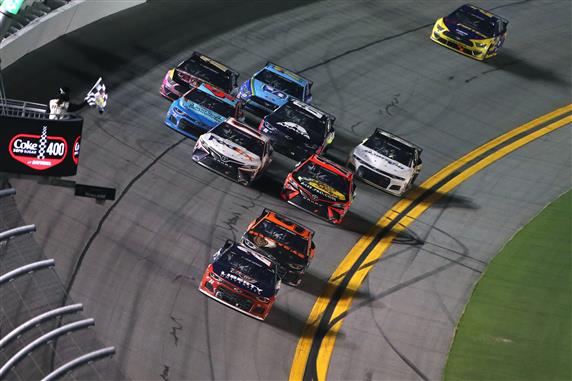 William Byron Earns First Career Win in Daytona Regular Season Finale
Coming into Saturday night at Daytona, three drivers were in the spotlight. Playoff bubble drivers Matt DiBenedetto, William Byron, and Jimmie Johnson were all gunning for the final two spots in the 16-man postseason. By scoring his first career win, William Byron earned his second-straight postseason appearance. While Byron was the big winner, the big loser was Jimmie Johnson. In his final season, the seven-time champion failed to make the Playoffs after a late crash.
Amazingly Calm-Yet-Pressure-Packed Opening Stages
To the surprise of many, the first 100 circuits of the Coke Zero Sugar 400 were ran without any on-track incident. However the race would be slowed three times for a competition caution, as well as both Stage breaks. Strategy was at a premium in these two runs, with manufacturer games at the extreme. Joey Logano would win both Stages, but William Byron, Erik Jones, Daniel Suarez and others spent time out front. After the first Stage break, Clint Bowyer would also clinch his spot in the Playoffs.
Chevrolet Contingent's Daring Play in Stage 2
After cycling to the head of the pack, Jimmie Johnson led all of the Chevrolets down pit road on lap 66. By pitting here, all of the Camaros would be good to go on fuel for the lap 100 end of Stage 2. Though they were initially at a major track position deficit, all of these Chevrolets ran single file and made up big time. This group was running over a second a lap faster than the front pack of Fords and Toyotas, as they both met late in the Stage. This daring call let the Chevrolets catch up with two laps remaining in Stage 2, and Jimmie Johnson got up to fifth at the Stage break.
Johnson was able to score a fifth place result in both Stages, thus netting 12 total points. Meanwhile, Byron got some points in Stage 1, while DiBenedetto also grabbed a few in Stage 2.
When the green flag fell for the final Stage, up front was a dogfight between Martin Truex, Jr. and Joey Logano. Johnson was among the top two, but on lap 119 Logano shoved the 48 out of line. This caused Johnson to fall back, but his race was not over. The Chevrolets were back on pit road for their final stops on lap 125, with the Toyotas in the next time by. The Fords elected to stay out, not coming in for fuel until lap 131.
First Incident Happens Late
Even with the intensity ratcheted up, this race flew by as the field took 20 to go still under green. The first caution for an on-track incident came with 17 circuits left, when the 51 of James Davison spun in turn three. This break allowed about half of the lead lap cars to pit, including both Johnson and Byron. Though they would restart back in the pack, the 24 and 48 had fresh tires and more cars to pass to gain valuable points.
The Big One Strikes, Bubble Drivers Escape Tragedy
The green flag would fall with just 13 laps to go, with teammates Kyle Busch and Denny Hamlin out front. Busch had led for much of the last run, as the 18 was still searching for his first win of 2020. Busch's day went awry with less than ten laps to go. Tyler Reddick got a big run on Busch going down the backstretch, and was almost clear for the lead going into turn three. However, the 8 car would clip the 18, sending them both into the wall. Also involved in this melee were Erik Jones, Kurt Busch, Ryan Newman, Ricky Stenhouse, Jr. and others. Kyle Busch later called this bold move by Reddick 'a slide job gone wrong.'
While this wreck took out many up front, somehow all three bubble drivers narrowly averted disaster. Under the ensuing red flag, DiBenedetto, Johnson and Byron ran ninth, 10th and 11th.
The Big One Part Two
With Hamlin and Reddick as the top two, the green flag fell again with just five laps to go. Hamlin would quickly clear the 8 with a big push from Logano, but it was chaos from there. With two laps to go, Hamlin, Logano, Byron and Bubba Wallace went four-wide for the lead in turn one. This would not last, and as a result the 43 made contact with the 22. Logano would get sent spinning, causing another massive crash. This time, the 48 of Johnson was not so lucky, as Matt Kenseth pounded his left side. Also involved in this crash were Reddick, Alex Bowman, Christopher Bell and others. This crash brought out another brief red flag for cleanup.
After a very valiant drive through both Stages, Jimmie Johnson's Playoff hopes were over. The 48 would limp home with heavy damage in 17th place, missing his final Playoffs by just six points.
Overtime Sets Up Opportunity for New Winner
The green flag came back out for NASCAR Overtime with Hamlin leading Byron. Although Hamlin was going for a season-sweep at Daytona, he would fail to hold the lead by turn one. Instead, William Byron surged to the front and was able to hold off all challengers. In his 98th career start, William Byron picked up his first career victory. Byron and the 24 team made their second-straight Playoffs via the win. The final spot on points would go to the 21 car of Matt DiBenedetto, who finished in 12th.
Right behind Byron at the checkers would be teammate Chase Elliott, earning his third top-five in the last four races. The top-five was rounded out by Denny Hamlin, Martin Truex, Jr. and Bubba Wallace.
The remainder of the top-10 were Ryan Blaney, Alex Bowman, Brendan Gaughan, Chris Buescher, and Brad Keselowski.
Byron's Winning Reaction
"It's been a hard couple of years in the Cup Series and trying to get my first win and gel with this team," Byron said. "These guys did an awesome job today, got us in the Playoffs and it's amazing.
"There was a point in that race that I didn't really think things were going to work out in our favor to make the Playoffs, really have an opportunity next week. This was kind of one of those do-or-die situations. Kind of crossed that fork in the road tonight. We were able to be aggressive and make it happen.
Really just the final probably 10 laps of the race I was on offense, trying to just win the race and take whatever run I could. Luckily was able to make the moves that I needed to. Got just enough daylight between the 22 and the 43 to kind of split that gap. I pushed the 43 really aggressively up, and he had done a great job to hold onto his car, get us to that place and position.
From there, the next restart got a great push from the 14. I was fortunate that things worked out to where I had the 9 with me on the last lap, was able to make it work.
Just incredible. Don't even know what to say really. It's a huge blessing."
First Win Thoughts
"The opportunities in the Cup Series to win races, it's hard. You just got to capitalize. It came together tonight. We capitalized.
It's the best series, really it's tough out there. You got to fight really hard. I've learned a lot, learned a lot about how to get to that next step. So hopefully we just keep it going.
(My first thought after taking the checkers was) the Playoffs. I guess just thinking about that. Honestly the first thought probably was just how excited I knew that my team was, how excited Tab was on the radio, how excited Chad was, how excited I was.
That feeling of coming off four, it's just a shot of adrenaline right into your arm, it really is. It's just an incredible feeling. I can't describe winning a race in NASCAR. It's been a while, so it just is an awesome feeling."
Byron Joins Very Exclusive Company
Byron is only the second driver in NASCAR history to wheel a No. 24 car to victory lane. Obviously the other winner was Hall of Famer Jeff Gordon, who earned all 93 of his wins in the 24. Gordon's first win came at the age of 22 years, nine months, and 25 days. Byron's age on the day of his first win was 22 years, nine months, and one day.
How to Watch the Next Race
After 26 races, the 16-man Playoff field is set. Race one of the ten week title fight will be the 71st annual Southern 500 from Darlington Raceway. Coverage will be Sunday, September 6 at 6 pm EST on NBCSN, MRN, and SiriusXM NASCAR Radio Channel 90. The Southern 500 Throwback weekend has become a fan-favorite, but this time it is even more important as race one of the Playoffs. Who will take down The Track Too Tough to Tame and win their way on to the Round of 12? Don't miss a lap of action as the championship battle starts now.
Written by Peter Stratta
Be sure to follow us on Twitter.
Be sure to follow the writer on Twitter.
Photo credit to NASCARMedia