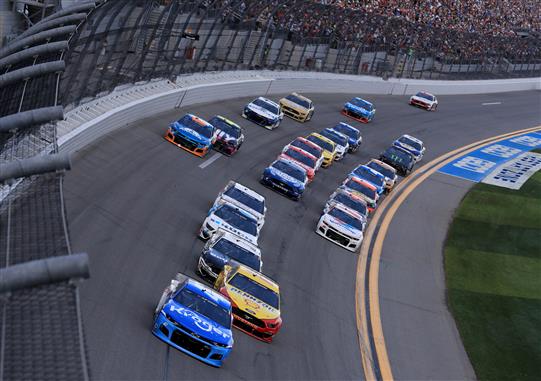 Who's in, Who's Out of the Playoffs Heading to the Regular Season Finale?
After 25 races in the most tumultuous and crazy season in recent memory, it all comes down to Daytona. The final three spots in the 16-man Cup Series Playoffs are up for grabs. Saturday night is sure to be as chaotic as any Daytona race. With the Playoff drama added, the Coke Zero Sugar 400 will be extra-wild. One driver is all-but safe, but it's an absolute dogfight at the bubble line. To make matters even more haywire, two teammates will likely race amongst themselves for the final spot. Let's take a look at the drivers gunning for these final Playoff spots, and preview their chances of advancing onto the title fight.
Clint Bowyer (+57)
At 57 points above the cut line, Clint Bowyer is likely safe in 14th in points. The Stewart-Haas Racing 14 team has not had the speed or execution of their teammates all year. However, Bowyer has strung together enough consistency to remain alive in the Playoff fight. Bowyer simply needs to score three points in Daytona to make his ninth showing in the Playoffs. Bowyer could lock up his spot in either Stage, or by finishing in the top 34. As stated above, Bowyer mostly controls his own destiny, so he is the one driver on this list sleeping easy this week. Bowyer would make it a clean sweep for Stewart-Haas in the Playoffs, joining teammates Kevin Harvick, Aric Almirola, and Cole Custer.
Matt DiBenedetto (+9)
The Wood Brothers Racing 21 car and Matt DiBenedetto have been on a summer slide. After a strong start to 2020 that saw seven-straight finishes of 11th or better, 'Matty D' has been giving up loads of points the past several races. In the last five races, DiBenedetto only has one top-10. With only a nine-point buffer, a crash could take the 21 and DiBenedetto out of contention. Both the 21 car and DiBenedetto have been historically strong at Daytona, but recent results are mixed. In the last three Daytona races, DiBenedetto has only one top-10. He did lead a race-high 49 laps in last year's Daytona 500, but exited after a late crash.
To make his first Playoffs, DiBenedetto must have a flawless race and score Stage points. Expect the Penske cars to team up to help their affiliate on Saturday night, but even then there is no guarantee. With their recent lackluster results, the 21 is in jeopardy of blowing it with any incident. DiBenedetto also does not currently have a contract for next year, his status in the 21 car could hinge on a postseason appearance.
William Byron (+4)
Last week's Dover doubleheader was both a huge loss and a big win for William Byron. Saturday's race saw the 24 multiple laps down for nearly the whole race, en route to a 28th-place finish. Sunday was a big turnaround, as Byron ran up front all day, scored Stage points, and finished fourth. Saturday's poor showing would see Byron lose the all-important 16th place in points, only for him to regain it Sunday. Coming into Daytona, Byron and Chad Knaus must be as aggressive as last Sunday. Similar to DiBenedetto, any early-race incident or crash will take the 24 out of the postseason conversation. Byron is at odds against teammate Jimmie Johnson, as they straddle the cut line.
Chad Knaus is also looking to keep alive a perfect-streak of Playoff showings. It will certainly be an interesting race for all of Hendrick Motorsports, as they try to get two cars into the Playoffs.
Jimmie Johnson (-4)
In his final full-time season, seven-time champion Jimmie Johnson tries to make his final Playoffs. Although the 48 has had a very up-and-down regular season, Johnson enters Daytona on the strength of three-straight top-10s. Johnson appears to have momentum over both DiBenedetto and Byron, but must still be the aggressor all race long. The 48 needs to be up front, ahead of the 21 and 24 for Stage points, and in position for a strong finish. Involvement in any 'Big One' would erase Jonson's postseason dreams. In the last 12 Daytona races, Johnson has crashed out of six of them. The 48 team of old has appeared to been reawakened these past few weeks, can this positive swing carry Jimmie Johnson to a record 16th Playoffs?
Erik Jones (-50)
2020 has been a season to forget for Erik Jones in the 20. Jones, now in a lame duck situation with Joe Gibbs Racing, hopes to rectify a dismal year with a third-straight postseason. While Jones is likely is a must-win scenario, he has done just that at Daytona. Erik Jones' first career win was this race in 2018, and he won the season-opening Busch Clash this year. Both of those races saw heavy attrition and many crashes though, so Jones is hoping for some more luck on Saturday.
Behind Jones, drivers including Tyler Reddick, Christopher Bell, Chris Buescher, and Bubba Wallace all must win their way into contention. Can Saturday night see a Hail Mary call from one of these drivers? Tune into NBC to see just how much Daytona shakes up the Playoff picture.
Written by Peter Stratta
Be sure to follow us on Twitter.
Be sure to follow the writer on Twitter.
Photo credit to NASCARMedia