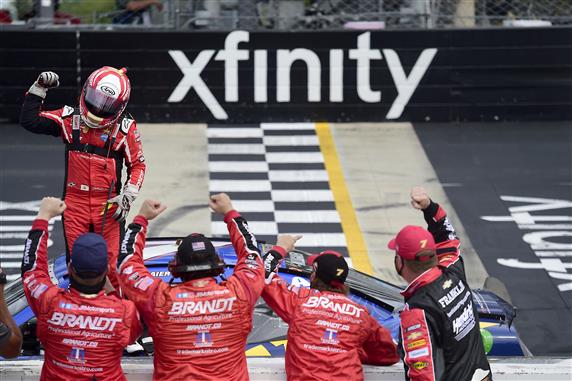 Justin Allgaier, Chase Briscoe Dominate in Dover Wins
Justin Allgaier finally got the monkey off his back with his first win of 2020 coming at Dover International Speedway. Allgaier worked his way to the lead midway through Stage 2 and controlled the race the rest of the way.
Chase Briscoe used a backup car to claim his sixth win of the season on Sunday. After winning five of the first 13 races this season, Briscoe had not won in his last seven starts. That streak is over as Briscoe led 107 of the 200 laps.
Austin Cindric Continues His Dominance Early in Race One
Thanks to a dominant win at the Daytona Road Course, Austin Cindric was able to start on the pole and he quickly checked out on the field. The clean air was enough to give Cindric a series-leading ninth Stage win. Unfortunately for Cindric, he would lose the race off pit road and relinquish the lead to Noah Gragson.
JR Motorsports Teammates Battle in Stage 2
Gragson led the field to green in Stage 2 but teammate Justin Allgaier took advantage of restarting of the outside to get by Austin Cindric for second. Gragson got out to a sizable lead before Allgaier tracked him down and passed him on lap 76. Moments later, Chase Briscoe got loose underneath Cindric and spun into the inside wall. Cindric was able to get back to second on the ensuing restart but could not get by Allgaier for the Stage win.
Allgaier Takes Down the Series' Hottest Driver
Justin Allgaier was forced to restart in the second row after Brandon Brown and Ryan Sieg stayed out under the Stage caution. However, Allgaier made a three-wide move to take the lead. Allgaier held off Cindric on two late restarts to claim his first victory since Phoenix last season.
Race One Contenders Waste No Time Getting to the Front in Race Two
With the invert of the top 15, race one winner Justin Allgaier was forced to start 15th. However himself, along with fellow top five finishers Ross Chastain and Noah Gragson wasted no time getting to the front.
A competition caution on lap 20 allowed the field to catch up to leader and polesitter Brett Moffitt. Chastain was easily able to work his way around Moffitt and win Stage 1 over Allgaier.
Chase Briscoe Goes from Last to First in Stage 2
Chase Briscoe had to start at the rear of the field because of a backup car. However, he wasted no time working his way to the front. A strong pit stop got him into the top five at the beginning of Stage 2. He then took advantage of a restart on lap 66 to get around Justin Allgaier for the lead and would go on to win Stage 2 over Allgaier and Chastain.
Caution-Free Final Stage Allows Briscoe to Check Out
Arguably Briscoe's biggest competitor, Justin Allgaier had a pit road penalty and had to drop to the rear of the field to begin the final stage. The first half of the closing Stage was fairly tame as Briscoe checked out on Ross Chastain and Austin Cindric. The cycle of green flag pit stops started with 38 laps to go, and a slow stop for Briscoe allowed Chastain to get by. Briscoe used lapped traffic to get right back by Chastain though. He would then pull away to get his first career Dover win. Ross Chastain and Austin Cindric had a pair of top-three finishes as Chastain finished third and second while Cindric finished second and third.
What's Next
The biggest wildcard of the season is up next for the Xfinity Series. Daytona International Speedway will be the host of the Wawa 250. Coverage begins Friday, August 28 at 7:30 pm EST on NBCSN. The pressure will be on for drivers outside the cut line as this could be their last chance to get a win in 2020.
Written by Nicholas Sterling
Be sure to follow us on Twitter. 
Be sure to follow the writer on Twitter.
Photo credit to NASCARMedia