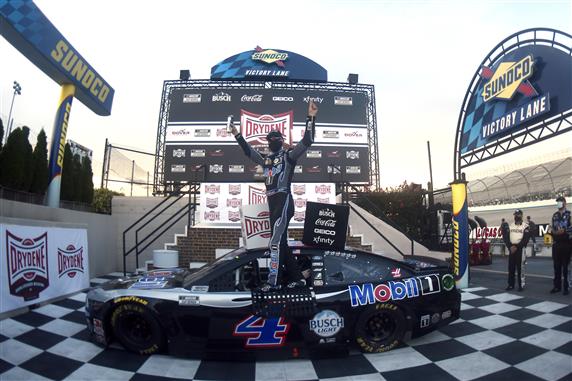 Denny Hamlin, Kevin Harvick Continue Amazing Seasons with a Win Apiece in Dover Doubleheader
Coming into the third doubleheader weekend of the year at Dover, many eyes were on the top two drivers of 2020. On Saturday, Denny Hamlin led 115 laps en route to his first career Dover win. The next day, Kevin Harvick laid down the gauntlet, as the 4 led 223 laps on his way to his third Dover victory. After this Monster Mile double, each of the best teams of the year have one more victory, and the Playoff bubble tightens heading into the regular season finale.
Denny Dominant On Saturday
As the first race of the Dover doubleheader, Saturday's Drydene 311 was relatively calm. Many drivers merely conserved their equipment in a mission to survive onto Sunday. Aside from the competition caution and Stage breaks, the only yellow flag fell when Kurt Busch spun early off the bumper of Erik Jones. This sent the No. 1 hard into the inside wall, and to a last-place finish.
Up front meanwhile, the day belonged to the 11 of Denny Hamlin. Hamlin took the lead for the first time on lap 59, and would hardly look back. Hamlin would go for max-points, sweeping both Stages as well. The final Stage would see Martin Truex, Jr. start up front, but even he could not hold off Hamlin. On the final cycle of green flag pit stops, Truex initially beat the 11 out, but Hamlin stalked him down. With nine laps left, Hamlin made the winning pass. The 11 would go on to win by one second over Truex. Kyle Busch also made it a Joe Gibbs Racing 1-2-3 sweep. For the first leg of the Dover doubleheader, the Toyotas looked as strong as ever.
Other strong performers on Saturday included Kevin Harvick and Chase Elliott, in fourth and fifth respectively. The rest of the top-10 were Clint Bowyer, Jimmie Johnson, Joey Logano, Brad Keselowski, and Ricky Stenhouse, Jr.
Bubble Driver's Playoff Hopes Take a Hit
While Denny Hamlin was the big winner on Saturday, by far the biggest loser was William Byron. The Axalta 24 spent much of the race at least one lap down, as they had an uncharacteristically off day. Byron would eventually finish in 28th, three laps behind the leaders. Frustration was very evident on radio communications between Byron and Chad Knaus. With this poor finish, Byron lost the 16th spot in points to Jimmie Johnson. Coming into Sunday, Johnson was in the Playoffs by three points.
Hamlin's Winning Reaction
After three second place finishes in the last four races, Denny Hamlin was happy to get max-points with the Stage-sweeping win. "I'm thinking about Playoff points to be honest with you," Hamlin said post-race. "Even though everyone would say, 'We're a lock,' it's not a lock. I've had such crazy s–t happen to me in these Playoffs during the course of my career, I don't want to take no chances. I just want to lock in all the Playoff points I can possibly get and get to Phoenix and give myself a shot. I just want an opportunity. That's all I can ask for. It's one race, winner take all. Hopefully we take our A-game and I'll be ready."
Hamlin also referenced how tough Dover has been for him in the past, as this was his first Monster Mile victory. "(Dover) hasn't been my best by any means. I got teammates that are probably the best in the business when it comes to this track. I just study them and try to replicate their style at this racetrack. Once I adapt, then I can give the feedback to tell them what to do with the car. I think my style of driving typically doesn't fit this type of racetrack. I have to adapt more to my teammates' style when I come here."
Harvick Sets Sail on Sunday
Coming into Sunday, many eyes were on Hamlin to see if he could pull off the Dover Doubleheader sweep. After the top-three sweep, his teammates Truex and Busch were also seen as favorites. Sunday's race would get chaotic right at the start, as multiple simultaneous incidents on lap six took out some contenders.
Up front, Ricky Stenhouse, Jr. spun after contact from Joey Logano exiting turn four. Right behind them, Kyle Busch slammed on the brakes, causing Chase Elliott to pound the 18's rear. Busch was also sent into the outside wall with some damage. In addition, two cars from Rick Ware Racing spun out trying to avoid the melee. Three separate altercations would negatively impact six driver's days on lap six. Elliott's nose damage would be too severe to continue, so it was an early exit for the 9.
The remainder of Stage 1 was relatively uneventful, with only one other caution for debris. Up front, Ryan Blaney took the lead and tried valiantly to hold off a hard-charging Harvick. Harvick hunted Blaney down and passed the 12 around the outside late to steal another Stage win. Not far behind the top two was William Byron, who used strategy to gain eight valuable Stage points. Also grabbing a few points from Stage 1 would be Jimmie Johnson in eighth.
The race would be halted for just over 12 minutes following Stage 1 for track repair. A chunk of concrete out of turn four was giving way, and it was repaved. After this brief pause, Stage 2 kicked off and Harvick blasted away.
Setback for Sentimental Favorite
Corey Lajoie spinning after contact from Ty Dillon would see the caution fly on lap 101. Under pit stops for this caution, Jimmie Johnson incurred a speeding penalty. This sent the 48 from a top-10 spot back to 30th for the restart. Once the green fell again, Johnson was a man on a mission. By the end of Stage 2, Johnson had raced all the way back up to ninth. The 48 showed speed not seen in a long time, and at his best-statistical track, many thought JJ could be in the mix late.
Up front in Stage 2 Harvick made it more of the same. The 4 would cruise to the Stage win by nearly eight seconds. With the Stage 2 win, Harvick clinched the 2020 Regular Season Championship. When the Playoffs start in two weeks, the 4 will have an additional 15 bonus points.
For much of the last 100 laps, it was still Harvick leading Hamlin and all others. However, a caution for Lajoie with 21 laps left would shake things up. When the leaders pitted under this yellow, Jimmie Johnson took a two-tire call to beat Harvick and others back on track. With just a handful of laps left, the 48 was leading at Dover. Johnson would lose out on the ensuing restart though, as Harvick had him cleared by turn four.
As the laps ticked away, Harvick and Truex were gone in the top two spots. Fighting hard in third though was Johnson, as teammate William Byron was breathing down his neck. Johnson would narrowly hold off Byron for the third position, but it was not enough. After the second race in the Dover doubleheader, Byron is 16th in the standings by four points over Johnson.
Other Strong Finishers From Dover
Making it three Hendrick cars in the top five, Alex Bowman ended a quiet day in fifth. Dover is Bowman's best finish since Kansas, and his first top-five since Darlington in May. Could Hendrick Motorsports be turning a corner in performance just in time for the Playoffs?
Joey Logano, Aric Almirola, Brad Keselowski, Austin Dillon, and Cole Custer would round out the top-10 from Dover. Almirola would be one of three to clinch a 2020 Playoff position on points, alongside both Kurt and Kyle Busch. Dillon also rebounded nicely in his first weekend back from a COVID-19 hiatus.
Harvick's Winning Reaction
Harvick's win in the second leg of the Dover doubleheader does carry some significance. It is Harvick's 56th career win in the Cup Series, which ties him with Kyle Busch for ninth-most wins. In addition, it is the 700th win for Ford as a manufacturer. Harvick's win also clinched up the Regular Season title a week early. With these milestones, Harvick was humble post race.
"It's an honor just to be up there on (the all-time wins) list, and as I've said before, I feel like it's definitely a huge responsibility to be up there and be around those guys," Harvick said. "Hopefully we can keep this thing rolling and make up some ground on the next gap. But it's been a lot of fun at Stewart-Haas Racing, and you're only as good as the race cars that you have, and it's been an honor to drive the racecars and be able to take those cars and have success with them and capitalize on winning like we did today.
Harvick on First Regular Season Title
"(The Regular Season title) is something that we've never done before, so any time you can do something for the first time is definitely fun to accomplish, and I think in this instance, it definitely pays dividends in the Playoff points. Look, that's really what you want to accomplish in the regular season is to gain as many Playoff points as you can. We've done that by winning races. We've done that in a number of different ways throughout the year of just trying to be consistent and make up days that things aren't going good and make finishes out of them. It's been a great 25 weeks, and hopefully we can have a good week in Daytona and see where it all falls after that.
Most Bonus Points Ever for Harvick
"The bonus points are really where it's added up and that's come purely by winning races, and winning those races on the days where we weren't capable of winning races, putting ourselves in position to grab some stage points, and ultimately in the end, winning the regular season championship is like winning three races. That added on with a bunch of race wins, they have definitely piled up, and hopefully we don't have to use them.
It would be nice to just win races and get ourselves through, but as we've seen in the past, these Playoffs can get pretty crazy. People can get on runs, and you can get in trouble in a heartbeat. We just have to go about our business and do the things that we've been doing and just see where it all falls in the end, and I can tell you that using our regular season to gather that many points is definitely something that we're happy to have to fall back on if we need it."
Playoff Picture Entering Daytona
Next week is the regular season finale, where the 16-man Playoff field will be set. Currently, three spots in the postseason are up for grabs. 14th in points, Clint Bowyer is +57 on the cut line, and only needs three points to lock up a spot. At 15th, Matt DiBenedetto's summer slide has him only nine points up. DiBenedetto must tread carefully all race long in Daytona, as a crash could take him out of contention. The last man in the Playoffs is William Byron, at four markers above elimination. Byron and Jimmie Johnson traded the 16th spot back and forth all weekend long in the Dover doubleheader. In Daytona, it could come down to the last lap for one of them. Behind Johnson, Erik Jones, Tyler Reddick, and all others are likely facing a must-win scenario to make the 2020 Playoffs.
How to Watch the Next Race
The Cup Series regular season finale will be live from Daytona International Speedway next Saturday night. Coverage will be on NBC, MRN, and SiriusXM NASCAR Radio Channel 90 at 7:30 pm EST. The Coke Zero Sugar 400 is many driver's last hope at a Playoff push, as anything can happen on the Superspeedway. Be sure to not miss a lap of action, as the Playoff bubble will be a huge factor.
Written by Peter Stratta
Be sure to follow us on Twitter.
Be sure to follow the writer on Twitter.
Photo credit to NASCARMedia