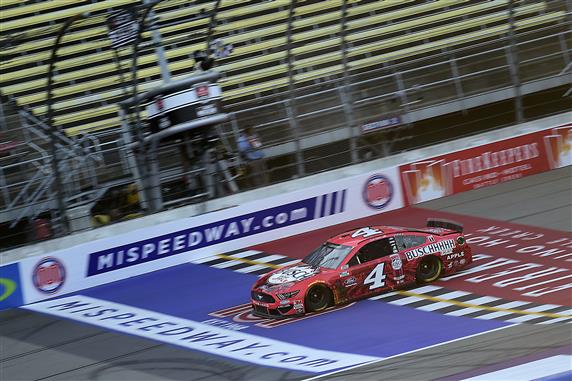 Kevin Harvick is "The Chosen One" In Michigan's First Race of the Weekend
Kevin Harvick has shown speed nothing less than exceptional in 2020. Saturday's first of two races at Michigan International Speedway this weekend showed no difference. As Harvick held off Michigan-native Brad Keselowski in overtime, he captured his fifth win of the season.
Choose Rule Reaction
Saturday's race was the first points-paying Cup Series event to feature the choose rule. The rule implemented a lot of strategies, as drivers could choose which lane they wanted to restart in. In one particular instance with 19 to go, Chase Elliott was the first car to choose the bottom. Rather than restarting fifth, Elliott now would line up on the front row. With this advantage, Elliott cleared leader Kevin Harvick and remained upfront until the following restart with nine to go.
During post-race interviews, a few drivers weighed in on this change.
Ryan Blaney
"I thought it had a good impact on the race," Ryan Blaney said after a fourth-place finish. "Obviously, the best car won the race but I thought it was unique seeing what everyone was going to do. There was one time that shocked me. It was how the 9 got the lead. He went from fifth to starting on the front row and ended up getting the lead and I couldn't believe nobody took that opportunity to line up on the front row. You saw a lot of guys that were third today would take that chance.
"I chose the bottom a decent amount when I was trying to get back up there because you jump about three rows and you figure you can maintain or maybe gain. Thought it was great. I thought they did a really good job implementing it the rest of the year besides next week. I was a fan of it, for sure."
Bubba Wallace
"To come out with a solid top-10 finish is positive," said ninth-place finisher Bubba Wallace. "We've got a lot of work to do. I was not happy with the car, but I think that's the racer mentality. I don't know if (Kevin) Harvick, (race winner) was happy about his car, either. We always strive to be better, but all in all, it was a solid day. The choose rule. Good job, NASCAR. That was fun. That was cool. It brought be back to the shootout days. I didn't tick as many people off as I did at the shootout today, so it was all good."
Kevin Harvick Sweeps Stage's 1&2
Polesitter Joey Logano lead all but two of the 20 opening laps in today's race. Following the competition caution, he was passed by Denny Hamlin and then eventually Kevin Harvick on lap 23. During that same lap, Harvick rocketed to the lead ahead of Hamlin and never looked back. While the opening 40 laps made for a pretty calm stage, Martin Truex, Jr. did have a nearly-disastrous moment when his tire went down on lap 21. Keeping the car out of the wall, Truex only lost one lap and would rebound to finish the day third.
Stage 2 showed similar to the opening Stage with no caution-worthy incidents on track. Ryan Blaney led most of the Stage but was passed by Kevin Harvick with eight to go. Harvick would pull away from Blaney and go on to sweep both Stages.
Stage 3 Ends Green Flag Trend
When the field went back to green to start the final Stage, Denny Hamlin briefly cleared Kevin Harvick for the race lead. As they raced back into turn three, Harvick took the 11 and 20 three-wide on the outside to quickly get back to the race lead. Just a few laps later, John Hunter Nemechek would go for a spin, the first caution for incident of the day.
The field went back to green with 58 laps to go and Harvick quickly cleared out front with Keselowski behind him. Just a few laps later, Nemechek would spin again with 51 to go. This caution brought the leaders down pit road and allowed the 18 team to enter the lead with a fuel only stop. Restarting with 46 to go, Kyle Busch held on to the lead for the opening lap. With 45 to go, Harvick once again elected the top spot.
Third Time's A Charm
With 26 laps to go, John Hunter Nemechek went for his third and final spin before taking the car to the garage. After that, the No. 38 retired as a result of bringing out a third caution in only 38 laps.
This opened the door for even more strategy and on the restart with 18 to go, Chase Elliott was the first to choose the bottom lane from fifth. As mentioned above, Elliott cleared into the lead and remained there until a caution with 14 to go for Ryan Preece.
Busch Briefly Close to a Win
On a restart with 10 laps to go, it was now Kyle Busch who cleared out front from the bottom. As Harvick closed quickly, he attempted a pass into turn three, taking the air off the rear of the 18 car. While no contact was made, Kyle Busch nearly smacked the outside wall and fell deep into the top ten.
With seven laps to go, Cole Custer lost a tire and slammed the wall hard bringing the caution back out. Due to the amount of fluid needed to be cleaned up, the red flag was displayed. The field went back to green with three to go after the completion of the cleanup but another caution quickly came out when Austin Dillon and Ryan Newman got together out of turn four. Dillon appeared to be loose, got a tap from the 95, and then was clipped by the 34 as he tried to save it. This sent the 3 car up into Ryan Newman, who had nowhere to go.
With just two laps remaining, Kevin Harvick took the green flag in NASCAR overtime. Brad Keselowski remained on the inside door of Harvick, trying to find enough momentum to clear Harvick and also become the first Michigan native to win at home. However, Kevin Harvick remained as unstoppable as the rest of the event and crossed the line first.
Top 3 Post-Race Thoughts
Kevin Harvick:
"The restarts were obviously a handful but our Busch Light Apple Ford Mustang was really fast today," Harvick said after his third Michigan victory in four years.
"We held on for the long run and would really go on the short run and did everything we needed it to do. I gotta thank everyone from Busch Light Apple, Mobil 1, Hunt Brothers, Jimmy Johns, Haas Automation and everyone from Ford. I know they love to win here and we are glad to bring that trophy to them."
When asked if he ever imagined tying 11th all-time in wins, Harvick had this to say:
"No. I am honored. I have been very fortunate to work with some good teams and have some good race cars. When you start talking about names like Lee Petty and Rusty Wallace and Junior Johnson and all the names that are around us on that list is just an honor to be around them. I know that comes with a lot of responsibilities for our sport and I ask myself all the time if I have done enough or am doing enough to help make this sport go forward. It is an honor to be around those names."
Brad Keselowski:
"He is just super fast in the corners and the straightaway," Keselowski told the media. "He was definitely the best car out here today. We put a good effort to kind of maximize our day and that is what we did, finished second. Proud of everyone on the Discount Tire Ford Mustang team. We will go back to work on it and hopefully find a little bit more for the race tomorrow."
Martin Truex, Jr.:
"It was a good day," Truex said. "I just made a little mistake there and barely rubbed the 8 (Tyler Reddick) car off (turn) two there and I guess cut both of our tires down. I really don't know how it happened. My bad on that one. I hate it for Tyler, it messed up his day early as well.
"We just fought back. The Auto Owners Camry was really strong. If we could ever have gotten to the front, I think we would have had something for them. Lots of restarts and they're crazy here. A couple of them didn't work out. The last one did. Really good car and really good job by the guys coming back like that. Just need a little bit more."
How to Watch the Next Race
Where is NASCAR's next stop on the circuit? Well, we still remain in the Irish Hills of Michigan for the second race of this weekend's double header. Chris Buescher will start from the pole after a top-20 invert. This also places race #1 winner Kevin Harvick in the 20th spot to start. You can catch all the action at 4:30 pm EST on NBCSN, MRN, and SiriusXM Channel 90. Do you think Kevin Harvick will sweep the weekend?
Written by Noah Lewis
Be sure to follow us on Twitter.
Be sure to follow the writer on Twitter.
Photo credit to NASCARMedia.