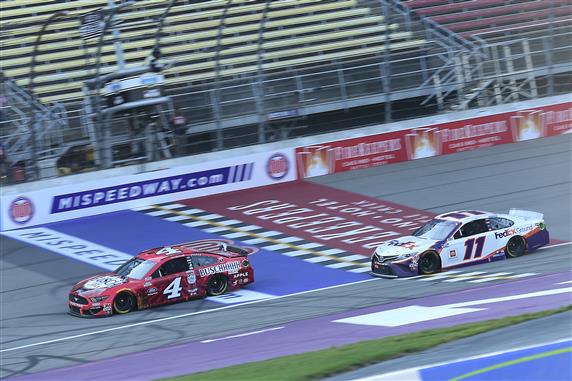 Kevin Harvick Repeats Michigan Dominance with Weekend Sweep
After a lights-out performance on Saturday, Kevin Harvick entered the second leg of the Michigan doubleheader as a 2/1 favorite for the win. The 4 did not disappoint, taking the lead for the first time on lap 48. By the end of the afternoon, Harvick secured another Stage win in addition to the weekend sweep performance. Harvick now leads the Cup Series with six wins in 2020.
Bowyer Breaks Through for Stage 1
Although he finished 19th on Saturday, Clint Bowyer would have the pole for Sunday. This was due to 20th-place finisher Chris Buescher needing to start from the rear with a backup car. Clint Bowyer wasted no time out front early. The 14 quickly gained a several-second lead and held on to win Stage 1. This marked Bowyer's third Stage win of 2020, as he is still on the Playoff bubble.
Kyle Busch beat Bowyer out of the pits for the start of Stage 2. The 18 initially got the jump on the restart, but the 4 of Harvick took command by turn three. Harvick set sail and cruised to a caution-free Stage 2 win. This would be his third Stage win in four Stages at Michigan. Bowyer also made it an all-Stewart-Haas weekend sweep for Stages. Just over three seconds back of Harvick in Stage 2 though would be hometown hero Brad Keselowski. After a close runner-up finish on Saturday, Keselowski and the 2 team made adjustments and seemed to be on par with the 4's speed. After strong runs in both Stages, Keselowski appeared to be in position to spoil a Harvick weekend sweep.
Penske Teammates Tangle
On the restart to kick off the final Stage, Ryan Blaney gave Denny Hamlin a big push. This allowed the 11 to get ahead of Harvick, and Blaney got by them both. Also closing in on the front here would be Blaney's teammate, Keselowski, who made daring passes on both the 4 and 11.
When Keselowski caught Blaney however, the 2 had a much bigger run than he anticipated. Keselowski tried passing Blaney on the bottom of turns one and two and got loose. Keselowski's Mustang snapped around immediately and collected Blaney. Arguably Harvick's stiffest competition were both wrecked out of the top two positions. Afterwards, Keselowski took full responsibility for the crash that took out his teammate.
"I just lost it," Keselowski bluntly put. "It's my fault. I feel really bad for my teammate, Ryan Blaney. He didn't deserve that. I just came off of turn four and the 4 car was behind me and he gave me a push and I swear I went into the corner like 20 miles an hour faster than I had been all day and got past the 11 and I went to get underneath the 12 and I just slipped. I lost the back a little bit and when I went to collect it he was there and I wiped him out and myself out, so I feel terrible for everyone at Team Penske and especially Ryan Blaney."
A Bad Historical First for Keselowski
This crash also led to a bit of history for Keselowski. With the early exit, Keselowski was relegated to a last-place finish in 39th. In his 399th Cup Series start, this is the first time that Brad Keselowski has ever finished last. Keselowski had the most starts of any active driver without a last-place finish. Blaney was also unable to continue, and left Michigan in 38th.
Pit Road Pitfall Gives Almirola Track Position
The race would resume on lap 102, but be halted by another caution when Christopher Bell spun on lap 105. During this short run, Harvick was able to retake the lead from Hamlin. This next caution fell just outside of everyone's pit window, so most of the lead lap cars came in for fuel. One driver would mistakenly stay out-Aric Almirola. He misinterpreted his pit crew's code word, so the 10 was the lone car to stay out. Almirola would restart as the leader, but with far less fuel than everyone else.
On the restart, Almirola did an awesome job of actually staying ahead of Harvick. The 4 would not be on the point again until 41 laps remained, with the 10 right on his bumper. Almirola racing Harvick hard for the lead would allow both Martin Truex, Jr. and Denny Hamlin to close in. With just over 20 laps left, the top four were separated by under a second.
A caution with 20 to go would be Almirola's saving grace. Alex Bowman cut a tire and debris from wall contact triggered this final yellow flag. The 10 would be one of very few to pit though, so he would be buried in the field for the final run to the checkers. Up front meanwhile, it was going to be another duel between Harvick and Hamlin.
Another Late Hamlin-Harvick Battle
Only 15 laps away from a weekend sweep, Harvick nailed the restart and began to pull away from Hamlin. The 11 was hampered by Truex, who was racing hard for the runner-up spot. By the time Hamlin finally cleared his teammate, he was one second back of Harvick.
Over the closing laps, Hamlin was the fastest car on track and began to quickly catch the 4. With three laps to go, Harvick had to jump on the brakes in turn two. Unfortunately for Hamlin, he was too close to make an offensive move and also had to brake aggressively. This gave the 4 enough of a gap over the 11 to hang on for the win. At the checkered flag, Harvick just edged Hamlin by less than a tenth. After leading 90 laps, Harvick secured the Michigan weekend sweep.
Hamlin So Close Yet So Far
"Once we finally got to second, I knew we had something for him (Kevin Harvick), I just got stalled there and he was tight, I was tight," Hamlin explained. "We were better, that's for sure. I thought if I could maybe get to his quarter panel, I could shove him higher and make him tighter, but just couldn't quite do it." In addition to his five wins, Hamlin now has four second-place finishes in 2020.
Top 10 Results From Michigan
Finishing third for the fourth-straight race, Martin Truex, Jr. came to life late. The 19 team is beginning to return to their usual form, as all of these top-five runs should translate into more wins soon. In spite of only the lone win, Truex knows that consistency like he's shown lately will advance him through the Playoffs.
Unloading possibly the best car he's had all year at one of his worst tracks, Kyle Busch ends the Michigan doubleheader with a fourth-place result. Busch was in position to win Saturday's race before Harvick nudged him out of the way late. Busch leaves Michigan weekend with two top-fives, as he still searches for his first win of 2020.
Rounding out the top five would be Joey Logano, his seventh top-five at Michigan and also his sixth of 2020. Logano has been in the top-10 in four of the last five races, as the 22 builds up momentum for the Playoffs.
Amazing Recovery for Almirola
After leading late, Aric Almirola recovered from the late off-strategy pit stop to finish sixth. Almirola's top-10 streak did end on Saturday, but he was able to rectify the poor result with a strong showing Sunday. This is Almirola's best-career finish at Michigan.
Finishing seventh, Matt DiBenedetto bettered his Saturday result of 15th. The 21 team has been absent from the front in recent weeks, only earning three top-10s in the past six races. DiBenedetto is somewhat secure in the Playoffs though, as he is 57 points above the cut line.
In a backup car, Austin Dillon finished eighth, his first top-10 since the Texas win. Dillon was forced to a backup car after a late-race incident with Ryan Newman on Saturday. The 3 team recovered nicely for their sixth top-10 of 2020.
Coming home ninth was Chase Elliott, who now has three-straight top-10s. Elliott could be a contender next week on the Daytona Road Course, as he's the two-time defending winner at Watkins Glen.
Rounding out the top-10 was Kurt Busch, who finished there in both Michigan races. Kurt has five top-10s in the last six races, as he's 13th on the Playoff grid.
Harvick's Winning Reaction
"Michigan is overall an important race for everybody at Ford, Roush-Yates, really all the teams," Harvick said. "They make you well-aware of the importance of the Heritage Trophy and how much they want to keep it in their lobby.
I think the racetrack was racy all weekend. Today my car was tighter from the get-go, mostly in turns three and four. I never could get the car to the center of the corner like I wanted to.
(The strong results) says a lot about our organization and a lot about our team, how they can prepare racecars, the details that are going into those racecars, the things that they're doing.
I think as you look at all that, it's all about the people. It's the people that are here every week grinding away at the racetrack, it's the people at the race shop, Roush-Yates, Ford Performance. It just takes so many people to do what we're doing.
This is really something that we've been fortunate to excel at, adapt. We're good at adapting and adjusting, trying to figure things out on the fly. I think that's what experience brings you with this particular race team.
With both victories in the Michigan weekend sweep, Harvick now has 55 career Cup Series wins. This is tied with Rusty Wallace for tenth-most all-time wins. Harvick is also the first to win Cup races on consecutive days since Richard Petty in 1971.
How to Watch the Next Race
The next stop for the NASCAR Cup Series is the biggest wildcard of the season. Next weekend will be the inaugural NASCAR event on the Daytona Road Course. If the Charlotte Roval is any indicator, then we are sure to have an instant-classic. Coverage of the GoBowling 235 will be next Sunday, August 16 at 3 pm EST on NBC, MRN, and SiriusXM NASCAR Radio Channel 90. With many drivers teetering on the Playoff bubble, can a new winner upset the postseason picture?
Written by Peter Stratta
Be sure to follow us on Twitter.
Be sure to follow the writer on Twitter.
Photo credit to NASCARMedia