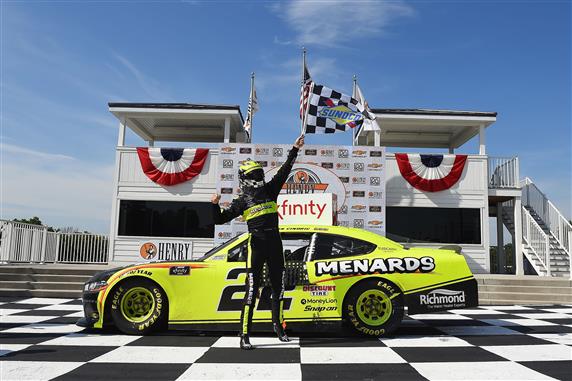 Austin Cindric Comes Out on Top After Chaotic Finish
Austin Cindric passed leaders Preston Pardus and Ryan Sieg on a daring three-wide move with two laps to go in the Henry 180 at Road America. Before his eventual win, it appeared Cindric had the race in hand until a caution with six to go erased his three-second lead. He, along with the rest of the leaders, pitted for fresh tires while Pardus, Sieg, Josh Bilicki, and Mike Wallace stayed out.
Rain Delay Changes Strategy in Stage One
Austin Cindric started on the outside of the front row but he easily passed polesitter Michael Annett exiting turn one. Cindric led the first eight laps before Daniel Hemric brought out the caution for a blown engine. While under caution, a lightning strike put the race under a red flag. After a 93-minute delay, the drivers resumed but the track was still wet enough that the cars had to put on rain tires. Justin Haley worked his way around Cindric on the ensuing restart to win Stage one.
New Pit Rules Change Strategy for Stage Two
Coming in 2020, NASCAR announced a new pit road policy for select Xfinity and Truck Series races. Road America was the first race, and due to the pandemic, only the Xfinity Series got to test out the new procedure. Teams could not fuel the car and put on tires at the same time. Instead, they would have two opportunities to pit. Drivers would not lose their spot on track if they followed the pitting procedure.
This new pit strategy allowed Josh Bilicki and Harrison Burton to take the lead at the beginning of Stage two. AJ Allmendinger, who was also on this strategy, worked his way to the front halfway through the stage. Many cars pitted late in Stage two, so they only had to pit once at the Stage caution. Allmendinger stayed out and won the second Stage under caution. His Kaulig Racing teammates, Ross Chastain and Justin Haley finished second and third, respectively.
Cindric Leads a Trio of Road Course Aces
Austin Cindric restarted third with 12 to go but wasted no time getting around Kaz Grala and Justin Allgaier. He survived two late cautions to win his fourth race of the season. The win was also his fourth career victory at a road course. Fellow road course aces AJ Allmendinger and Chase Briscoe finished second and third, respectively.
What's Next
Next weekend, another road course race is on tap for the Xfinity Series. Teams will head south to Daytona International Speedway to challenge the track's road course. It will be the first time the series takes on this configuration, making the race an unknown. Tune in for all of the action Saturday, August 15 at 3:00 pm EST on NBCSN.
Written by Nicholas Sterling
Be sure to follow us on Twitter.
Be sure to follow the writer on Twitter. 
Photo credit to NASCARMedia