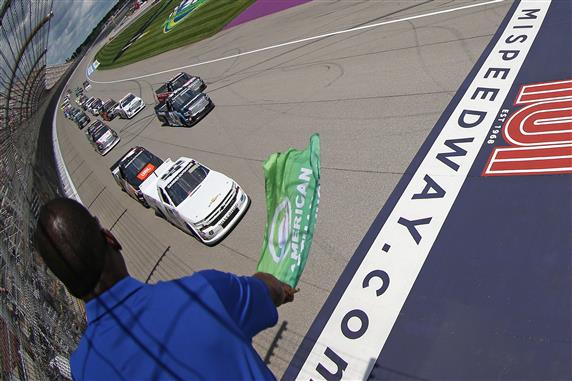 Drivers Prepare for the Final Stretch before the Playoffs
With just six races remaining in the 2020 Truck Series regular season, the push for the Playoffs is heating up. Austin Hill, Grant Enfinger, Sheldon Creed, and Matt Crafton have all punched their ticket to the Playoffs with wins this season. Six other spots are also up for grabs as the Truck Series heads to Michigan International Speedway.
The two-mile D-shaped oval will host the Henry Ford Health System 200. The race will be live Friday, August 7 at 6:00 pm EST on FS1. The race is 100 laps with Stage lengths being 20-20-60.
Eighteen-year-old Chandler Smith will start on the pole, driving the Kyle Busch Motorsports No. 51 Toyota. Former Truck Series Champion Brett Moffitt will join him on the front row.
Former Michigan Winners Should Be Up Front Friday Night
A two-time winner in 2020 and defending Michigan winner, Austin Hill enters as not only the race favorite, but the championship favorite. Hill has led the points ever since the second race of the season and has shown race-winning speed each week.
He led 26 laps last season at Michigan International Speedway to capture his second of four wins in 2020. Hill will start fifth and should waste no time in getting to the front.
Brett Moffitt has had a down year compared to his 2018 and 2019 seasons where he combined to win 10 races, but he sits a respectable fifth in points. Michigan should be an excellent opportunity to pick up win number one in 2020. He seems to have a flair for the dramatic at Michigan, as he has only led a combined six laps in his two wins at the track.
Those two will have a tough task holding off a field full of young drivers looking for their first career win. Not to mention, series veterans who are looking to qualify for the postseason and make the championship push. Be sure to not miss a lap of action tonight on FS1.
Written by Nicholas Sterling
Be sure to follow us on Twitter.
Be sure to follow the writer on Twitter.
Photo credit to NASCARMedia